Ready to book your wedding reception venue? WAIT! — don't do anything until you ask these important questions. They'll save you a headache later on and guarantee that you and your venue are on the same page. After all, don't you want to spend less time stressing and more time enjoying the fun? We thought so!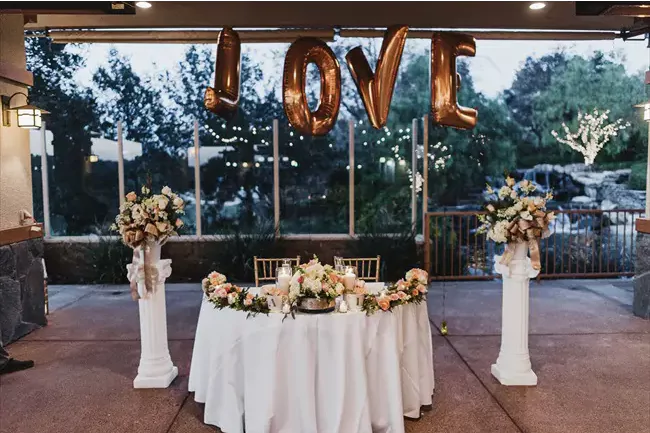 photo: william kim photography | see the real wedding
What to Ask Your Wedding Venue: 30 Most Important Questions
When you're booking wedding venues, it's important to gather all of the facts before you sign a contract. Once you sign a contract with your venue, you're likely unable to make any changes, per the agreement. With that being said, make sure you ask your wedding venue all the right questions BEFORE you sign. In this blog post, we'll cover the most important questions to ask your wedding venue to ensure you know all the essentials ahead of time — without any surprises.
Let's get started!
Questions to Ask Wedding Venue BEFORE Booking
1. What dates are available?
Have a month in mind or season when you'd like to get married. Ask which dates and times are available.
2. Do you offer discounts on Sundays or Fridays?
If your date is flexible, and you want to save a bit of money, find out if they offer discounted dates for Friday or Sunday weddings.
3. How many hours are included in my rental?

Find out how many hours are included.
4. What is the cost of any additional hour(s)?
What happens if you go over the allotted amount? Most venues charge a per-hour fee; find out how much it costs.
5. What is needed to book my wedding date?
Most venues will require a deposit up-front to book your date. Find out how much this is, when it needs to be paid, and whether the deposit is a refundable fee. Also, inquire if there is a contract to be signed immediately upon booking with a deposit.
6. What is your cancellation policy?
Life happens. No one wants to think about cancellations, but sometimes they happen or you find a better venue that suits your needs later on. Get a cancellation policy in writing so you know exactly how much it costs in the event you need to cancel the venue contract.
7. What time are vendors allowed to set-up on the day of the wedding?
Most venues allow set-up in the morning of the event, given there is no other event occurring on the same day as your wedding.
Ensure your day-of coordinator, DJ, and other vendors have access to the venue at a certain time for setup pre-ceremony. You don't want to be running around trying to get everything set in place right before your guests arrive.
8. Am I able to have my ceremony here?
Find out if you can hold your ceremony at the same location. Some venues will offer you a discounted rate to book both; others may not. If you have another venue in mind, make sure you book the one you like best first, and then book the second location. If you want to have the ceremony at the same place as your wedding venue, find out how it works: where is the ceremony held? Who handles the setup and takedown of the ceremony chairs? What are you allowed to bring in for decorations? What time would the ceremony begin?
9. If booking both ceremony and reception, what day may I have my rehearsal?
Find out the rehearsal date and time for your rehearsal if holding your ceremony at the same venue. If catering is available on-site, inquire about a rehearsal dinner there, too! Some places may offer a rehearsal dinner package, while others may prefer to go off-site to a restaurant for a rehearsal dinner. It may make sense to have it at the same location to make travel easy on guests.
10. What is your plan for inclement weather?
If your ceremony is being held at the same location (outdoors), what is the venue's plan in the event of rain or poor weather? Most venues have an optional indoor space, so find out what it is and how that works.
11. Do you offer liability insurance?
This is one of the major questions to ask your wedding venue: do they have liability insurance? It's important to have in the event something happens at your wedding so you are not responsible for charges incurred. Most venues offer it, but it is helpful to ask to make sure.
12. Do you have a license to serve alcohol?
If you want to serve alcohol at your wedding, you'll need to have a venue that is licensed to serve it.
13. Do you provide tables and chairs?
Are tables and chairs provided, or do you need to rent your own? Who sets them up? Are table linens included, and if so, how much does it cost for upgrades (colors, different styles, etc.)?
14. Is there a minimum? What is the maximum capacity?
Find out the minimums and maximums of the venue. Some venues require a minimum number of guests for pricing, while others do not. Then, find out the maximum capacity to ensure your guest list does not go over the acceptable number of guests.
15. Can we bring our own alcohol? What is the charge?
Some couples want to save money by buying wine in bulk or other beverages. Find out what the fees are, and decide whether it is more cost-effective to choose the venue's beverages.
16. Can we do a food tasting before we decide on the menu?
Find out! A food tasting is a fun experience with your partner and you can decide on unique dishes to serve at your wedding with assistance from the caterer.
17. How much do you charge for a service fee?
Many venues charge a service fee / gratuity / tax on top of the required venue rental amount. Be sure these numbers are clear, so there are no surprises when the final bill arrives.
18. When do you need a final head count by?
What is the date required by the venue for a final head count?
19. Can I bring in my own catering or do you require catering in-house?
If you plan to use a different caterer, find out before booking them. Many venues require you use their in-house chef, so this is an important question to ask a wedding venue before booking.
20. Do you charge for cake-cutting?
Some venues provide free cake cutting, while others charge for cutting and plating.
21. How much does it cost for a bartender? How many will I need?
Most venues require one bartender per 50 guests, while others require 2 per 50 guests. Find out how much the bartender will cost — including gratuity! — so you can make sure it suits your budget.
22. Are the meals plated or buffet style? How much does it cost per plate for either option?
Make the most of your budget and find out if the venue offers plated meals or buffet-style dining. You may be able to save some money by going for a buffet-style, but that's not always the case. Find out the cost per plate so you know exactly how much it will cost per your guest list.
23. What decorations are we able to bring in? What decorations are prohibited?
Most venues will provide a list of allowed decorations and will make a point to explain what is NOT allowed. One major decoration being disallowed from many venues is real flame candles, due to it being a major fire hazard. Luckily, there are plenty of realistic LED candles here that look just as nice.
Many venues don't like confetti at all, so be cautious of this; if using the venue as your ceremony space, some prohibit aisle runners as tripping hazards, as well as anything tossed (hello, clean up!)
Other things typically not allowed are anything that needs to be taped to walls (a big no-no for painted and wallpapered ballrooms) or anything that is in the way of highly-trafficked areas. Find out before you go ahead and splurge on large decorations that may not be able to be used later on.
24. Do you allow a DJ or live band? Is there a dance floor?
Make sure you have your entertainment in place so you can book that awesome DJ or live band you've been wanting! And make sure there is space for a dance floor for your guests.
25. Is there parking on-site?
Will there be ample parking for your guests? If not, you may want to plan ahead for a shuttle that will take guests to and from your venue spot. This can alleviate some issues with parking in heavy downtown areas and also makes it nice for your guests.
26. Is this venue accessible for all guests?
Make sure the venue is easily accessible for guests with disabilities.
27. Can I hire any vendors I choose, or do I need to use preferred vendors?
Some venues have contracts with specific vendors, so find out before you book anyone else!
28. Is there a bridal suite to get ready?
If planning your ceremony here, you may need a bridal suite to get ready in with your bridesmaids. The groomsmen will benefit from a separate one, as well. Find out what is available for use during the day and what time you may begin using the space (to allow for hair and makeup on-site or elsewhere, if needed).
29. Who will be my contact person leading up to the wedding and the day-of?
Many venues have a contact person who handles all weddings and special events. Find out who this person is so you can ask questions regarding the venue in the days and weeks leading up to — and on — the day of your wedding.
30. How is the final bill paid?
Find out when and how the final bill is to be paid. Make sure you finalize any gratuities before this time, too, so nothing is left as a surprise financially.
There you have it: the 30 most important questions to ask your wedding venue. Surely, you may have other questions and some of these may not apply to you, but it's a good idea to get a grand scope of all possible wedding venue questions BEFORE you sign a contract.
Once you do, celebrate! It's an exciting moment once you've found the perfect wedding venue, the price is right, your date is available, and you're ready to sign on the dotted line. Congrats!
xo
Emma
LIKE IT? Pin it!