Here comes the sun! Before you know it, it'll be time to break out your favorite bachelorette party sun hats and we'll show you where to get the best ones. But first, subscribe now for the latest to your inbox!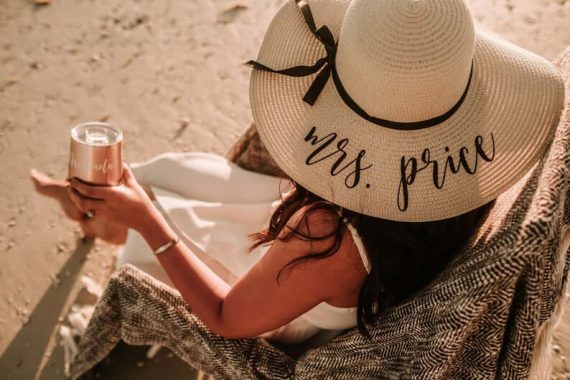 bachelorette party sun hats / mrs floppy hat by the white invite gifts
Hi, lovelies! Comin' at you on the weekend to share some adorable bride floppy hats to prepare you for summer. Whether you're looking for a hat to wear on your honeymoon or floppy hats for the whole crew, we'll show you where to buy bachelorette party sun hats that look great poolside, on the beach, or on your honeymoon yacht. (Hey, we can dream, right?!)
You know another place that would be fun to wear these personalize sun hats? Wine-tasting with your crew in wine country! (You know you love a good wine themed bachelorette party!)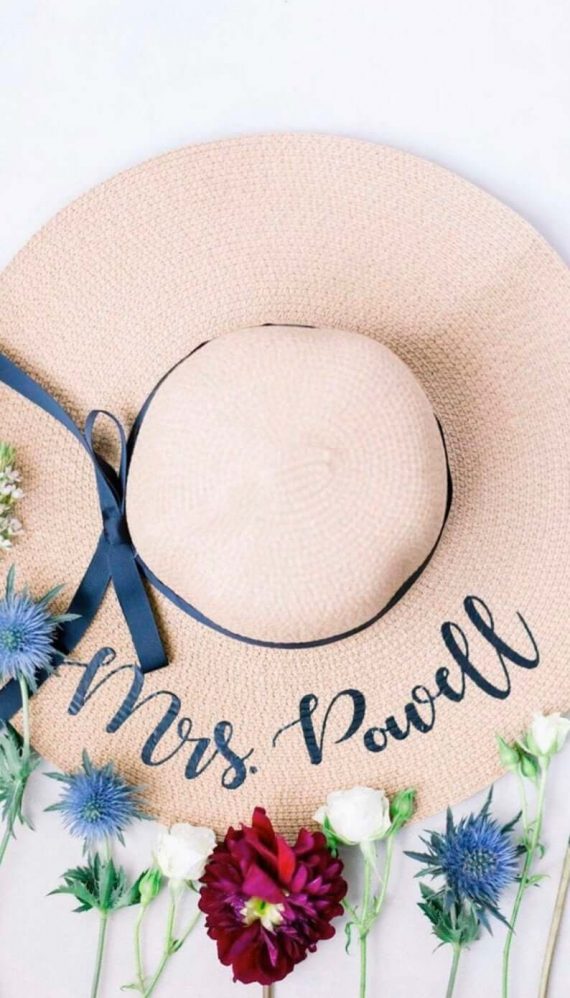 something blue ribbon sun hat by 78MagnoliaLane
Perhaps it's the 8 inches of snow that landed upon my sidewalk this morning… maybe it's the fact that I just simply cannot scrape any more ice from my windshield… or I can't stand another week dressed head to toe in hat, mittens, and boots.
I can't wait for sandal weather and, yes, to pull out my beloved floppy hats. I have a few. But I've never had bachelorette party sun hats, or even a bride floppy hat or a personalized Mrs beach hat with my new last name scrawled across it. Maybe I'll finally do it after compiling this list!
Bachelorette Sun Hats
So, do you really need bachelorette party sun hats?
Need? Well, it's not a neeeeed, but it's super fun and definitely a plus in the summer sun.
Want? YES! A whole slew of bachelorette party sun hats will look awesome in your bachelorette pictures seaside, poolside, or even just hitting the town during your beach bash.
Where to Buy Bachelorette Party Sun Hats
Want to know where to buy bachelorette sun hats, the kind that look cute + last? You'll find them in our list below! Lucky you, we've found the latest + greatest bachelorette sun hats to inspire you. From sun hats with bows, bride floppy hats with pom-poms, straw beach hats for bridesmaids, and even bachelorette party sun hats with tassels, there's a hat here for everyone in your crew and we love 'em all!
Enjoy!
Bride Floppy Hats
1. Girls Just Wanna Have SUN hats for bachelorettes, $32
This hat is beautifully-made with fun rainbow sequins and custom wording of your choice! My fave: "girls just wanna have fun". So cute for your bachelorette party sun hats! By ShadeOrShine.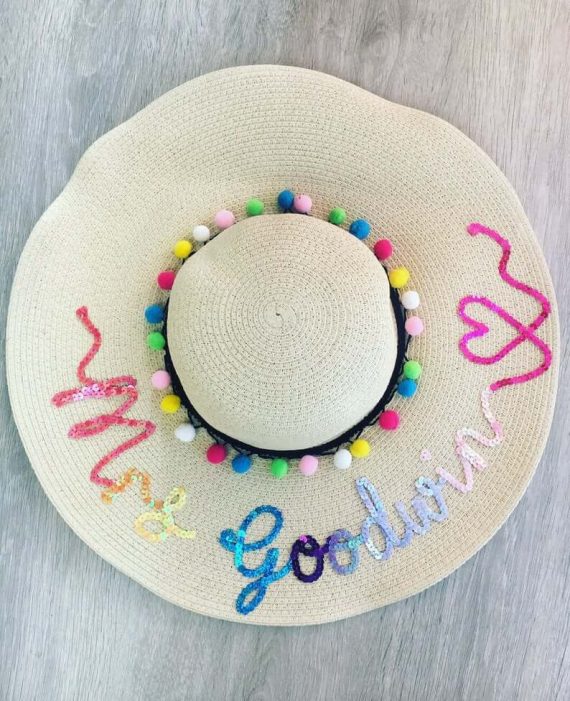 buy here
There's also "Mrs" and your new last name in sequins, another cute idea.
Or choose "best day ever", also fitting!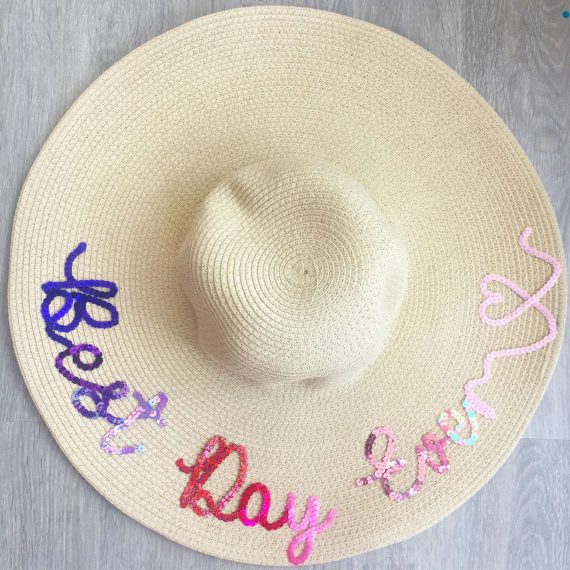 buy here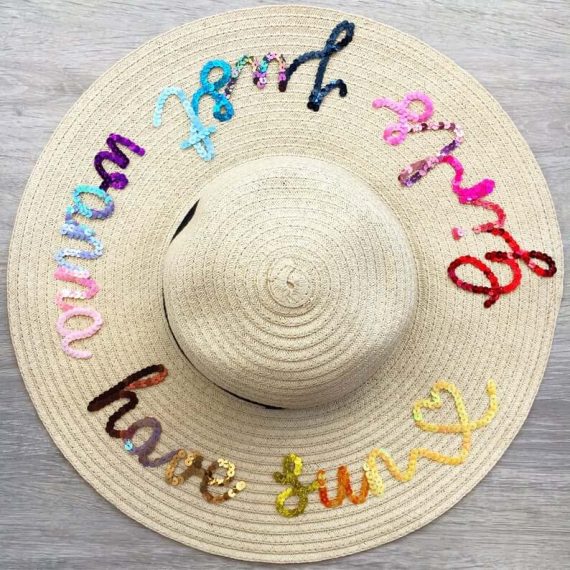 buy here
2. Rose gold Mrs sun hat, $27+
I love the rose gold shown here. So pretty and, no doubt, it really shines in the sun! By TheNativeBride.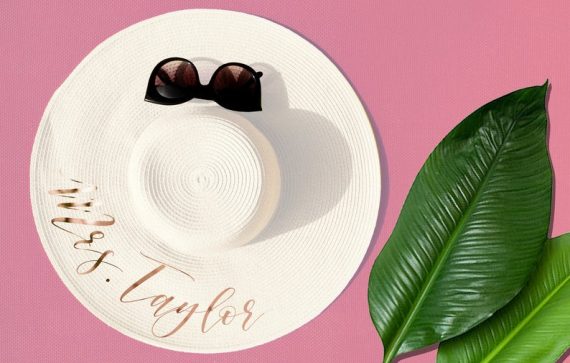 buy here
3. This custom white Future Mrs floppy hat with white pom-poms, $21.99+
Where was this hat when I was planning my wedding? See the white pom poms and the "future mrs" in sweet embroidery. at SprinkledWithPink.
4. Bride to be sun hat with colorful pom poms, $24+
This hat is made with embroidery and not vinyl, so it is really designed to last with added durability. I love colorful pom-poms! By ShopatBash.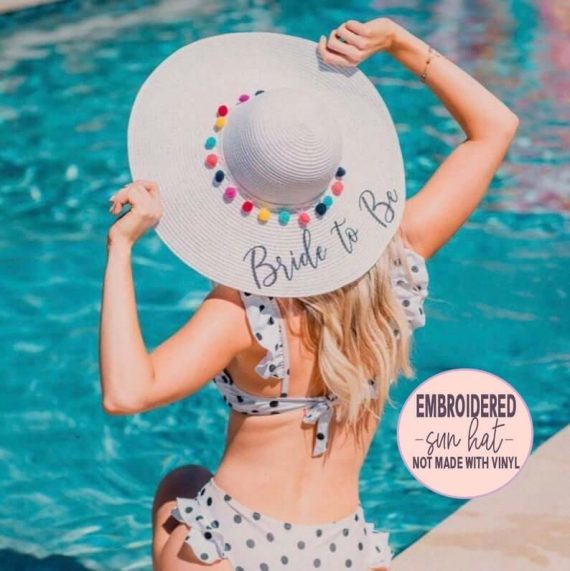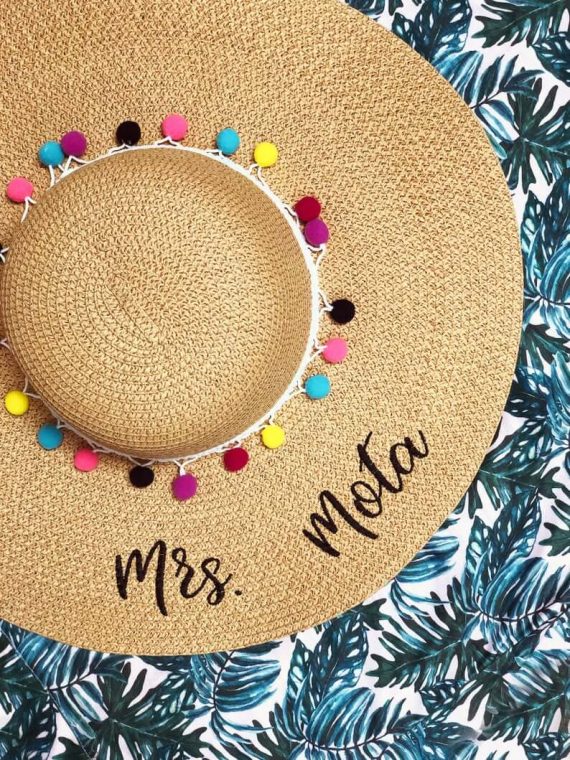 buy here
5. Bachelorette party sun hats for bride + bride's babes, $21+
A cute set of bachelorette party hats for the bride's babes and the bride herself! By Shop Stag + Hen.
buy here
6. Black sun hat with gold sequin writing, $18+
This wide-brimmed floppy hat is black with fun, bold gold lettering. By SprinkledwithPink.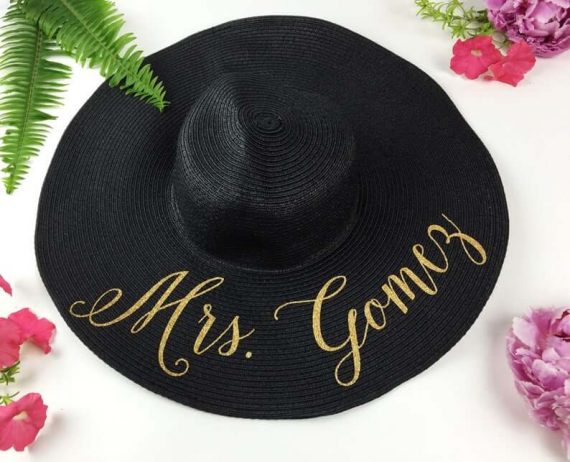 buy here
7. Custom Mrs straw beach hat, $22.99
I love the bow on this one! Cute design by HundredHearts.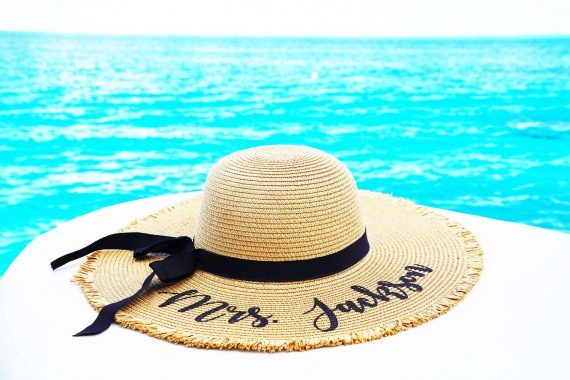 buy here
8. Honeymooning hat, $18+
A must-have on your what to pack on your honeymoon list! By ShadesOfPinkBtq.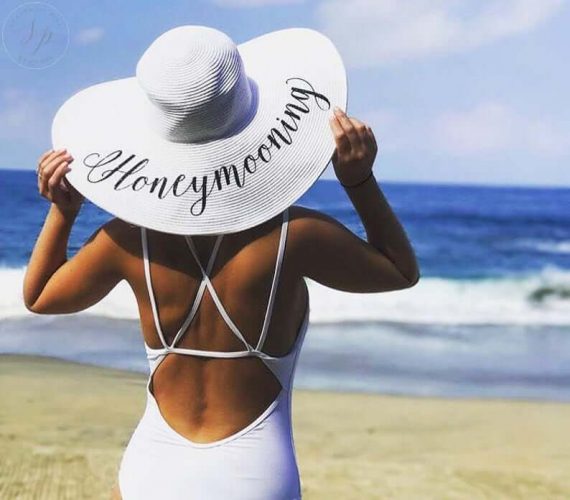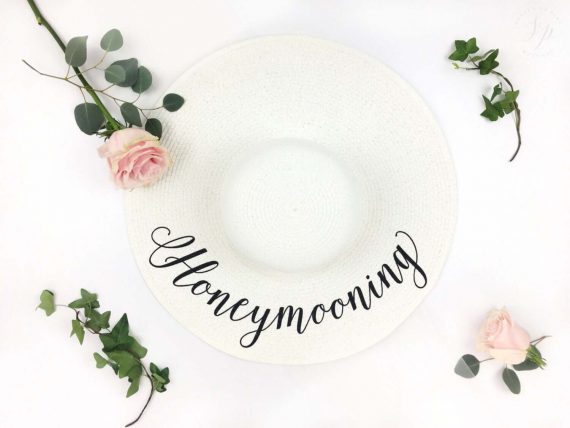 buy here
9. Bride floppy hat with black tassels, $32.99
Um, ADORABLE! Want/need! I love these black tassels and the way the lettering is done here! By KeepLifeSimpleDesign.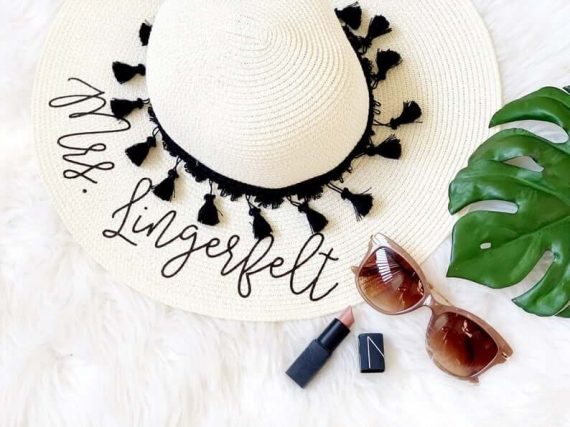 buy here
10. Custom bridesmaid sun hats, $30+
I like how this example of bachelorette party sun hats includes truly custom "names" like "The Sista", "The BFF", or "Bride". Cute way to personalize the hats! By ShadesOfPinkBtq.
buy here
11. Living My Best Life sun hat, $26.99
You should always, always, be living your best life. :) Cute sun hat by TheWhiteInviteGifts.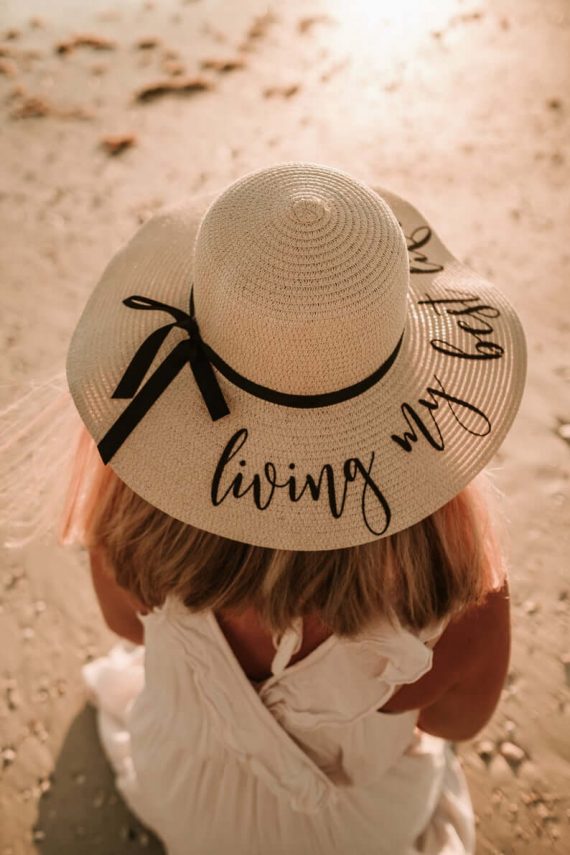 buy here
12. Personalized bridesmaid straw hats, $29+
By ShadeOrShine.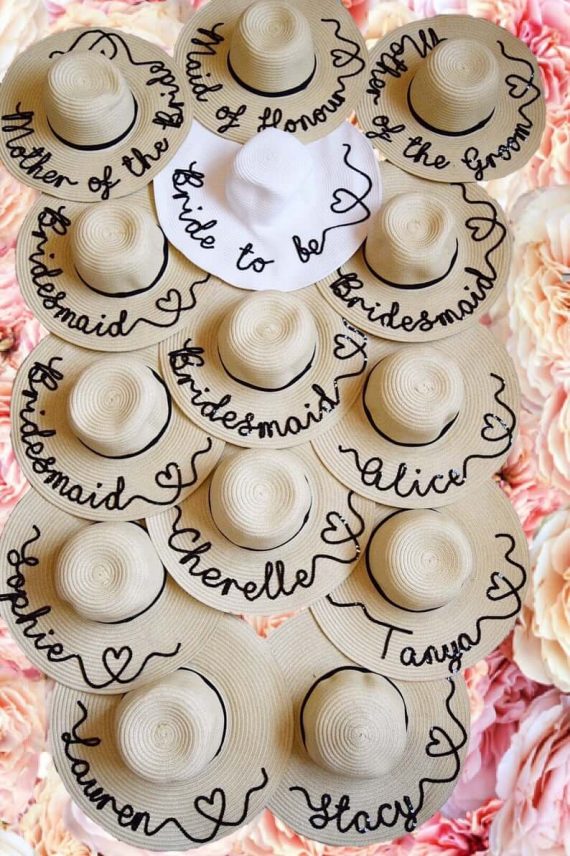 buy here
13. White monogrammed sun hat for the bride, $22+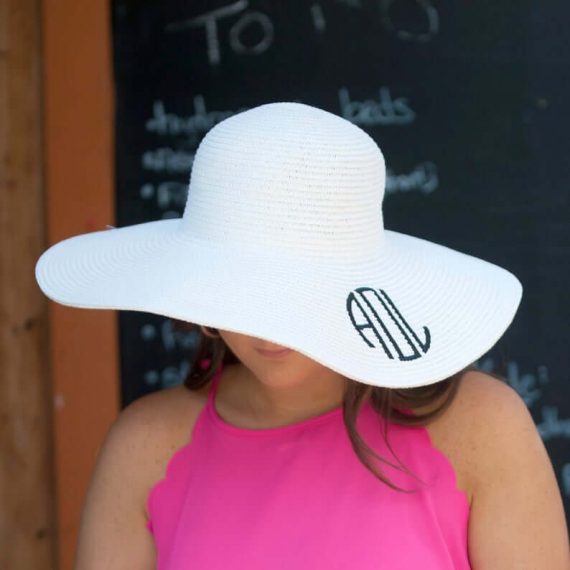 buy here
14. Nautical bachelorette party sun hats, $30+
Great for your nautical themed bachelorette party. By Shades of Pink Boutique.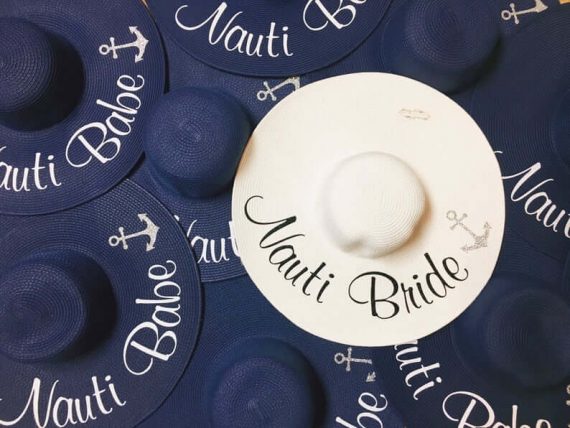 buy here
Oh! And while we're on the topic of adorable beachwear, check out this adorable handmade foot anklet/foot chain by JenOezer. Isn't it lovely?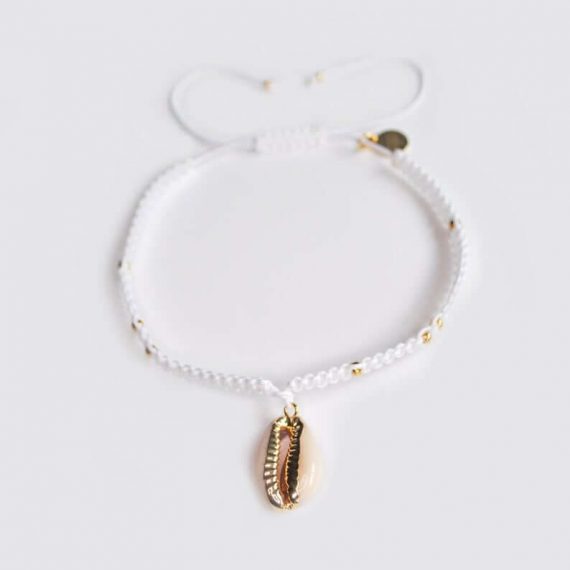 buy here
So, what do you think of these bachelorette sun hats? Are you going to buy a bride floppy hat or beach hat for your wedding preparations, or for the honeymoon itself? Tell us in the comment box below!
xo
Emma