I love a new Ask Emmaline question! This comes to us from a reader, Adalyn, who wants to know what to wear to a December wedding as a guest. She writes,
shop here
What to Wear to a December Wedding
"Hi Emmaline! Do you have any suggestions on what kind of dresses are in style for December weddings? I'm a wedding guest and I need some fashion suggestions. I'm hoping to wear anything appropriate for winter wedding guest attire. If you have any ideas on what to wear as a December wedding guest, I appreciate it. Thanks for your help!"
Hi Adalyn! Thanks for writing. I love December weddings; I'm biased, sure, since I got married in the early days of December. :) But as a wedding guest, you have a fun opportunity to wear holiday party dresses that look beautiful and it's easy to increase the warmth in a few different ways.
Similarly to how we talked about winter bridesmaid dresses, you'll want to wear December wedding guest dresses that offer more warmth in the fabric option you select: silk, satin, and velvet are three of the most popular dress materials to choose from in the month of December.
Long Sleeves? Maxi Skirts? It's Up to You!
You don't have to cover up completely just because it's the winter: wedding guest dresses with long sleeves, high necklines, and maxi skirts are popular but don't be afraid to go bold with sleeveless, v-neckline, or midi length skirts, too, especially if the wedding itself is held indoors. You can always pair it with tights to stay warm.
(If the December wedding will be held outdoors, grab one of these!)
Best Color Dresses for Winter
The best colors to wear this season are emerald green, wine, burgundy, forest green, gold, silver, black, navy blue, and plum.
These jewel tones are rich and vibrant; avoid wearing bright red, as it is considered poor etiquette and a fashion faux pas for wedding guests. (A bold shade of red, like this, distracts in photos and takes the spotlight away from the bride. It's almost as similar as wearing white to a wedding as a guest. Yikes!)
What Shoes to Wear to a December Wedding
For footwear, wedding guests typically wear dress heels or flats; closed-toe is popular because it's so cold outside. If there's going to be snow, that is another reason to opt for closed-toe heels and maybe choose a block heel, which is easier to walk on ice and snow in — you have more surface area to work with. :)
Now that you have a few of these suggestions, let's check out some dresses! These are the top December wedding guest dresses for 2022 in a variety of fabrics, colors, and styles. I hope I hit the nail on the head with these fashion ideas!
December Wedding Guest Dresses
1. Backless Little Black Dress, $59
This backless dress will be your new favorite dress to wear to weddings and special events. It has a midi length and long sleeves, an open back, and a high neckline. Cute! Get it here.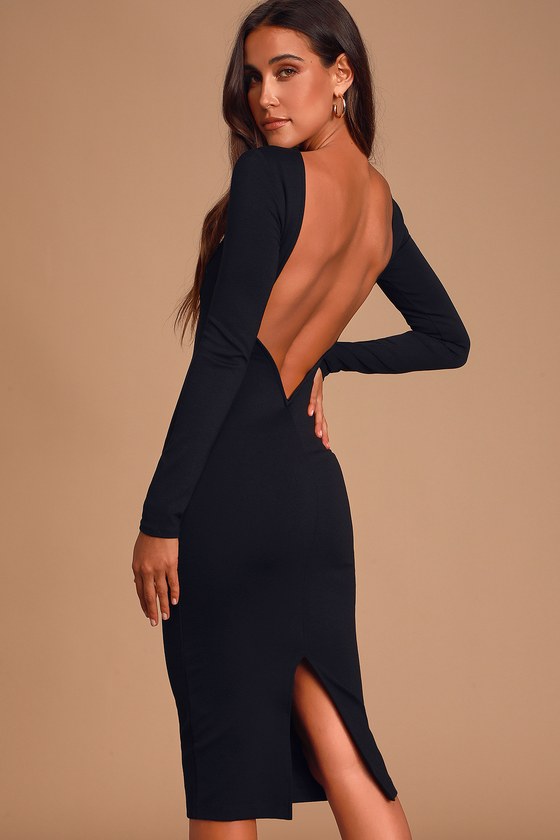 2. Lace Sleeve Black Dress, $69
Need a black dress? This style has a lace sleeve that features a unique geometric pattern and a short mini length. Shop here.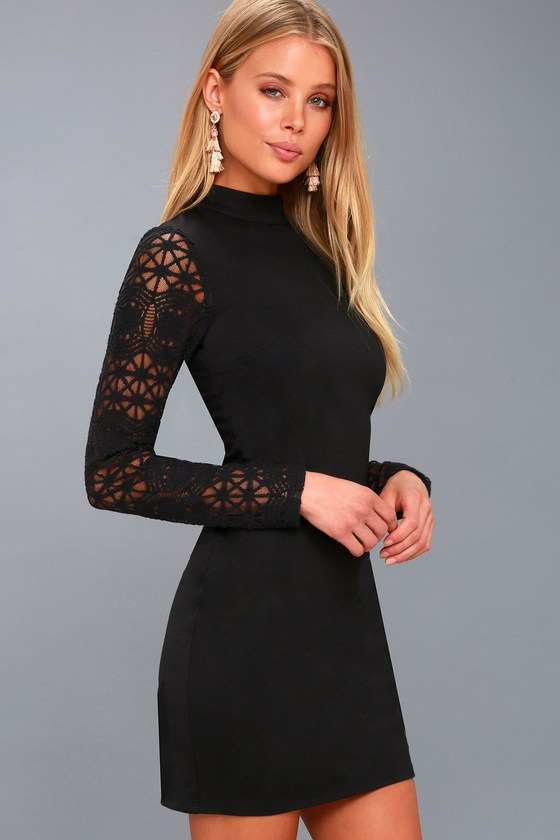 3. Off-the-Shoulder Midnight Blue, $62
Go flirty with an off-the-shoulder neckline and a beautiful shade of midnight blue. I love the ruffle hem on this midi-length wedding guest dress: it's perfect for December! Get it here.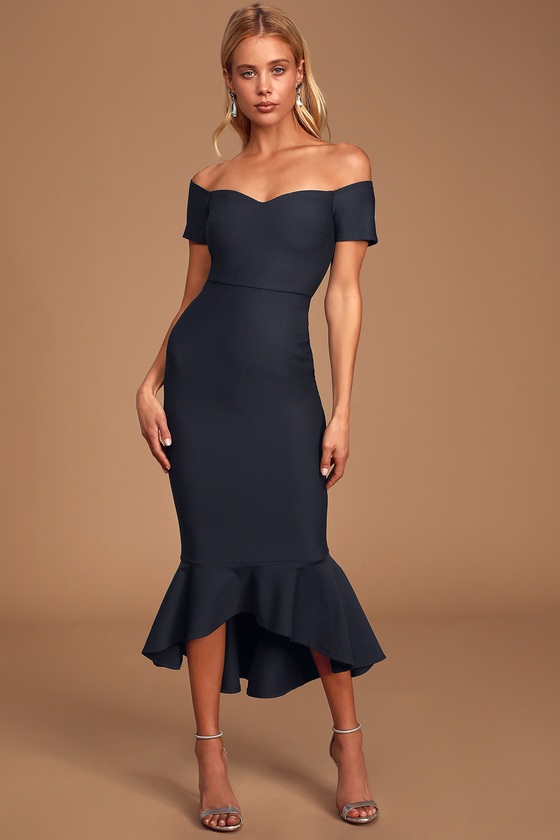 4. Cute One-Shoulder Satin Dress, $58
This is such a fun dress! Customers recommend sizing up. It is made of satin and has a long sleeve one-shoulder style; the cute mini hem makes it fun for dancing. Shown in emerald green and available in other colors here.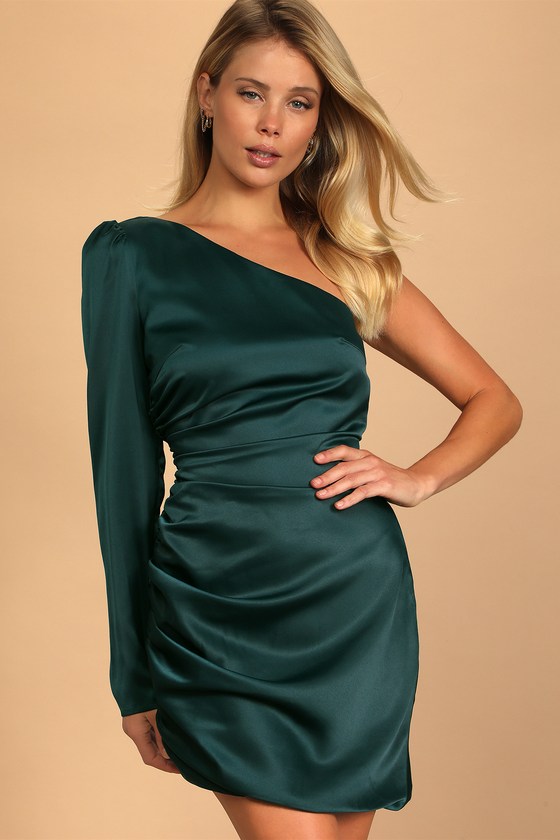 5. Midi Velvet Dress, $69
This beautiful dress is one of the best December wedding guest dresses in this list: I love the midi-length, the bold emerald color, and the rich velvet. Looks perfect! By Lulus.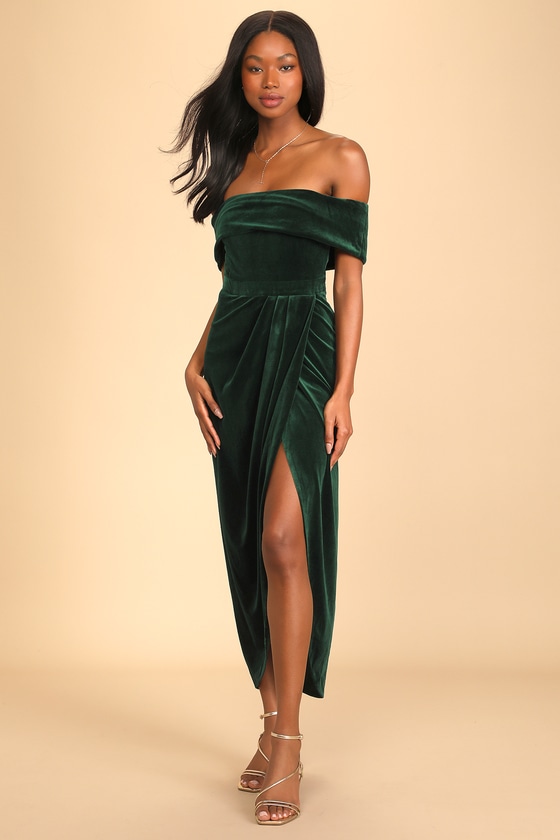 Also loving it in burgundy! Available here.
6. Navy Blue Floral Jacquard, $86
Get whisked away in this long sleeve wedding guest dress in navy blue for December. It has a floral jacquard print and a beautiful midi length. Shop here.
7. Black Lace Long Sleeve Dress, $59
Wear this little black dress to the winter wedding in style with long lace sleeves and a cute scalloped hem. Shop here.
8. Teal Long Sleeve Velvet, $99
Ooh, this looks like a cute and comfy dress for December weddings! It is shown in teal but is also available in a lovely wintry shade of plum. Get it here.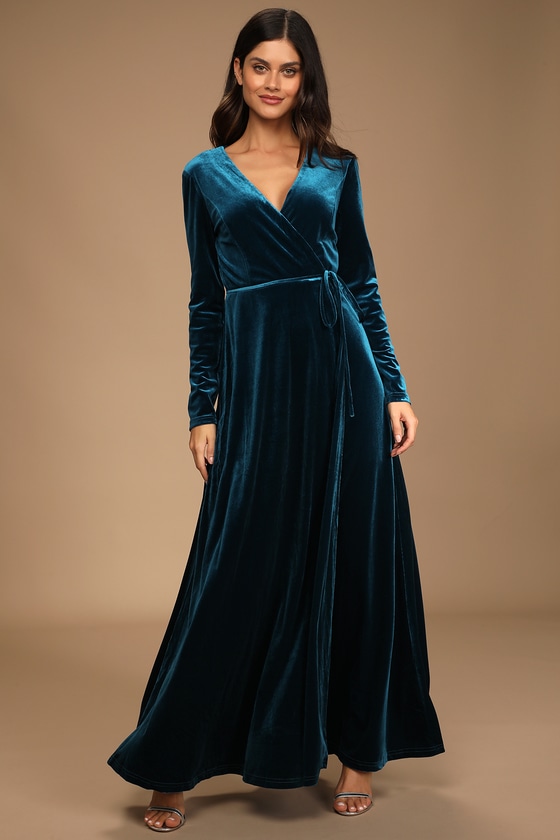 9. Smocked Long Sleeve Midi Dress, $79
If you like long sleeves and a short skirt, this is the perfect wedding guest dress for December! Get it here.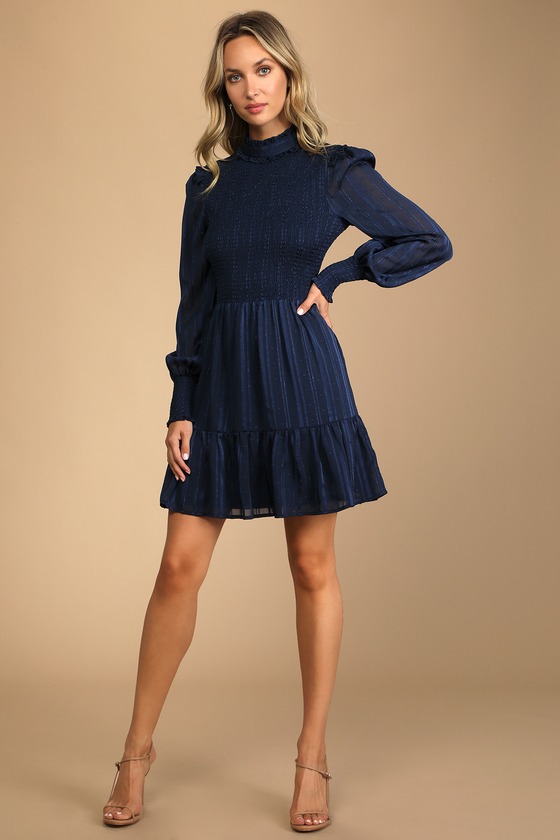 10. Wine Long-Sleeve Short Dress, $68
The shade of the season — wine — will turn heads in this adorable little dress with long sleeves and a knotted waist tie. Shop here.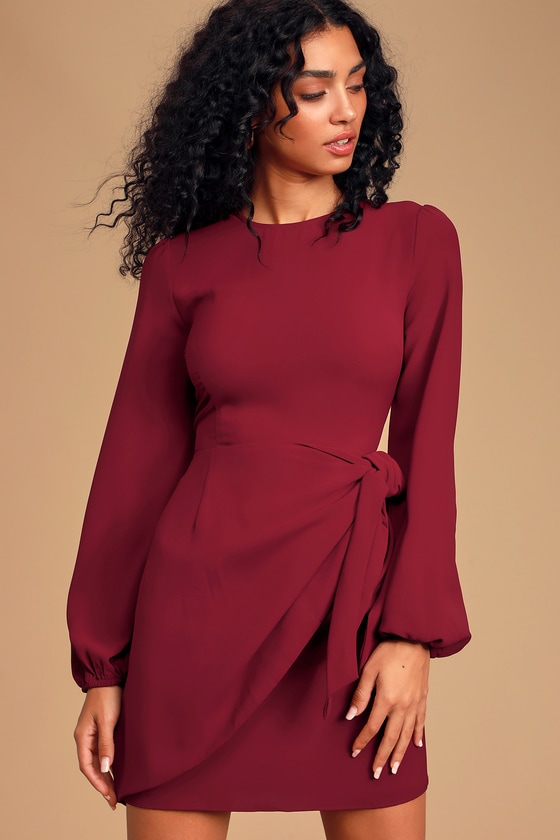 11. Emerald Green Satin Long-Sleeve Maxi, $74
Ooh, cute! This long-sleeve maxi length dress is probably one of the best guest dresses for December weddings. I love this style. By Lulus. Highly-rated, too!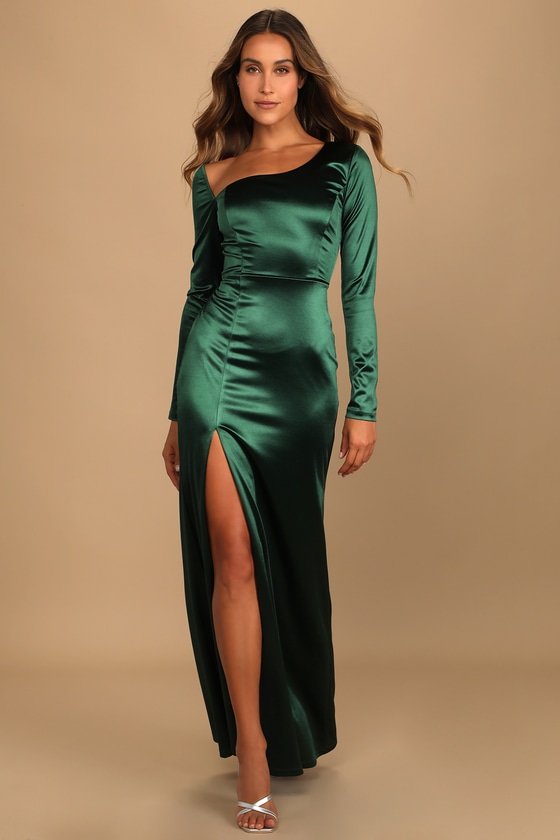 12. Ruffle Midi Dress, $59
Ooh, chic! I love this dress — and so do many others, as the reviews are wildly popular. This LBD has a ruffle at the sleeve and an open back and will make a real fashion statement! Get it here.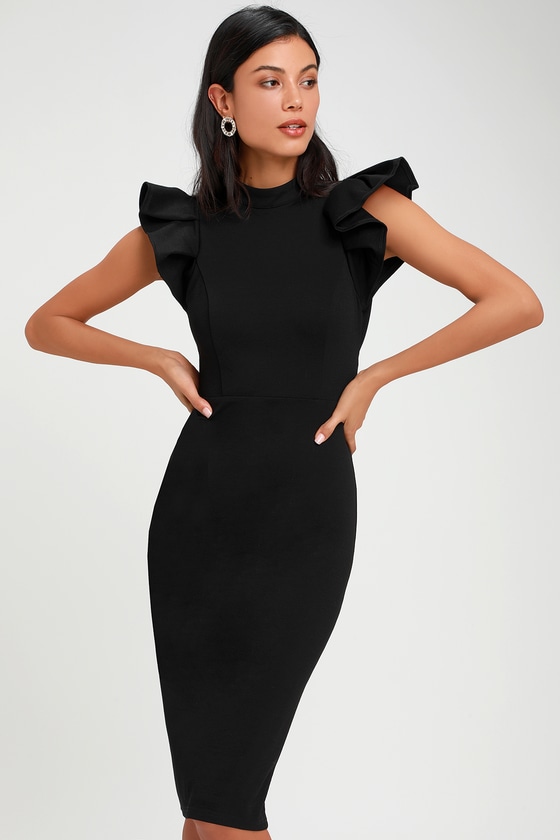 shop here
13. Black Off-the-Shoulder Maxi, $89
I love this dress! The length of a maxi skirt gives it a little warmth, while the top cuts out on the neckline and has an off-the-shoulder neckline for a stylish trend. Get it here.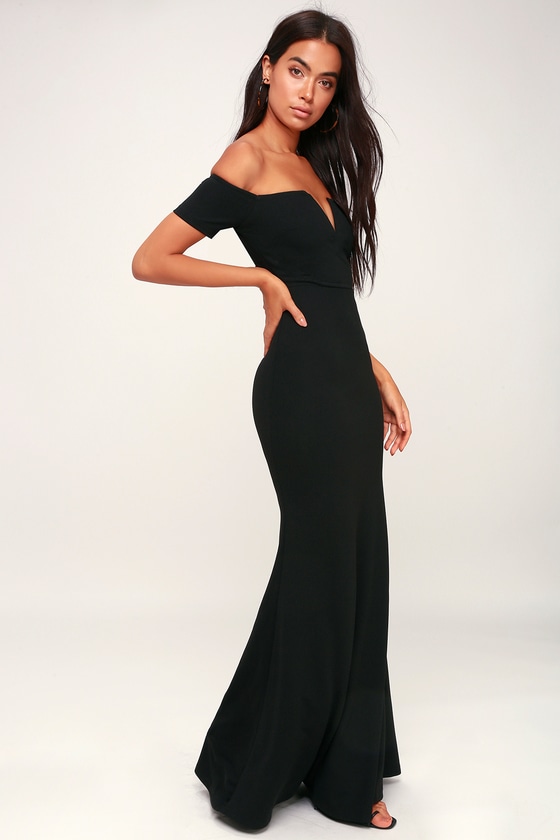 14. Square Neck Slate Blue Satin Dress, $64
Ooh, stylish! This slate blue satin dress is made for dancing with long sleeves for December weddings. Also available in dark green and black: see them all here.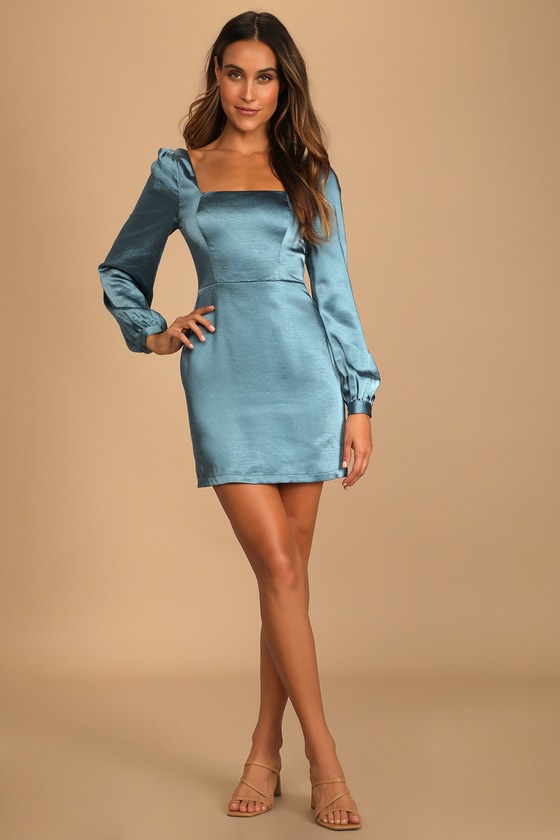 15. Dark Green Midi Dress, $62
This is a beautiful dress for winter weddings. Get it in dark green as shown here.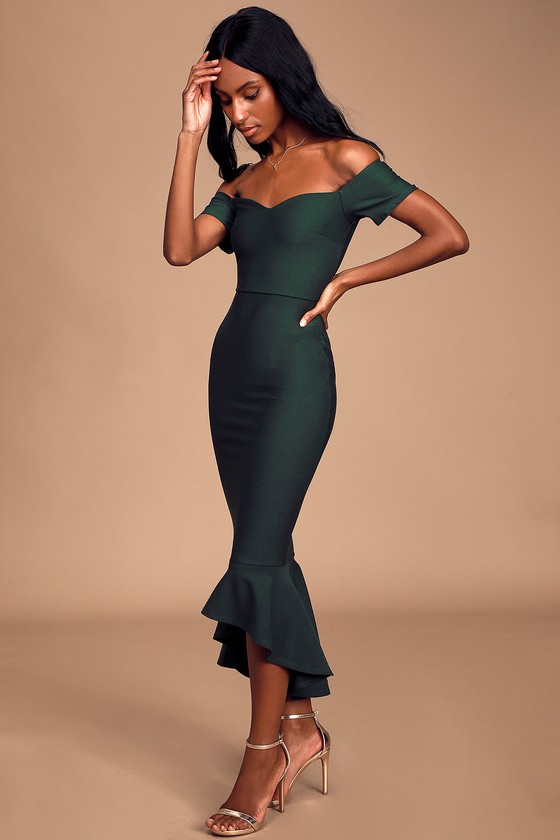 16. Short Sleeve Maxi Wrap Dress, $78
What a cute wrap dress! Shown in burgundy: a blissful and beautiful December wedding color. Get it here.
17. Forest Green Bell Sleeve Dress, $59
I love this dress! Wedding guests will be green with envy over these bell sleeves and mini length. Cute! By Lulu's.
18. Red Puff Sleeve Mini Dress, $66
And last but not least, this adorable red mini dress with puff sleeves is a cute outfit to wear to a December wedding as a guest! Get it here.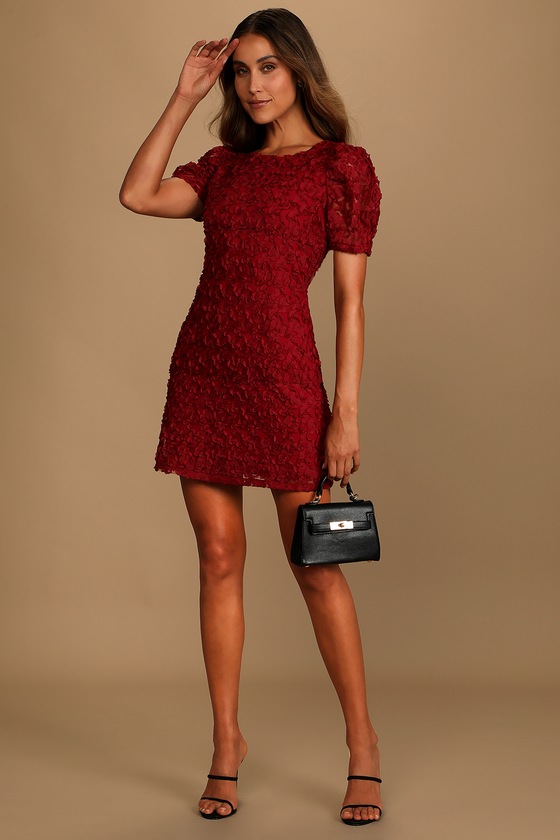 So, what do you think of these attire options? What will YOU wear to a December wedding? Tell me about it in the comment box below.
Many thanks to Adalyn for writing!
SHOP NOW
For more inspiration, check out the selection of dresses here: it's always being updated with the most popular and highly rated guest dresses listed at the top.
Happy Planning!
xo
Emma