Should you change your name after getting married?
Are you changing your name after marriage? Are you debating between a name change or keeping your maiden name after getting married? What about the different ways you can change your name?
Before you change your marital status, it is a great idea to learn more about changing your name after marriage and exactly what that will entail. It is also helpful to know about the name change process, what it involves, and whether changing your name in a traditional or non-traditional way is right for you.
Changing your name after marriage is actually a topic that entails more than you might think! To help, we're bringing in an expert on the topic of name changes due to marriage. Author Marcia K. Morgan has written a helpful book on the topic entitled: "Should I Change My Name?: The Impact of Your Last Name on Identity, Marriage, and Happiness" available in paperback and Kindle.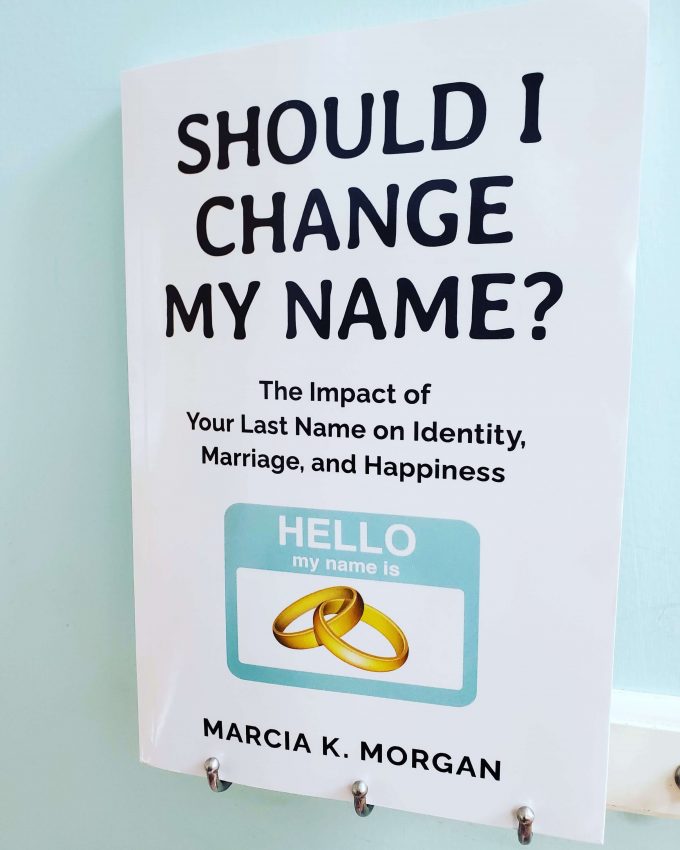 via here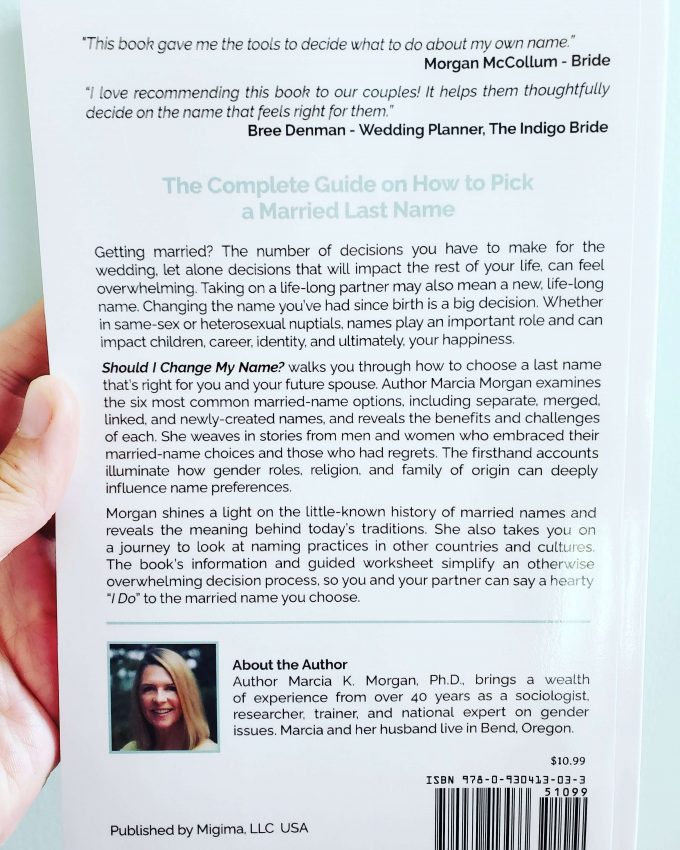 via here
Her book guides you on the topic of changing your name after marriage, what it entails, how to change your name, different ways to change your name, and also the topic of deciding to NOT change your name after getting married.
We asked her some questions on the topic and she is answering them for you today! Let's get to it!

What inspired you to write your book?
My career, and my passion, is helping women have a voice. I realized that there are many women today who are getting married that don't know there are six name options for them to consider nor are they aware of the history and reason why women were forced to eliminate their names at marriage in the first place. The history is fascinating! By law, married women were legal non-entities and became the property of their husbands with no rights. Suffragists fought for women's right to vote and to keep their own names. This isn't ancient history. Many of these laws existed into the 1980s. Knowing the roots of this name "tradition" has helped many women make a decision about their own names. Interestingly, most married women in the world do not eliminate their surnames and replace it with their husband's name.
Couples are getting married later (28-29 years old), have started careers, perhaps lived together under two different names and know that it works, think it is a hassle to change names (and hopefully documents like social security don't get messed up), find it unfair to prioritize one surname over another, or eliminate one identity and not the other, etc. Studies show eliminating a woman's own name and "starting over" with a new name can have an impact on her career and income. Many brides feel taking a new name is an outdated and repressive practice while others see it as romantic and can't wait to change their names. It is very individual. I just want brides to make informed, mindful decisions.
What are three major take-aways you hope readers will learn about the material?
You have many choices for your last name. Take time to explore what works for you. Learning about the history may help inform your decision.
Understanding social influences (e.g., family of origin, culture, religion, age, education) will help in communicating with your partner.
The elephant in the room is that women generally carry the burden, stress and do the changing of names in the US. Couples need to talk about names together (and read the book as a guide for the discussion, including conversation tips for couples). Many couples I interviewed shared that when men were asked to change their names, they refused (only 3% of men change their names at marriage). It was at this point they began to understand the depth of the discomfort many women feel in erasing their identity and changing their lifelong name.
Do you think couples spend enough time considering the pros and cons of name changes before they happen?
No, especially because it is such a big decision that impacts the rest of your life. Many just assume that changing your name is what you do but that is not the case today. I understand the decision can feel overwhelming especially in the midst of planning a wedding. That is why the book has guided questions to help narrow down what you and your partner want. I interviewed many couples who shared stories of the "pros and cons" of their name choices. We also explored what to do with children's surnames. Some women embraced their name choice and some had regrets. It is a good opportunity to learn from others. Taking the time now to make a thoughtful, equitable decision will help create happiness in the marriage.
What is one piece of advice you would give to a bride who is unsure about changing her name?
Make a list of pros and cons. Look at the list in my book because there may be some things you have not thought about like friends having problems finding you if you change your name, divorce, identity, children, records problems, etc.
Do you think it is more common today to change one's name or keep their maiden name?
It is more common today to keep your maiden name in some way, either as a middle name, hyphenated, or just retaining your birth surname.
Thank you for the helpful tips, Marcia!
We've had the opportunity to see the book in person and it is full of even more tips, pros and cons, and information to help you on the topic of should you change your name, why, and how!

You can buy the book here or click the image button above.

If you'd like to learn more about changing your name after marriage, or deciding how to change it (or maybe not changing it at all), you could win a FREE copy of Marcia's wonderful book! We're giving away one copy of the book to a lucky reader.
-Prize: One (1) paperback copy of Should I Change My Name?: The Impact of Your Last Name on Identity, Marriage, and Happiness by Marcia K. Morgan
-Prize value: $10.99 plus free shipping included | No cash value
-Enter between 4/19/21-5/4/21 (11:59pm EST) with one winner randomly selected using random.org on 5/5 and announced on this blog post. Winner will also be notified via email.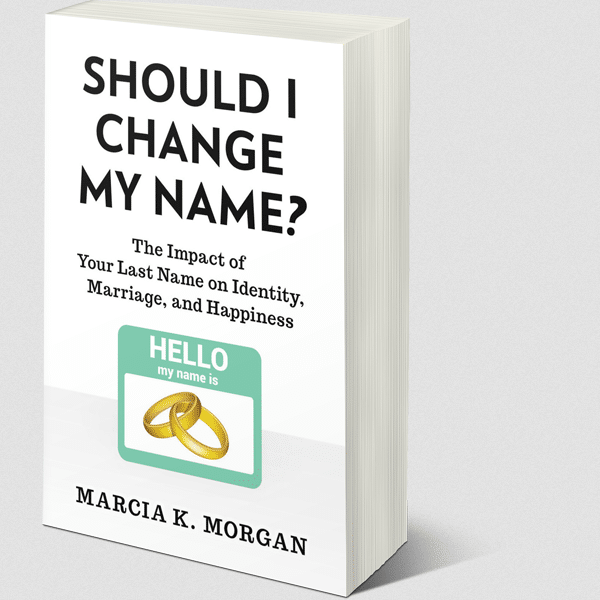 via here
—————————————————————-
UPDATE: WINNE ANNOUNCED!
Congratulations to our winner, Vanessa G! Thanks to all who entered and be sure to check out this book now available on the website or on Amazon. It's a wonderful book!
—————————————————————-
This giveaway has ended.
That's it! Here's how to enter:
How to Enter
Here's how to enter — it's easy!
ENTRY: Why do you want to win? Tell us with a comment below!
That's it! You can get one bonus entry by completing the following:
BONUS ENTRY: Visit the the book page and click on the photo of the book to look inside: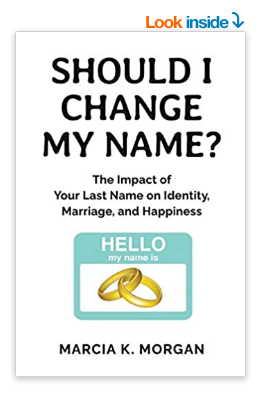 Return here and leave a separate comment below about which chapter sounds most interesting/helpful to you.
Can't wait to see what you think. Good luck + please feel free to leave any questions about changing your name in the comment box below, too. :)
Good luck!
XO
Emma
This is a sponsored post in collaboration with the author.