Despite what you've been told for years, diamonds are not the only kind of engagement ring out there and maybe isn't even your favorite stone! Emma here and today we're talking about why some brides are skipping a standard diamond stone and choosing colored engagement rings instead. From birthstones like emerald to amethyst, sapphire and aquamarine, it's no wonder brides with unique tastes are choosing to wear colored stone engagement rings instead.
Remember when it was the belief you should spend three months' salary on a diamond ring? Riiiight. That's not really happening anymore and more couples are choosing alternative rings in lieu of having cash in their pocket. Why shell out money for a huge carat diamond when you can get a house, pay off student loans, or have money to actually plan a wedding? You see, colored engagement rings are much more affordable than their diamond counterparts, and they're extremely unique. And that is precisely what makes gemstone rings a wonderful choice for soon-to-be engaged couples.
In addition to money savings and uniqueness, you have to admit that gemstone rings are downright gorgeous. You can even take this a step further and personalize it to your birth month: choose a birthstone as your center stone, or even as side stones around a classic diamond.
But first, let's talk about why you might like a colored gemstone engagement ring instead of a "traditional" diamond ring.

January – Garnet
February – Amethyst
March – Aquamarine
April – Quartz or Diamond
May – Emerald
June – Pearl or Alexandrite
July – Ruby
August – Peridot
September – Sapphire
October – Tourmaline
November – Citrine
December – Turquoise
Here's an example of Tourmaline for October!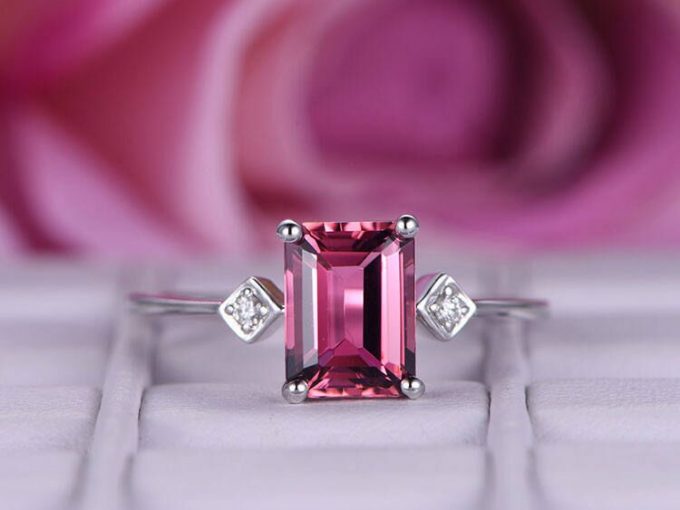 If you're interested in getting a colored gemstone ring, check out these top gemstone ring trends.
Gemstone Engagement Ring Trends
1. Morganite Gemstone Engagement Ring, $999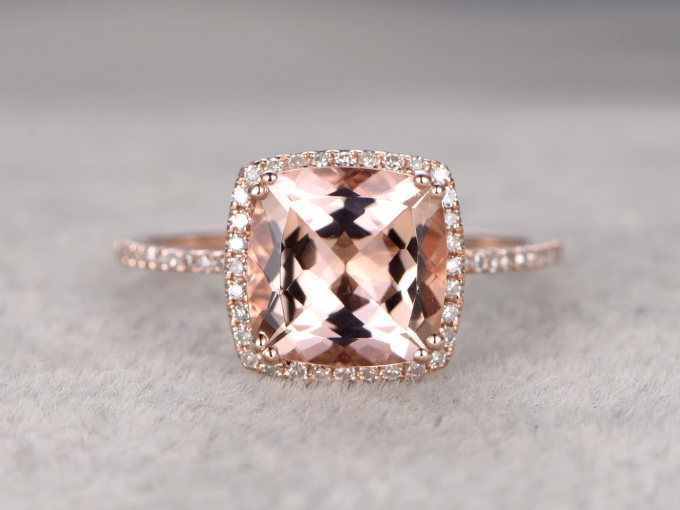 This 9mm Big cushion 3 carat Morganite engagement ring has a 14k rose gold claw prong. A gorgeous choice! Buy Here
2. Round Cut Charlves & Colvard Moissanite Engagement Ring, $1052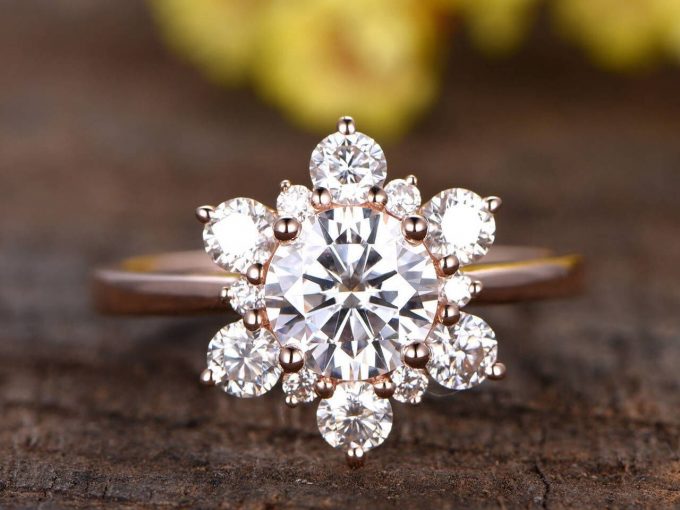 This ring features a 6.5mm round cut moissanite engagement ring. This ring makes an excellent gold promise ring, engagement ring, or anniversary gift. Buy Here
3. Moonstone Engagement Ring, $725
You know how much I adore moonstone! This moonstone engagement ring ha a vintage diamond wedding round cut band. Makes a perfect engagement ring for anyone who loves this moonstone style. Buy Here
4. Aquamarine Gemstone Engagement Ring, $799
This aquamarine engagement ring set features 14 k rose gold and a handmade diamond wedding ring. Buy Here
5. Emerald Wedding Ring Set, $699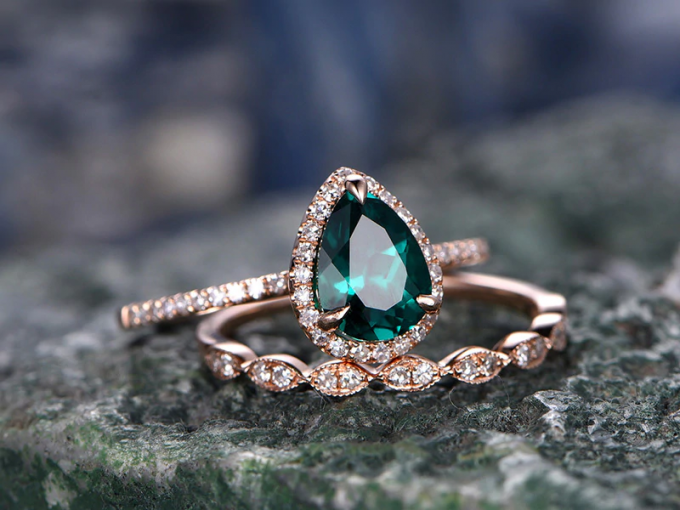 A fan of emeralds? Me too! Check out this emerald engagement ring wedding set, a stunning choice. Buy Here
6. Amethyst Engagement Ring, $709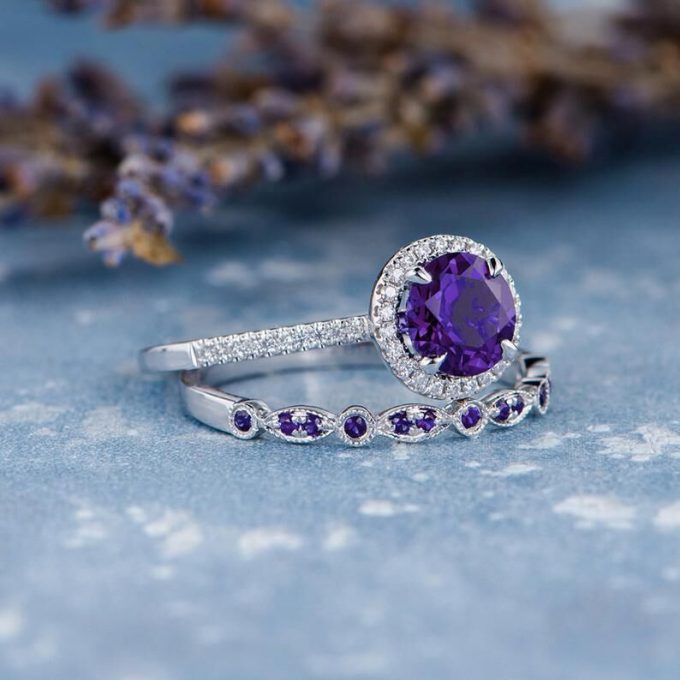 This bright amethyst engagement ring is so sparkly! It is the February birthstone. Buy Here
7. Emerald Cut Tourmaline Engagement Ring, $499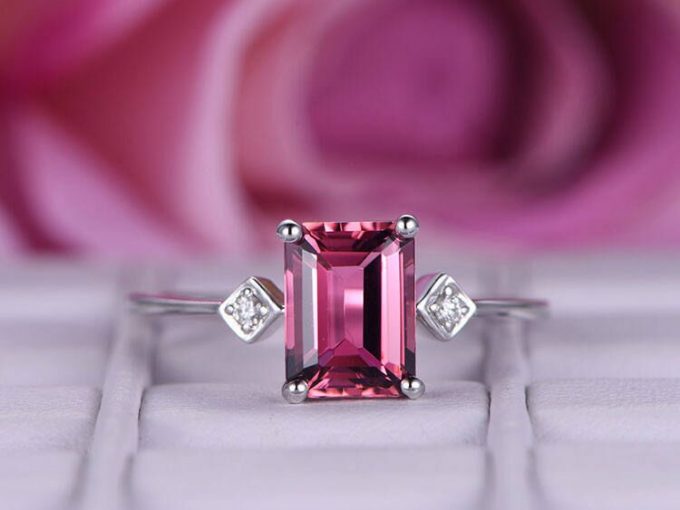 Check out this tourmaline which comes with a stackable ring. Great wedding ring set! Buy Here
8. African Opal Gemstone Engagement Ring, $865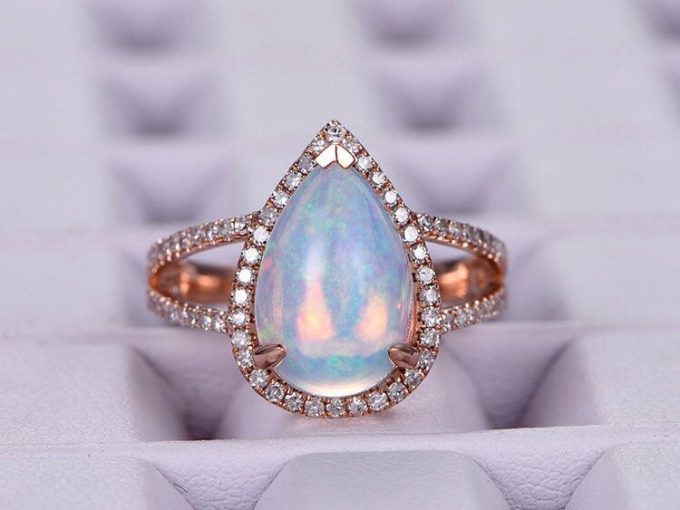 This pear-shaped African Opal engagement ring features a rose gold diamond band.Buy Here
9. Round Blue Tanzanite Engagement Ring, $635
Round blue, sparkly, and oh-so-gorgeous! This ring has an art deco flair. Buy Here
10. London Blue Topaz Engagement Ring, $860

Ah, something blue! This is my favorite of the gemstone engagement rings in this list: I'm always a fan of blue stones! Buy Here
What do you think of these gemstone engagement rings?
Are you planning to pick a colored engagement ring instead of a diamond? Why or why not? And what's your birthstone? Mine is Peridot. I've always loved the color green, so it really seems to fit. :)
Which one is your favorite? Tell us in the comment box below!
Happy Planning!
xo
Emma
This is a sponsored post by BBBGEM.