Are you looking for a bride swimsuit to wear for your honeymoon vacation or your bachelorette party? You'll find it on this list! Read on for the best swimwear for the bride + subscribe for the latest!
It's official: I am feelin' spring this morning! Warm weather is on its way (eventually, right?) and it's time for you to rock that soon-to-wed vibe with a bride swimsuit, Mrs swimsuit for your honeymoon, or fun swimwear to wear with your bridesmaids at your bachelorette bash.
by rosegoldrebel
In this blog post, we'll share the best swimsuits for the bride including bride babe swimsuit pairings for bachelorettes, team bride, solid white swimsuits without bride, wifey swimsuit, plus size bride swimsuits, and more… including some beautiful bride swimsuit cover-up options for lounging on the beach or poolside.
PLUS, we're turning this into an extra-fun blog post: you could win a FREE bride swimsuit in this week's giveaway! See which style is being sent to one lucky bride-to-be at the bottom of this blog post. Good luck!
Bride Swimsuit
Here are our top picks for bridal swimwear for 2022.
1. Bride One-Piece Swimsuit
You can get a bride bathing suit in a one-piece style like this by RoseGoldRebel. Bonus: you can get colorful bridesmaid bathing suits for your crew to wear at a fun poolside bachelorette party or beach bachelorette.
shop here
Here are some additional color options.
shop here
shop here
2. Bride Swimsuit with Face
Have fun in the sun with a custom photo print all over your swimsuit. By FancyFannyShop.
buy here
3. White Floral Bathing Suit
As the bride, you can wear any kind of swimsuit you'd like! This floral print is a fun alternative to a standard bride bathing suit and has the most flattering ruffles. By Cupshe.
shop here
4. Mrs Swimsuit
LOVE this style! Put your new name on the front. By LatijahCrafts.
shop here
5. Fun + Colorful Wifey Swimsuit
This is so much fun for your bachelorettes! By RoseGoldRebel.
buy here
6. Personalized Bride Bikini
Prefer a bikini swimsuit? Opt for this white bathing suit with bride written on the top. By SymbolicImports.
buy here
7. Modern Script One-Piece Swimsuit
This stylish swimsuit is perfect for a modern bride and features a one-piece style, nylon exterior, mesh liner, and padded inserts. By ShopatBash.
shop here
8. Criss-Cross Ruffled Off-the-Shoulder Suit
Bring on the style! By TemptMe.
shop here
9. Wife of the Party
Rock your wife of the party swimsuit as the bride at the bachelorette party and later on your honeymoon! By ModParty.
shop here
10. Custom Name Swimsuit
Beautiful one-piece swimsuit for the bride by HappilyChicDesigns.
buy here
11. Something Blue Bridal Swimsuit
By BeEverthine.
shop here
12. Leopard Swimsuit
What a fun swimsuit design! By Violetsihanaco.
buy here
13. Reversible Swimswear
This swimsuit has a reversible style so you're getting two suits in one! By ShopStagandHen.
S
buy here
14. Cutout Bathing Suit
This bathing suit is perfect for your honeymoon trip! By VamJump.
shop here
15. One-Piece Bandeau Bathing Suit
I love this bridal bathing suit style! By RoseGoldRebel.
buy here
16. Full Coverage Bride Swimsuit Plus Size
A beautiful two-piece swimsuit with great reviews! By Sovoyontee.
buy here
17. Personalized Bride Swimsuit
I love everything about this personalized swimsuit for the bride: the gold foil shimmer, the one-piece style, it's perfect! By ModParty.
shop here
18. Pearl Embellished Bride Bathing Suit
Wow, this is one of the most unique bride swimsuit styles on this list! It is made with hand-beaded pearls. By FlashByEmma.
shop here
19. Ring Finger Swimwear
Love these fun ring finger designs! Get yours BeEverthine.
shop here
20. Colorful + Cursive
By ShopatBash.
shop here
21. One-Piece Solid Swimwear
If you don't want a word printed on the swimsuit, check out this all-white bathing suit with adorable ruffles and a flattering fit. By Cupshe.
shop here
22. Cute Pom-Pom Bridal Bathing Suit
Adorable! This bathing suit has high ratings and the cutest accents. By BDCoco.
shop here
23. White Ruffle Wrap Swimsuit
This wrap swimsuit offers a flattering fit and removable padding. By Cupshe.
shop here
24. V-Neck Ruffled Swimsuit
This cute swimsuit is comfortable and offers tummy control with a ruffled design and chic v-neckline. By Annbon.
shop here
25 + 26. Cute Ring Detail Plunging Bathing Suit
This is a cute, fun style by Cupshe.
shop here
Prefer a different style? Here is another floral print also from Cupshe.
shop here
27. Cute Two-Piece Swimsuit with Colorful Bottoms
Choose a white tank-top style swimsuit and colorful swim bottoms to mix-and-match your beachy look. By Zaful.
shop here
28. Scalloped Two-Piece Swimsuit
Get this stylish two-piece suit for the bride! By Tswrk.
shop here
29. Bride Swimsuit Not White
Can you wear a bride bathing suit not white in color? Of course! You can choose a white suit with a pattern, like these polka dots… or choose this style, which is available in tons of other colors! This swimsuit has some of the BEST ratings we've seen! By Omkagi.
buy here
30. Deep V-Neck Monokini
Figure-flattering and comfortable! By Romwe.
shop here
31. Solid White Swimsuit
Easy one-piece swimsuit with Bride on the front. Affordable, too! Shifeier.
shop here
32. The Bride
By AriesxRising.
shop here
33. White Lace-Up One-Piece
By Lulus.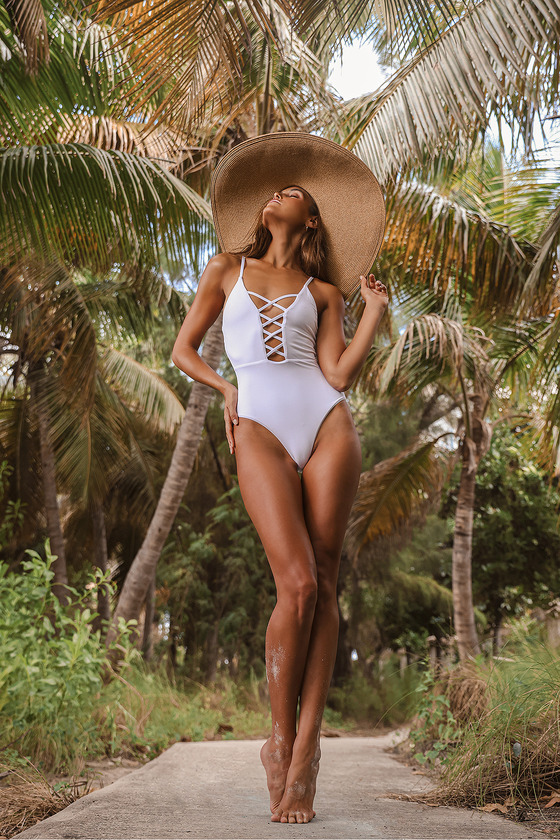 shop here
34. One-Shoulder
By Lulus.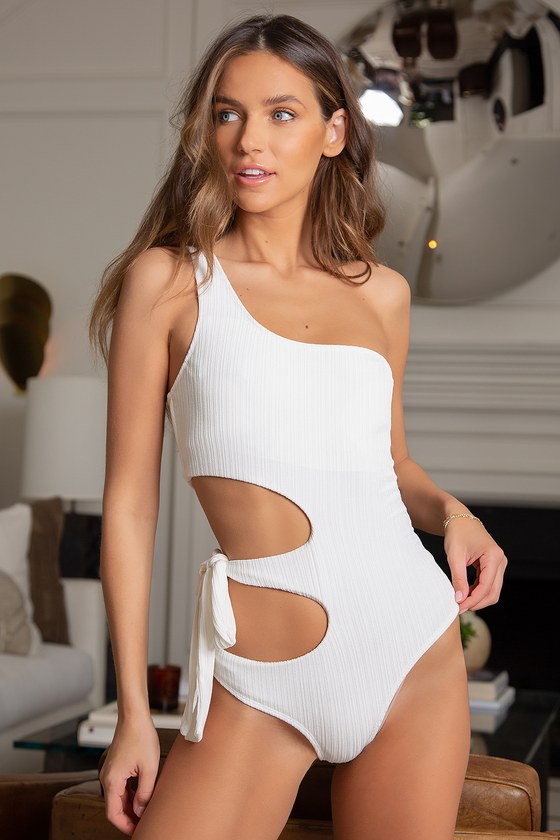 buy here
Bride Swimsuit with Veil
Do you want to make yours a swimsuit with a veil? Done! Just add on one of these adorable veils that goes on the back! By BikiniBootyVeils.
shop here
Bride Swimsuit Cover Up
Are you looking for a cover up for your swimsuit? Wear a cute bridal one in white! Here are a few of our favorite styles of bridal swimsuit coverups.
Bride Coverup
LOVE this one! By ModParty.
shop here
Beach Pants Cover-Up
These are perfect for lounging around a beach resort! By Lulus.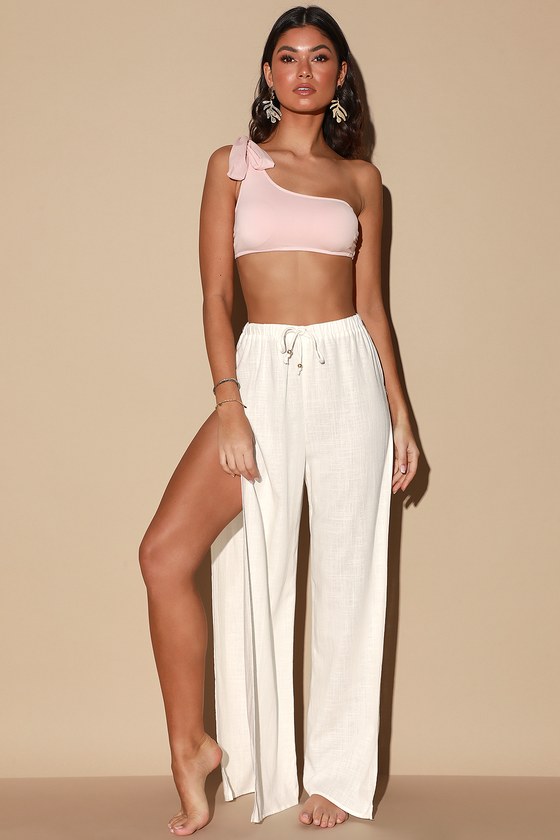 shop here
Crochet Cover Up
By Lulus.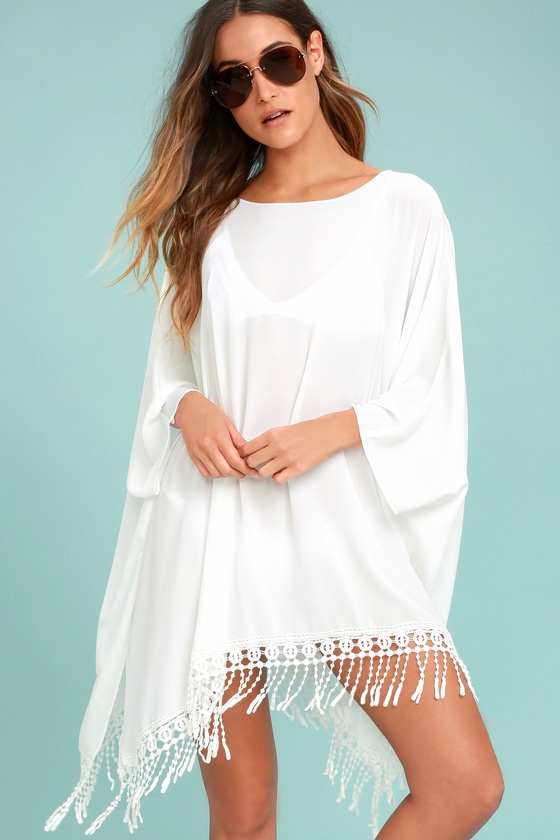 buy here
Bride Cover Up with Tassels
Adorable! by Yincro.
shop here
Boho Lace Swimsuit Cover Up
Love this lace coverup for the bride! By Jeasona.
shop here
Oversized Bride Cover Up
By Loritta.
shop here
Flowy Maxi Bridal Swimsuit Cover Up
By Bsubseach.
buy here
Beach Sarong
This short sarong skirt is a perfect cover up for the beach. By Ekouaer.
shop here
GIVEAWAY
Now's your chance… you could win a bridal swimsuit in our giveaway!
• Enter between 2/14/22-3/1/22 (11:59pm EST)
• Prize: One (1) bride swimsuit from RoseGoldRebel. Choose a one-piece swimsuit with 'Bride' on the front in your choice of color and size (from S to XXL) as shown below. Note: Winner will win ONE swimsuit.
shop here
• Prize Value: $23.99 plus free shipping to USA | No cash value
• International winner pays shipping
• Use entry form below to enter
• Winner must respond to winning email within 72 hours or a new winner will be selected; winner must claim prize within 3 months.
Good luck!
If you don't want to wait for the giveaway, you can shop the prize here!
Want to shop more swimsuit styles? Click here to shop!
Happy Beaching!
xo
Emma