Do you want to know what makes pop up greeting cards vs. regular cards better? Let's discuss this unique alternative! Read on for more + subscribe now for the latest!
The art of a greeting card always manages to put a smile on one's face, no matter the rhyme, reason, or season.
I don't think it's possible to open a greeting card for one's birthday, engagement, wedding, or another happy occasion WITHOUT grinning from ear to ear while doing so. :)
shop here
There's something remarkable that happens when you receive snail mail: a hand-written, hand-addressed card awaits you in your mailbox and it is delightful to open it up and reveal the message inside.
While text messages and emails are convenient and instantaneous — and I'm grateful for the ability to send a funny meme to my sister in mere seconds — technology fails to perform on the same eschelon of magic that greeting cards manage to do!
shop here
I'll take it one step further and state that pop up greeting cards bring that magic to an entirely new level.
shop these cards now
Pop Up Cards
A pop-up greeting card does exactly what you think it might: it POPS open to reveal a 3-dimensional scene, right before your eyes. Rather than a flat card (which is fine but, let's be honest, is hardly wow-worthy), pop-up cards reveal a fun, colorful array of 3D paper visuals that will make anyone smile.
You can even get a pop up bouquet, which can be placed on a desk for happy flowers to greet you every day!
shop here
A pop up card is a joy to give and exciting to open. As someone who holds onto cards for years, I'll admit that these pop-up cards will be granted prime storage location. I don't want anything to happen to these mini works of art! :)
Who makes pop up cards you can buy?
Known as an expert in the industry, Lovepop Cards has positioned itself as an expert in the industry, getting its first wave of popularity after being a contestant on Shark Tank. I recall watching the episode myself, inspired by the sheer work that was placed into each card. Mini works of art, I thought. When they reached out to us to see if we'd like to see the cards in person and share our experience, I couldn't wait to give it a try. Having the opportunity to open these 3D cards myself was an entertaining experience and one I'd like to share with you in a review below.
If you've never sent or received pop up greeting cards before, there's nothing quite like it as far as cards are concerned. The front of a pop-up card is like any other: there's a short message or greeting on the front. But when you open it up, you reveal a fun, colorful array of 3D paper visuals that will make anyone smile. From a bouquet of flowers to a favorite character to an enormous textural tree, pop up greeting cards practically come to life.
shop here
You can get pop up cards for weddings, engagements, holidays, specialty pop up cards for kids, and so much more. I'm hooked on this site, as I keep finding new cards to love — even paper bouquets like these.
shop here
shop here
shop here
shop here
Where to Buy the Best Pop Up Cards
After seeing these cards in person, it is my opinion that Lovepop makes the world's best pop-up greeting cards.
Here are a few reasons why I'm awarding such accolades:
• Shipping Time is fast. The cards arrived on time and within the dates given when I placed my order.
• Packaging is absolutely amazing. I ordered 5 pop-up greeting cards (to get the special bundle rate) and I received one large, well-protected brown envelope for packaging that read, "PLEASE TREAT WITH LOVE, Do not bend" and it arrived in perfect condition. Secondly, the packaging of the cards themselves inside the outer envelope was superb. I'm a stickler about cards getting bent or torn, and I can happily report these cards are as fresh as if you just picked them up in your hand at a local boutique. They are protected individually by plastic form-fitting bags, so the cards aren't exposed to any elements.
shop here
• Quality The paper quality is top-notch. The cards are made of high-quality, thick cardstock. These are NOT flimsy, cheap cards you might find at a bargain bin. These are seriously frameable works of art. I can't get over how soft and luxurious the cards felt in my hands. Worth every penny!
• Price These cost more than regular greeting cards, but these are the best pop-up greeting cards, so you really expect to spend a bit more on quality. :) Besides, I was at a big box chain store yesterday and, while looking at the greeting cards in-store, was blown away by the sheer price of them. You can probably expect to pay $4.99 towards $6.99 for a greeting card these days. With the bundle, I bought 5 cards for $50 and had free shipping, so the cost was $10 per card. To me, delivering it to my doorstep, including the outer envelope to address and stamp, and the beauty of these pop-up cards is well worth the price.
shop here
shop here
• Uniqueness Anyone can give a card. Everyone loves greeting cards! But does everyone receive pop-up greeting cards on the regular? Nope! And that's where sending one in the mail sends a little extra magic to a loved one. :)
OK, you get it: these are amazing pop-up cards! Check out a few images I snapped on our Instagram @EmmalineBride earlier today, along with a short snippet of the cards unfolding so you can see the magic for yourself. I received these in time for Valentine's Day and there are a few little cuties (my kids) who are going to be surprised to open these up on February 14th. I can't wait to see their expressions!
shop here
shop here
P.S. Now, mine are Valentine's Day themed because… 'tis the season. But for you, a card to celebrate someone's birthday, engagement, wedding day, or simply to surprise the love of your life may reveal all kinds of other 3D visuals. There is even an entire collection for Disney fans, which is pretty amazing if I do say so myself.
See it in action!
Ready to get a pack of your own cards? Click here to visit the shop at Lovepop. After you try one, you'll be wondering where it has been all your life! ;)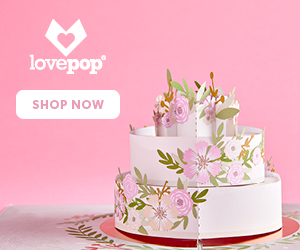 Don't miss: International Women's Day Collection.
ON TO YOU: What do YOU think of greeting cards that pop up? Have you tried one? Which style above is your favorite? Tell us in the comment box below!
Happy Planning!
xo
Emma