Do you need periwinkle bridesmaid dresses for your wedding? We found a handful of the best ones, all under $100! Shop affordable periwinkle color bridesmaid dresses below + be sure to subscribe for the latest to our inbox!
If you're planning a periwinkle wedding color scheme, you're probably hoping to find the periwinkle bridesmaid dresses for your bridesmaids to wear.
After receiving requests from you guys on this up-and-coming color, we made periwinkle bridesmaid dresses our mission and we found eight of the prettiest cuts, silhouettes, and styles for your bridal party attendants. We found periwinkle bridesmaids dresses that are mini, midi, maxi, high-low, and convertible for any style you crave.
We'll to the dresses in a minute… first, let's discuss this unique shade: what is the periwinkle color anyway?
Periwinkle Color Bridesmaid Dresses
Periwinkle borrows its name from the flower of the same name. It is best known as a pale indigo color; some may say it has subtle shades and hints of both pink and purple. Periwinkle is a beautiful choice for bridesmaid dresses and represents peacefulness, calm, and femininity.
While purple pals like lavender are popular this spring and summer, we're seeing a huge emergence of periwinkle as an up-and-coming trend; it is a perfect shade for brides who can't choose between pink, blue, or purple, since it's right in the middle. :) It borrows a little hint of each!
Periwinkle Bridesmaid Dresses
If you're looking for periwinkle bridesmaid dress options, this is the guide for you. And if you're looking for a periwinkle wedding guest dress, you'll find great selections here, as well, at affordable prices.
Which style is your favorite?
1. Tie-Strap Periwinkle Bridesmaids Dresses, $58
How adorable is this dress?! It is a soft shade of periwinkle blue, features tie-straps on the shoulder for a feminine touch, and has a trendy midi length. Love it! By Lulus.
shop here
2. Convertible Bridesmaid Dress, $33
I can hardly believe the price of this bridesmaid dress, which ranges from $33 to around $60, depending on length and size. These handmade dresses are by Bridgettbe11e on Etsy. You can shop periwinkle bridesmaid dresses floor-length or short knee-length in style; these can be worn multiple ways, so bridesmaids can decide which dress style flatters her best! Love this option. Shop here.
shop here
3. Dark Periwinkle Bridesmaid Dresses with Sequins, $88
This dress reminds me of shimmering blue seas! It has a sequin style and a halter neckline, plus a maxi floor-length skirt. Get it here. By Lulus.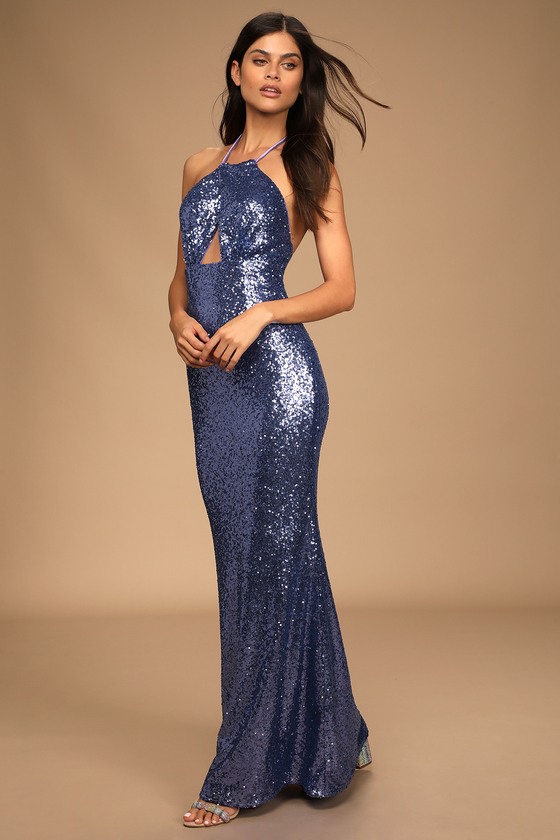 shop here
4. Short Periwinkle Bridesmaid Dresses, $69
This mini length lace bridesmaids' dress in periwinkle has a bodycon cut and fit with a sleeveless silhouette, high neckline, and cute lace cap sleeves. By Lulus.
shop here
5. Floral Print Dress with Periwinkle and Cream Flowers, $79
If you're looking for periwinkle bridesmaid dresses but want to add just a bit of blue, opt for these floral dresses instead! They have a fun and casual high-low length, a maxi style skirt, and a navy blue color with hints of periwinkle and cream-colored flowers. By Lulus.
shop here
6. Floor-Length Bridesmaid Dress with Thin Straps, $64
This dress looks beautiful! It has a pretty shade of periwinkle and a floor-length skirt, perfect for dancing at your wedding. By Lindo Noiva.
shop here
7. Double V-Neck Periwinkle Purple Bridesmaid Dress, $52
Love this one! It has a v-neck in the front and the back. You can shop this look here.
shop here
8. High-Low Periwinkle Bridesmaid Dress, $72
This lace bridesmaid dress in periwinkle has a higher neckline and a pretty high-low hem. Shop here.
buy here
And there you have it: pretty periwinkle dresses for bridesmaids! Which ones will your crew be rockin' this summer?
Happy Planning!
xo
Emma