What wedding vendors do I need? And in which order do you book your wedding vendors? We're here to help! We have the wedding vendors you need to hire and when. Read on for the timeline and subscribe now for the latest to your inbox.
Today we're tackling a wedding question from bride-to-be, Kate. She writes:
"Hello Emmaline Bride! I'm wondering what wedding vendors do I need, and in what order should I hire my wedding vendors in? Thanks for your input."
Great question, Kate! I think many people wonder the same question while planning their wedding. You're suddenly faced with the big question: what wedding vendors you need, and in which order to book wedding vendors. We're here to help you with both!
Here is a comprehensive list of the wedding vendors you need and in which order to hire them.
Wedding Vendors You Need
Here are the must-have wedding vendors! We're also including a brief mention of each and telling you in which order to hire wedding vendors.
by paper peach shop
Wedding Vendor List
1. Venue: 12 Months
First things first: you need a place to get married! This is one of the most important wedding vendors you need: a solid venue!
Start looking for venues for the ceremony and reception ASAP. You can either find the venue you love and book it so you have a wedding date OR wait until you book your wedding planner if you want their assistance in helping you find one, book one, and read all the fine print in your contract before you book.
2. Wedding Planner: 12 Months – 10 Months
If you're booking a wedding planner (full-scale or day-of), you'll want to book one at least 12 months before the wedding day. (*If it is solely a day-of coordinator, you can book a bit later, but preferably around the 10-month mark.)
3. Photographer + Videographer: 12 Months
The timeline for booking your photographer and videographer used to be 10 months, but I've moved that up due to how incredibly busy vendors are booking this year. You don't want to be left without a photographer or videographer, so book early.
4. Band or DJ and Ceremony Musician: 11 Months
You'll need music and a DJ for your wedding! You'll also want a musician for your ceremony. Book your band or your DJ around the 11-month mark. If possible, book your ceremony musician at the same time. You'll have ALL of your music checked off the huge timeline: go you! :)
shop birch and river studio
5. Officiant: 10 Months
Book your officiant around 10 months to 9 months before the wedding day. Plan to meet with him or her 3 months before the wedding to go over the ceremony, readings, processions, music selections, vows, and more.
6. Attire: 12 Months to 6 Months
Find your bridal gown atelier as soon as possible. It's never too early to find your gown! When you find it, you'll feel some of the stress melt away; you'll be set up for regular fittings on time.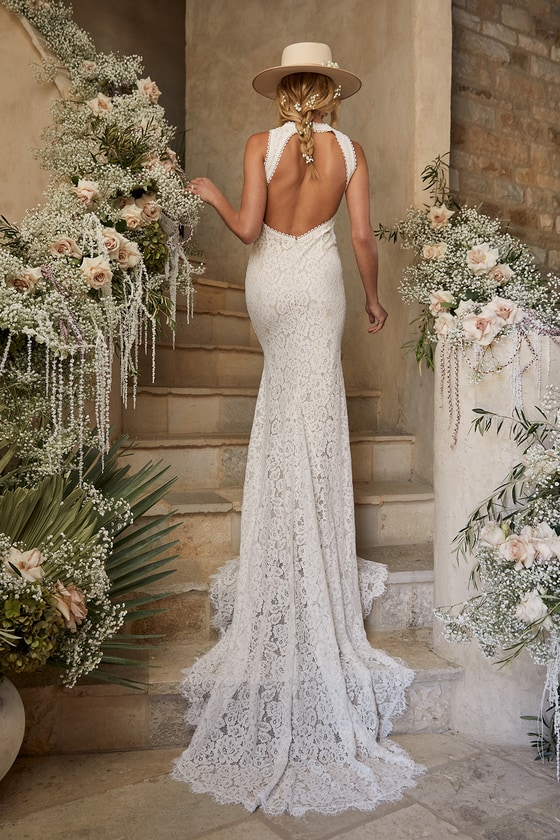 shop here
• For bridesmaid dresses, you'll want to book them 6 months ahead of the wedding day to allow time for the dresses to be made, shipped, tried on, and tailored.
by lulus
• Menswear for groomsmen should be ordered 6 months in advance, too.
shop suits
7. Hair and Makeup: 9 Months
Book hair and makeup 9 months in advance. While you're booking your wedding vendors for hair and makeup services, be sure to schedule a trial run for both services ahead of the wedding. Some brides like to do a trial run for their bridal shower or bachelorette party since you will have a fun event to attend. Good idea!
8. Caterer: 9 Months
If you didn't already book catering with your venue (i.e. if your venue doesn't offer food on-site), arrange your caterer for your wedding AND your rehearsal dinner around the 9-month mark. Some pros recommend this at 8 months, but I think you need to do it sooner this year due to demand.
9. Invitations / Stationery: 8 Months
Start looking for wedding invitations and coordinating day-of wedding stationery as soon as you are interested and no later than 6 to 8 months before the wedding. When it comes to invitations, be sure to order your invitations in time to mail them out 8 weeks before the wedding day. This may take time to customize, print, deliver, and then assemble, address, and mail them out. Order early! And be sure to use a discount, since there are almost *always* discounts happening at invitation shops online.
by phrosne ras
10. Florals, Decorations, Rentals: 8 Months – 3 Months
Book your florist 8 months in advance.
You'll want to start looking at decorations and rentals and look to book around 5 months before the wedding day. If you're ordering supplies online, 4 to 5 months should be sufficient. Allow extra time if you're looking for custom items.
by wooden custom gift store
Favors should be ordered 3 to 4 months ahead of time.
11. Cake: 6 to 8 Months
Book your bakery 6 months in advance and up to 8 months if you have special orders or a particular baker in mind.
Be sure to schedule a cake tasting!
It's also a good time to find your cake stand, cake knife/server, and cake topper.
You can get a beautiful cake stand — handmade just for you! — like this one by AHeirloom. It's beautiful!
by aheirloom
12. Transportation: 3 to 4 months
If you need transportation, book your wedding vendors for limousines or shuttle buses during the 3 to 4 month mark.
And there you have it: exactly what vendors you need and when to book wedding vendors.
If you have more questions, let us know in the comment box below!
Which Wedding Vendors Do You Need to Hire?
TELL US: Which wedding vendors do you need to book, and have you booked them all yet? Tell us in the comments!
Here's the vlog we shared on TikTok on the topic (are you following?!)
♠ Up Next: We have a list of which wedding vendors you need to tip! Read all about it here.
Happy Planning!
xo
Emma