Convertible bridesmaid dresses are one of the most popular choices for attire. It's not just because they're made with incredibly comfortable and soft fabrics, or the fact that they can be worn a variety of ways. So when we received this Ask Emmaline question from Lauren, we knew other brides would be wondering the very same thing. She asks,
"Hi Emmaline! I have five bridesmaids and I am deciding on dresses right now. I really wanted to go with a convertible dress so they can wear it any way they'd like and hopefully after the wedding, too. I've seen many dresses but they're too expensive (over $200). Do you have any tips on where to find the best convertible bridesmaid dresses? Thanks!"
Great question, Lauren! We're happy to help you out. In this post, we'll show you why bridesmaids love these dresses, show you where to buy the best convertible dresses for bridesmaids, and share our favorite finds to inspire you! Enjoy!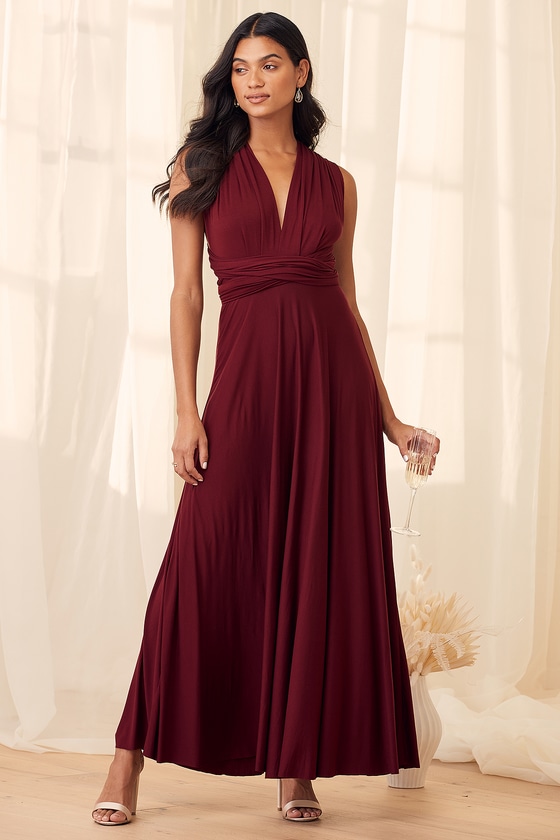 by lulus
Convertible Bridesmaid Dresses
Convertible dresses — also known as multi-wear, wrap, or infinity dresses — are designed to be worn multiple ways, all depending on how she likes to wear it best. This is undoubtedly the number one reason why brides and bridesmaids love this dress so much! Brides love the consistency in color for wedding photographs (and coordinating with wedding color palettes) and bridesmaids feel confident wearing a dress which flatters them best. To show you an example, here is a grey convertible dress (spotted at Coralie Beatrix) where each bridesmaid wore it differently.
by coraliebeatrix
Each bridesmaid can wear a style unique to her, while coordinating perfectly with the wedding party. Similarly, brides can opt for more freedom of color choice, creating a mis-matched bridesmaid dress with complementing shades (like this example, also spotted at Coralie Beatrix).
by coraliebeatrix
While convertible dresses aren't new, they're certainly a trending apparel choice for wedding parties right now and we predict they'll continue to be a popular choice for years to come. That's because they're made of incredibly soft and comfortable fabric, they're available online from handmade, independent artisans and designers (like on Etsy), and their price tag is INCREDIBLE.
We've Found the Best Places to Buy Convertible Dresses
When the bride finds a place for her bridesmaids to buy their dresses, she's going out on a limb, hoping the company will take good care of the orders and make dresses just as beautiful as she envisions them. Since we love our readers and want you to find only the most awesome dresses for your bridesmaids, we've done some serious research on this topic. In our findings, there were an unfortunately large number of non-reputable companies out there, promising cheap convertible bridesmaid dresses which lacked quality. Other dresses were shipped from overseas but lacked proper measurements, even when given to them by direct customers. And even worse, some shops we found had poor reviews or feedback from actual customers. That's no fun for anyone.
Since we want you (and your lovely bridesmaids!) to have the best experience buying online, we've gone ahead and identified the three best places to buy convertible bridesmaid dresses. And while there are dozens of other beautiful shops out there, we wanted to narrow it down to three to make it easy on you. How did we choose these three? These shops have impeccable reviews / positive feedback from real buyers, and use high-quality fabric material in their dresses. Plus, they've all been in business for quite awhile, making customers happy all along the way. To top it off, we love that they offer convertible bridesmaid dresses UNDER $100. That's an incredible deal for your bridesmaids. Believe me, they'll be so appreciative in the fact you've saved them some serious money on a dress they'll *actually* wear again.
Best Places to Buy Convertible Bridesmaid Dresses
In our opinion, the best places to buy convertible bridesmaid dresses – in no particular order – are… drumroll please
These dresses are available in a multitude of colors and are priced right at $89! Amazing, am I right? Here are some of the most popular colors of the moment. These are wildly popular and you can shop here.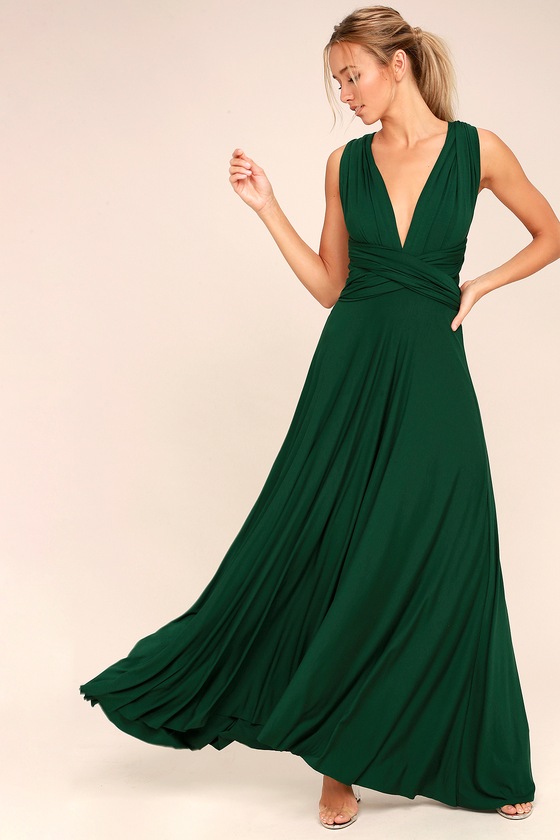 buy here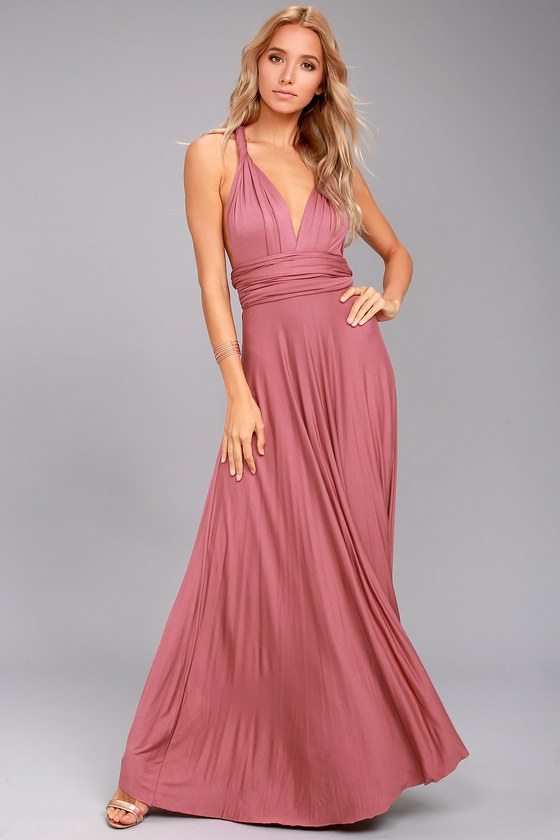 buy here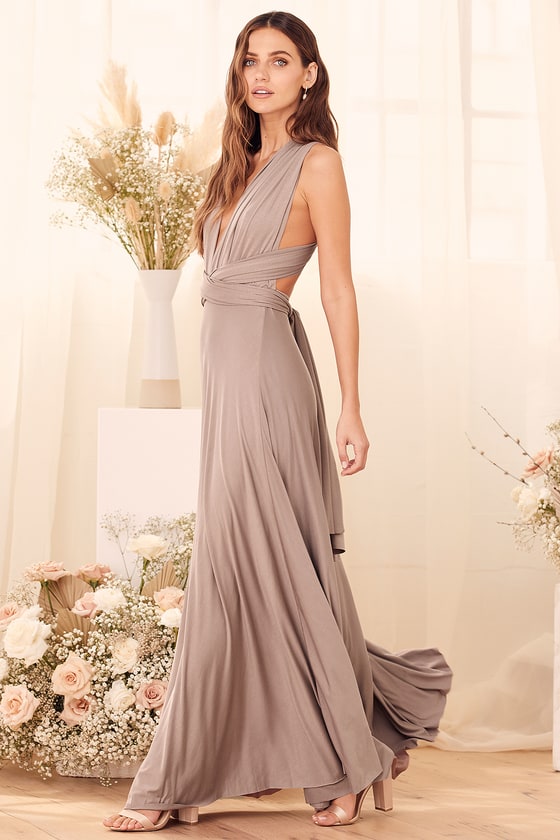 buy here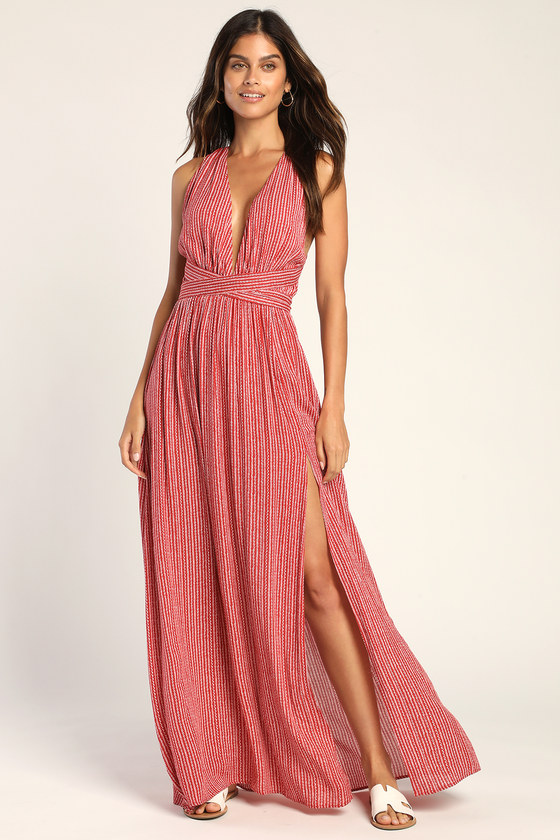 buy here
You can shop more here.
We love Coralie Beatrix's line of infinity 'Octopus' dresses and the incredible sumptuous fabrics they use! And you can't beat the amazing reviews from Real Brides. Plus, they're based in California (and ships worldwide!) and offer different upgrades or hem styles for just slightly above the $100 mark. One example is this awesome two-toned dress, as seen below.
by here
Their standard infinity dresses run about $98.99 and up, which is a heavenly price point for bridesmaids! This crimson dress is AMAZING.
LePortDesign's collection of infinity and convertible bridesmaid dresses boast MANY color choices and multi-wear styles. I especially love the short and long convertible dresses, which begin at $59+. They have wonderful feedback and ratings; you get a free bandeau, too! Yay! Shop here.
buy here
This beautiful shop on Etsy features a gorgeous array of affordable dresses in the latest infinity styles. Shop here.
Designer The Jersey Maid is a shop run by designer and owner, Erin, along with her assistants Lisa and Jane. They're based in Missouri (and ship worldwide). These dresses start at $75 and they offer tons of Real Wedding examples in their shop to give you an idea of how they'll look on your wedding day. Similarly to the above, Erin is passionate about her work and says, "My hope is that the convertible dresses will help to make your life as the bride (or bridesmaid) much easier during the search for the perfect bridesmaid dress!" We know you'll love her dresses! See examples of Real Bridesmaids in the store.
And last but not least, many bridesmaids swear by the amazing convertible dress options available in this shop. The price is great and they have a wide selection. Shop here + see real examples of bridal parties here.
Tips on Convertible Bridesmaid Dresses
Before we leave you to swoon over these beautiful dresses, there are a few helpful tips we wanted to share with you:
o How to Wear Convertible Dresses
Worried you won't know how to wear these dresses multiple ways? Each of these artists offers a video and/or card included with your order to show how to wear the dress in a variety of ways.
o What to Wear Underneath
Convertible dresses do pose a "what kind of bra to wear?!" question for many bridesmaids. However, bandeau tops are available (each shop we mentioned above carries them!) for additional coverage / modesty. Depending on how the dress is worn, we also recommend one of these strapless bras or an adhesive bra.
This one is a top-seller and is by Wingslove.
buy here
Convertible Bridesmaid Dresses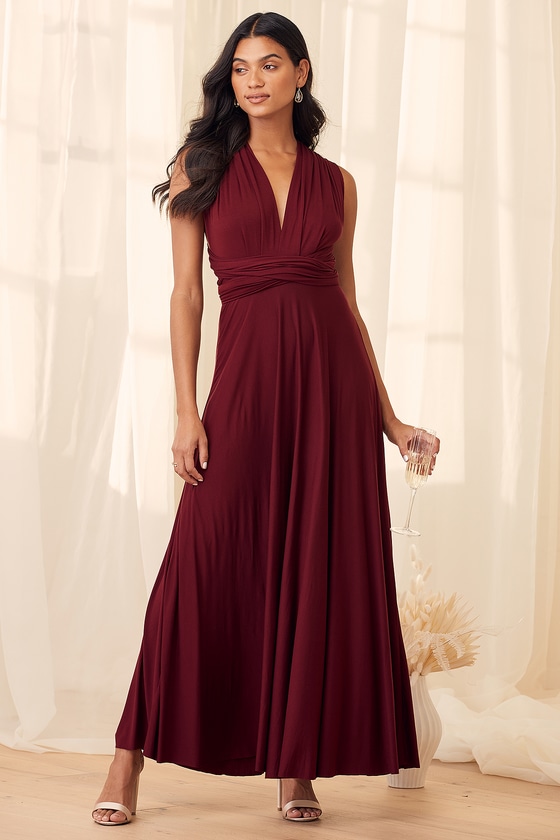 shop here
Ready to shop? You can find out more about these dresses at their shops:
– Lulus
– Coralie Beatrix
– LePortDesigns
– Mimetik
– The Jersey Maid
– DCDress
Hope it helps and good luck!
xo
-E.