So you want to plan a bachelorette party on a budget, but you're not sure it can be done?
It not only CAN be done… but planning a bachelorette party that is affordable is a great way to do it!
There's really no need to splurge like crazy on the bachelorette party because you will still have fun no matter what.
Besides, as the Maid of Honor or a bridesmaid, you're already spending a ton of money on the other wedding festivities: the bridal shower, the bridesmaid dress, your shoes, hair, makeup, gifts for the bride, wedding gift, travel…
… okay, I'll stop there because I can tell I'm already starting to stress you out. ;)
So, together we'll plan an affordable bachelorette party the bride will love, your guests will remember, and it won't totally blow up your bank account.
Read on for the best tips and an easy-to-follow plan to throw a bachelorette party on a budget… but no one will even know you did. ;) Enjoy!
Tip: You don't HAVE TO get shirts, but they can add a lot of fun to the party. These are by FletcherAndMcCabe:
via fletcher and mccabe
Or these by AffectDesignStudio.
by affect design studio
Or these, shipped fast and free from FastDeliveryTees:
by fast delivery tees
OK — on to the planning!
Simple + Affordable Bachelorette Party Tips
Every bachelorette party starts the basics.
The first thing any bachelorette party needs is… DRINKS! Just kidding. The first thing every bachelorette party on a budget needs is… a guest list. :)
Make a Guest List
Hey, party people: who's coming to the bash? You'll need a guest list so you know how many people will be attending. You'll also want to find out who the guest wishes to include and chat with her on what kind of party she is envisioning so you can ensure you're both on the same page.
So… ask the bride to provide a list of the guests she'd like to include and obtain mailing addresses (or email addresses if you're planning to go the
email invitation route). With this preliminary guest list, you'll have a head count to figure out what kind of bachelorette party you can throw on a budget and what can or cannot be accomplished in that price range.
Next, you'll focus on the WHEN and WHERE.
Speak to the bride about when she'd like to have the party. Usually the bachelorette party is thrown a week or two prior to the wedding. Make sure she's free, then get started on the where.
Then, discuss where it should be held. When you're deciding on the location of the bachelorette bash, keep it simple.
DECIDE: Is this going to be a bachelorette party weekend with overnight stays OR a one-night party where everyone Ubers back home afterward?
You can do either of these on a budget and here's how. We'll tackle the following in order, so scroll down if you just want to scope out a particular section + look for its header.
• Location
We'll tell you where to host the bachelorette party on a budget.
• Food
Food and drinks for an affordable bachelorette party your guests will enjoy.
• Invitations
How to invite guests on the cheap — without sacrificing style.
• Games / Entertainment
Entertain guests at a bachelorette party on a budget.
• Favors
Send guests home with a small, affordable bachelorette party memento from the shenanigans.
• Decorations
And last but not least, a few decorations to personalize your party space!
Fun cocktail napkins like these from ForYourParty are always my go-to!
buy here
Let's get started!
Location
Keep the bachelorette party local.
If you keep the bachelorette party locally, you'll save a ton of money on transportation and travel costs. You can still have a fun bachelorette party weekend in your own hometown. Look for hotel deals in your local area on Groupon or by searching on Kayak.com or Hotels.com for deals and discounts.
You will either want to provide a central party location where the festivities begin, which can be your home or a hotel. This is where guests will meet and then go to the next location, if you're heading out for a night on the town. This allows guests to have some food and hang out together, play some bachelorette party games, give gifts to the bride, etc. before heading out.
If you're NOT planning to have a central party spot, these festivities can happen at a bar or restaurant of your choosing, but we recommend finding one that will allow for a big reservation ahead of time or even has a separate party event space for guests, depending on the size of your guest list.
Ask bridesmaids to chip in.
The hotel accommodations are not solely the Maid of Honor's responsibility. She can, however, cover the cost of a hotel suite for an overnight or 2-night stay, if she wishes.
However, it's completely acceptable to ask bridesmaids and even guests to chip in a small portion of the cost IF they decide to stay at the hotel. Guests who decide to get a ride home via Uber or from a designated driver aren't responsible for and shouldn't be assumed to cover any costs of the hotel.
As a prior guest of many bachelorette parties — and even bachelorette weekends — most people automatically assume or offer to chip in on the hotel stay, as a courtesy. No one should expect the Maid of Honor to cover all costs of the bachelorette party.
Host the party somewhere for free.
If you want to keep the bachelorette party budget-priced for all, offer your home or someone's home that offers to, as the host location and no one will need to pay to stay overnight. This works great if you have a guest room or space on the floor for guests to crash with sleeping bags and pillows. Hey, it's totally fun to throw this kind of bachelorette bash and really, you just need a place to crash after the festivities anyway. Plus, if it's at your own home, you have a ton of amenities to offer to guests (and can even put together a fun, affordable bachelorette party breakfast in the morning for everyone!)
Food
Keep food simple.
When you plan a bachelorette party, you're expected to offer food. This is pretty standard and is usually the cost you incur as the person hosting the party. Go cheap with a favorite pizza or carry-out from the bride's favorite restaurant. Guests may chip in here, too, but it's not expected.
Offer drinks.
Yes, you are also expected to offer drinks of some kind: water, soda or pop (hey, Midwesterners like me!), and, if you'd like, beer or wine.
You can make a signature cocktail if you'd like to, but you don't have to.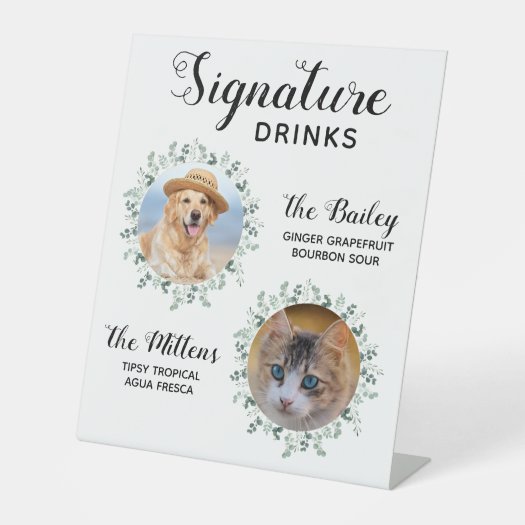 by BlackDogArtJudy
Offering alcohol is not required, but a nice addition to the party if your guests and the bride do wish to drink. Fun cocktails are a nice touch and make the party memorable.
If you're staying in all night at the hotel or your home, you will want to offer plenty of drinks for guests, if that's the type of party you're throwing. I don't know of a bachelorette party where drinks were not party of the fun, but to each their own!
If you're a non-drinking crew, that's totally cool, too: offer a fun beverage, like mocktail margs, which are basically lime slush drinks with salted rims. :) Or just offer plenty of non-alcoholic drinks for your guests to enjoy.
Some guests may opt to bring their own drinks, but don't expect it. You're still hosting a party, so some of these costs are going to be incurred no matter what.
Some bachelorette parties offer a champagne toast to the bride, some food, maybe a few drinks, and then they Uber their way to a bar crawl or restaurant to kick off the fun. If this is your plan, just offer some appetizers, a few drinks, and maybe some treats (like a cake or cupcakes) to enjoy before everyone heads off to the next location.
Mini champagne bottles with these affordable labels make a nice touch! You can get your champagne at any local grocery store (the mini bottles) and the labels to go on them by GorjoDesigns.
by gorjo designs
Guests will pay their own tabs.
Yep, guests already plan to spend their own cash out at the bar or a restaurant, so don't worry so much about that! They'll also cover their own food, if they decide to buy any at the bar. (We do recommend providing some food at your first "party" location, as we mentioned earlier; if you are skipping a central location like a hotel or home, it would be a nice gesture to provide food at the restaurant or appetizers of some kind. It's a party and you're the host!
Important Rule Re: The Bride
There's an unwritten rule about bachelorette parties that you should know: if going to a bar, club, or restaurant, guests know they're paying their own way. But the bride usually doesn't have to pay for anything. Guests are usually paying for the bride's drinks, or buying her dinner, etc. to make sure she has a fun, free night out (within reason of course, ha!)
This is a bonus for someone planning a budget bachelorette party: guests are going to pay for their own drinks and food when you go out, so you're not expected to pay everyone's way. But make sure the bride is always taken care of. That's the rule!
Make sure she is decked out with a veil and sash, too! Get these at ModParty.
via mod party
via mod party
Okay, you've decided WHERE and WHEN for planing your budget bachelorette party. Let's get started on the nitty-gritty details to bring it all together.
Invitations
• Send budget bachelorette party invitations.
You need to send invitations to guests, but you don't need to shell out a ton of cash. You can get beautiful, personalized, and AFFORDABLE bachelorette party invitations from Zazzle.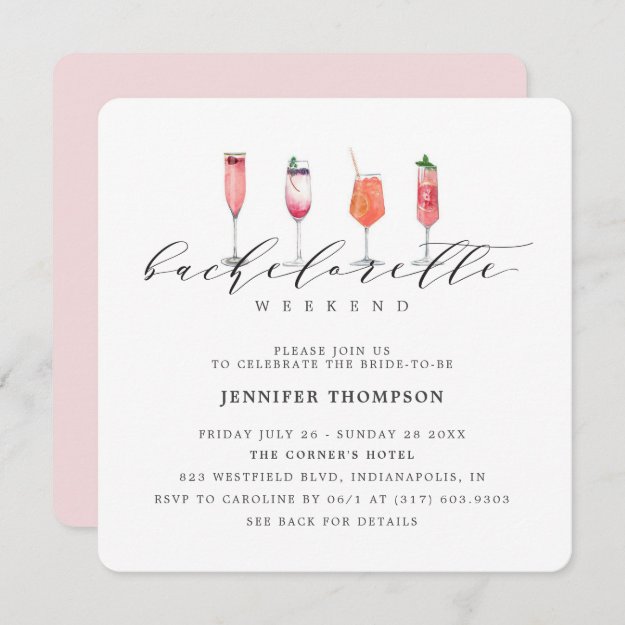 by The52Edit
At the time of publication, there's a HUGE sale happening now with 60% off of invitations like this and in other styles, too… so get in on the savings now while it lasts. I've seen some invitations that will cost under $30 for 10 invitations, personalized. That's a pretty good deal, tbh.
• Send e-mail invitations to save money.
Need invites for a bachelorette party on a budget that cost even less? It's completely acceptable to get the fill-in-the-blank invitations for a bachelorette party. (Etiquette-wise, this type of invite is fine for birthday parties or bachelorette parties, but not usually for showers and never for weddings.)
Here are a few examples of cheap invitations for the bachelorette party so you can spend more on the fun.
These budget bachelorette party invitations are perfect for a nautical themed party.
via here
Planning a flamingo bachelorette party? These invites are perfect — and will help you plan a bachelorette party on a budget because it only costs $14.98 for a set of 15.
via here
This next one is my favorite! It's only $14.99 for a set of 12. Get it here.
buy here
Planning a wine themed bachelorette party? These invitations are perfect! They're affordable at around $2.61 each. By InkedInvitation.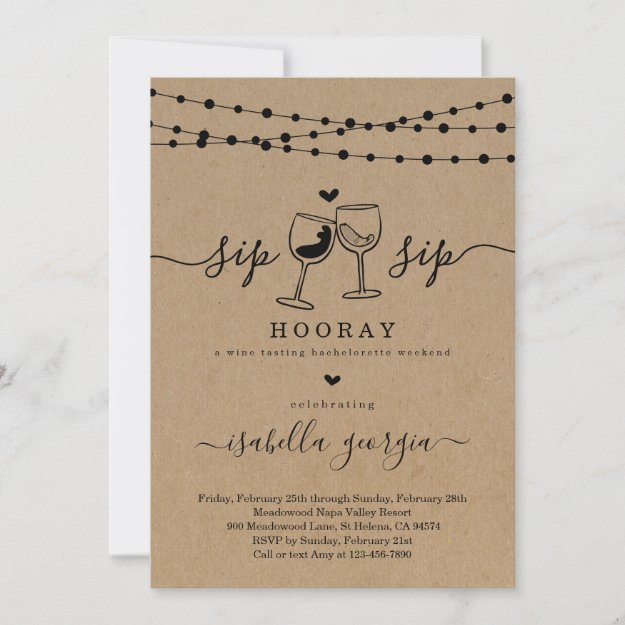 buy here
Want to go even cheaper? Send email bachelorette party invitations! You'll also cut down on paper. These budget bachelorette party invitations from Greenvelope are easy to send and as stylish as can be. Plus, you'll get RSVPs faster. Browse invites here.
by lori danelle
by make and tell
by nicole winn
Break out those cowboy boots! These are adorable invites for a Nashville or western bachelorette bash!
by greenvelope
Games
Every party has entertainment of some kind! These fun bachelorette party games are wildly affordable and printable at home.
These are so affordable and you get so many games for one low price. By EasyEditable.
by easy editable
Or play this (ridiculous) game! It's hilarious and also awful, but you get it if you've played it before. Ha! By CardsAgainstHumanity.
by cards against humanity
And this game, too. By What Do You Meme.
via here
Favors
Yes, you can still give favors even if you're planning an affordable bachelorette party. Here are a few favors to give your guests as a party keepsake — on a budget.
• Face Tattoos: These are SO MUCH FUN and super affordable. By ShopTattitude.
by shop tattitude
• Hair Tie Favors: Bachelorettes love these hair tie favors by LoveMiaCo.
by love mia co
• Heart Sunglasses: These are fun for everyone and won't just be worn at the party! Guests will love to wear these heart sunglasses after the festivities, too! By ModParty.
by mod party
• Lip Balm: Personalized labels on these lip balms make great take-home party favors that are affordable, too. By SugarLipsParty.
by sugar lips party
• Fanny Pack: These fun party favors can be worn during the entire party and make it easy for guests to carry essentials close-at-hand. Great for bar crawls! Under $12 each. By LuckTen.
buy luck ten
• Slim Can Coolers: Get these from icecreaMNlove! They're so functional and cute.
by icecreamnlove
• Party Cups: These are favors AND party cups all-in-one! By ForYourParty.
by for your party
And now, let's get decorating! Look at you, planning a bachelorette party on a budget and rocking it! We're almost done… just a few finishing touches.
Decorations
Let's decorate your bachelorette party on a budget! Here are some simple suggestions that are affordable.
Decorate the space with fun balloons, like these from PartyEight. Many phrases and fun themes available here.
by party eight
Toss around kindness like this confetti, the only kind that is appropriate for a bachelorette bash. :) By EarlesFolly.
by earles folly
You can also get budget bachelorette party decorations like garlands, fringe banners, and more from the same shop (here). Check out a few of the styles below, but note: there are a TON available in the shop!
via here
via here
via here
A fun backdrop can really bring the space together. You can get a fun personalized one like this from WordsandConfetti.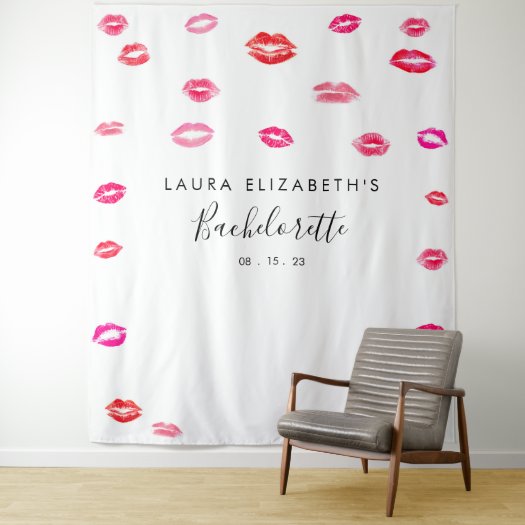 by words and confetti