If there is one trend that isn't going out of style anytime soon, it's bride pjs! Bridal robes are still popular, but bride pajamas are cuter than ever before thanks to brilliant designers and stylish options on Etsy and beyond.
Honestly, what will designers think of next?!
If you're looking for wedding pajamas to wear while getting ready before the ceremony — a set that really shows off that you're the bride! — you've come to the right place.
In addition to finding you all the best pajama sets for the big day, we've been extra-careful to only select the pajama sets you'll wear long after the wedding (and on the honeymoon)… not just once.
We've scoured the web to find the best bridal pajamas for your big day — and beyond. While we thought this list could have been way longer, we wanted to really narrow it down to the very best pajama sets for the bride. These are the camisole sets, long-sleeve pajamas, rompers, bridal sleepshirts, and more that we would wear 100%!
What makes wearing pajamas so much fun?
Well, they're super comfy.
When you're getting ready before your wedding, do you want to be uncomfortable?
Heck no!
Do you want to relax, lounge, and get pampered, i.e. get your hair and makeup done, paint your nails, listen to music, and sip on mimosas while you hang out and share laughs with your bridesmaids?
Oh yes!
Then why do it in an old t-shirt? Pair of raggedy shorts? A robe that you don't feel comfortable in?
Instead, go on and spoil yourself with bride pjs that look stylish… yet are comfortable enough to relax and let go of that stress.
And since we love things that can be used more than once, this isn't something you'll wear for an hour and it will never seeing the light of day again.
These hand-picked wedding day pajama sets are the outfits you'll reach for again-and-again, while you're lounging poolside on your honeymoon, waking up after sleeping in on your honeymoon, or wearing while you get dolled up for a night on the town with your hubby.
And furthermore (as if you needed more reasons to buy bride pjs), these are great for getting ready with your bridesmaids and taking those pre-wedding pictures. And all of the styles we're sharing in this list also offer bridesmaid outfits to match in their stores… so be sure to browse the shops you see below.
Heck, there's even a set of bride pjs that I am tempted to add to cart, just because they're so cute (and look super comfy, too). You'll see it below in #1.
On to the list!
Bridal PJs Set
1. Lace bride pj set with tank top and shorts
If I were getting married today, I would buy THESE bride pjs and wear them forever. They're so beautiful and made of lace; the positive reviews speak for themselves! By LeRoseGifts.
by le rose gifts, buy here
2. Personalized bridal pajamas
Get your monogram on the front, your name on the back! This is a beautiful pair of pajamas for the bride that are customizable in long length sleeves or short; pants or shorts. By Seline Lounge.
by seline lounge, buy here
You can get your wedding pajama set with your new last name on the reverse:
via here
3. Bride pjs set
This pretty set of bride pjs are perfect for getting ready and beyond. By BHLDN.
buy here
4. Bridal camisole and shorts set
These soft, silky bride pjs are a perfect choice for getting ready or lounging on your honeymoon. By GiftsMadeForYouShop.
buy here
5. Romper
Bridal rompers make cute wedding pjs for the bride! By BHLDN.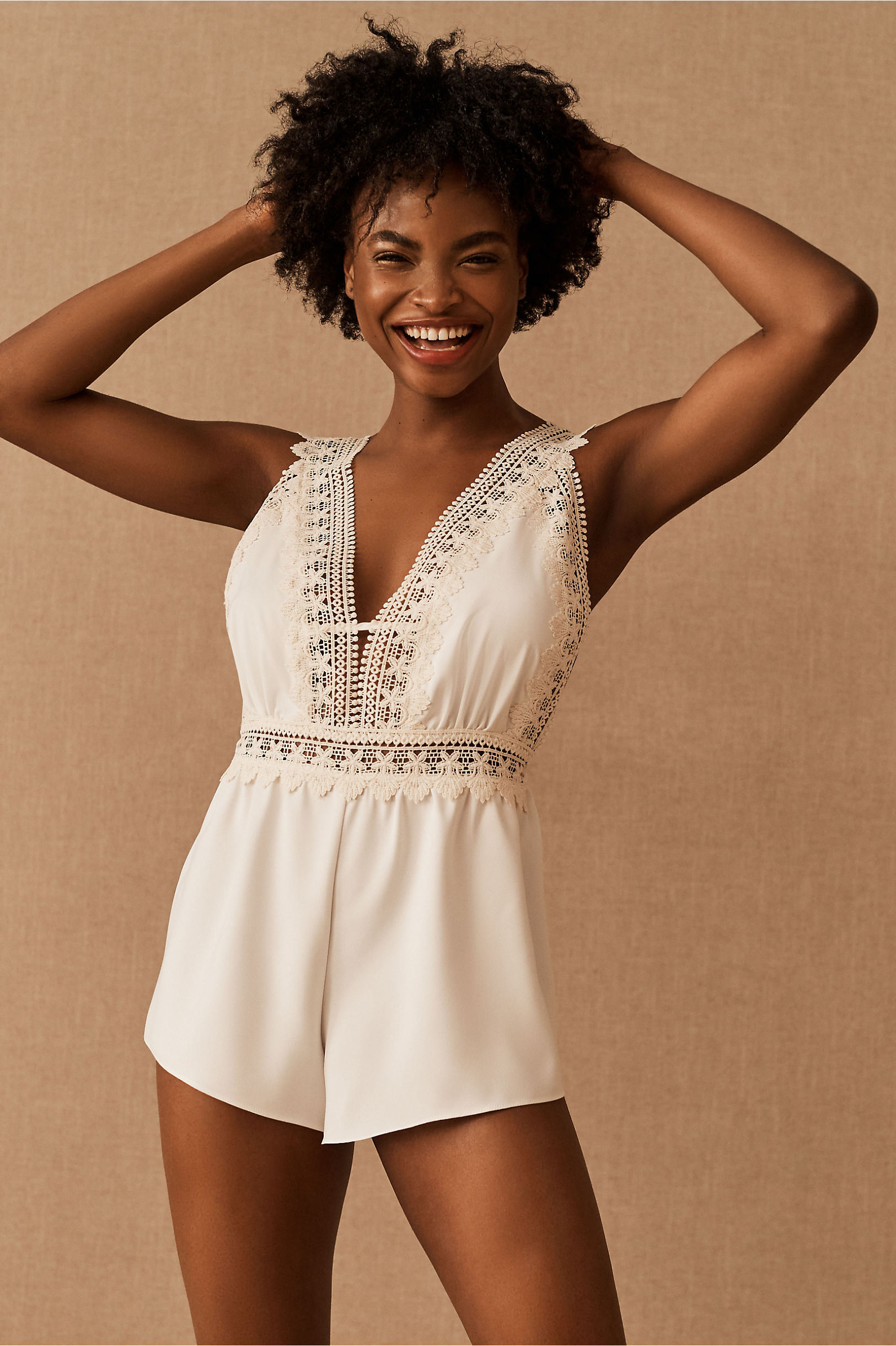 buy here
6. I Woke Up Like This — Married!
buy here
Also available in other colors and tank top / shorts pj combinations.
buy here
7. Short Sleeve Bride PJs
Cute! By TheNativeBride.
buy here
8. Two-Piece white bride pajamas
These white bride pjs are a cute outfit to wear while getting ready and honeymooning. By
buy here
9. Bride Sleepshirt
This adorable Mrs sleepshirt makes great bridal pajamas! I love how comfy these look. By ModParty.
buy here
10. Bride Tank and Shorts Set
buy here
11. Custom Bridal Pajamas Set
Get your favorite color bride pjs and get 'em personalized with your name on the front, like this! Cute style by DeniDDesign.
buy here
12. Flannel Bride shirt
And last but not least, if you're more of a comfy flannel shirt kind of girl, choose this bride flannel as your wedding day pjs! Wear the shirt with your favorite pair of leggings. You'll love wearing this shirt forever and ever. Great for fall weddings + winter weddings, too! By ShopAtBash.
buy here
Where to Buy Bride PJs
Like a pair of wedding pajamas shown here? You'll find it easy to shop: just click on the link under the photo of the bridal pajamas you love. Then you'll find details on how to purchase.
DISCUSS
So, now that you know more about this trend, what do you think? Are you jumping on the bride pj bandwagon or is it not for you?
If you DO like these pajama options, which set are you going to wear? Are you more of a lace bridal pj kind of gal or a flannel shirt — or maybe somewhere in the middle like the tank top and shorts option?
We'd love to hear what you think in the comment box below!
Happy Planning!
xo
Emm