Large wooden name signs will add a personal touch to your decor! Get inspired below. Also, you'll find daily inspiration with our feed.
Hi + Happy Friday! So, I've been meaning to ask you: how are you planning to decorate your reception space? What is the one thing that is going to tie it all together? I spotted these large wooden name signs over at Narwall and I'm obsessing a little over them. Whether for your backdrop at your ceremony, as wall art at your reception, or as a cute prop for your wedding photos, these wood name signs are the finishing touch. And afterward, you can re-use it as wall art at home. These signs are laser etched in wood and painted with your choice of color. And it's not limited to 'names' alone. Take a look!
Large Wooden Name Signs
This script-y version is my favorite style from the shop.


via narwall
Here's another example using a different font, which is also very nice: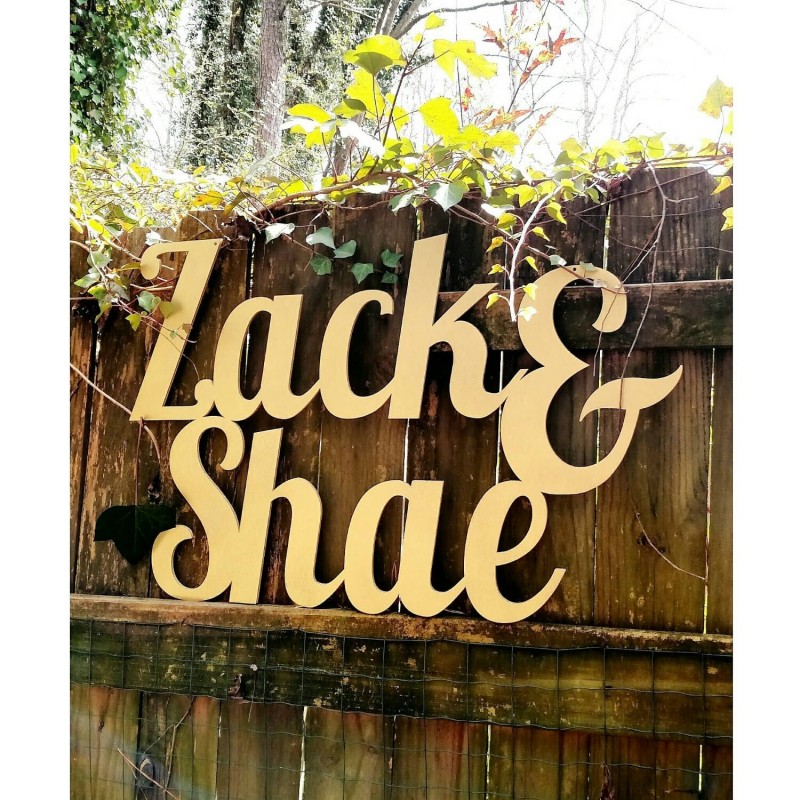 via narwall
You aren't limited to your names, either: instead, you can choose a custom phrase. For instance, "You Are The Best Thing" is one they've created as inspiration. An I happen to love it.


via narwall


via narwall
But you don't have to stop there: request a favorite quote or song lyric and have it turned into a one-of-a-kind statement piece for your decor. And then after the wedding, display it at home. I'd hang mine in my patio on the garage wall so it could be illuminated at night. We hung these white lights up along the roof of the garage, all the way up to the peak. I can't wait to sit out on the patio as many nights as possible this summer. Play corn toss, have a bonfire, sit at the table and listen to music. Ah, summer can't come soon enough!
Anyway, what do you think of this decor idea? Would you re-use yours at home afterward? I think that's such a great use of wedding funds well spent. Share your thoughts below! Oh, and you can find out more right here.
xo
-E.