Are you looking for the best wedding gift for daughter from mom and dad? Is your daughter a bride-to-be and you want to give her a sweet gift on the morning of her wedding? Or are you looking for a gift to give your parents on your wedding day? We found two figurine keepsakes you will adore in either situation! These figurines make great gifts for parents of the bride and the bride herself. Read on for more and subscribe for the latest to your inbox!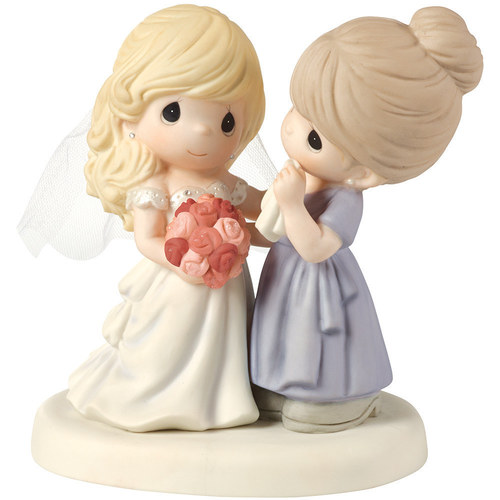 buy here
Hi, lovelies! If you're a bride looking for a wedding gift for your parents, or you're a mother or father looking for a wedding gift from parents to the bride — we found 'em! These gifts are beautiful and we can't wait to share them with you today. Read on for more!
Wedding Gift From Parents to Bride
There are a few presents for the bride from her parents as lovely as Precious Moments figurines.
You are probably familiar with their porcelain figurines: almost everyone I know has heard of, owns, or has given a figurine to a loved one from their collection. Their new figurines hold a special place in my heart, especially the latest mother of the bride and daughter figurine and father with daughter figurine which make the sweetest gift from parents to their daughter on her wedding day.
We received these sweet wedding gifts in person and we're impressed! And teary-eyed! If you're giving one of these as a gift to your daughter, believe me, she will cry tears of joy upon seeing them. A figurine or pair of figurines from you will remind your daughter how special she is to you and will become a lasting keepsake to display in her home as a newly married woman.

And if you're giving these as gifts to your parents, the same thing applies (and they'll need these to dry their eyes!) That is one reason why Precious Moments, which has been providing keepsake gifts like these since 1978, makes such a heartfelt gift: it evokes the feeling of, "That reminds me of us / my mother / my father / my daughter / my son / etc.!" And it makes your heart happy. It makes MY heart happy when I see the figurines I've collected over the years. :) I recall those special moments in my life when I see them displayed (even if it's as simple as Andrew and I sitting on the couch together, like this one!) It makes me smile and think of our evenings together when the kids go to bed and we watch our shows together.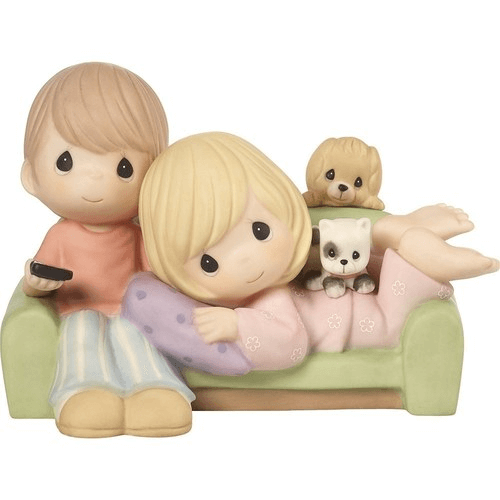 buy here
In this post, we're sharing a product review of the two figurines we received. This is our honest review and we hope it helps you to find that perfect wedding gift from parents to the bride! :) Enjoy!
If you never purchased a figurine from Precious Moments before, here are a few things you'll appreciate that we noticed upon receiving our figurines.
They are packaged EXTREMELY well.
I was impressed at how well the box was packed securely and safely to ensure the figurines — which are made of porcelain and are delicate — made it safely without any problems. They did!
The boxes are great for gifting.
If you're wondering whether the figurines will have to be re-packaged to give as a gift, nope!
The figurine arrives in a box with a picture on the front of what is inside, along with the tagline (i.e. "My Daughter, My Pride"), and inside the box is foam, so your figurine arrives safely and is easy to open. The figurine itself is wrapped in plastic inside the box and comes with a small folded tent card that has the tagline printed on it (which is nice to display in front of it at home). You can wrap the outside of the box with wrapping paper or place inside a tissue gift bag to give as a gift to your parents on your wedding day or as a gift to the bride.
You can get them personalized.
Although I did not personalize mine, some styles are able to be personalized to make the gift even more special! I noticed it is only $7.99 and you include what you wish to personalize right before checkout; your message will be printed on the figurine.
Here are the figurines we received!
Figurine Mother and Daughter
This figurine reminds me of my mother and me on my wedding day. The bride stands with her mom as she puts her veil! It is such a memorable time on your wedding day as you're putting on your veil and admiring how you look in the mirror, standing beside your mother as she smiles. It is truly a snapshot that Precious Moments is able to capture so beautifully here. I am getting teary-eyed just writing this and looking at the bride's eyes! This figurine is named, "My Daughter, My Pride, A Beautiful Bride".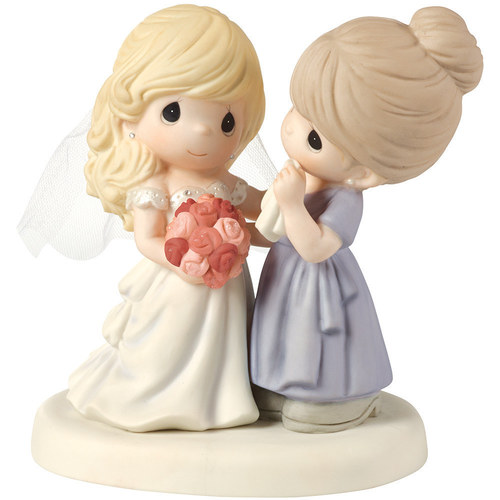 buy here
Figurine Father and Daughter
For the father of the bride gift, it is called, "You're Here For Me Every Step of the Way" and the little girl stands on her father's feet as they dance. It makes me smile, thinking of when I shared my father-daughter dance at my reception with my dad. It also makes me think about being a little girl and looking up to my father, the way I do!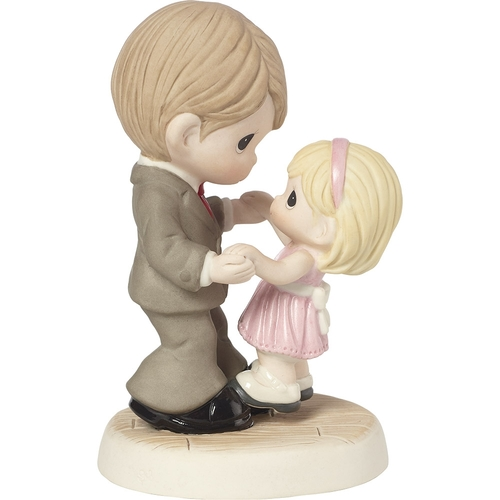 buy here
I also noticed this sweet figurine of mother and daughter on their site: the mom is holding a "Best Mom Ever" coffee cup and her daughter is brushing her hair. So sweet!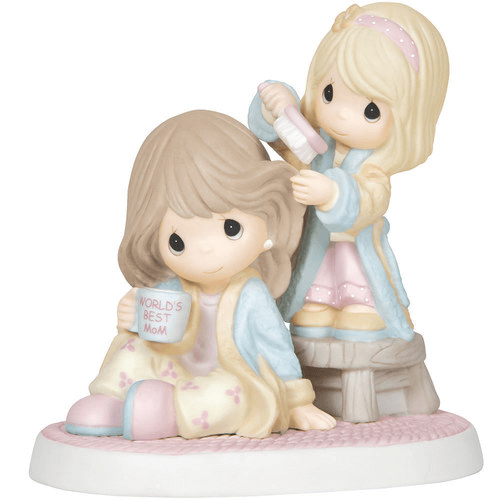 buy here
I own a few figurines gathered over time and You're My Favorite Place To Me is my favorite one. It reminds me of Andrew and I. :) I also love their new "I Have Found The One Whom My Soul Loves" figurine, which features a bride in a beautiful classic veil and a groom, placing the ring on his bride's finger.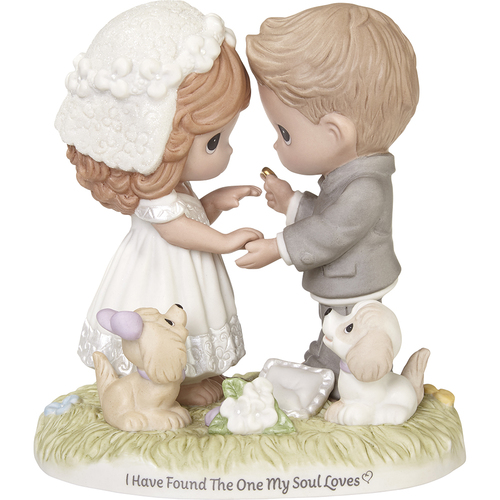 buy here
And this is one of the most popular figurine wedding cake toppers: "On The Threshold Of A Lifetime Of Happiness"!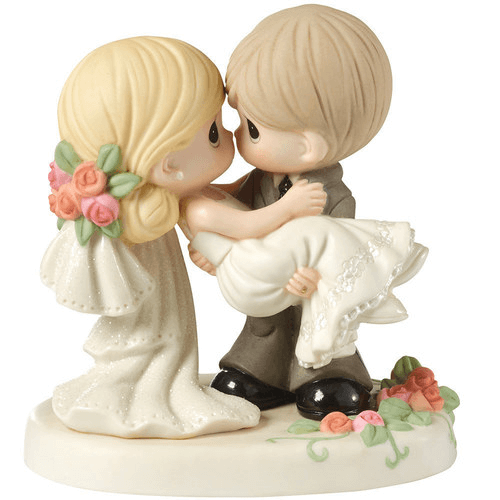 buy here
Wedding Gift to Bride from Parents
If you're wondering where to get Precious Moments near you you can order from home on your computer or mobile device! Shopping online is easy on their website here. You can browse wedding gifts here and presents for parents of the bride and groom here.
Tell us what you pick out as wedding gifts for your parents, as a wedding gift from parents to the bride, or for yourself! We'd love to hear about it. :) Tell us in the comment box below.
Click HERE TO SHOP!
Happy Planning!
xo
Emma
This is an honest product review + partnered post with PreciousMoments. We only feature products we love + would recommend to our own family and friends; we adore these!