If you're looking for the best beaded bridal clutch purses, we've found them! Get inspired with the must-have accessory for wedding season. But first, be sure to subscribe for the latest to your inbox!
What is the number one bridal clutch trend of the moment? Beading! And we're here for it. Beaded bridal clutch bags are a stylish way to carry your wedding day essentials and have them close at hand.
shop here
Lipstick? Check.
Mirror to check for spinach in your teeth? Check.
by blue leaves
Your phone to capture candids? Check!
Make sure you choose a wedding clutch that exemplifies your style and goes with your wedding gown. If your dress features elegant beading, sparkly rhinestones, or sequins, you'll love how perfectly these wedding clutches coordinate! We've hand-picked the best beaded bridal clutches of the season to inspire you. From vintage beaded bridal bags to personalized bead clutch purses, we've found a bit of everything for everyone (including tons of sparkle!) These vary in price, starting as low as $34.
Which bag is your favorite?
Beaded Bridal Clutch
1. Cream Colored Beaded Wedding Clutch, $54
This beautiful clutch purse has sequins, seed beads, and a mix of gold, ivory, and silver. By Lulus.
shop here
Check out the beaded detail up close:
shop here
2. Gold Beaded Bridal Clutch, $68
This is gorgeous! A white, gold, or light blue beaded clutch bag is yours with a vintage-inspired style and an easy-open-close flap. By BHLDN.
shop here
Also available as a white beaded bridal clutch:
shop here
Want something blue? Check out this beaded bag!
shop here
3. Floral Wedding Bag, $62
Get this beautiful blooming bag from Lulus.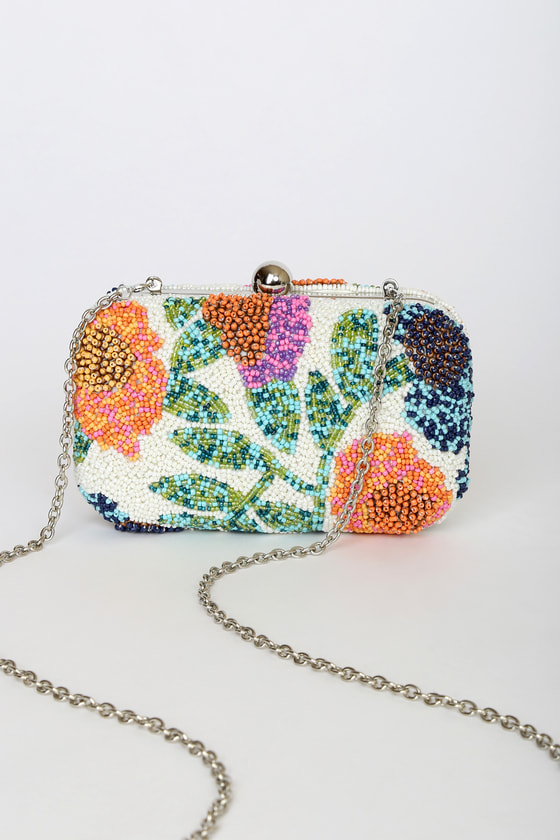 shop here
4. Sparkling Evening Clutch, $38
This sparkly clutch bag is perfect for the bride-to-be! By Lulus.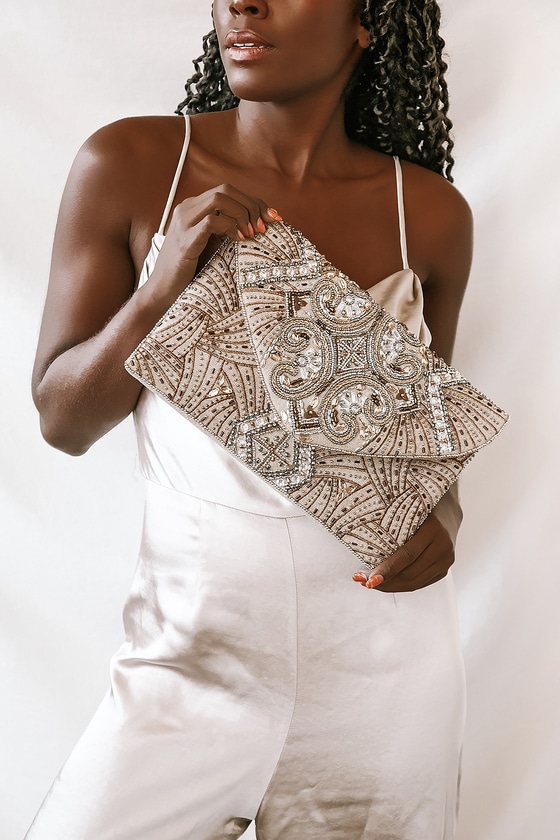 buy here
5. Happily Ever After Clutch Purse, $49.99
This adorable bag is perfect for the wedding day and features the words, "Happily Ever After" in shiny seed beads. By TooCuteFavorBoutique.
shop here
6. Ivory Capiz Shell Wedding Bag, $44
A perfect beaded clutch for a beach wedding! By Lulus.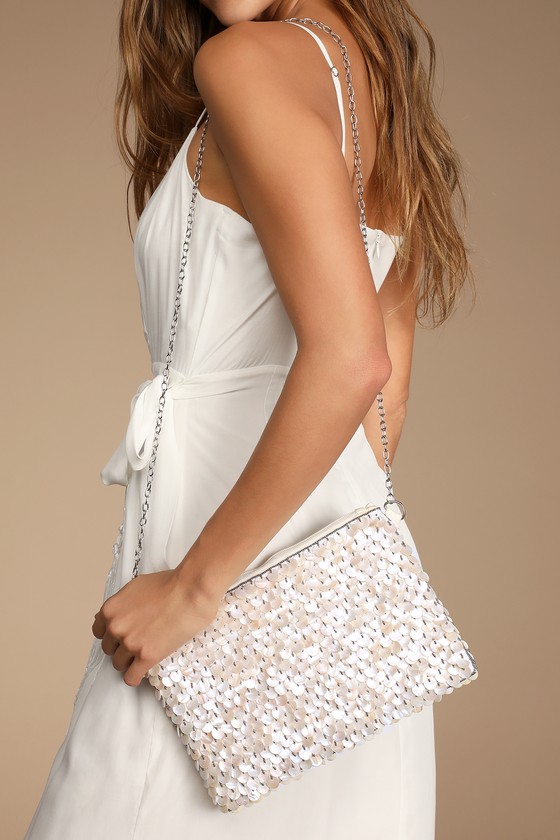 buy here
7. Bride Bag, $60
Get your own handmade beaded wedding clutch like this one by JordynJamesCo! Highly-rated.
shop here
8. Personalized Beaded Bridal Clutch, $49.99+
Currently on sale from $99.98+! This custom beaded wedding clutch bag features Mrs and your new last name on it. Delightfully made by PrettyRobesShop.
buy here
9. Beaded Tassel Box Clutch, $318
Go big and bold with this elegant tassel box turned clutch purse, a must-have for your wedding day essentials. By BHLDN.
shop here
10. Gold Beaded Clutch, $50
If you're planning an art deco themed wedding, this is a must-have beaded wedding clutch with vintage flair! By Lulus. If you're hoping to find a vintage beaded bridal clutch, this is the closest thing to it!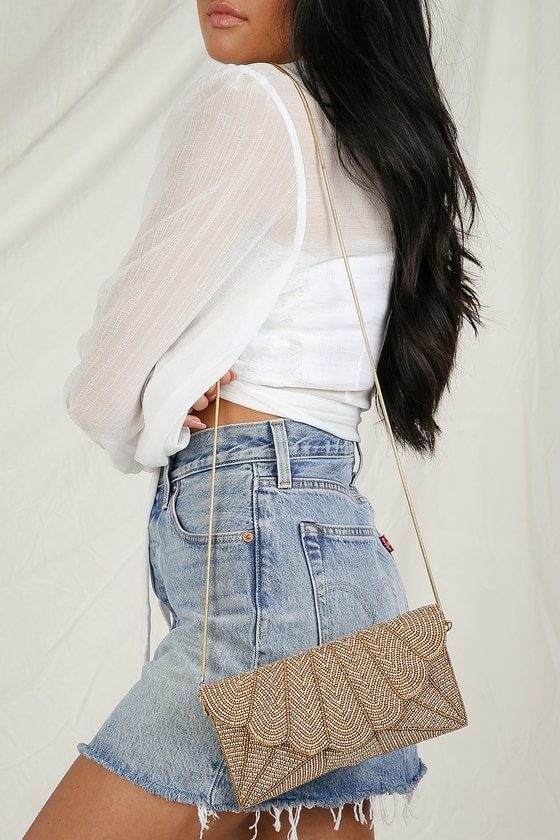 buy here
11. Silver Sparkling Clutch Purse, $46
Get this rhinestone clutch bag for the bride from Lulus here.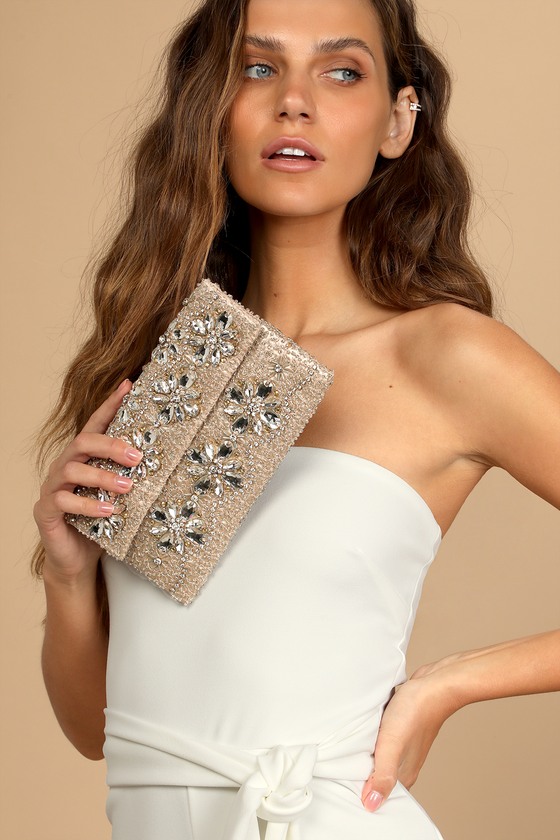 buy here
buy here
12. Gold and Bronze Beaded Bag, $45
Get this gorgeous bronze beaded bridal clutch here.
shop here
What do you think of these wedding bags? Which one will YOU want to carry on your big day? Tell us your favorite beaded bridal bag in the comments below!
Happy Planning!
xo
Emma