If you're looking for a tiered midi dress to wear to a wedding, you've come to the right place! Laura wrote us with this question, as she's attending an upcoming wedding and is looking for the perfect outfit. She writes,
"Hi Emmaline! I'm looking for a tiered midi wedding guest dress. Do you have any ideas? The wedding is late summer, if that helps. Thanks!"
buy here
Great question, Laura! There are a few tiered midi wedding guest dresses I'm lovin' at the moment, so I know exactly what you're referring to. This dress is flattering on every shape and size, hits right in that sweet spot of the midi dress, and features a flirty and feminine tiered style.
If you're wondering what a tiered midi dress is, let's discuss it!
What is a tiered midi dress?
This style is a midi length, which hits beneath the knee but above the ankle. Tiered means the fabric has layers, whether one, two, or more (some of these tiered wedding guest dresses have five!) The tiered look adds a flirty, feminine hemline; the midi length is ultra-flattering on everyone.
Thus, tiered midi dress styles are all the rage right now! There are many beautiful dresses we found to help, ranging in price from $68. You won't want to wait if you find a dress you'd like to wear! Styles are going quickly and there are even waitlists for particular styles that are wildly-popular at the moment. Wedding guest dresses are so sought-after at the moment, since so many couples are finally tying the knot this year and guests are going to many weddings! :)
Where to buy midi guest dresses with tiers
We looked online to find the best midi wedding guest dresses with tiers as their focal accent. The best we found? Lulus wedding guest dresses! If you want to buy your dress now, head to this page for the full collection.
Let's get to the list: you have a dress to find! Enjoy!
Tiered Wedding Guest Dress
1. Emerald Green Tiered Midi Dress Wedding Guest, $69
This is one of the tiered dresses that is a definite wedding guest go-to! It's shown in emerald but available in other colors, too. Buy here.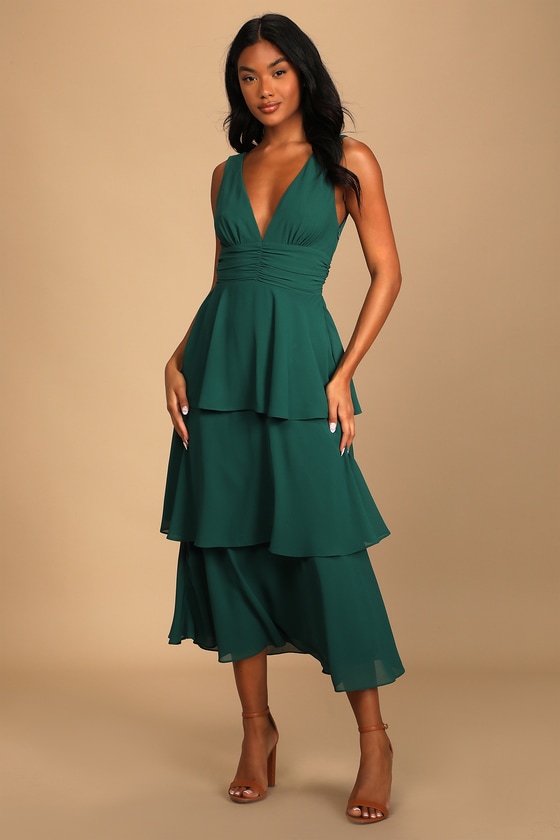 buy here
2. Floral Tiered Midi Dress, $79
You can get it here.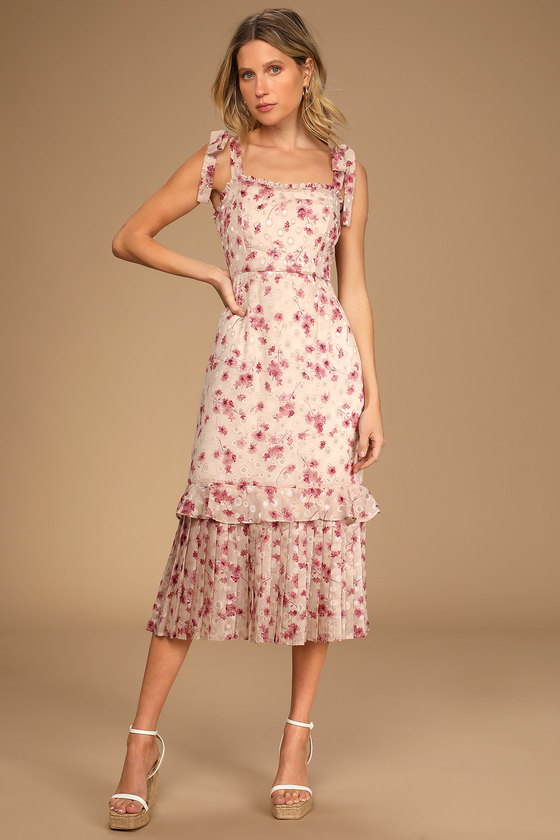 shop here
3. Strapless Floral Patterned Dress, $69
You can get this beautiful dress here.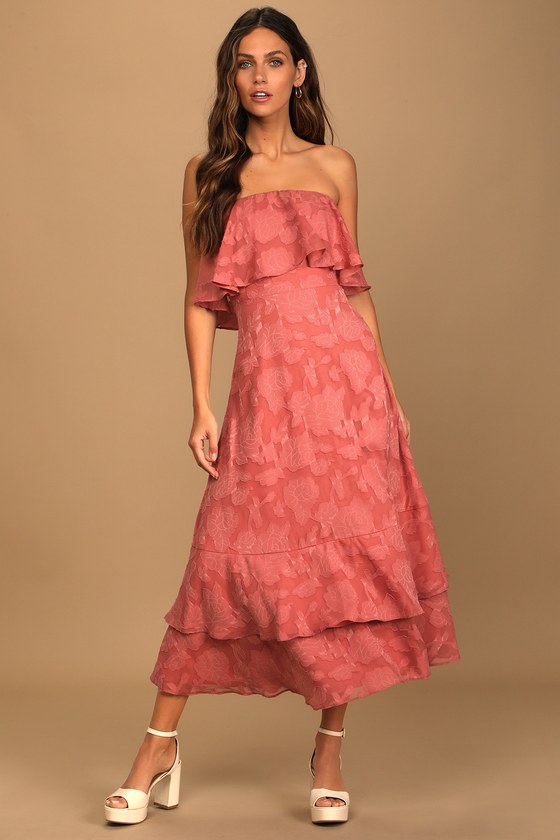 buy here
4. Lace Tiered Dress, $78
Ooh, so stylish! Get it in navy blue here. This is one of my favorite tiered midi dresses for wedding guests.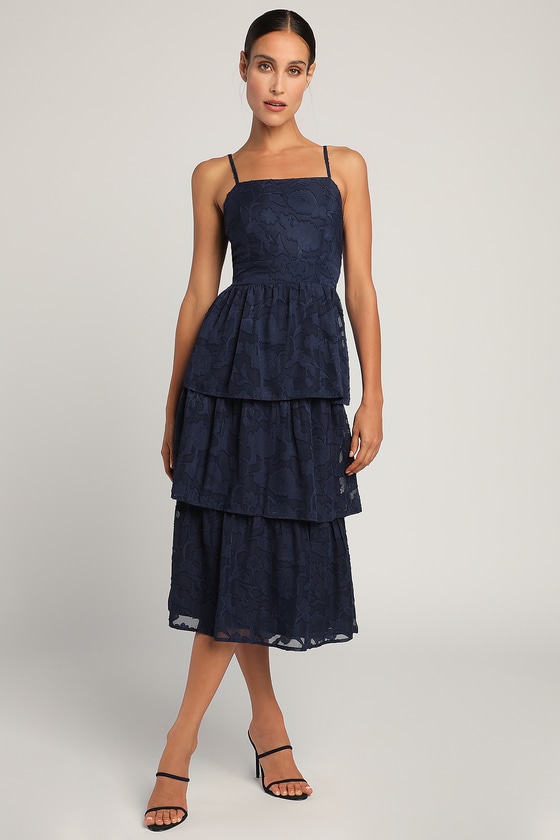 shop here
5. Ruffle Dress in Lavender, $89
Wear this pretty wedding guest outfit in lavender or blush! Buy here.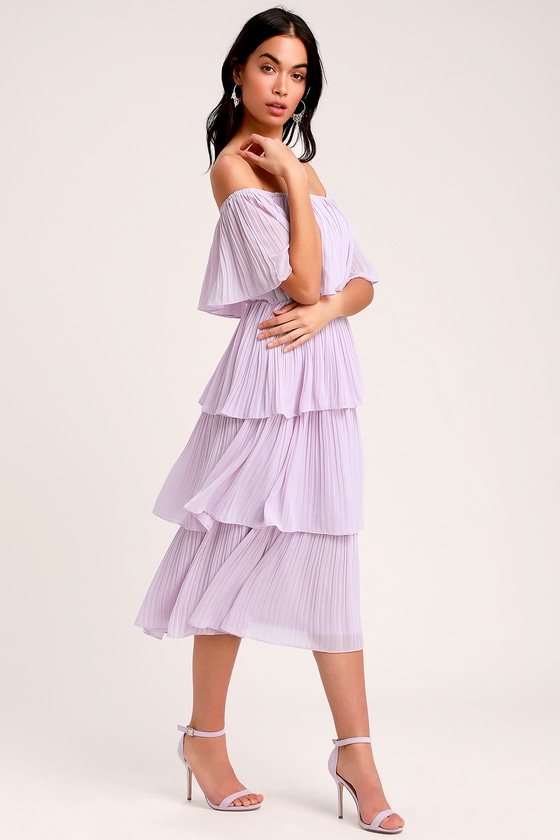 shop here
6. V-Neck Ruffle Dress, $69
Love this midi tiered dress in navy blue! Get it here.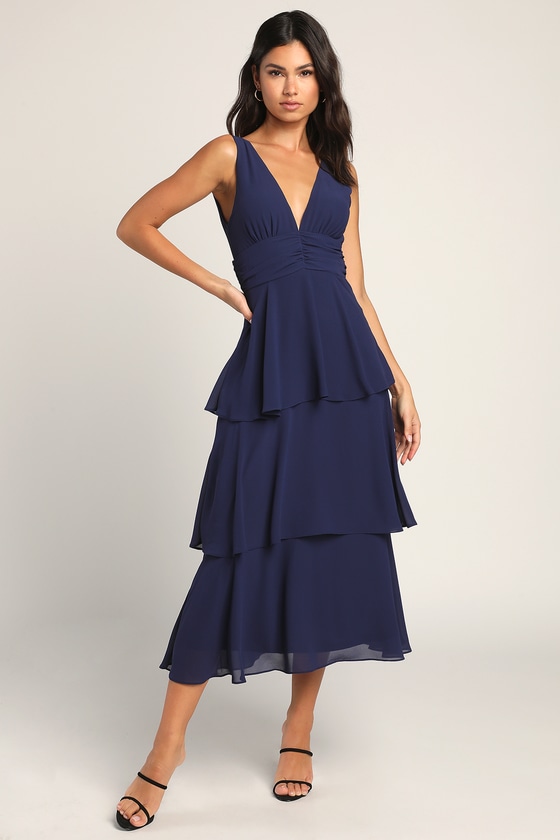 buy here
7. Green Jacquard Shoulder Tie Dress, $69
This cute dress makes a perfect wedding guest outfit with stylish tiers. Get it here.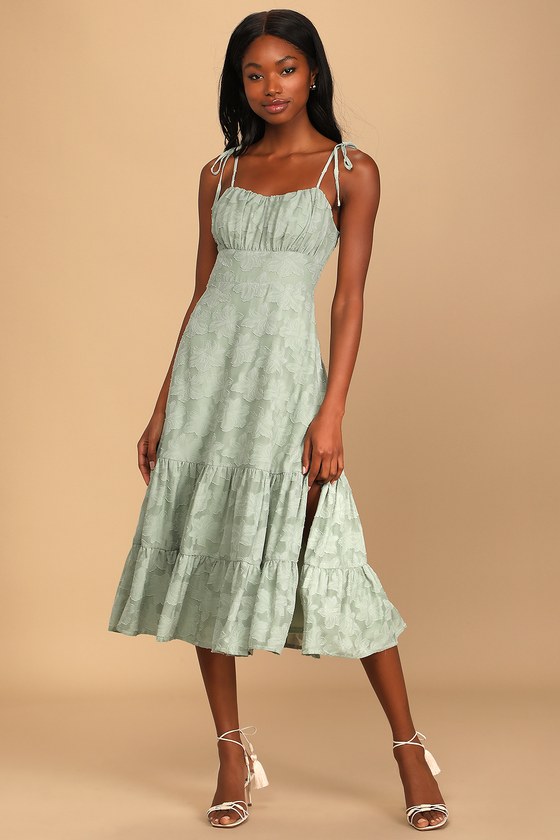 buy here
8. Lavender Floral Print Tiered Dress, $69
I love this midi length dress with stylish tiers and colorful floral print. Get it here.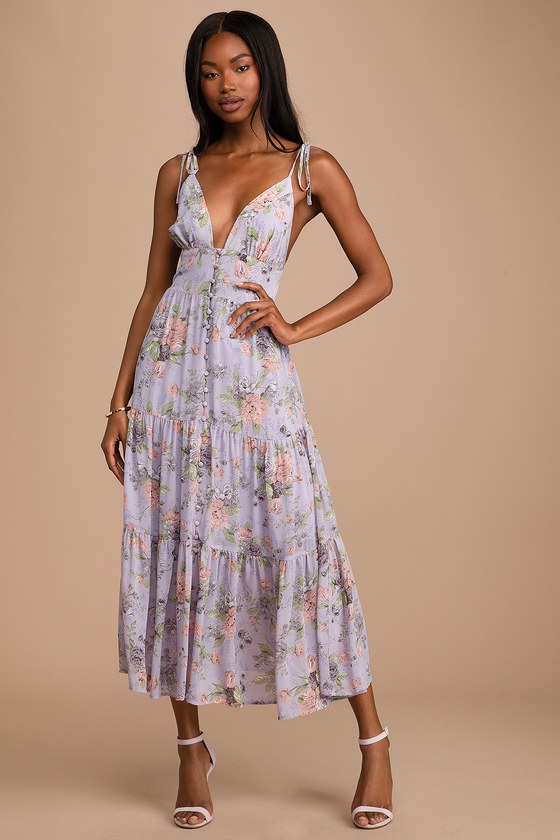 buy here
9. Black Floral Tiered Midi Dress, $79
Cute! Buy here.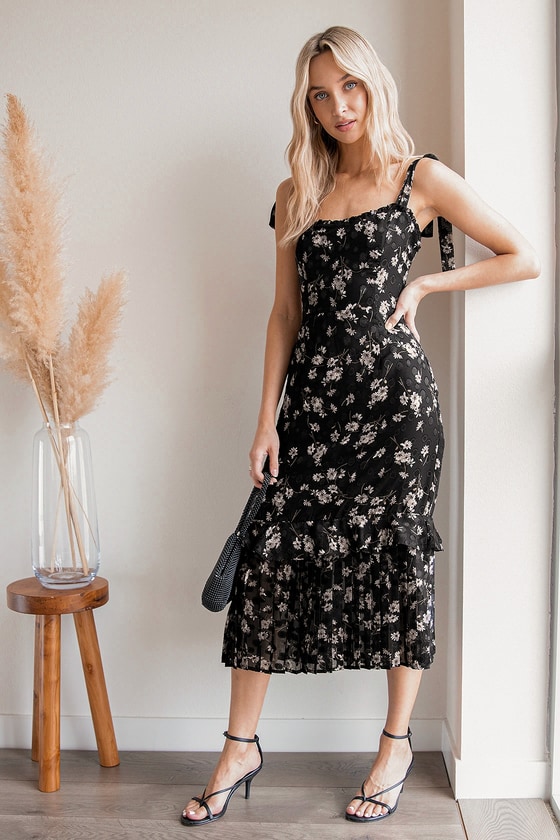 buy here
10. Pink Pleated Tiered Midi, $78
This stylish dress features five pleated tiers in pink on a midi length silhouette. Shop here.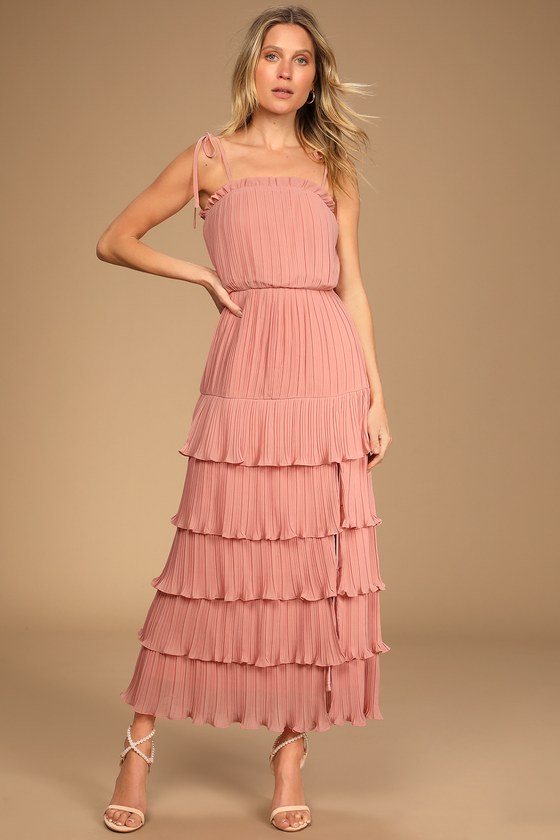 buy here
11. Sage Wedding Guest Dress with Tiers, $68
I'm obsessed with this beautiful dress! It features one of my favorite colors — sage green! — and tiers on a midi-length skirt. Buy here.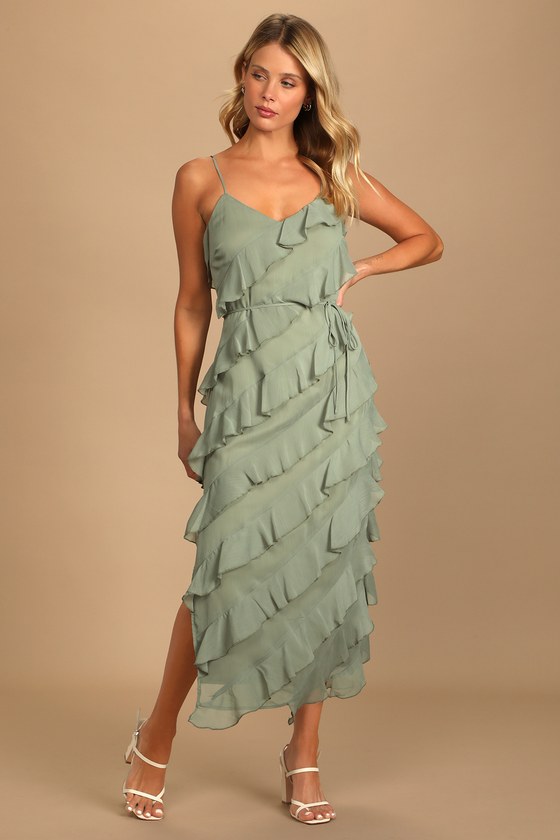 shop here
12. Blush Halter Tiered Midi Dress, $84
This beauty in blush pink features a halter neckline, tiers, and a midi length. Buy it here.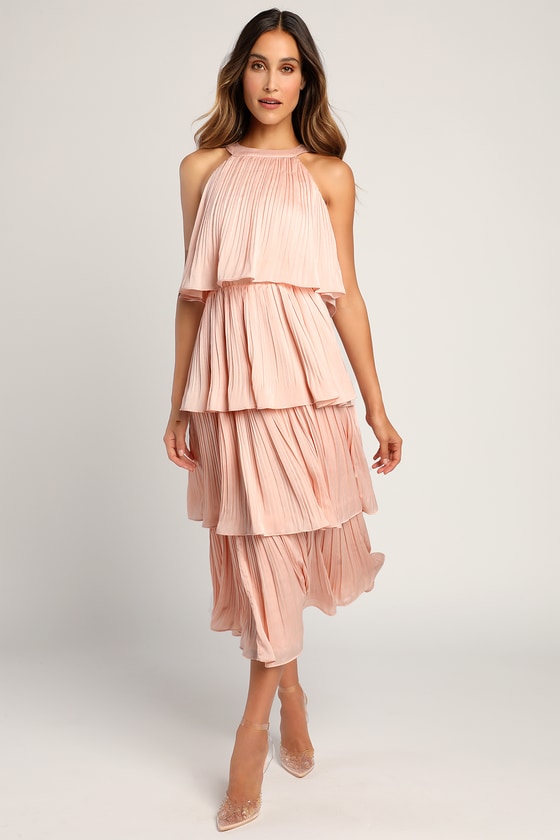 buy here
13. Tiered Midi Wedding Guest Dress with Sleeves, $79
There's nothing lovelier than this wedding guest dress with short sleeves! Love it in navy blue; also available in yellow (both shown below). Buy it here.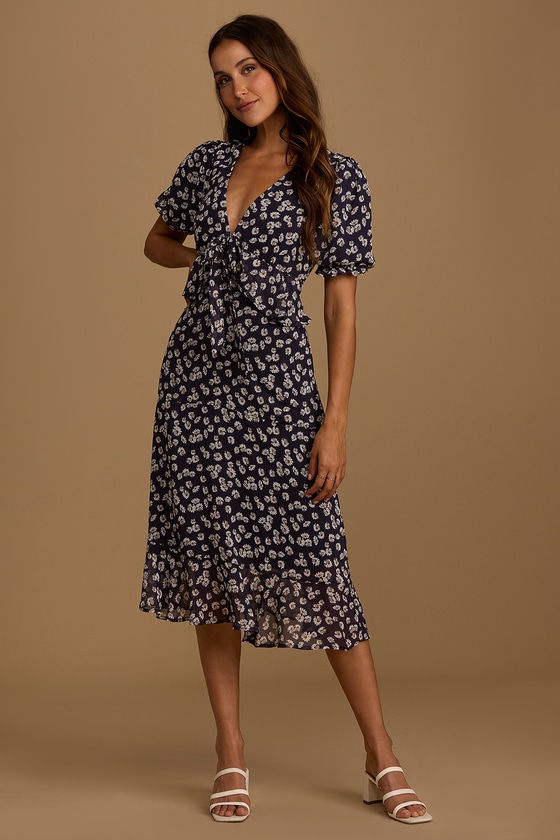 shop here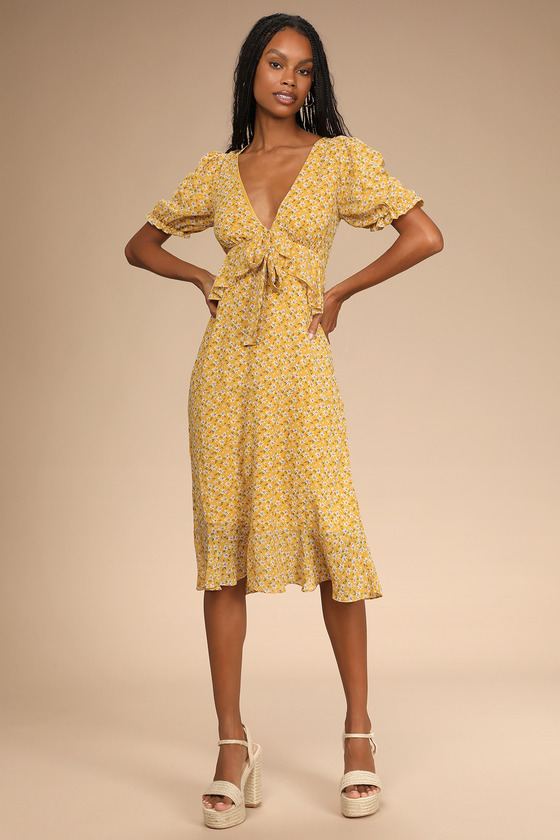 buy here
14. Two-Piece Tiered Midi Skirt, $78
This tiered midi wedding guest dress is so popular, there's a waitlist at the time of publication! I added my email, I want this one! :) Buy here.
buy here
15. Ruffled Faux Wrap Midi Dress, $68
Gorgeous! Shop here.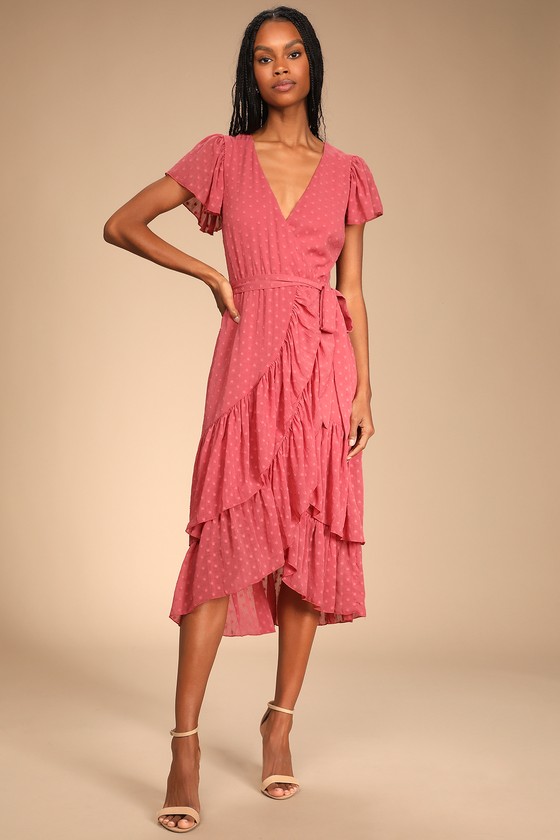 buy here
Are you ready to get yours? Shop tiered midi dresses here. If you want to shop any of the styles above, click on a tiered dress you like and you'll be redirected to shop.
Thanks for writing and I hope it helps! :) Have fun at the wedding!
Happy Planning!
xo
Emma