If you can't wear heels to wedding celebrations, don't worry! There are plenty of options that do not include heels. Read on to find out more + subscribe for the latest wedding tips to your inbox, FREE!
If you can't wear heels to wedding festivities and you want other options, you've come to the right place! When you think of wedding footwear, most people assume a bridal heel is the only option.
Well, it's not!
A pair of heels is not every bride's style, nor can every bride wear heels. It's not the only bridal footwear option.
by blvdcustom
Today we're tackling the topic of what shoes should the bride wear when she can't wear heels to the wedding. This post was inspired by a question from bride-to-be, Lauren. She can't wear heels to wedding events and prefers a pair of flat wedding shoes — that's more her style! Not a problem! We think every bride should wear footwear she loves.
She writes,
"Hi Emmaline Bride Team! Does the bride have to wear heels? I can't wear heels so I was wondering what other options there are with a flat sole? I'm wearing a long but casual wedding dress. Do you know what flat wedding shoes are appropriate since I can't wear heels? Thanks!"
Great question, Lauren! When it comes to what shoes should a bride wear, the answer is… anything you'd like! If you can't wear heels to your wedding, don't want to, or you prefer something comfier or more your style, you've got it!
As a rule of thumb, if you want to ditch heels on your wedding day, simply choose a pair of flat wedding shoes that go with the formality and tone of your wedding. And I honestly think you should put a lot of emphasis on finding the most comfortable wedding shoes you can find. :)
There are plenty of wedding shoes that aren't heels.
To prove it, here are some of our favorite kinds of flat wedding shoes for the bride who can't wear heels.
12 Shoe Options for Brides Who Can't Wear Heels to Wedding
1. High-Tops
Can the bride wear high-tops? Yes, of course!
Never underestimate the power of an athletic-style or custom wedding sneaker, one that can be completely painted to suit your unique style. From Vans to Converse, you can get custom wedding shoes made at BlvdCustom for alternative bridal shoes.
Thanks to their shop, now couples have an amazing array of choices when it comes to sneakers, slip-ons, and custom painted shoes. Blake and his team do an exceptional job with their custom painted shoes and we love these as a nontraditional option for the bride's (or groom's) footwear.
Here are a pair of my favorite sneakers from their custom wedding shoes collection.
shop here
You can shop these in the website or additional styles in the Etsy shop.
2. Slip-Ons
If you prefer a nice slip-on shoe, you can also get them from the same shop in your choice of Vans or Toms. Slip on shoes never looked so good! What kind of slip ons are your tried-and-true style? I'm a TOMS girl, myself!
3. Wedding Sneakers
Choose a pair of lace-up sneakers or running sneakers that look stylish and include colors you love!
This pair of classic lace-up wedding sneakers from BlvdCustom is a great option. You can choose from pre-designed styles or request custom painted shoes here.
shop here
I love these boho style painted wedding shoes!
shop here
If you want a pair of running shoes, try these! I love the butterflies (and they add "Something Blue" for the bride!)
shop here
Planning a sunflower themed wedding? Wear a relaxing pair of athletic wedding shoes. Get them here.
shop here
4. Sandals
Try a pair of slip on sandals for the bride! For another option, try flat wedding shoes like these pearl-embellished sandals from Lulus.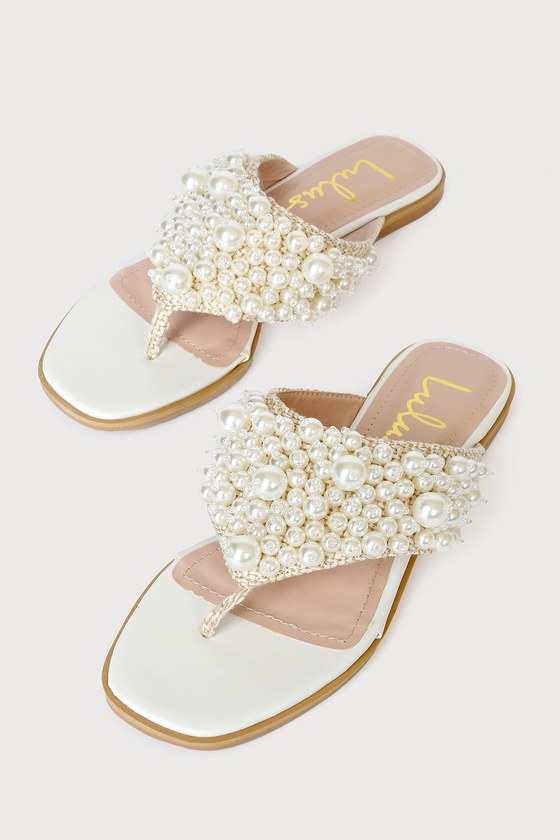 shop here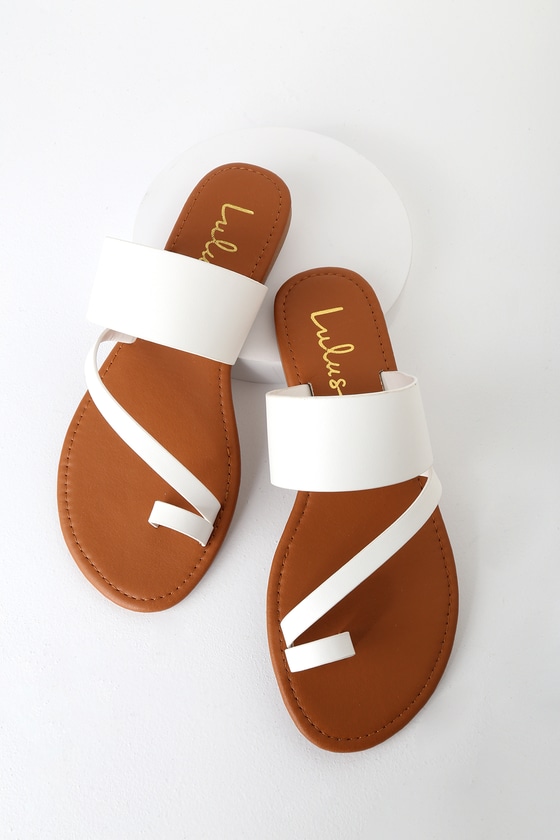 shop here
Go with a bit of fringe!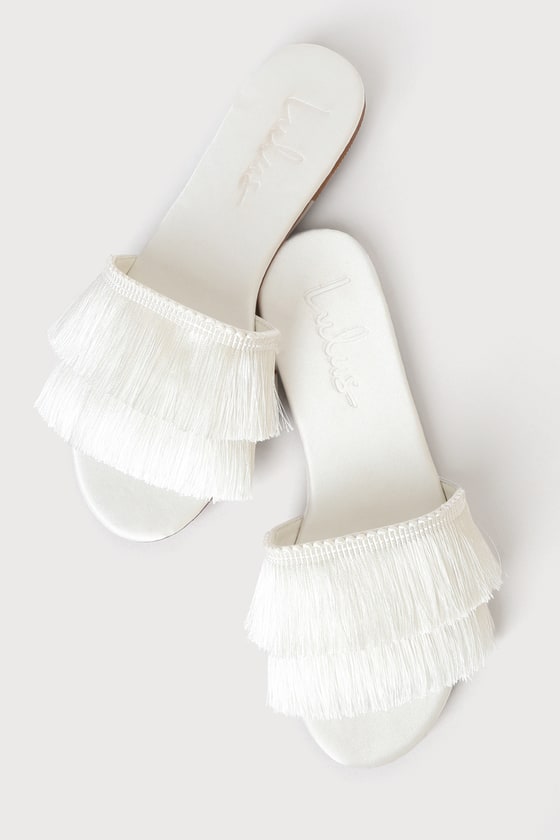 shop here
5. Flats
Should brides wear flats? Of course! Flats are a great option when the bride doesn't want to wear a pair of heels. If you like a pair of fancier flats, try these by Kaileep. You can get pointy toe flats for the bride or rounded toe flats, even open-toed sandal flats.
shop here
shop here
shop here
shop here
6. Slides
Slide 'em on for a comfortable pair of wedding flats that aren't heels. By Lulus.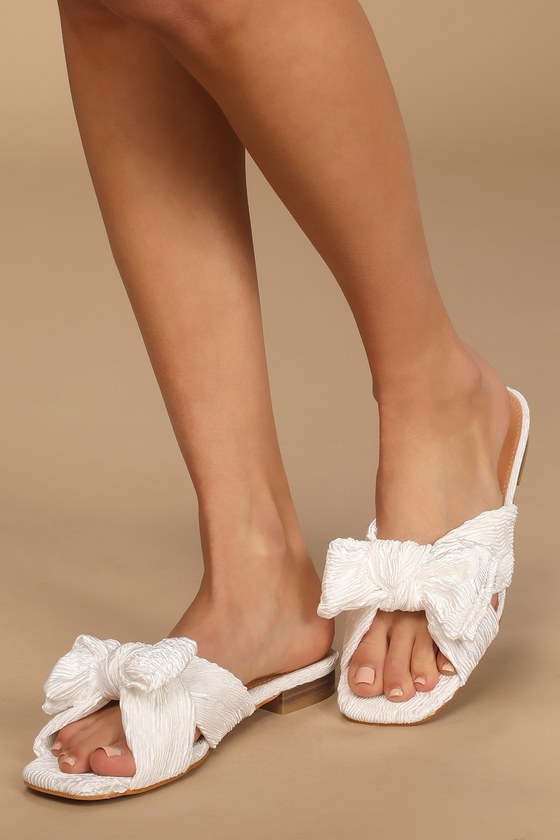 shop here
7. Espadrilles
You probably thought espadrilles were out, since most of them have heels! But if you want flat wedding shoes that have an espadrille style, we found a no-heel option. These are available here.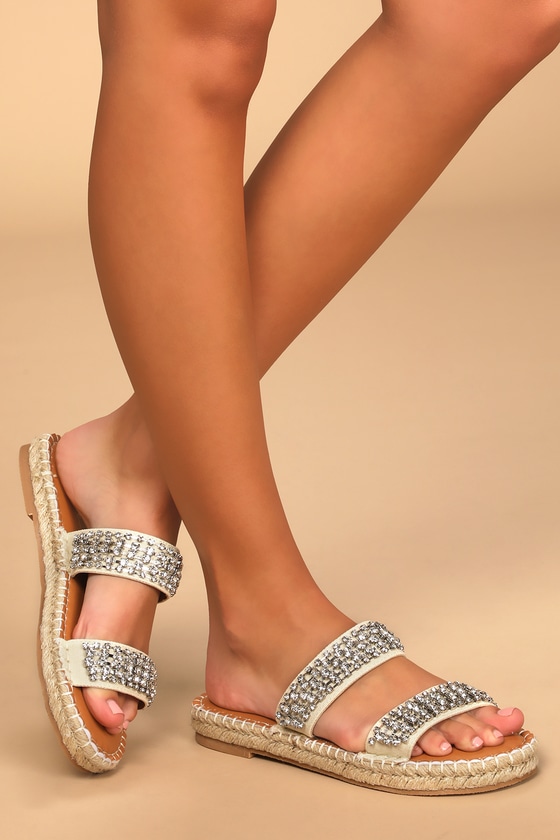 shop here
8. Jelly Sandals
Love Jelly sandals from the 90s? They're baaaaaack! They make great flat wedding shoes for the bride. By Lulus.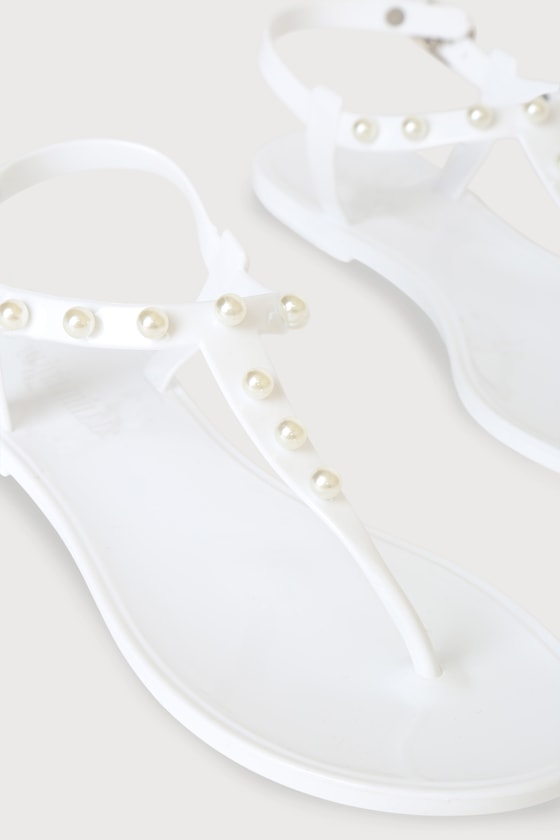 shop here
9. Chunky White Sneakers
For athletic style wedding sneakers, these from Steve Madden are a stylish option.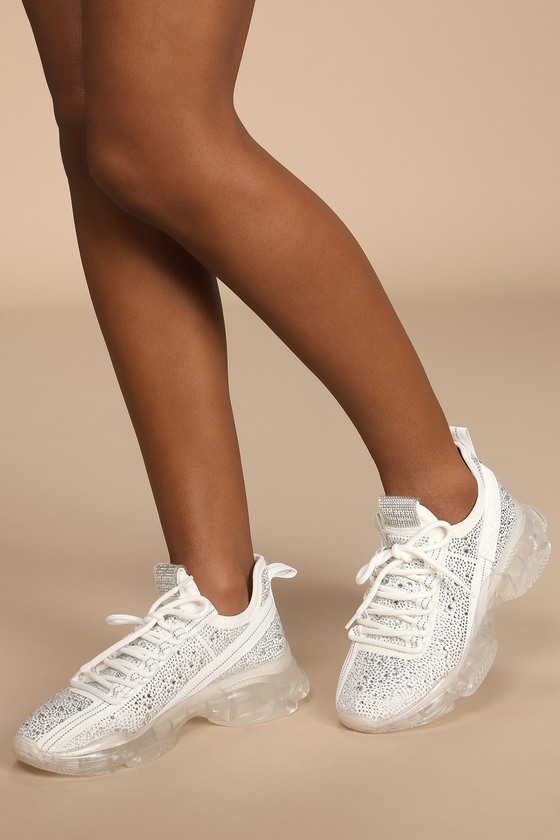 shop here
10. Cowboy Boots
Want to go a little rustic? Choose a pair of flat wedding shoes in the form of… boots! You can browse rustic wedding boots for the bride or grab a pair like these from Lane.
shop here
11. Combat Boots
Prefer boots of a different variety? Go with combat boots! These are popular alternative shoes for the bride and they're from Doc Martens. As a bonus, if you're already an avid combat boots-wearer, these are definitely shoes you'll wear after the wedding. :)
shop here
shop here
12. Barefoot Sandals
For an option when the bride can't wear heels, there is a barefoot sandal, the closest thing you can get to wearing nothing at all on your feet! These are ideal for a beach wedding. By Barmine.
shop here
And there you have it: plenty of options for when you can't wear heels to your wedding!
Which style are you loving? My favorite is the custom TOMS shoes. I love how you can customize them to suit your style. Get a pair (or view more) at BlvdCustom.com, Featured Artist at Emmaline Bride.
Thanks, Lauren, for writing! I hope it helps you find the perfect pair of wedding day shoes.
Happy Planning!
xo
Emma