One of the greatest joys in life is when someone gives you a complete and utter surprise. If you're planning a secret proposal and want to pick out an engagement ring without her knowing, it's easy to do it, 100% possible, and I'll show you how it's done.
In this blog post, I'll uncover how to buy an engagement ring without knowing her size (and if you do, great!) You'll discover if you need an engagement ring to propose and what a dummy ring is. Finally, I'll walk you through exactly how to buy an engagement ring without her knowing.
There's nothing quite like a proposal that sweeps her off of her feet; it is one of the most romantic gestures you can make.
That smile says it all!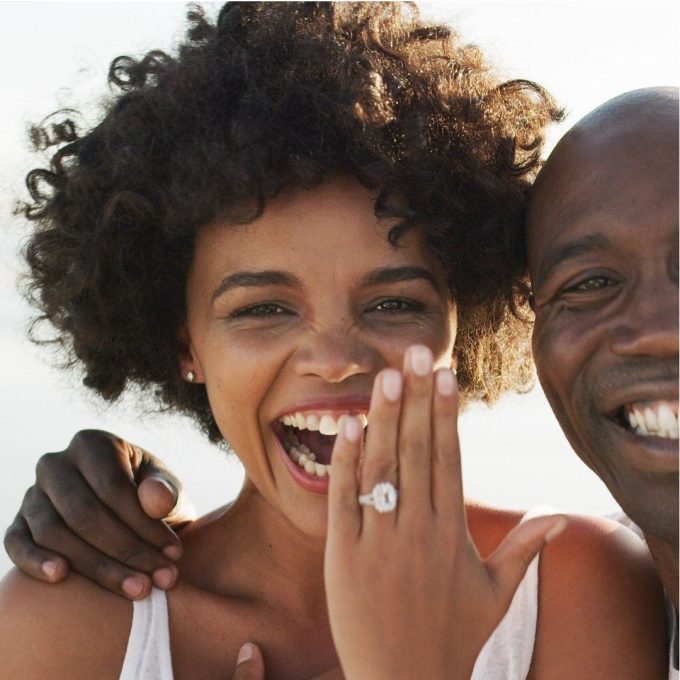 via blue nile

Now, if you're wondering about the proper etiquette for picking out the ring, and you wonder, does the girl put out the engagement ring, let's discuss it first.
Does the girl pick out the engagement ring?
Sometimes, a woman wants to pick out her own engagement ring since she is the one wearing it; you only get one chance to pick out the style, so I can see the argument there.
On the other hand, some women prefer it to be a total surprise and would rather have YOU pick it out; she trusts your ability to know her style and appreciates any engagement ring you choose for her.
The decision depends solely on the couple.
You Pick The Ring
If you are the traditional type — and you want the ultimate surprise — astound your partner by getting an engagement ring without her knowing. This works best if you have the confidence to choose the right style and size that suits her best.
She Picks The Ring
On the other hand, if you're more of a modern couple, it may make more sense to shop together for an engagement ring. The proposal will still be a surprise, as she won't know when or where it is happening.
Rule of Thumb
As a rule of thumb… wait, there's no rule of thumb! Ha! There's no rule that states you must pick out an engagement ring without her knowing… nor does it say in any etiquette book that you absolutely must shop for it together.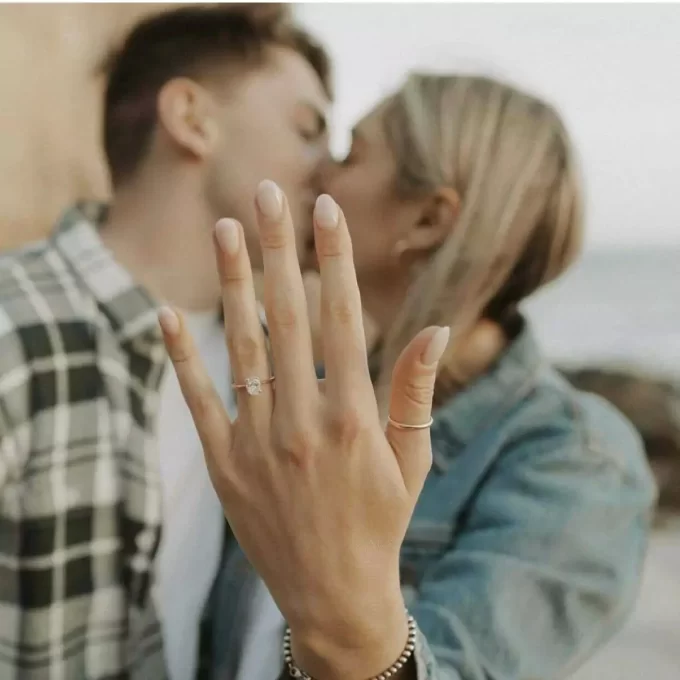 ring via here
There is no right or wrong way to do it: it depends only on you as a couple.
If you're nervous about picking out a ring, relax! Some people are hesitant to buy something as momentous as an engagement ring as a surprise but in most cases, it's not as difficult as it sounds. You know this person, right? You wouldn't propose to someone without knowing her, so you're already halfway there. :)
How to Buy an Engagement Ring Without Her Knowing
The first step of a proposal is knowing you're both ready for marriage.
It is one thing to pick out an engagement ring without her knowing what style you choose; it's an entirely different thing to surprise your partner with the prospect of marriage if you have NOT discussed it yet. That's a biggie.
1. Establish that marriage is what you both want.
First, the most important thing is knowing, for certain, that she wants a proposal. Is your relationship at the point where she's dropped hints about matrimony, you've both talked about the prospect of marriage. Are you pretty sure she'll be excitedly awaiting the proposal and wants to give a "yes"? If so, proceeded to number 2.
If not, maybe start having these convos before you plan an elaborate surprise proposal.
2. Pick out the engagement ring style.
Chances are she is ready for a proposal if she is dropping hints or looking at engagement ring styles on her phone. Does she follow social media tags about engagement rings? That's pretty much a dead giveaway. ;) Speaking of, does she have a social media account you can follow and see what she "hearts" and "likes"?
These ring clues may give you some insight into the style she wants to wear. You can also look for a Pinterest board on Engagement Rings, as most people who are thinking about marriage have one board dedicated to their fave rings.
If you want the ring to be a total surprise, here are some ways to figure out what style of engagement ring she really wants without asking outright.
Secretly Find Her Ring Style
Browse her Pinterest boards
Does she have an "Engagement Ring" board? Sweet: you just hit the motherlode
Browse her jewelry box
The jewelry she already wears tells you a lot about the style she likes: metal, size, type
What is her favorite jewelry store
Where she likes to shop for existing jewelry reveals her favorite everyday styles
Ask her sister or best friend
This is ONLY if the person is good at keeping secrets!
Look at her social media "likes" and "hearts"
Does she save any IG engagement ring snapshots? "Like" any jewelry companies?
View hashtags
If she follows hashtags that are engagement ring related, you'll find lots of inspiration
Remember: you know her best! She will love anything you pick, as long as you think of how it will look on her and if you think she'll like it. Don't be so tough on yourself.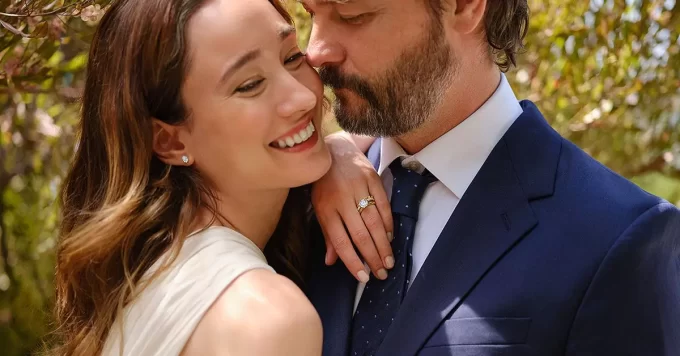 ring via here
Help, I have no clue and need her to tell me!
If you're totally clueless, she has no social media accounts, and you can't casually ask her about ring styles without blowing the whole surprise, you may need to sit down and ask what kinds of rings she does like IN THE EVENT that you propose in the future.
Remember, she will still be surprised about the proposal, as she won't know exactly when or where it will occur — and what the actual ring will look like.
By asking the right questions, you'll alleviate some of your fears about picking out the wrong ring.
Here are some of the "right" questions to ask if you have 100% no idea about style — and you want her input.
| | |
| --- | --- |
| Engagement Ring Question | How It Helps |
| What metal jewelry do you like to wear? | Find out if rose gold, yellow gold, or white gold is the best tone for her |
| Do you like diamond engagement rings? | Figure out if she likes a classic diamond or non diamond engagement ring as the stone |
| What size are you? | Flat out ask the size, in case you have no idea |
| What size diamond (or alternative) do you think looks best? | Does she care about how big the stone is, or does she prefer a petite style? |
| How expensive do you want the ring to be? | Some people care about the cost of the ring; if she does, ask! |
| Do you like a certain ring setting? | She may have a favorite, so ask! |
These answers will also provide some clarity to steer you in the right direction before you buy an engagement ring.
Ok, style: check! Let's move on to size.
2. Find Out Her Ring Size.
This is a big one: how can I get my partner's ring size without them knowing?
Since the size of the engagement ring is momentously important, you want to ensure it is the right size.
Past Jewelry Presents
Did you purchase a ring for her in the past as a present? Browse your old emails or receipts and look for the size you bought. Easy enough… yet many people forget this one. :)
Does her mom or sister know her ring size?
Some people do! If her best friend or family member bought her a ring in the past, or they know her jewelry size, it may help to ask as long as they don't ruin the surprise.
Browse her jewelry box
Ah, one of the best ways to find out your girlfriend's ring size without her knowing: browse her jewelry box!
Does she have a ring she doesn't wear often in a jewelry box you can borrow? Make sure it is a ring that still fits. I have some rings in my jewelry box that do NOT fit, hence why they sit there. Find a ring she actually wears once in a while and take it to a jeweler for the size or get a free ring sizer for an accurate fit.
TIP: Make sure you return her ring to the jewelry box promptly so she won't know it was missing.
3. Buy the engagement ring.
Now, put it all together and buy the engagement ring without her knowing (or at least, not knowing when it's happening!)
Go Incognito
You can browse engagement rings online without her knowing, especially if you use incognito mode on your browser.
Whether you decide to shop online or in-store, here are some of the best engagement ring designers you'll find online. They are all trusted, industry-respected, and accommodating on various price points to suit your needs. Read: 7 Best Alternative Engagement Ring Designers to Shop by Style.
One of my top recommendations for engagement ring shopping online or in-store is Blue Nile. You can shop their engagement ring collection here. It is where Andrew went to buy my engagement ring without me knowing (and I love it!)
As a huge benefit, they are one of the few retailers that offer so many local retail locations near you.
Why?
Massive Showrooms: They offer every style of engagement ring and various price points to suit any budget.
Completely Custom: You can build your own engagement ring from scratch.
Versatile Shopping Options: You can conveniently shop for an engagement ring without her knowing, in-store and/or online.
Highly-Rated: You'll enjoy reading terrific reviews. I'm a happy customer myself.
You can view ring styles, get pricing, and imagine what kind of ring she'll love. In addition, you can ask questions from their team of experts on-site who have heard it all: ask anything you want to know!
• If you want to learn about engagement rings, the c's, and settings, here's everything you need to know.
You can even do a virtual appointment online and an expert can help you pick out the right engagement ring for her.
Tips About Shipping Your Surprise Engagment Ring
No matter where you shop, have the ring shipped to you if you know you'll be the only one receiving the package when it arrives. She'll probably know you bought an engagement ring if a package that requires a signature arrives from a big-name jewelry company — and is just the riiiiiiight size for a ring. ;)
If you live together and you think she'll intercept the surprise ring delivery, have it shipped to a trusted family member or friend. Indicate their name as the signatory or else it will be sent back to the shipper and will require you to pick it up in person OR reschedule the delivery when you are there to sign.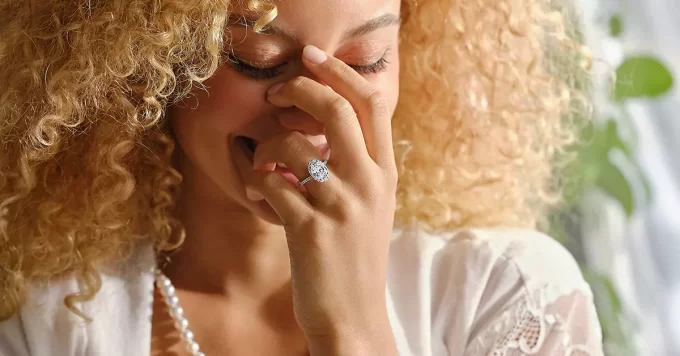 Where to Hide an Engagement Ring So She Doesn't Find It
Last but not least, hide the ring. After all this work you've put into picking out the engagement ring without her knowing, you don't want to ruin the surprise now!
Here are the best places to hide the ring until the proposal.
Where to Hide the Engagement Ring
In a drawer (but NOT your sock drawer, that's an obvious one)
Up high on a shelf she can't reach
In a locked safe at your home
At a friend or family member's house (trusted only!)
In a closet, up high
In the kitchen in the very back of a cupboard she doesn't open
Where NOT To Hide the Ring
Don't hide the ring in these obvious places.
Don't Hide the Ring…
In the bathroom: moisture can ruin it
Outside in the elements
Anywhere it can get stolen, like your car's glove box or trunk
Under the bed: too easy!
Your sock drawer — the first place she'll look
Anyone not trusted to keep it safe, or it may get misplaced
Can you propose with a cheap ring?
Absolutely! Although there are some incredible luxe engagement rings on the market, the most important part is the marriage commitment you're deciding to make to one another. Cheap ring or not, this next step should come from the heart and a ring is a symbol of the commitment itself.
Can you get engaged without a ring?
Can you get engaged without a ring? Technically speaking, you can be engaged without an actual ring. The ring is a symbol of your love and commitment; but a verbal yes works, too.
Should you propose without a ring?
Just because you can, should you propose without a ring? No! You should offer a ring of some kind, even if it is small and that's all you can afford.
The best way to propose is with a ring.
What is a dummy ring?
Now, if you want to buy an engagement ring without her knowing BUT you want her to pick out the engagement ring, there's a solution: get a dummy ring! It is a stand-in for the real deal. Some decide to choose a (much nicer word for it): promise ring.
Think of a promise ring as a stand-in for the real thing. It doesn't need to be fancy or expensive and it can be any style.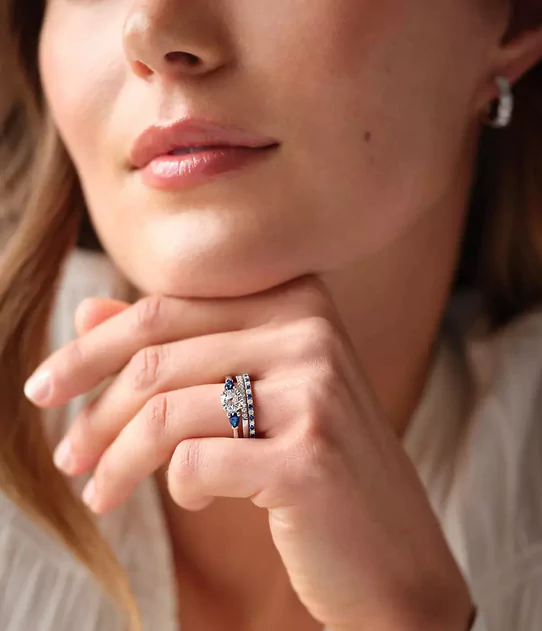 ring via here
A promise ring can be given as an alternative engagement ring during the engagement and she can then shop with you or pick out her own engagement ring after the proposal. This is a modern twist on tradition that allows couples to pop the question as a surprise — yet remain in charge of the ring style, cut, clarity, and size.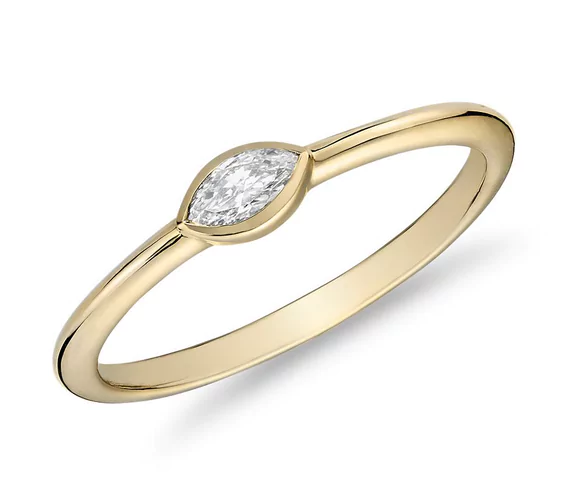 shop here
Here are a few examples of promise rings when you want to get engaged without THE ring (yet!)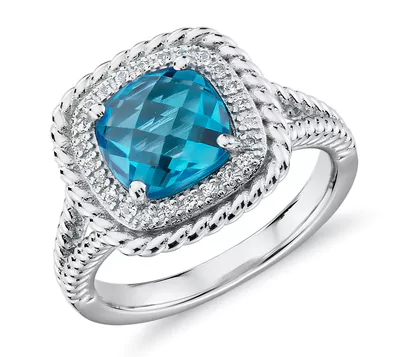 shop here
You may even decide to choose a wedding band, particularly if you know what metal color she will choose. This way, she has one part of her wedding ring set.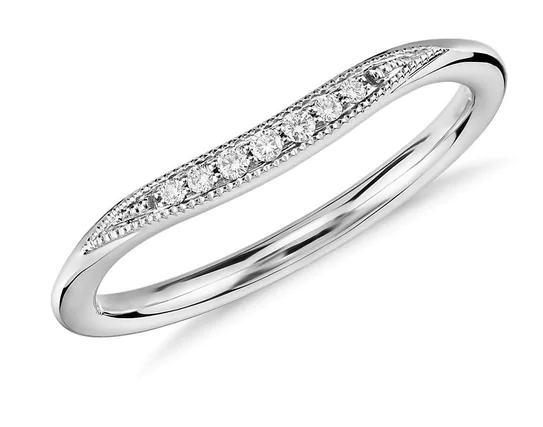 via here
Does only the girl get an engagement ring?
Yes, traditionally speaking, only one partner will receive an engagement ring. One person pops the question and, if the partner accepts, the ring is placed on their ring finger and the engagement begins. Congrats!
OH! And one last thing: if you get the size wrong, sometimes the band can be resized. Other times, you can use one of these to keep it from spinning. It happens!
If you're planning a proposal, I hope this article helps you pick out the engagement ring of her dreams without her knowing it. And I hope when you pop the question… she says YES!
And that just about does it: do you have any questions for me? Ask in the comment box below. Or if you want to keep the ring question a surprise, send a message here.
Happy Planning!
xo
Emma
This is a sponsored post.