Traveling from Miss to Mrs? Let's throw a bridal shower for the bride-to-be, brimming with the best travel theme bridal shower ideas. Save this post: you'll have the guide to hosting the ultimate travel-themed shower for the couple. But first, subscribe for the latest to your inbox, FREE!
Love to travel? Going somewhere? Can't wait to mark off your next adventure with the love of your life?
If you answered yes to any of these, then a travel theme bridal shower may be right for you! And if you're hosting a shower for a couple and you need theme suggestions fast, one of the wildly-popular bridal shower ideas for 2022 is travel-themed.
(Two others include lemon themed showers fiesta showers, both fun ideas, as well!)
by brideandchic
We're rounding up the best travel bridal shower ideas to inspire your theme, from start to fabulous finish.
We have everything you need to make the shower a success: travel theme bridal shower invitations, favors, party decorations, fun games, travel cake toppers, cupcake wrappers, and more. So, grab those luggage tags, get some stylish invitations, and we're off!
How to Plan a Travel-Themed Bridal Shower
As a rule of thumb, a travel-inspired shower can be planned any time of the year. However, it is most popular during the spring and summer months as people begin dreaming of and planning out their travel vacations (and making accommodations for destination weddings!)
The couple can be anything from low-key local explorers to nationwide travelers, all the way to global jet-setters, and this theme will be a success. :)
You can choose a fun tagline such as, "Traveling from Miss to Mrs", plan an "Adventure Awaits" bridal shower, "Love is a Journey", or "The Adventure Begins". You don't need a tagline, either: travel theme as-is is quite sufficient.
The first step to any great wedding or bridal shower theme is an invitation. It will set the tone and theme of the event and even give guests a clue into what kind of gift to give or what kind of decor to expect. If you pick out travel theme bridal shower invitations, you'll start gaining momentum for the fun celebration ahead. Plus, you can utilize elements of the bridal shower invites throughout the decor.
1. Travel Bridal Shower Invitations
This is my favorite invite for this theme. It is shaped like a luggage tag and has the most charming color palette, soft stripes, and is easy to customize for the bride-to-be. Get them here. By BasicInvite.
shop here
2. Traveling from Miss to Mrs Invites
These charming and colorful luggage invitations are a cute way to ring in the bridal shower. By BlueBunnyPaper.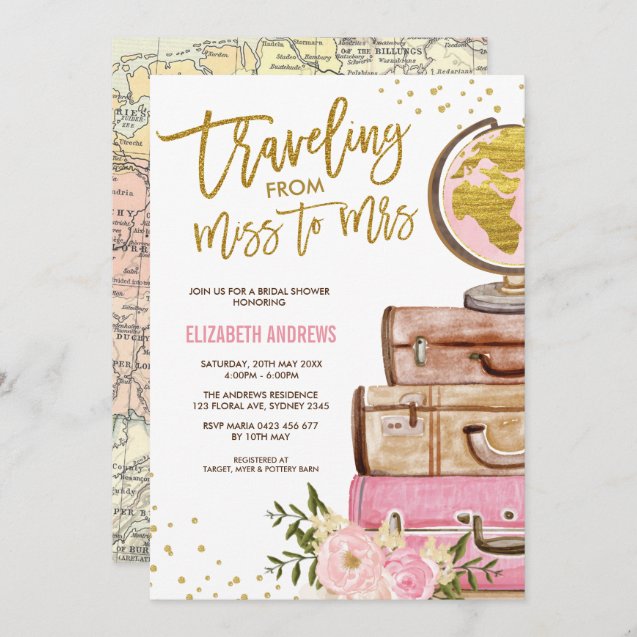 shop here
3. Love is an Adventure Invitation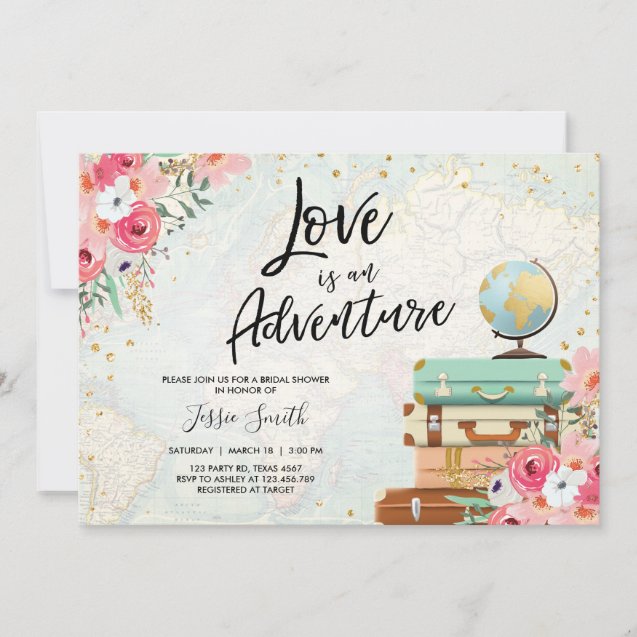 shop here
Now that you have the invitations, let's get to the rest of the party. Here are travel themed ideas for bridal showers in no particular order to get your inspo flowing!
4. Travel Theme Banner
This is a pre-strung banner that is perfect for your venue. By Weimaro.
shop here
Also loving this "traveling from miss" banner by BrideAndChic:
shop here
5. Map Paper Fans
Decorate the space with these map fans, made from paper and perfect for hanging! By RootToVine.
shop here
6. Welcome Sign
Greet guests at the bridal shower with a travel theme sign, like this one by DesignMyPartyStudio.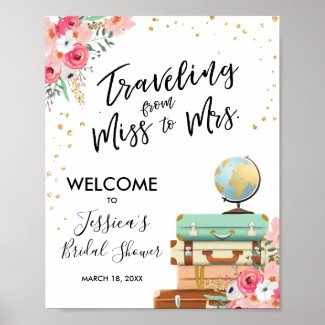 shop
here
7. Heart-Shaped Travel Theme Bridal Shower Garland
These charming hearts make the best kind of banner for a travel theme! Hang this outside or indoors. By RootToVine.
shop here
8. Travel Confetti
These travel themed bridal shower confetti pieces are such a great addition to your tables. By StoryBookEarrings.
shop here
9. Heart Map Confetti
Need an alternate? These heart confetti pieces are also available (from here) and made from map paper. By ThePathLessTraveled.
shop here
10. Luggage Tag Favors
What is the best travel theme bridal shower favor? Luggage tags, hands-down! These handmade ones by LetterandLeather are a fan-favorite.
shop here
You can customize these with locations, too. Imagine if you're planning a destination wedding in Mexico and you gave these out as favors at the bridal shower! Cute idea, right?
shop here
shop here
11. Travel Theme Bridal Shower Games
Every bridal shower needs a few games to play! You can get these games from Zazzle by OasisLanding. Give cheap prizes to guests like these!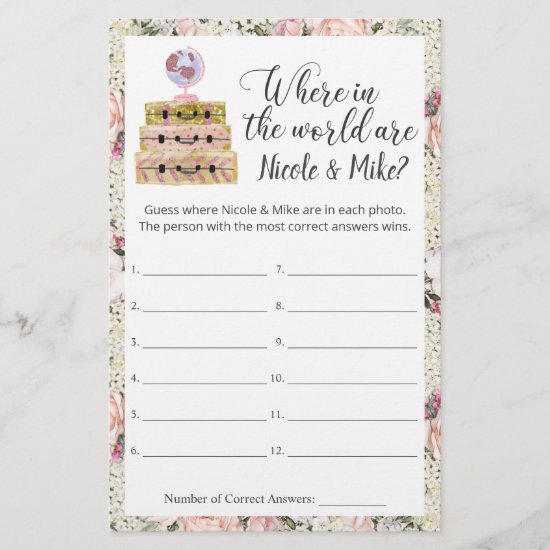 shop here
12. Gifts Drop Off Table
You can use this adorable "Luggage Drop Off" sign for your bridal shower from DesignMyPartyStudio.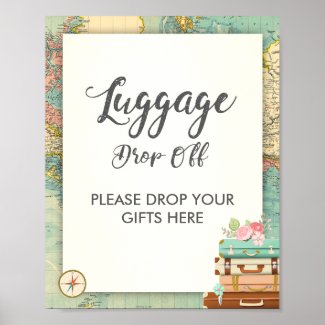 shop here
13. Travel Advice Cards + Card Box
Gather words of wisdom or places to put on your travel itinerary with these advice cards and matching card box. Get it here.
shop here
14. Travel Themed Bridal Shower Guest Book
If you want something other than a book, here is one option: a drop-a-heart globe guest book alternative. Guests take a wooden heart and sign their name, then drop the heart into the globe box. It makes a nice keepsake from a travel theme bridal shower. By KateAspen.
shop here
15. Travel Theme Bridal Shower Cake Topper
Top the cake with this Miss to Mrs topper by JustTopit.
shop here
16. Map Cupcake Wrappers
Serve up your favorite cupcakes at the shower with these wrappers, made from vintage-inspired map paper. By ThePathLessTraveled.
shop here
17. Travel Theme Cupcake Toppers
Whether for a travel theme shower or wedding, these toppers are perfect for your cupcakes! Get them here.
shop here
18. Map Flowers for Bridal Shower Centerpieces
Decorate the bridal shower tables with these unique map flower bouquets. Place in a blue mason jar (as shown) or a favorite vase at each table. Love this idea! By MabelLaneBoutique.
shop here
19. Rolled Map Roses
If you prefer to sprinkle map flowers on tables, use these by BensGP on Etsy.
shop here
20 + 21. Backdrops
If you'd like to deck out a wall at your shower, try a large backdrop. You can use this as decor for an empty wall or use it as a photo booth backdrop. These two travel styles are perfect for the wedding shower. Available by Funnytree.
shop here
22. Love is a Journey Banner
I just adore this banner! By AnyOccasionBanners.
shop here
23. Hand Sanitizer Favors
These travel sanitizer favors are a great fit this year! Get them with a cute luggage style theme for the traveler by SandInMyShoesDesigns.
buy here
24. Hot Air Balloon Centerpiece
Have you ever seen a cuter or more on-theme centerpiece? This hot air balloon is available at PoshSoiree.
shop here
25. Adventure Awaits Garland
Another stylish garland with layers and layers of travel theme bridal shower decorations! By WileyPartyCo.
buy here
26. Miss to Mrs Napkins
Cute! By ThreeTwo1.
buy here
27. Napkins
Need wedding napkins? These travel inspired napkins will do! By JoycesStitchery.
shop here
28. Candle Favors
Giving candle favors? Try these miss-to-mrs candles in small tins by ThreeTwo1.
buy here
29. Miss to Mrs Bridal Shower Sign
Add this to a backdrop, like shown, for a cute decoration piece. By HouseOfRounds.
shop here
30. Mini Champagne Bottle Labels
Give your guests take-home mini champagne bottles with these adorable travel themed bridal shower labels. By KendallRaeStudio.
shop here
31. Flip Flop Bottle Openers
If your destination wedding is on the beach, give these flip flop bottle openers ahead of the big day! By ShimmerandConfetti.
shop here
32. HUGE Bundle of Bridal Shower Games
If you want a bunch of travel bridal shower games, get this popular bundle you can print. It also includes answer keys and tons of game options so you can pick and choose which ones you like best.
Another place to buy games is from DesignMyPartyStudio, where they have matching signs for every area of your party.
33. + 34. Adventure Themed Fueling Station Sign
These signs are perfect for your food and drinks stations. By DesignMyPartyStudio.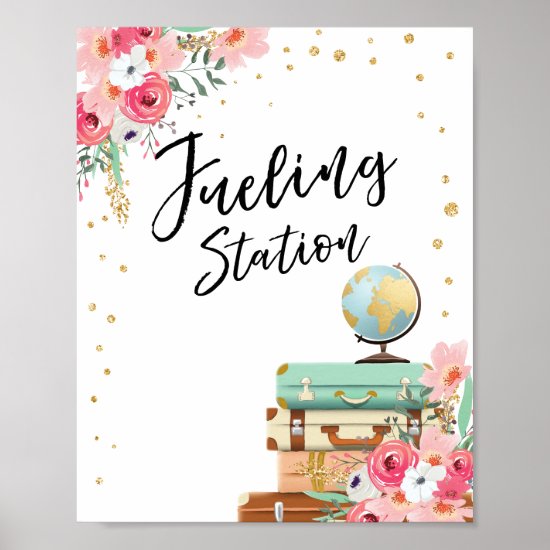 shop here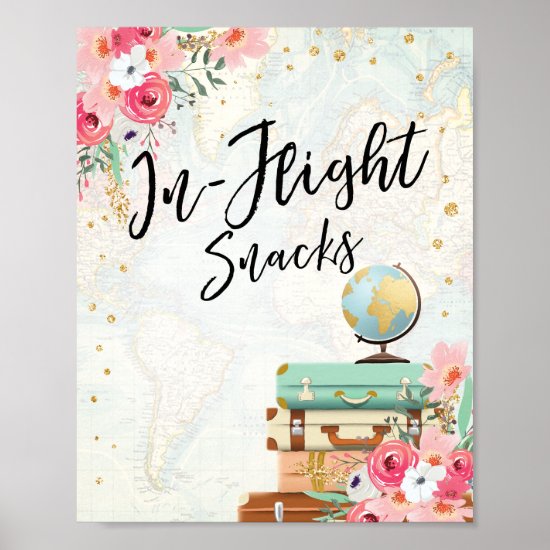 shop here
35. Baggage Claim
This sign is perfect for your favors table at your bridal shower. By DesignMyPartyStudio.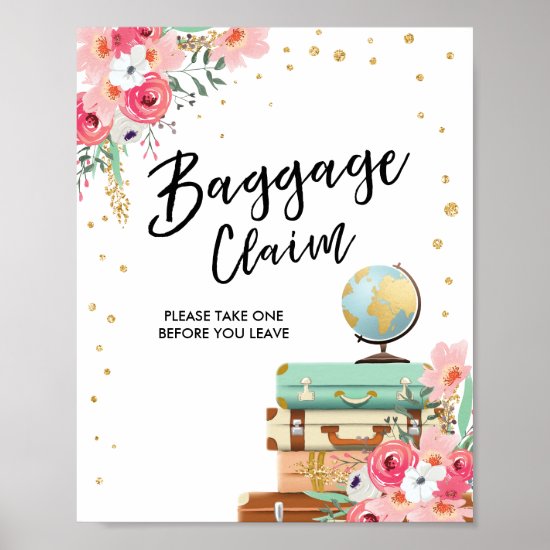 buy here
34. Suitcase Candy Box Favors
Fill up these luggage boxes with candies for a take-home favor for guests. Get them here.
shop here
35. Airplane Bottle Opener Favors
These are the best travel themed bridal shower favors, so cute! By Beau-coup.
buy here
36. Suitcase Candy Favor Boxes
How cute are these? Get travel themed favors from Beaucoup. (Read: What to Put in Wedding Favor Boxes.)
shop here
37. Globe Party Favors
Get them here.
38. Compass Wine Bottle Topper Favors
For fun travel theme bridal shower favors, go with these wine toppers! By Beaucoup.
buy here
39. Travel Map Favor Boxes
These favor boxes are so adorable! Handmade by AshleyCaitlinCrafts.
buy here
40. Table Numbers
These airplane travel theme table numbers are customizable with table numbers or locations. By LaserworxSigns.
buy here
41. Map Gift Bags
Giving out favors or gifts to guests? Use these creative map gift bags by ThePathLessTraveled.
shop here
42. Travel Jewelry Box Gifts
If you're giving bridal shower prizes for games, one of the best choices is a travel jewelry box! By ModParty.
shop here
And there you have it: the best travel bridal shower ideas for a perfectly cohesive theme! Are you planning a travel wedding shower? Tell us about it in the comment box below.
Where to Buy Travel Themed Bridal Shower Items
To get invitations, decorations, party favors, prizes, and more, click on the photo of the item you like to shop.
Happy Planning!
xo
Emma