Are you looking for easy seating chart ideas? We found the easiest way to do a wedding seating chart and we'll show you how to make it in no time flat. Be sure to subscribe for the latest to your inbox!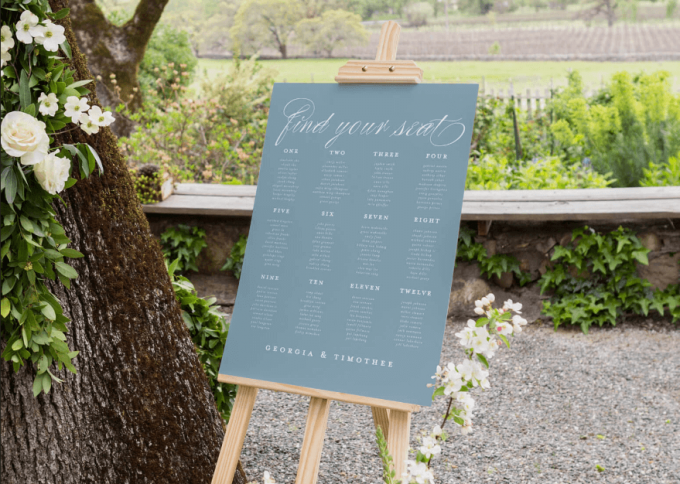 via here
Once you've mailed your wedding invitations and you begin receiving RSVP cards back in the mail, you'll have a definite idea of who will be in attendance at your wedding.
This is helpful for three reasons:
– you'll have an exact head count for your caterer,
– you'll know how many wedding favors to order (in addition to day-of wedding stationery like this), and
– you'll have the names of guests who will attend so you can figure out where guests will be seated.
This means you'll be ready to make a wedding seating chart sign — which sounds more complicated than it is. We found these easy wedding seating chart ideas at Minted (the full collection is here).
They've made it simple to create your own seating chart sign for wedding receptions in just a few steps.
Plus, if you're already planning to get your wedding invitations and wedding website from their collection, you'll see how simple it is to match your wedding seating chart with your color palette, style, and theme for a perfectly cohesive event.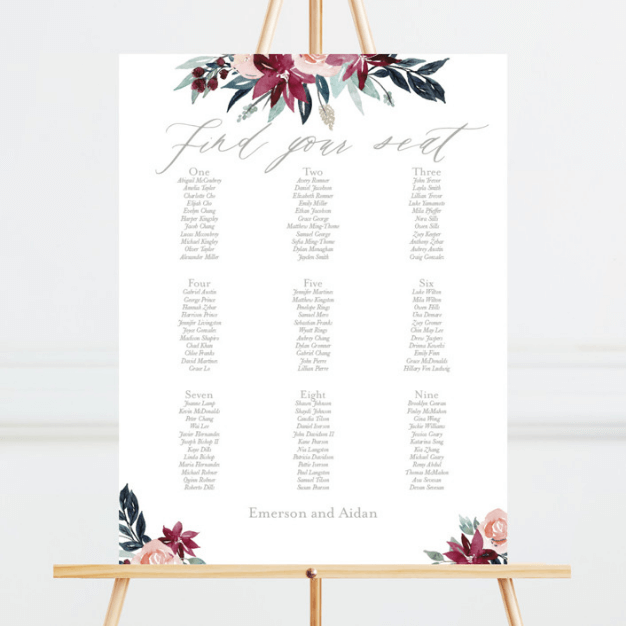 by creo study
How to Create a Wedding Seating Chart Sign
You can make a wedding seating chart board in three easy steps:
1. Choose a seating chart design you like best.
Take a look at their collection here and find a design that suits your style. There are over twenty-five beautiful designs from which to choose, so there's something for everyone. You can choose between two sizes: 16″ x 20″ or 18″ x 24″.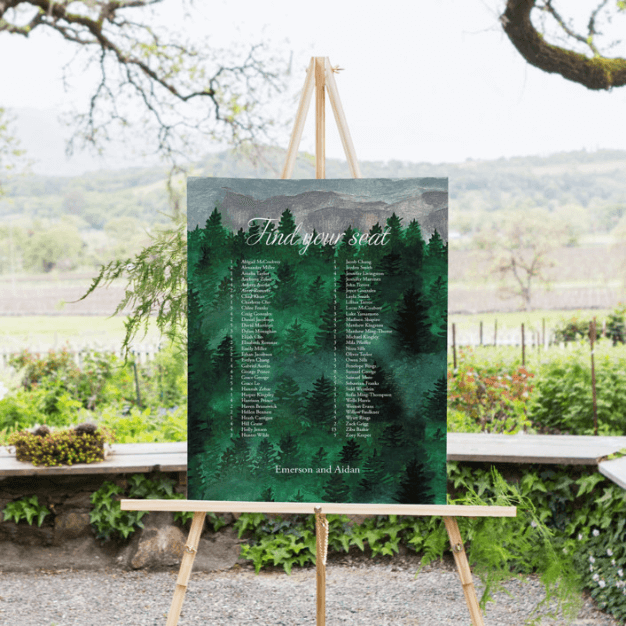 by elly
2. Select the number of guests.
Are you planning a wedding up to 50 guests, 51 to 100 guests, or 100+ guests? Choose the option for "Sign Type".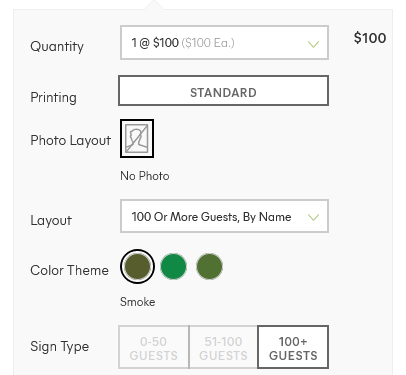 3. Customize your wedding seating chart.
Chose the color theme, silhouette shape, and click 'Personalize'. From here you'll personalize the seating chart and input guest names, the table number where they'll be seated, and buy your sign. The sign ships to your door and all you have to do is place it on an easel (like this) at your reception.
Need an easel? Shop these styles:
Done!
Now that you know how easy it is to create, check out some of our favorite seating chart designs from the collection.
Autumn Seating Chart
Planning a fall wedding? Chose this seating chart sign with rich hues of the season! This design is by Chris Griffiths.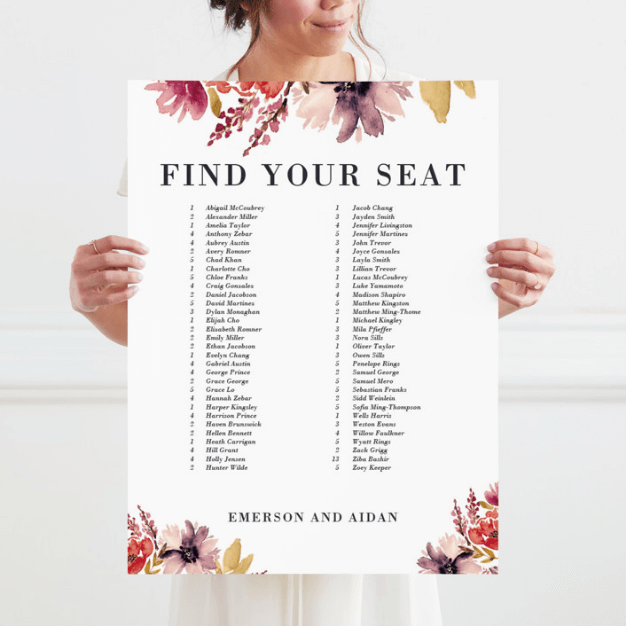 buy here
Greenery
Greenery goes with everything and has a classic, elegant style. Choose this seating chart sign by Susan Moyal for your reception.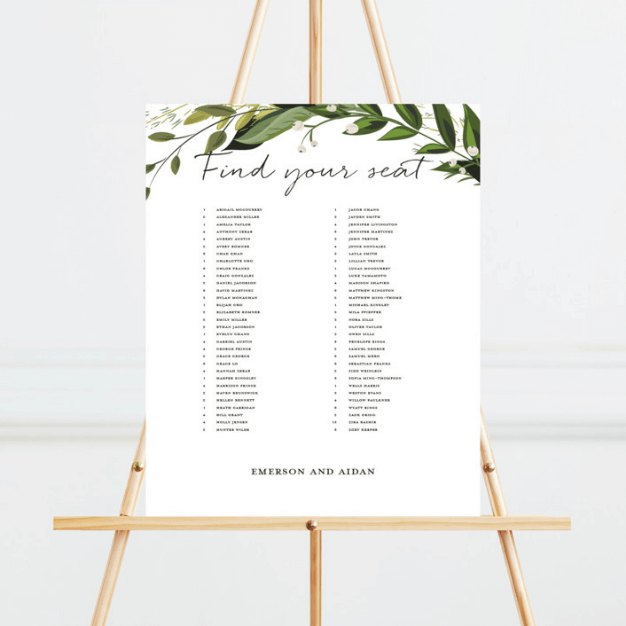 buy here
Modern
For a modern look and feel, opt for this seating sign that reminds me of vellum, a popular style for invites this year. By Phrosne Ras.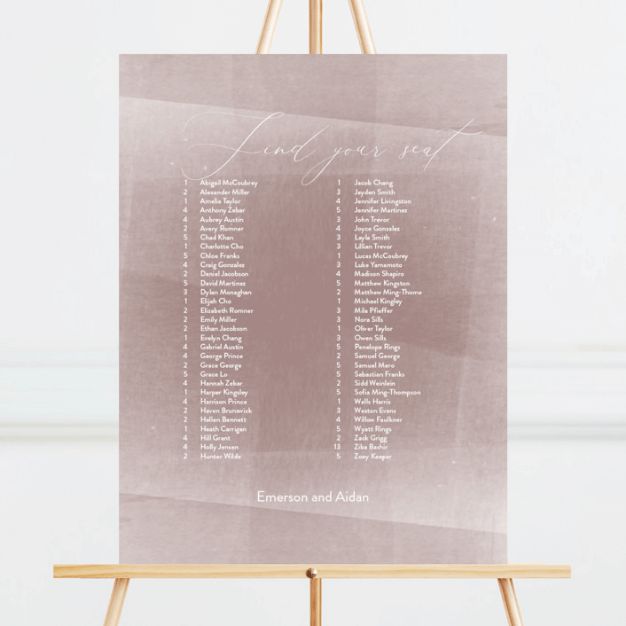 buy here
Woodland
Planning a wedding in the woods? This themed chart will show guests where to be seated with a delightful design of pine trees along the top. By Mere Paper.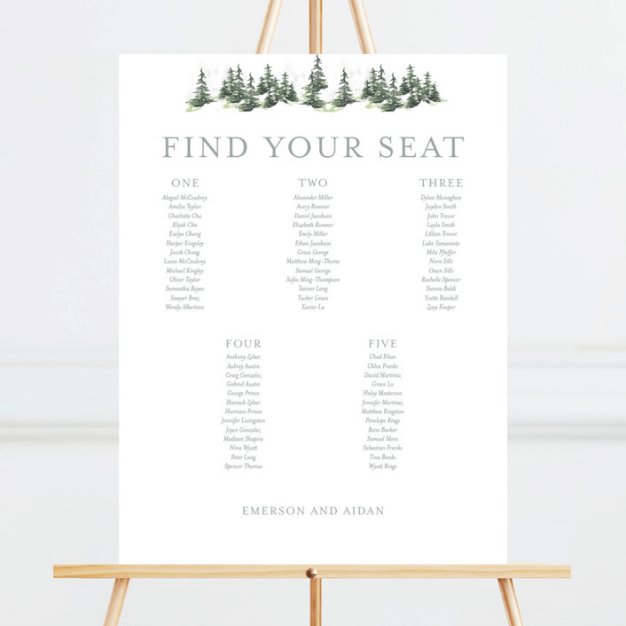 buy here
Floral Seating Chart
I love this floral seating chart sign for weddings this summer in pretty shades of watercolor. By Petra Kern.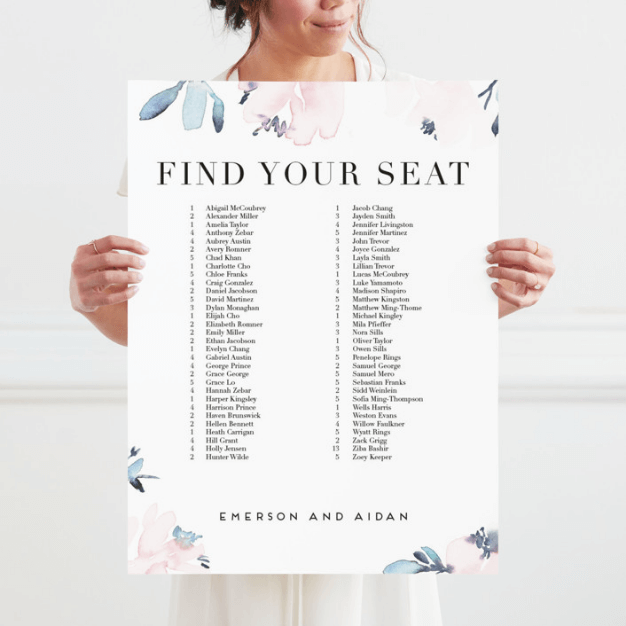 get it here
Garden Wedding
If you're planning a garden themed wedding, this is the perfect reception seating chart for you! It features garden lights at night with a rustic look and feel. By Hooray Creative.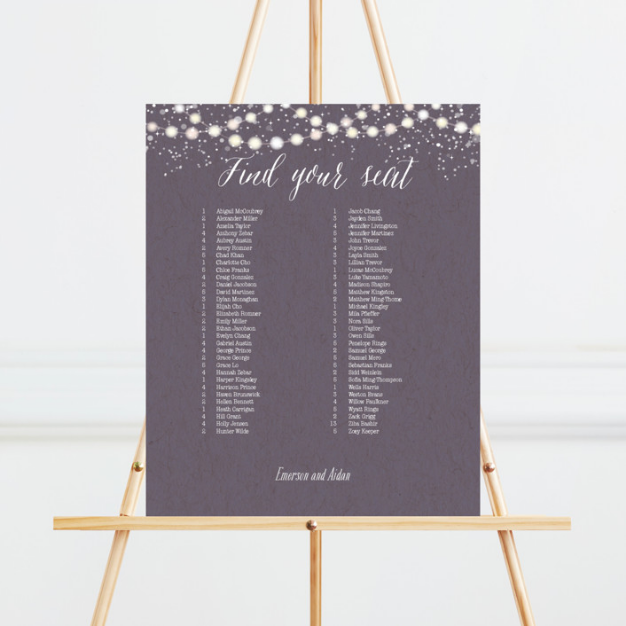 see it here
Bold
This seating chart goes with everything and has a rich, bold typeface. By Annie Clark.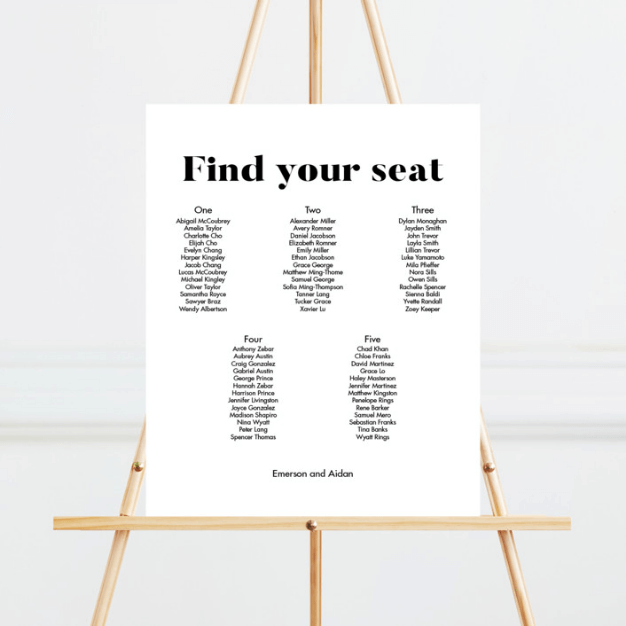 buy here
Traditional
This elegant chart will tie in with any theme or style and features a script type on the top. Other colors are available, too. By Griffenbell Paper Co.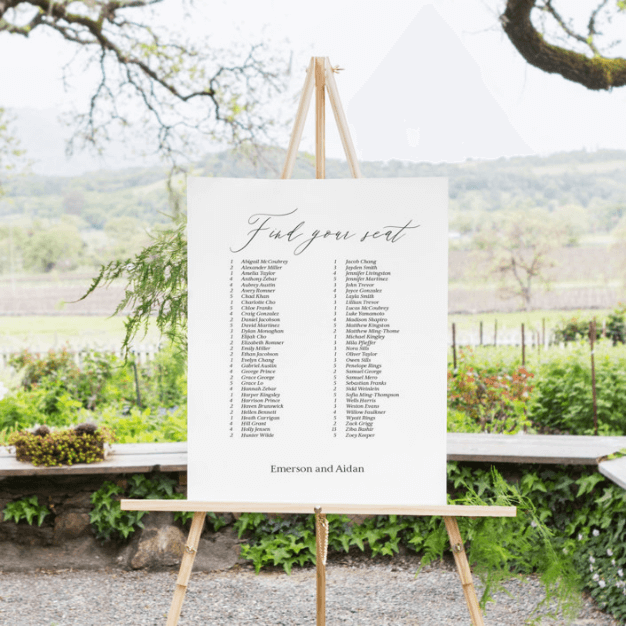 buy here
And that's not all: there are more wedding seating board options to choose in the shop!
What To Do Next
Ready to make your own seating chart sign? You can create a wedding seating chart here at Minted.
While you're there, be sure to pick up table numbers! You'll need them in order for guests to easily identify the table at which to be seated.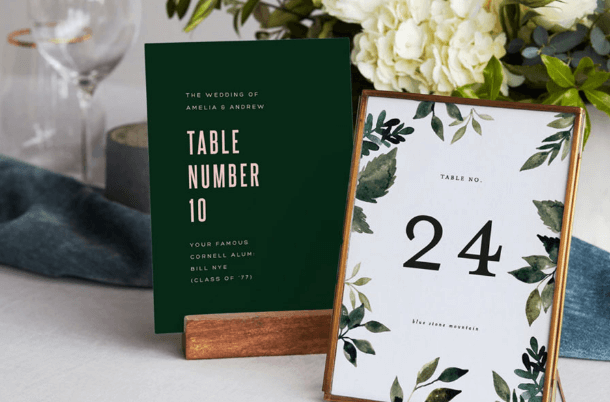 via here

Happy Planning!
xo
Emma
This is a post in collaboration with Minted.