What happens when a creative wedding videography team gets married? A spectacular wedding is planned and it results in the ultimate wedding video. And you get a front-row seat! Watch it all unfold right here… and be sure to subscribe!
We have an amazing wedding video to share with you today. But first, allow us to introduce you to Julie and Jordan. They're the creative duo behind Etch Films, a wedding videography company whose films we've featured in the past. And today we have the honor of featuring Julie and Jordan's wedding video. As you can imagine, when a wedding videography team plans their own wedding it can be a bit intimidating. Here's what Jordan tells us about the experience: "As a creative team, we are always challenging ourselves and we try to make each of our films better than the last. We knew there would be some high expectations and, of course, we wanted to make our wedding day the most special and memorable event of our lives. While Julie was choosing flowers, centerpieces, and, honestly, doing most of the work, I was doing a lot of pre-production planning. I had a certain concept in mind but I knew it would require some specialty equipment. I acquired a drone and reserved a Sony FS700 and a snow machine for some super-fun high-speed footage. I'm so glad I did, too, because it was such a hit; everyone loved that!"
Ultimate Wedding Video: Julie + Jordan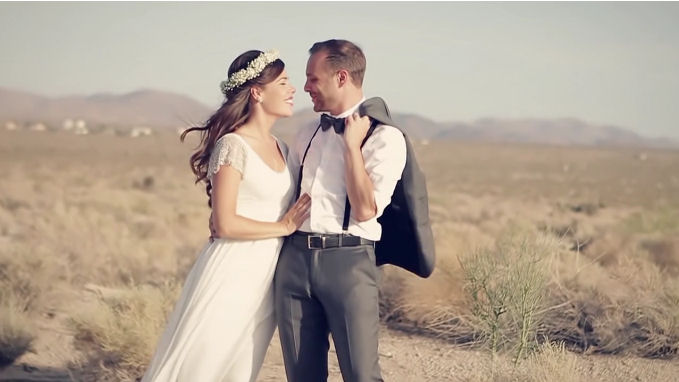 Jordan says, "Leading up to the day, I was really worried that I would be concerned or distracted by the whole 'production' and not just live in the moment. That's why I decided, early on, to entrust my good friend Joel Stanton with the videography. I was thrilled when he agreed, him and his team would shoot, and I would edit/produce. Him and Brad did an amazing job, they got so much great footage, and I didn't think about it even once – all day. All I remember is how beautiful Julie looked… and how much fun we had. We have said about a hundred times since that day, 'Let's get married again.' It was, the best day of my life (so far) and the video turned out equally epic, I think."

We couldn't agree more! This wedding video truly HAS IT ALL. The proposal. The first look. The bride's father walking her down the aisle. The vows read aloud. Tears. Laughter. Swimming. Tribal makeup. The happiest newlyweds. And quite possibly the biggest bash 29Palms has ever seen, complete with outdoor games, a packed dance floor, a drone, a swimming pool, a snow machine, an awesome sparkler exit, and more. And the music is incredible, too. You'll also see personal home video footage in the video to give you a glimpse into their unique story. Watch the magic unfold, below…
[ylwm_vimeo height="382″ width="680″ byline="false"]128046730[/ylwm_vimeo]
Video Highlights












Now, if *THIS* doesn't make you want a wedding video of your own, nothing will! Have the dynamic duo capture your wedding video from start to finish: visit Etch Films for details or see their listing at Emmaline Bride. They've planned a wedding themselves, so they know exactly what it's like; they'd love to make your wedding video unforgettable, too.
More Details + Vendors
The wedding of Julie and Jordan Richardson
Saturday, May 17th, 2014
Venue: 29 Palms, CA.
The team from Etch Films is happy to present our own wedding video, a year in the making. Special thanks go out to Stanton Agency, Mawwaige Films, and everyone who attended and helped to make our wedding the most incredible day ever, period.
Camera Crew: Joel Stanton & Brad Claypool – Stanton Agency
Proposal Camera Man: Isaac Svensson – Mawwiage Films
Photographers: Heather Saunders and Carl Welti III – Heather Saunders Photography
Venue: 29 Palms Inn
Coordinator: Vanessa Noel – Vanessa Noel Events
DJ: Zephyr Brown
Music:
"Step Out" by Jose Gonzalez
"B.O.B." by Outkast
We hope you enjoyed this video as much as we did. We'd like to thank Julie and Jordan for sharing their video with us today: we wish you many years of happiness!
♥
-E.