Finding the right wedding band can be a challenge. Yes, it is a fun process but it can be tough to pick just one, since you have so many choices available. How do you know what kind of band to choose?
Just to name a few, there are diamond wedding bands, anniversary bands, plain wedding bands, half eternity bands, and even silicone rings for active couples. But don't feel overwhelmed; we're here to help!
Today we're talking about diamond eternity bands, a popular choice, which features sparkly diamonds that go around the entire band; in addition, the style symbolizes eternal love.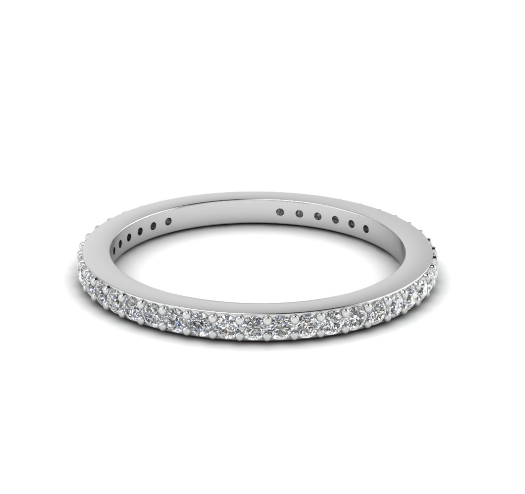 A diamond eternity band is a timeless piece of jewelry that is essential for one's collection and makes a beautiful wedding ring.
If you want to add a sparkling accent to your engagement ring, consider a diamond eternity band. While a traditional metal band is a classic look, you can't beat the amount of sparkle and beautiful shine you get from diamond eternity bands. Today we're sharing a few examples from Fascinating Diamonds in a variety of prices and sizes to complement your style — and your engagement ring.
Diamond eternity bands can be worn as wedding rings or bands and are available in a wide variety of metals like platinum, rose gold, yellow gold, and more. An eternity band is comprised of identically-cut diamonds or gemstones to symbolize unending love (for an "eternity") and is given as a wedding band or anniversary gift.
Let's take a look at our top picks for eternity bands that made our list!
Diamond Eternity Bands
In this post, you'll find ten diamond eternity bands with classic, more traditional styles and a others with colorful stones — more non-traditional rings. Which ring is your favorite?
This ring is stunning with dazzling princess cut diamonds and a classy prong setting. The alternate sequence makes for a unique display; very modern style.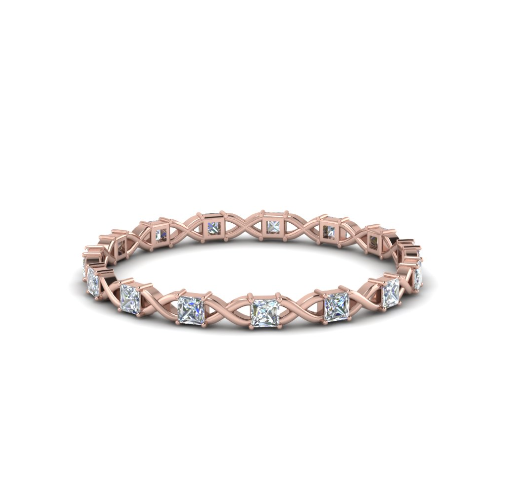 Buy here.
2. 14k Gold 1 Carat Diamond Eternity Band
This eternity band has 1 carat of pear shaped diamonds in a unique east west pattern. The classic prong setting shows off the sparkle beautifully.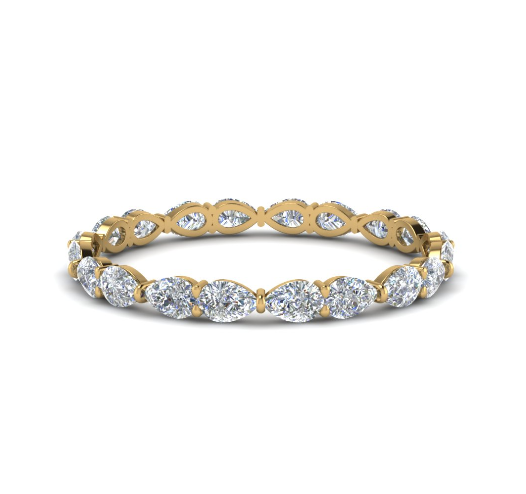 Buy here.
This Garnet eternity band is a beautiful statement piece comprised of vibrant emerald cut stones with tons of sparkle. It features 21 stones across the surface of the band. This ring has a classic prong setting.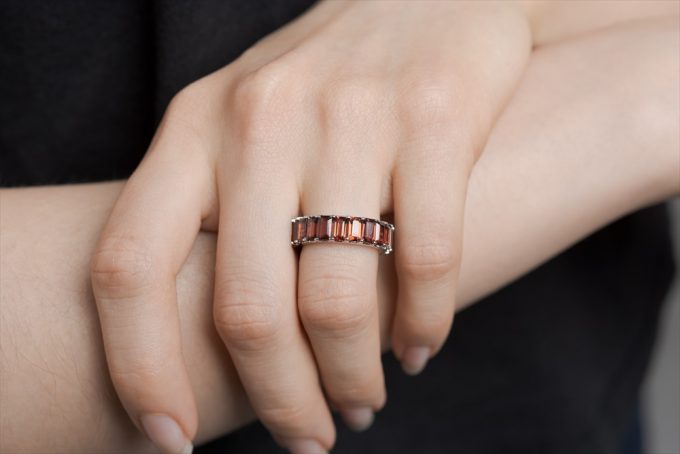 Buy it here.
4. Micro Pave Diamond Wedding Band
I've never seen a pave diamond band I didn't like, and this is no exception! This micro pave ring shimmers with a stunning 73 diamonds along its surface. This band is available in your choice of metal.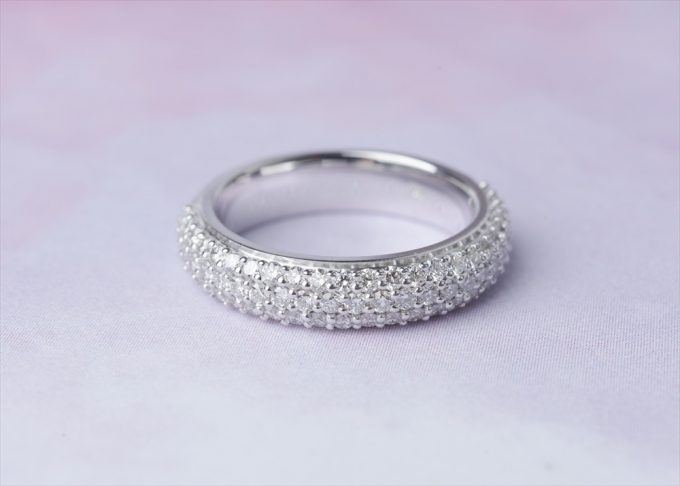 Buy it here.
5. Thin Diamond Stackable Band
Raise your hand if you love a stackable ring! *I do!* This thin diamond ring is skinny in size but packs a powerful pretty, sparkly punch.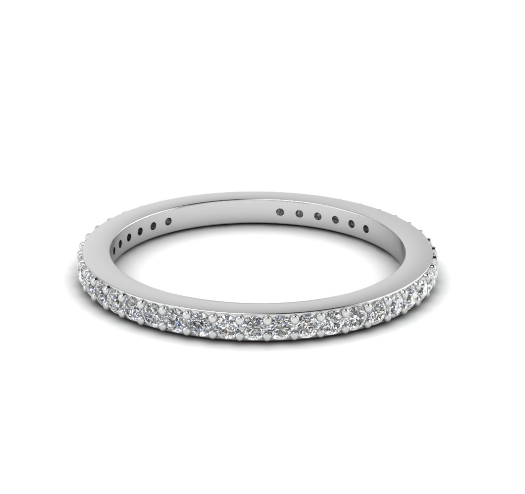 You can see this sparkly diamond ring here.
6. Princess Cut Diamond Eternity Band
This princess cut diamond band has a channel setting for a stylish finish. It features 26 shimmering diamonds.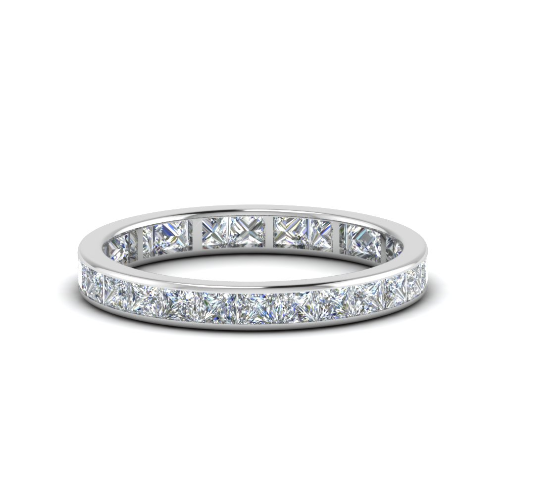 You can see this style here.
7. Floating Diamond Eternity Bands
And last but not least, this floating diamond band has 18 shimmering diamonds in a floating prong setting for a stunning aesthetic.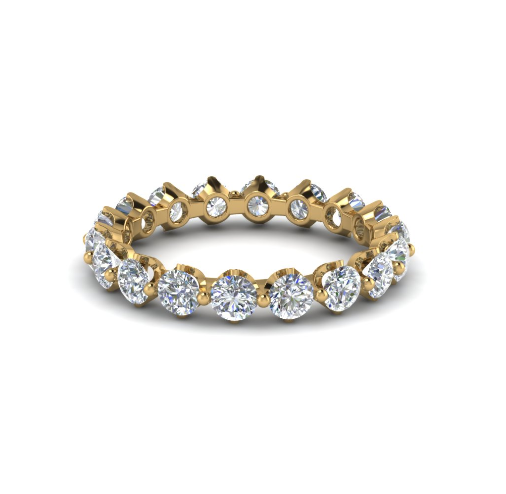 You can view this ring here.
If you like nature inspired jewelry, this red ruby band is a beautiful choice for you. It has round shaped stones and a classic bezel setting with a floral pattern and leaves. This design is very pretty.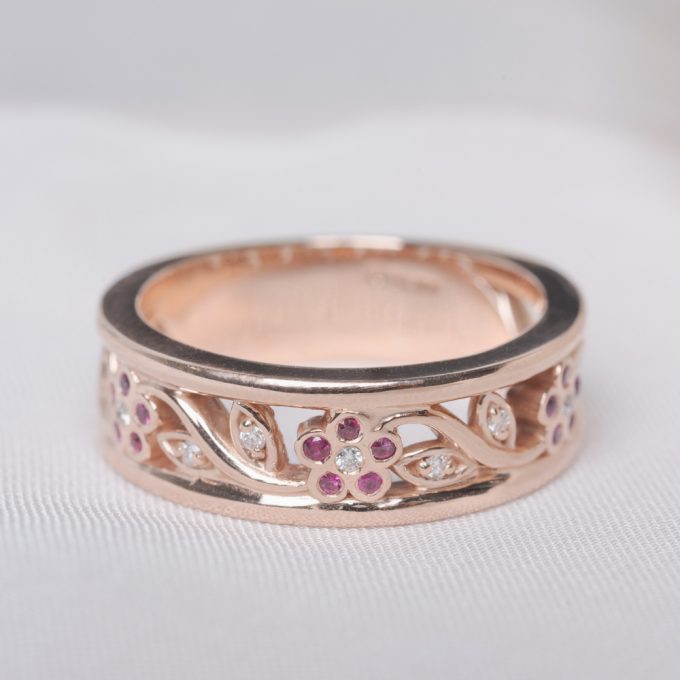 Buy it here.
This eternity band has princess cut diamonds in your choice of colors. I like how it looks here in pink.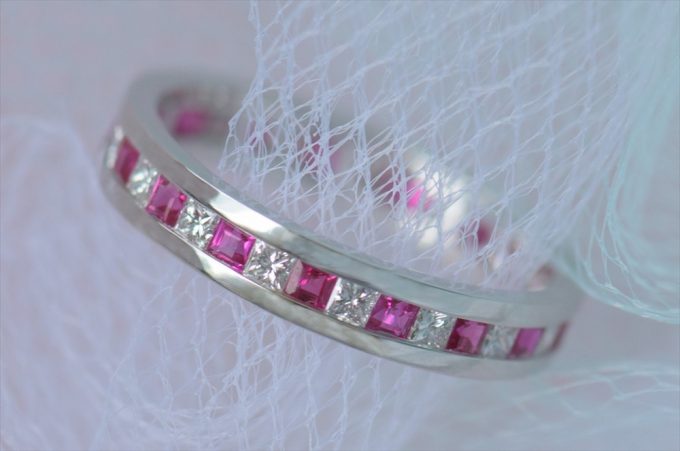 Buy it here.
10. Blue Sapphire Diamond Eternity Band
This blue sapphire diamond eternity band has 3.50 carats and features emerald cut diamonds studded in a classic prong setting; the round stones are arranged beautifully to make an alternating pattern.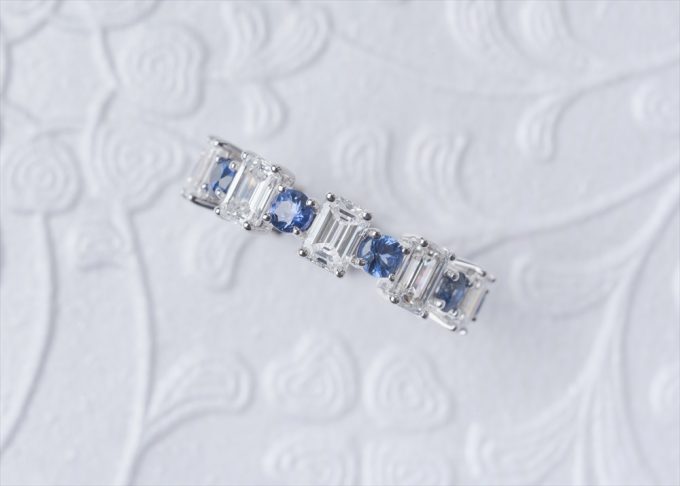 Buy it here.
What do you think of eternity bands? Would you choose diamonds or gemstones on the outside? What kind of band are you wearing with your engagement ring? Tell us in the comment box below!
Happy Planning!
xo
Emma
This is a sponsored post in collaboration with Fascinating Diamonds.