Are you wondering where to buy birdcage veil styles for your wedding? We'll help you! But first, you're on the list, right?!
Hi, lovelies! If you're looking to buy a birdcage veil for your wedding, but you're not sure where to shop, you've come to the right place! We're sharing the top places to buy birdcage veil styles on Etsy from top designers. These (handmade!) birdcage veils will give you that glamorous, classic vintage style you crave for your wedding.
These inspiring examples will show you how to wear a birdcage veil, what to look for in a modern birdcage veil, what a blusher veil looks like, the size of a mini birdcage veil, and more.
GOOD TO KNOW TIP: In case you were wondering about birdcage veil history… when were birdcage veils popular? This style of veil known as the birdcage veil originated in the 1930s and 1940s period.
We'll also show you through these photos how the same birdcage veil style can look so different based on what kind of hair comb or adornment you add, or simply because of the designer who makes it!
No two birdcage veils are the same when they're handmade, and that's why we adore 'em so. Enjoy!
Where to Buy Birdcage Veil
Here are the top places to buy birdcage veils on Etsy and beyond. Which one is your favorite?
This double-layer birdcage veil features shimmering rhinestones for a sparkling look. It is new for 2023 and makes a beautiful veil for the bride! By Tessa Kim. Photos below by Deyla Huss.
buy here
Also love this mini birdcage veil:
buy here
This bandeau-style birdcage veil is a beautiful choice! I love how it is worn across the face and attaches with an elegant crystal hair comb. By GildedShadows.
buy here
You can get stunning birdcage and full-length veils at this shop! Here's one of my favorites by Tiffani Rae Designs.
see it here
see it here
You can buy specialty birdcage veils by handmade designer Twigs & Honey at David's Bridal! See the selection here.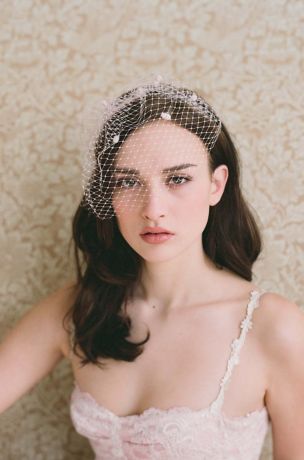 see it here
You can also shop this designer directly in the Etsy shop here for more options.
What's better than one birdcage veil? Two! This unique double birdcage veil features a bandeau style, with tulle and netting for a picture-perfect look. By Florentes.
see it here
6. BHLDN
You can buy beautiful styles at BHLDN, like this one by Twigs & Honey. It has large pearls for a one-of-a-kind statement accessory.
shop here
This classic birdcage veil begins at $44 and is the perfect choice for a simple, elegant style. By Marti and Company.
see it here
You can buy birdcage veil styles that attach to a headband and is shorter in length… like this cool retro one we spotted at Amy Anne Bridal. LOVE this look!
see it here
This style of birdcage veil adds glamour with a feathery headpiece and blusher in front. I love this look! By ABTVeils.com or on Etsy here.
see it here
And there you have it: 9 great places to buy birdcage veil styles! If you need help wearing one, read this helpful blog post.
Happy Planning!
xo
Emma