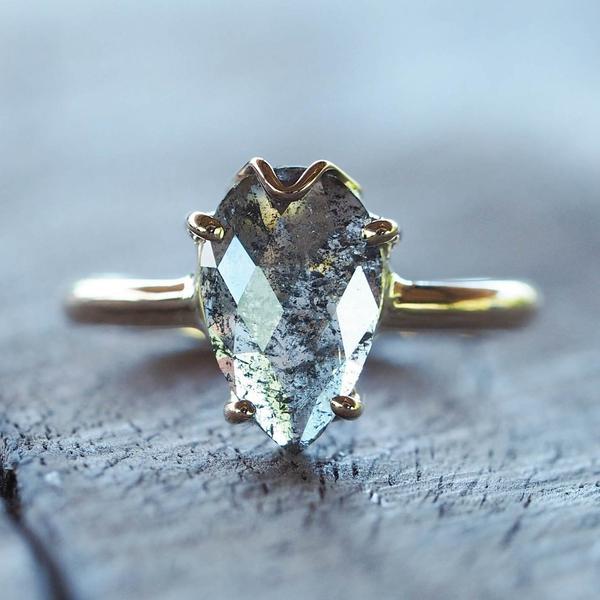 If you want to make the process of buying an engagement ring easier, buying online is the simplest way to do it, especially with so many beautiful options at your fingertips! Today we're telling you the top tips for buying engagement rings on the web so you can feel confident about your purchase. If you're thinking of shopping online for your ring — especially if you want a handcrafted, conflict-free option — read this guide first. :)
Throughout this post, you'll get inspired by engagement rings designed by Gardens of the Sun. Meri is a true artist! Her jewelry collection is stunning and made with love, just as engagement rings should be.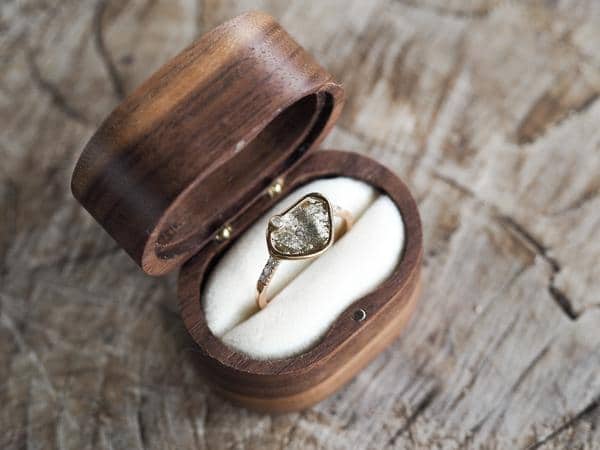 via here
Buying an Engagement Ring Online
1. How early should you shop for engagement rings?
It's a good idea to start browsing online before the proposal, preferably three months before you plan to get engaged. This ensures the ring looks great, is sized perfectly, and arrives in time for you to pop the question.

Some jewelers require extra time to customize, engrave, and create your ring so allowing extra time is always a good idea (including any extra delivery or shipping time).
2. How do you figure out the proper ring size?
The right fit makes all the difference. You can get free ring sizer online here when you sign up for the newsletter here. If you prefer to get sized by a professional jeweler, head to your local jewelry store and ask for your ring size.
If you're buying a ring for a proposal and it is a surprise, use a ring sizer on an existing ring he or she wears and fits great. Other than that, you'll need to simply ask for a size or go with him or her to get sized at a jeweler. :)
3. How do I know where to buy an engagement ring online?
-GET INSPIRED-
Begin by browsing shops online and Pinterest to see what kind of ring you like. What style do you like best? What kind of setting, size of the gemstone, and what style of stone will you choose? If you're looking for handcrafted jewelry, shopping on Etsy is a great place to start.
-SHOP GUILT-FREE JEWELRY-
When possible, purchase conflict-free jewelry options, like ANY of the pieces you find at Gardens of the Sun as one trusted resource. These jewelry pieces are handmade with pride using only ethically sourced materials.
4. Read as many reviews and testimonials you can.
The most important thing to do when shopping online is to do your homework and read reviews. Reviews will provide you with crucial knowledge of how past customers enjoyed their experience. In today's modern world, reviews make it much easier to feel more trustworthy when buying online, especially with a purchase as important as your engagement ring.
5. Return the return or exchange policy.
Make sure you read the fine print before you buy, checking the return or exchange policies for the store. Each store has different procedures, so it's imperative to know this information before you buy it.
6. What happens if the engagement ring doesn't fit?
Some engagement rings can be resized, depending on the material it is made from. Others cannot. You can also try one of these if you need the ring to be tighter until you get it professionally resized (or keep it in a safe place until you can get it sized correctly).
7. Order the wedding band at the same time.
If possible, order the wedding band to match the engagement ring when you buy online. This will save you time and additional shipping costs later.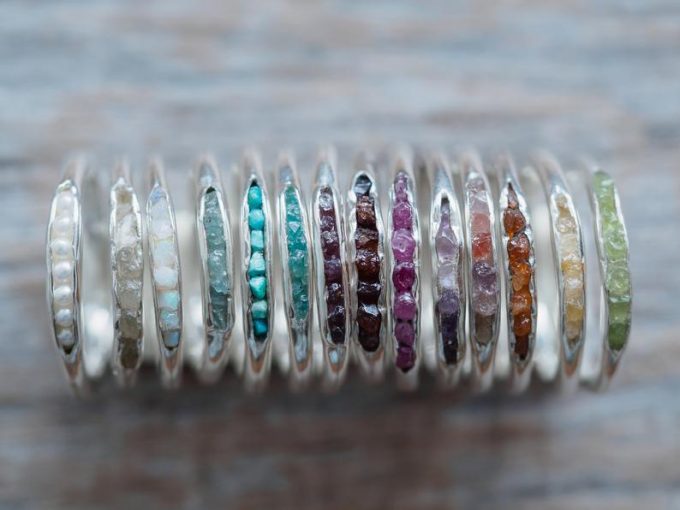 via here
8. Don't forget the ring box!
For a perfect proposal, don't forget to put the ring in a beautiful ring box. If your jeweler doesn't provide one that suits your taste, browse velvet ring boxes or this cool diamond shaped ring box (they're quite popular at the moment).
Now that you know the basics of buying an engagement ring online, here's some inspiration to get you started in Meri's shop.
Salt and Pepper Diamond Slice Ring
This engagement ring is made of a freeform diamond slice (how cool is that?) with three small diamonds on the side. You can see more about this ring here.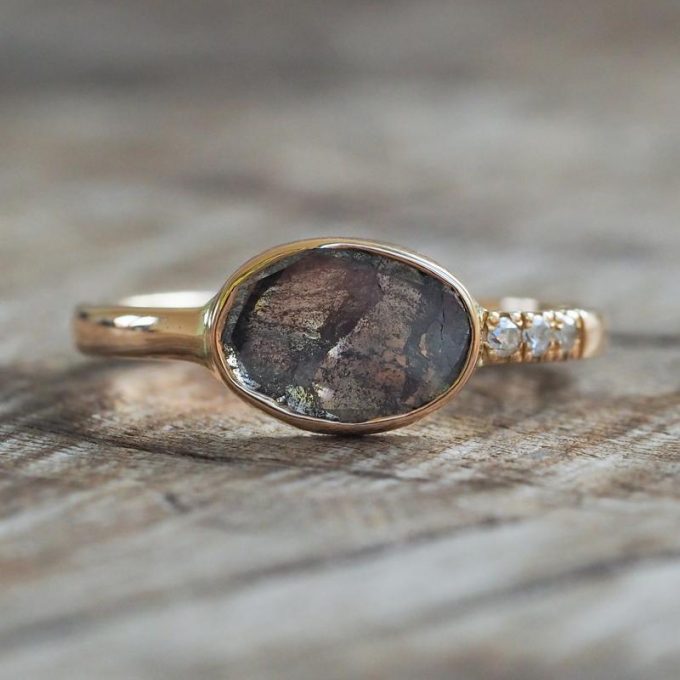 via here
Custom Round Oval and Radiant Rose Cut Diamond Ring
This is a stunning choice! I love the way the band shimmers and shines. See this ring here.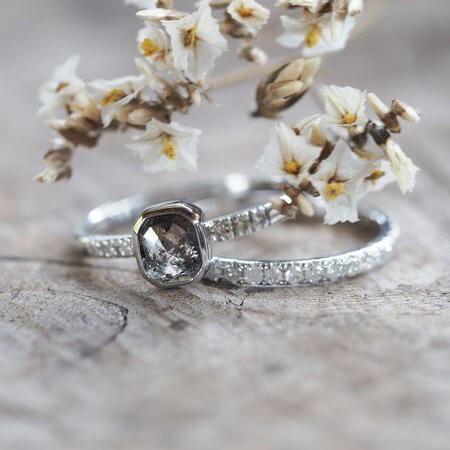 via here
Brilliant Cut Geometric Engagement Ring
This modern cut ring features a stunning geometric-shaped stone. See more details.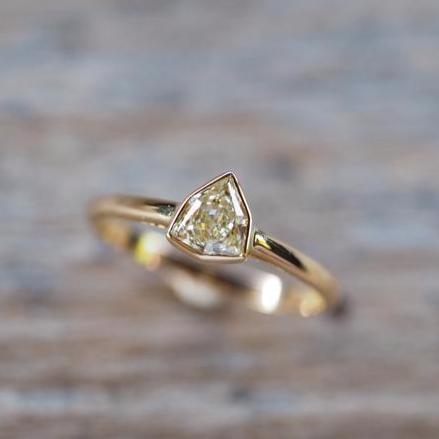 via here
Marquise Rose Cut Diamond Ring
This ring can be made with an uncut or raw diamond for a truly unique style. See it here.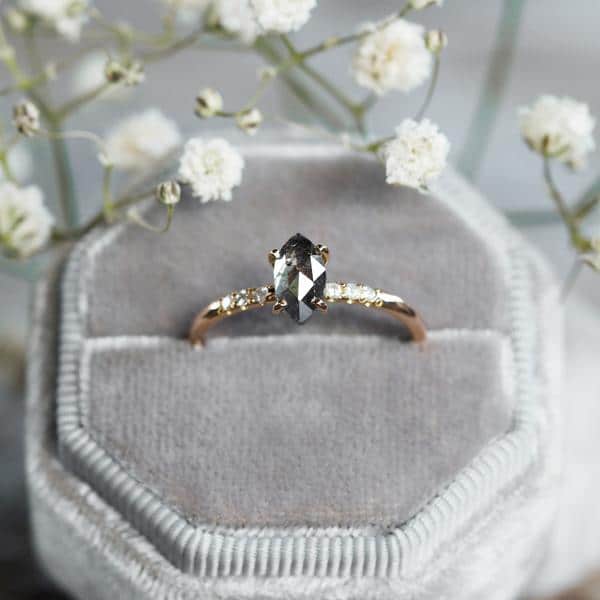 via here
Diamond Slice Engagement Ring
This ring is another diamond slice style and I love the small accent diamond on the side! See this ring here.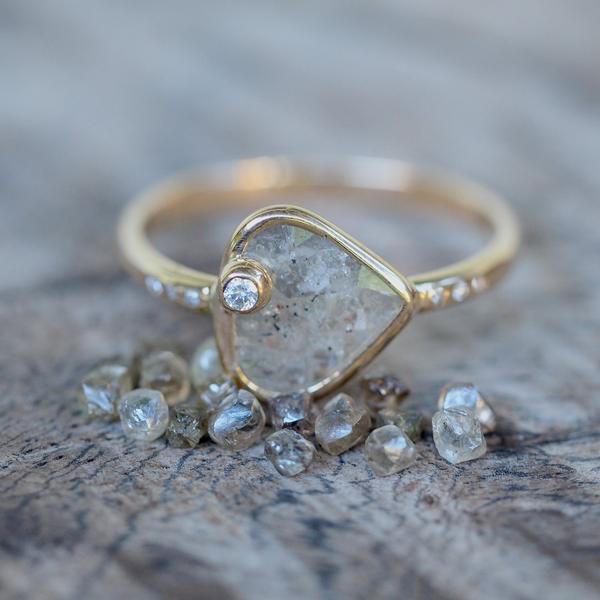 via here
These are just a few of the beautiful handcrafted (and guilt-free / conflict-free) jewelry options to choose from at Gardens of the Sun. If you'd like to see more, get inspired in the shop.
And you must follow Meri on Instagram! She's one of the most inspiring IG accounts we know; her descriptions are so eloquently written. You'll know what I mean when you follow along. Gardens of the Sun is a Featured Artist at Emmaline Bride.
Happy engagement ring shopping! I hope you find the perfect ring for someone special. :)
xo
Emma
P.S. After the engagement, show off that sparkler! This is one of the most popular engagement gifts ever.