It's time for our annual Black Friday wedding deals blog post! Wait until you see the awesome deals we've gathered up for you. Subscribe for the latest!
The turkey is carved, pumpkin pie devoured, and hot cocoa is sipped… it's time to binge-watch your favorite tv show and score some seriously awesome Black Friday deals! Emma here and if you're a bride-to-be, you know weddings can be expensive. But you can save some serious money if you know where to look. Today we're sharing the best Black Friday wedding deals 2020 from our favorite handmade artists + around the web including seriously gorgeous engagement rings, wedding veils, invitations, decorations, wedding accessories, awesome bridesmaid gifts and groomsmen gifts, fun favors, decorations, and more!
Read on for the HUGE list of over fifty awesome Black Friday wedding deals and discounts! After reading, please share on social media (see buttons at bottom of post) to spread the money-saving finds! Enjoy!
P.S. This list is in no particular order, so be sure to read through it all! Also, these are to the best of our knowledge, but be sure to check deadlines. Not responsible for any incorrect or no longer valid offers.
Black Friday Wedding Deals 2020
For Your Party
Need wedding face masks for guests? Cute cups? Napkins? Matches? EVERYTHING party? Okay, great! You can save 20% with code GOBBLE20 plus FREE shipping on orders of $99+ on their website to score your deal. Or, get 15% off orders of $125; 20% off orders $125+ in the Etsy shop.
AddStyleCo
Save 60 percent off groomsmen gifts, bridesmaid gifts, and holiday gifts like wallets, makeup bags, dopp kits for men, journals, leather totes, and more! Click here to shop!
buy here
buy here
P.S. This leather tote is 60% off right now!
Gaia's Candy
HUGE SALE ALERT: 15% off when you spend $100 or more on beautiful jewelry at Gaia's Candy. This discount has never been offered before. PLUS, as an added bonus, you'll receive a free sterling silver and gemstone gift to every order over $75 from Thanksgiving Day through Cyber Monday.
shop here
Lottie-Da Designs
Get 40% off everything plus a FREE PAIR of "Elita" Earrings with minimum order of $50 USD with coupon: EARRINGS4ME. Coupon code must be used to receive the free earrings. Earrings come wrapped in a jewelry box with ribbon bow, ready for gift-giving! Plus, get FREE US shipping on all orders over $35. Sale ends December 1st. DO NOT MISS THIS! Click here to shop now!
buy here
TheFancyPigeon
We're seeing a ton of cute bridesmaid pjs and robes for 50% off at the shop right now! Hurry while it lasts… this is a great deal.
shop here
Minted
Save BIG on wedding invitations, holiday cards, save the dates, place cards, thank you cards, day-of menus, signs, and so much more. Plus, gifts like tote bags, makeup bags, pillows, art, and more! Black Friday Event: 20% off all orders $150+; 15% off everything. Code: BF2020, ends Fri, 11/27. Click here to save!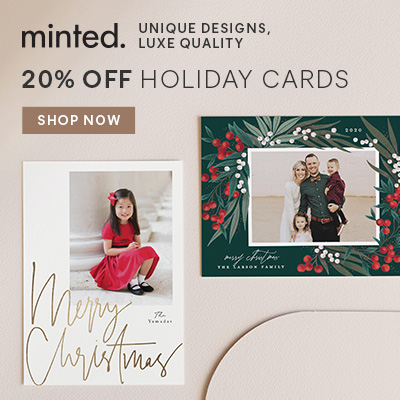 buy here
Perlilla Pets
Cake topper? Check! These adorable toppers and figurines, ornaments and more by PerlillaPets will delight and inspire you. Save 20% off PLUS get a cute handmade Christmas gift with every order. Score! Get your deal here.
Llamas shown here, cute! MANY animals are available.
buy here
Rogers & Hollands
Save on fine jewelry, engagement rings, and more during their Black Friday sale here! PLus, don't miss them featured in our recent Engagement Rings Under $1000 Guide for suggestions.
Alacrity Gifts
Be my bridesmaid or thank you for being my bridesmaid bracelets, $3.99 and up! Huge deal, don't miss it: happening here.
Ella Winston
Have you been looking to save on velvet robes, garters, and handkerchiefs? You're in luck! You can save 20% off at EllaWinston for a limited time Black Friday through Cyber Monday. This is one of the best Black Friday wedding deals 2020 has to offer for bridesmaid robes, so don't miss it! No code needed, discount taken automatically at checkout. Click here to shop!
Miss Shelley's Southern Jams and Jellies
OMG this deal is a good one, and if you're buying wedding favors in the form of jam jars or honey, DO NOT MISS IT! The special is: Pre-Order Deposit for 2021 Events (dates February-December). Place a Pre-Order Deposit using this link and receive 25% OFF your TOTAL PURCHASE. They've never offered 25% off before! Plus, you'll receive FREE Mini Spreaders and a bag of their Biscuit Mix. Yum! The final balance is due 8-10 weeks prior to your special celebration. This offer is good until Tuesday, December 2nd. Click here to get started.
buy here
Artifice Producciones
Save big on custom figurines and cake toppers that are completely handmade to look like you! Choose EVERYTHING from outfits to hairstyles, hair color, skintone, and accessories… these are so fun! Get a 20% of discount on all custom figurines for events in late February 2021 and beyond. No code needed, just go to this link and the discount is already applied to all listings. PLUS, they are offering a higher 30% off early order Black Friday special for all orders needed in July 2021 and beyond. They have limited availability for these so please contact them directly on Etsy here for a coupon code to use at checkout. Yay! Both offers are available until November 30th.
BLUSH Fashion
Get a deal on your WEDDING DRESS — yes! — or bridesmaid dresses from Blush Fashion. Use code: NOVEMBERSALE to save money here.
Blossom Syrup
Save on bridesmaid swimsuits, robes for the bridal party, gorgeous bridal robes, and so much more: see the deals here. There's even a special BOGO deal happening here!
LoveMiaCo
You've been eyeing those cute bridesmaid hair ties… now get them on sale! Shop the discounts here!
Basic Invite
Get a great deal on wedding invitations of all shapes and sizes, plus stationery for other parts of your wedding, i.e. save the dates, than you cards, and more. PLUS, holiday cards! 15% OFF EVERYTHING until end of the month. Use code: 15FF51. You can start shopping here.
BusyPuzzle
Custom kids names puzzles are 60 off, and they make a great gift! Click here to save!
Barzelai
Save 15% off wedding dresses from this amazing designer on Etsy! Her gowns are gorgeous; the prices are amazing. Check it out here.
Bottle Breacher
Awesome groomsmen gift, at a huge discount! Save:
– $15 off $50+ with code: SAVE15
– $35 off $100+ with code: SAVE35
– $100 off $250+ with code: SAVE100
CLick here to shop the Etsy shop or website here!
shop here
JoyJolt
Black Friday Sale at JoyJolt.com! Double-wall coffee mugs, wine glasses, champagne flutes, and so much more, all stylish with great prices. Take 35% off sitewide with Code THANKS. Offer Expires 11/29 at 9am. Click here to shop!
KaoriKaori
Oooh, save big on cute jewelry and accessories: save 20% off with no minimum order from November 25 to December 1, 2020. Click here to shop the sale!
buy here
Rubi & Lib
Get decked out with everything for your party during this great sale! This begins now and ends Monday, November 30th at 11:59pm. Purchases up to $99 will receive 10% off, $100-$499 and save $15 ff. Spend $500 and more and get 20% off. Huge! Shop here!
Mackenzie-Childs
I love everything at Mackenzie-Childs (remember these registry gifts?!) They're having a huge Cyber Week sale, so don't miss it! Click here to see what's included in the sale.
Thea James Bridal
Get 20% off on draping for your wedding arch, which is a great savings for DIY brides. Shop here.
Zazzle
Shop EVERYTHING for your wedding, along with gifts for loved ones and cute finds with customization available at Zazzle. Click here to shop!
GladPaper
These beautiful handmade guest book prints featuring tree branches are one-of-a-kind! Save 20% off with coupon here.
buy here
You can also shop them on Etsy here.
NeonInterior
Light up your reception with CUSTOM neon lights, now 15% off for a limited time at NeonInterior.
MyDreamlines
Get a wedding sketch of your dress and use coupon code: EMMALINE for an additional $20 off plus FREE shipping! Click here!
PinkyPromiseAccs
These wedding sandals and flats are ADORABLE. Don't miss this sale: 30% off storewide and FREE SHIPPING until December 1st. Click here to shop!
PlumPrettySugar
Ooh, the cutest sleepwear, pjs, loungewear, robes, and so much more — now on sale at 50% off for a limited time! Click to shop!
shop here
Wink Of Pink Shop
Want to save money on beautiful jewelry for the bride and bridesmaids? Of course you do! Save 30% off with code CYBER30 starting November 23 through November 30. No restrictions; you may use the code multiple times. Click here to save!
Flutterbye Prints
You do not want to miss this sale at FBP! They offer incredible prints, i.e. thumbprint guest books, fingerprint art work, and custom art for your home. These are beautiful, don't miss it. For Black Friday, you can save 35% off everything (+ FREE shipping!) with discount code EVERYTHINGSALE, which should apply automatically. Minimum purchase of $10.00; November 26-November 30. Click here to shop!
Capsul Jewelry
Save money on handcrafted personalized jewelry like signature necklaces and bracelets, roman numeral rings, birthstone jewelry, and more. Get 30% Off Sitewide + Free Priority Shipping with Code CM2020. Click here to start shopping!
buy here
Hair Comes The Bride
Save 40% off on hair accessories for the bride! Starts November 27 through December 1 with coupon code: BF2020. Click here to see the shop!
Marti & Company
Make sure you don't miss the biggest Black Friday wedding deals 2020 has for veils! The lovely Marti & Co is offering 50% off ALL in-stock wedding veils. You can see the collection here to start saving!
Tracy Tayan Designs
Hand-stamped gifts, ornaments, jewelry, and SO MUCH MORE! Save big with this huge sale: 20% off all orders over $1000 and get free shipping on orders over $35. Click here to start saving!
shop here
The Lettering Studio
Save 20% off during Cyber Week! These ornaments are gorgeous! Click here to shop!
Rustic Gem Jewelry
Save wth FREE shipping on one-of-a-kind jewelry. Shop here.
MrLentz
Fine leather goods including wallets, belts, bags, and so much more — 20% off now during the Black Friday deal! Shop here.
buy here
Moonkist Designs
Save money on jewelry at the MKD sale! They are offering a 20% off sale on their website from November 24th through December 2nd. US orders over $100 USD will get free first-class domestic shipping. PLUS, get a free 3D bar pendant with orders over $200 USD, while supplies last. Click here to shop!
TiffZippy
They offer a ton of custom wood products, gifts, wedding place cards, table numbers, napkin rings, and more in this shop. You can get 20% off everything with code: GOBBLE20, expires 12/1/20. Plus, you can get free shipping (always, USA, over $35).
Laura Stark Jewelry
Shop beautiful jewelry and save 20% off in the sale at LauraStark.com!
BridalgardenStudio
Wedding dresses are 40% off this weekend during the Black Friday wedding deals 2020 sale happening in their shop!
FattiePie
Shop cute flower girl dresses and score one of the biggest Black Friday wedding deals 2020 has to offer: 30% off ALL DRESSES! Use coupon code: HAPPY30 on the website. Expires November 30 at midnight.
BIRDIES
Get a discount on flats that look stylish, but feel like — you guessed it — slippers! Shop their Black Friday sale here.
via here
Etsy
Etsy-wide there is a HUGE Cyber Week sale happening with many shops participating! You can save up to 60% off beautiful gifts. Click here to shop the sales!
BHLDN
BHLDN is having a sale! Get 40 off on sale items and free shipping on every order! Click here to save on wedding gowns, bridesmaid dresses, guest dresses, accessories, and so much more.
David's Bridal
For ONE DAY ONLY, they're offering 20% off the entire site, online only! Don't miss it:shop wedding dresses, bridesmaid dresses, accessories, and more. Click here for the sale.
Amazon Handmade
Save up to 20% on handcrafted gifts and decor from participating sellers here.
Idle Sleep
Want to sleep on a new mattress this year? Save big on mattresses and pillows:50% Off Any Foam Mattress + 2 Free Pillows. Use coupon code BFCM50. Click here to shop!
Shutterfly
Turn your pictures into beautiful holiday gifts! Calendars, photo books, and so much more await at 50 percent off almost everything, no code needed! Shop here!
Beau-coup
Save big on wedding favors:
4 Day Sale! Ends Thursday, 11/26!
Get 20% off, no minimum order
Get 30% off, minimum order of $139
Use Code: HAPPY
This offer is only valid at the time of purchase and cannot be combined with any other offer. Applies to merchandise only and does not apply to shipping, fees, taxes, or other non-merchandise charges. Click here to shop!
BigBlanketCo
Want the biggest, coziest blanket ever? Save money on it now! Score $30 OFF $100 / $75 OFF $250 / $150 OFF $450+ here.
Egnaro
Shop affordable silicone wedding bands under $14.99 in your favorite colors; great reviews on these, too.
Paint Your Life
Remember when Andrew and I had that custom portrait painted? Now you can get $70 off Every Order PLUS free shipping, one of the best Black Friday wedding deals 2020 is offering for a custom product like this! Makes a great gift. Click here to get started.
buy here
Kate Spade
Select gift items on sale, like this His and Hers glassware set (20% off!) Makes a great wedding gift. See the deal here.
via here
HouseofRounds
Huge 50% off sale happening now at the shop including Christmas doormats, like this cute one!
via here
LeftCoastOriginal
Big sale happening in their shop with tons of gift ideas, 20% off and free shipping offers. Click to shop.
Grace Personalized
Save on personalized jewelry with 30 percent off the entire shop!
Dessy
Get bridesmaid dresses at a hefty discount thanks to Dessy and their best Black Friday wedding deals 2020: Enjoy 20% Off Sitewide, Plus Free Shipping on $100+ at Dessy.com! Code: BFCM20. Shop here now!
And there you have it: the biggest and best Black Friday wedding deals 2020 has to offer! If we see others, we'll add them to this list. Remember, many of these are valid through Cyber Monday. Shop small + save big this holiday season!
Hope it helps!
Happy Shopping!
xo
Emma