Before you buy a bridesmaid dress when pregnant, WAIT! Read this blog post first with helpful tips and tricks to know before you order a maternity dress. Be sure to subscribe now for the latest to your inbox.
Hi, loves! There's some exciting news to share, in case you're not following us Instagram: we're having a baby! *throws confetti* Yes, we're adding another sweet baby to our family and our boys are so excited to be big brothers. :) As a person who is well-versed in pregnancy wear, maternity attire, and right this very minute is rocking a bump like a pro, I have very valuable + helpful tips for pregnant bridesmaids as they're getting ready to order a dress. It's easy to figure out what kind of bump-friendly bridesmaid dress or maternity bridesmaid styles when you know where to order, how to coordinate your bridesmaids, and how to accommodate that cute growing bump! Today we'll tell you what to know based on how far along she'll be, and how to order a bridesmaid dress when pregnant.
Here's me, rockin' it!
via @emmalinebride
I had to figure out how to order a maternity bridesmaid dress while pregnant a few years back, so I know a thing or two (or twenty) about how to find one that will look beautiful, whether you are a bridesmaid who is expecting or you know someone who is.
by david's bridal, buy here
by david's bridal, buy here
Bridal party dress shopping is one thing; figuring out how to order a bridesmaid dress when pregnant is a whole other ballgame. But the good news is that these days, it's so much easier to find maternity bridal party dresses that look beautiful and don't scream "look at me"! :)
Whether you're a bridesmaid expecting a baby in the early stages when the wedding day approaches, or you'll be pretty far along by then, we have the styles that make it easy to buy dresses for pregnant bridesmaids.
When I was pregnant with my second child, I was planning to be a bridesmaid at a friend's wedding.
Unfortunately, I needed to back out early on, as the due date ended up being the same week as the wedding. I didn't want to, ya know, go into labor during the aisle procession. And while I'm pretty active leading up to delivery (e.g., I danced my butt off at their wedding on Saturday, my son was born Monday morning!) I still didn't want to take a chance on it. I really would never imagine backing out of being a bridesmaid, but being so close to the due date, to me, was the only reason I would do so.
The bride was very kind and understanding about it and we attended the wedding as guests, had a blast, and it was a good call. But most of the time, if I was only a few months, 6 months along, or even closer to 9 months, I would be happy to be a pregnant bridesmaid — with the right dress, of course. ;)
Let's discuss the topic of buying a bridesmaid dress when pregnant. These tips are also helpful for buying bridesmaid dresses right after being pregnant, as you may still appear pregnant or have extra weight from the pregnancy; no sense in stressing over it, simply buy a maternity bridesmaid dress that fits perfectly in all the right places and you'll feel more confident walking down the aisle and posing for pictures.
How to Order Bridesmaid Dress When Pregnant
First, let's talk about how far along the bridesmaid will be in her pregnancy on the date of the wedding. This makes all the difference before you order a bridesmaid dress when pregnant.
Pregnant Bridesmaid Dress Shopping
It's exciting when one of your bridesmaids is expecting a baby! You'll want her to feel comfortable with her growing bump and not worry about being able to fit into the dress on the day of the wedding.
Do you necessarily need to shop exclusively maternity bridesmaid dresses? Nope! Not that there's anything wrong with that. There are some style tips and tricks to match all of your bridesmaids — even a bridesmaid expecting a baby! — in the same gown and it will flatter everyone.
So, here's what to do:
1. Choose a flattering style with an empire waist.
An empire waist does wonders for creating an elegant cut and silhouette, whether you have a bridesmaid who is pregnant or a bridal party attendant that is concerned about her weight, especially in the mid-section.
A bridesmaid dress like this offers fabric that gathers underneath the bustline and then flows outward, giving more room for the bump area.
These infinity dresses from RadiantRooster allow for exactly this: an empire waist and a convertible style. There are many colors from which to choose; see them all here.
buy here
buy here
buy here
See more just like it here.
2. Mix and match your bridal party dresses.
If you're a pregnant bridesmaid, you don't want to feel singled out and have to wear a different dress than everyone else. This is especially true if your dress is a similar color but is not exactly the same shade as the other dresses. No one wants to feel like the odd duck, so make sure the dress is exactly the same in color but offers a unique silhouette designed just for her.
We also recommend ALL bridesmaids wear a dress of the same color but choose a dress that flatters them best. This can be different necklines for everyone (fun!) but the same shade will allow everyone to coordinate perfectly.
For mix-and-match dresses, places like David's Bridal make it easy to shop by color.
Bridesmaids can select ANY dress from the site in that exact shade (we also recommend choosing the same material, though, as colors can vary depending on the type of fabric they are made with!) to match.
This means the expectant mother-to-be can also shop for a bridesmaid dress while pregnant that is also a maternity dress (they offer an entire collection here), but matches the other bridesmaids in terms of shade so everyone wins.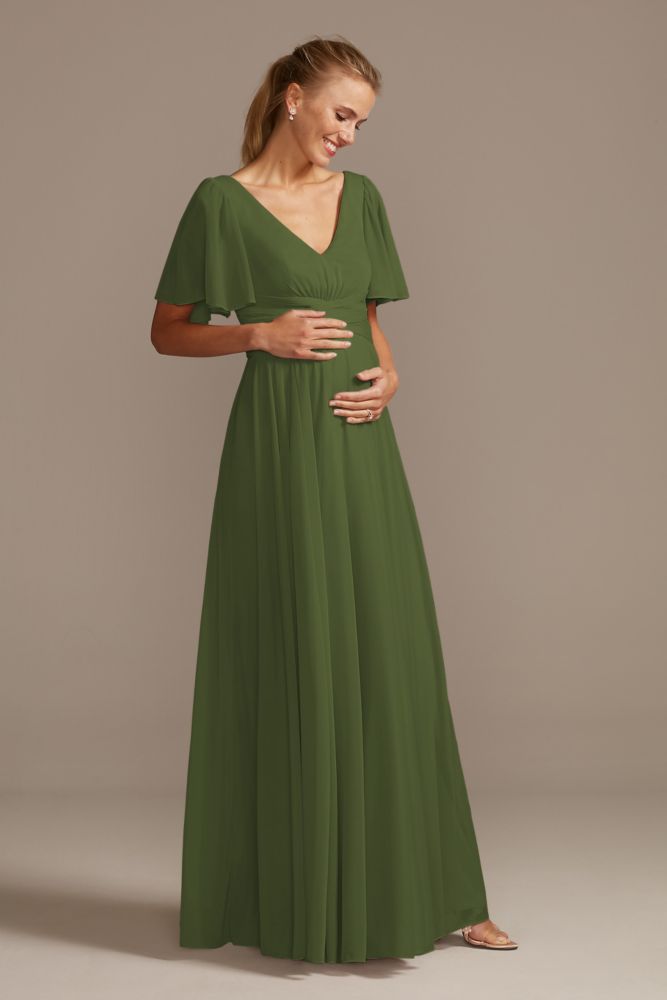 buy here
3. Consider how far along the pregnant bridesmaid will be.
One to Three Months Pregnant
If she will be 1-3 months pregnant, she may be able to rock a traditional bridesmaid dress just fine at her regular size. Many women don't begin showing until the three-month mark, but may still want a little bit of "give" in the dress selected just in case, or if they are self-conscious about extra weight gain early. In this case, she can order one size up. It's always easier to take a dress in rather than try to make it bigger. :)
Four to Six Months Pregnant
If you have a bridesmaid who is expecting 4 months to 6 months at the time of the wedding, we recommend sizing up one to two sizes up from her regular size.
Seven Months to Nine Months Pregnant
And lastly, if she is expecting 7 months or more on the wedding date, a maternity-friendly dress is advised or she can size up at least 2 sizes to ensure a fantastic fit on the wedding date.
And for goodness sakes, bridesmaid flats are always a good idea for a bridesmaid who is expecting, especially after the 3-month mark. :)
Bonus Tip: Pahminas!
One of the most-loved maternity accessories that pregnant bridesmaids love is a pashmina, incorporated into the look of the bridal party attire. Now, this really works well if the weather is a bit on the cooler side, obviously, but a coordinating bridesmaid shawl or pashmina like this can be worn and make your bridesmaids of all shapes and sizes feel very comfortable in their dresses. The pregnant bridesmaid will rejoice because let's be honest, it is another layer she can wrap in, just in case the dress feels a bit snug.
by mia krafts shop
Should Your Pregnant Bridesmaid Still Stand Up in the Wedding?
This is entirely HER call to make. And please, if a bridesmaid who is expecting does not feel comfortable standing up, understand her position and don't make her feel bad about it. On the other hand, if you're a bridesmaid who is pregnant and you're thinking of backing out, do it as soon as possible so the bride has a chance to select another bridesmaid in your place.
from lulu's, buy here
Furthermore, can bridesmaids be pregnant at your wedding? Um, yeah, of course! Why not?! Being an expectant bridesmaid, we think, is good luck and such a blessing. Babies are blessings! Just because a bridesmaid is pregnant doesn't mean she can't have just as much fun as usual (although sure, maybe she won't dance quite as hard and she'll be sipping sparkling water all day, but who cares?) Keep this in mind and remember, don't worry. Like I said, maternity bridesmaid dresses are so much more modern and stylish than years prior.
Maternity Undergarments
What is the MOST important thing to note before you buy a bridesmaid dress when pregnant? Get proper maternity undergarments. Many dresses in general offer less-than-desired fabric coverage, much less when it is maternity. And if you want to feel like a confident mama-to-be in a formal dress, you'll want proper undergarments. For pregnancy, this undergarment is a top-seller at a great price. It covers just where you need it and isn't too tight over your belly. Plus, you'll use this thing when wearing your bridesmaid dress when pregnant, and beyond with many other outfits. Promise.
To top it off, it is extremely highly-rated by other expectant mothers here.
It's not just pregnant bridesmaids that need undergarments: everyone in the wedding party should wear proper garments underneath the dress for the best foundation and fit. You can browse these undergarment suggestions for bridesmaids and the bride.
Where to Buy Bridesmaid Dress When Pregnant
Here is where to buy a bridesmaid dress when pregnant, particularly from maternity friendly collections:
– David's Bridal has an extensive collection of maternity bridesmaid dresses here. They make it super-easy to mix-and-match, as discussed earlier in this blog post.
– Dessy offers its own maternity bridesmaid collection here which are on-trend with the latest styles and accommodate a growing bump.
– Mother Bee Maternity You can get beautiful maternity dresses in solid colors that will coordinate with other bridal party attendants easily. Choose long-length or short bridesmaid dresses in maternity fit. Shop here.
– Lulu's You will love the assortment of dresses that are available in maternity-friendly and traditional in their shop. Look for empire waists, maxi-style dresses, and ruching on the waist area for a perfect fit.
This is notably "so flowy" by one reviewer!
by lulu's here
– L.S. Boutik This affordable brand makes the best-fitting little black dress I've ever tried. Yes, pre-pregnancy and afterward. I love this dress and still wear it all the time. You can see others like it or buy here. It's amazingly affordable, too, and available in more colors here.
What do you think of these maternity bridesmaid dress picks? Are you a bridesmaid who is pregnant, or do you have an expectant mama in your bridal party? We hope these tips help as you order a bridesmaid dress while pregnant, and we hope you love the dress you wear!
If you have any questions, feel free to ask! Just contact us here or leave a comment in the box below.
Happy Planning!
xo
Emma