Want to wear the perfect fourth of july dress? Not sure where to find one? I've got you covered! Let's shop together because I'm looking for cute 4th of july party outfit ideas, too. Subscribe for the latest to your inbox.
Ok, so! It's almost the 4th of July. Well, not almost, but based on how quickly the days and weeks are flying right on by, I'm worried it will arrive and leave too fast. Therefore, I've been looking for a stylish Fourth of July dress to wear, but I can't quite decide on which one. A quick search of the 4th of July dresses Amazon has to offer reveals a few outfit ideas, but nothing quite like what I was hoping to find.
I guess I imagine a cute red maxi dress, or a red gingham dress; anything that screams Fourth of July party outfit. Are you wondering the same thing? Good. :)
After many searches, I've narrowed it down to the 10 best fourth of July dresses that are cute, stylish, and affordable (without looking cheap).
The only thing I noticed about these dresses is the following: they're virtually flying off of the online shelves; there was one style I found and it's already waitlisted, so I couldn't even include it on this list. #bummer
If you find one you love, buy it before it's gone. The 4th of July isn't too far away, so you'll want to have it in time. I won't tell if you wear it early. With styles this good, I don't blame you. :)
Fourth of July Dress
1. Floral Print Drop Shoulder Chiffon Maxi Dress, $89
This adorable outfit makes a perfect fourth of July dress without being overly stars and stripey. It has the perfect mix of red, white, and blue in a floral design. By here.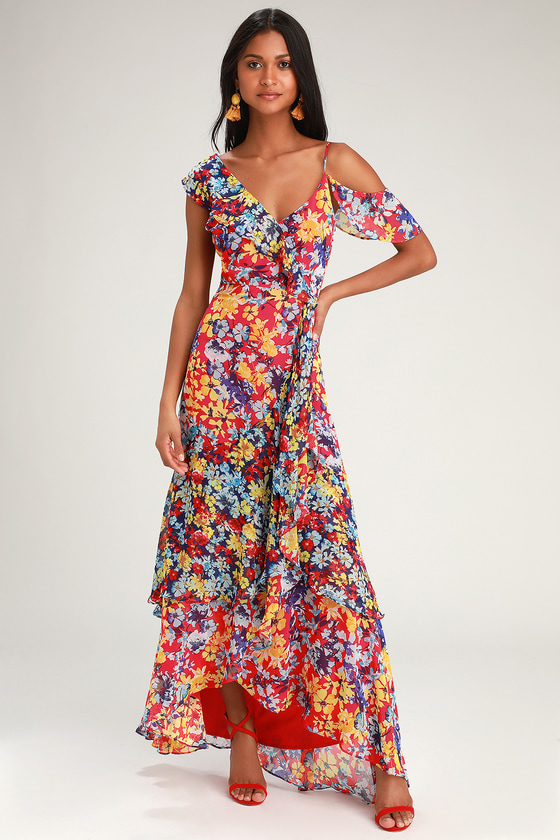 shop here
2. Blue and White Strapless Romper, $62
Note: Currently on sale for a limited time at $41.60!
This striped romper screams summer fun and I want to wear this everywhere! It is one of the comfiest yet chic Fourth of July outfit ideas on this list. Want! By Lulus. You can buy here.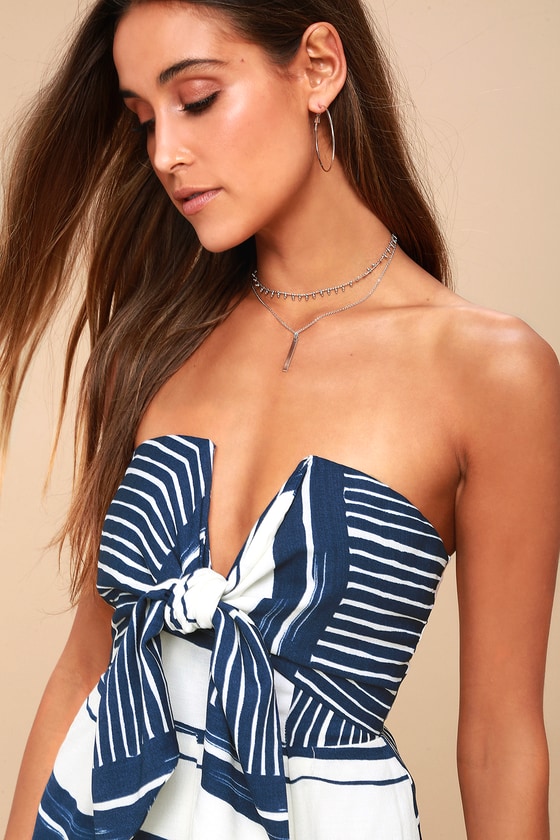 shop here
3. Red Floral Maxi Dress, $63
A stylish print and floral embellishments makes this a perfect dress for the 4th! It is a two-piece style and brimming with summer style. Get it here.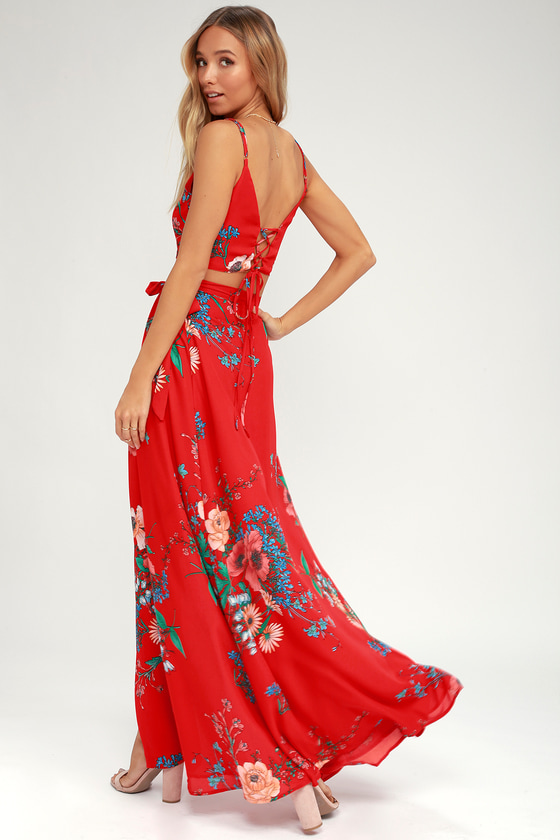 buy here
4. Red Gingham Print Dress, $25.99
This cute sleveless dress is as iconic as you can get for a summertime bbq outfit! It makes a perfect 4th of July dress you can wear during the holiday and all summer long. By PrettyGarden.
buy here
5. Stars and Stripes Sleevless Sundress, $16+
If your perfect 4th of July dress includes stars and stripes but also must look stylish, this sleeveless dress is perfect. I'd wear it on the beach or at a Fourth of July bbq. It is noted as one of the best-sellers due to its high ratings. Buy here.
shop here
6. Off-the-Shoulder Navy Maxi Dress, $64
This style looks perfect for a Fourth of July outfit! Get it here.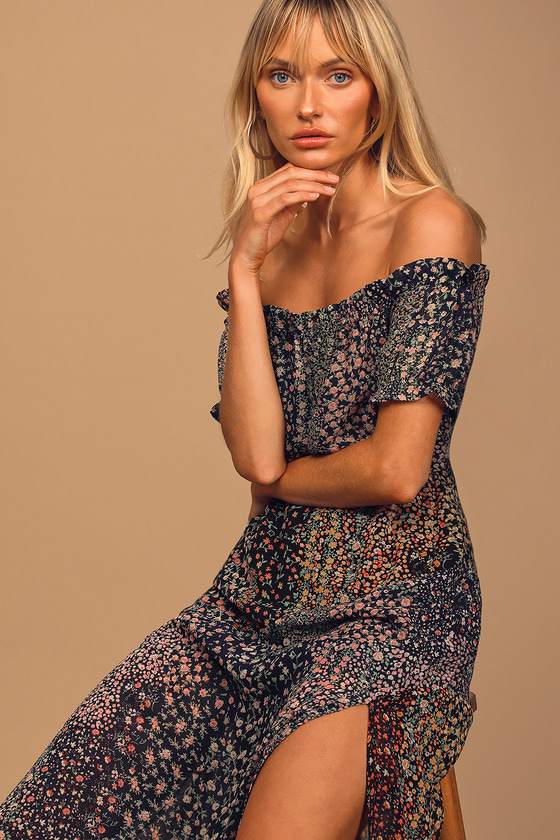 shop here
7. V-Neck Mini Dress with Red Floral Print, $34.99
This dress has wildly popular reviews; it's short, flowy, and has ruffles. Perfect for a hot and humid summer day! By NCLook.
shop here
8. Boho Spaghetti Strap Sundress, $10+
Ok, this is a cute one! I love the boho-inspired pattern and the ruffle hem! Buy it here.
shop here
9. Red T-Shirt Dress, $32.99
This little red dress boasts over 30,000 reviews. It's that cute! And it makes the best Fourth of July dress that you can wear alone, with leggings, with jeans, add a belt — whatever! By PopYoung. Buy it here.
buy here
10. Floral Pattern Romper, $23.99
Overall, the reviews on this Fourth of July outfit are positive; many love the fit, style, and price. This is a fantastic option if you don't want to wear a dress and want a 4th of July outfit instead. You can buy here.
shop here
11. Cute Red Embroidered Dress, $55
A fun, embroidered dress for summer! By Lulus.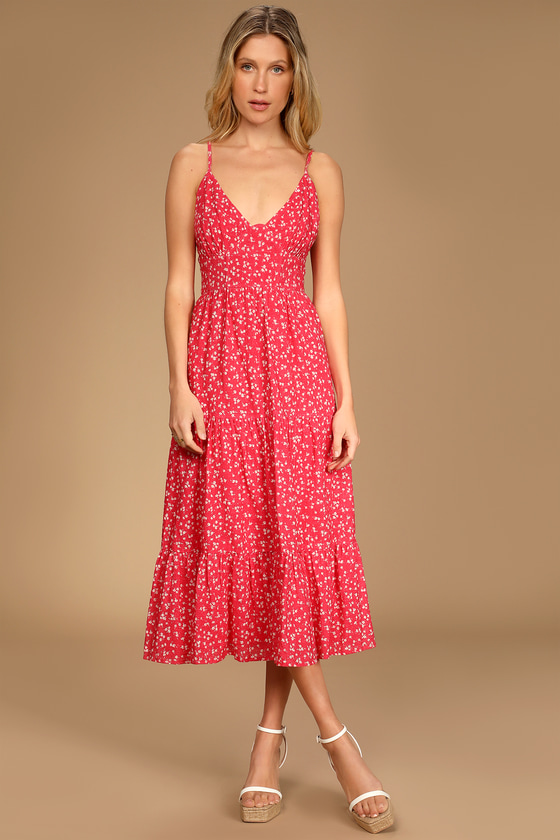 12. Red Floral Jumpsuit, $78 (on sale for $35)
You can get this 4th of July outfit — a red jumpsuit — by Lulus.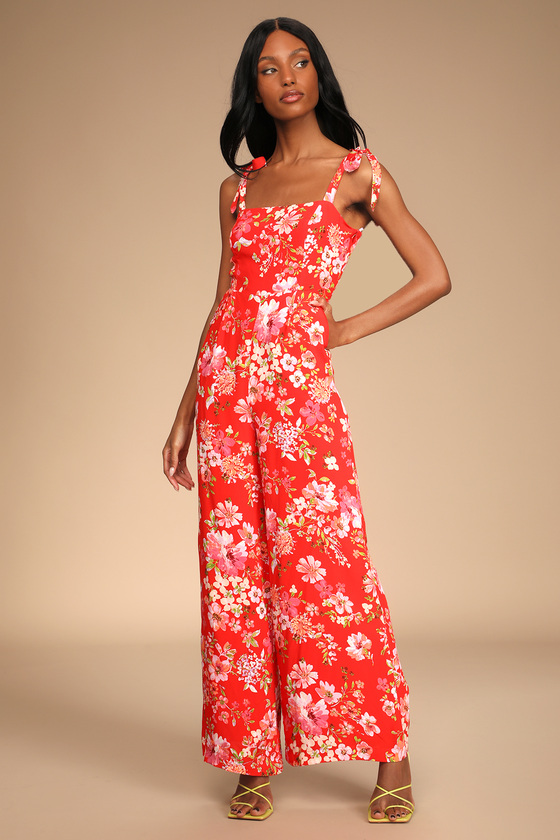 buy here
What do you think of these Fourth of July dress ideas? Outfits? Which one will YOU be rocking this 4th? Tell us in the comment box below! This was fun because now I have ideas on what to buy for myself… I think I'm going with #1!
Happy Planning!
xo
Emma