Do you need to have menus for buffet wedding receptions? We're discussing this hot topic today thanks to an email from a bride-to-be! Read on for the advice, check out the latest vlog, and subscribe for FREE while you're here!
When bride-to-be, Tina, wrote us about wedding menus, it poses a great question for all couples to consider: do you need menus for buffet weddings, or are they really just for family-style dining?
Ah, good one!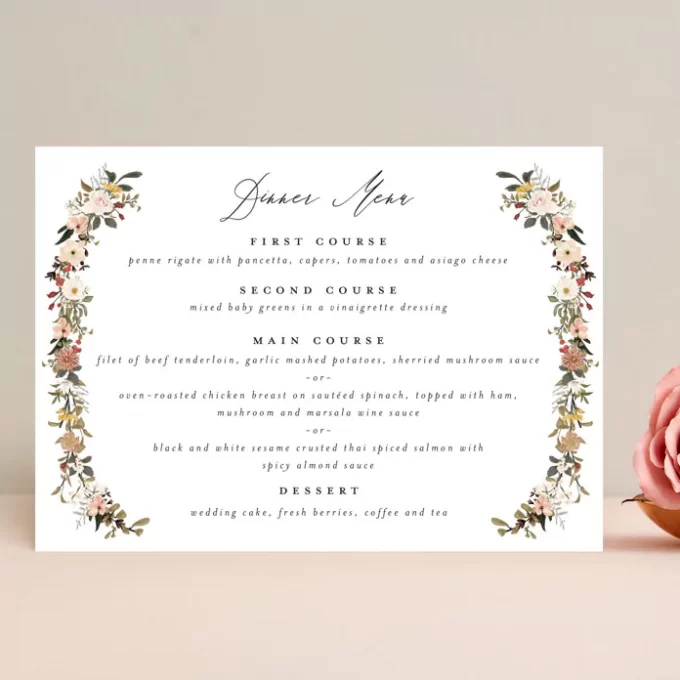 by susan moyal

And if you do need menus for buffet dining, is it one menu per place setting? One per table? Can you do something else instead?!
Let's tackle this together. But first, the question from Tina is:
"Hi Emmaline Bride, Our wedding is set for August and it will be indoors at a banquet center. We are having a buffet for dinner so I was wondering, do you need menus for buffet weddings? Or can I skip them?"
Great question, Tina! Here's some good news: menus are nice to have, but they are not a must-have for any wedding.
Most of the time, menus are helpful to have for dining when you'd like to share with guests what is expected for each course. This is best for a sit-down, family-style dinner. However, you can also include a menu for a buffet wedding, if you'd like.
So, to recap: menus are not required.
Menus are, however, a nice decorative touch and they give guests the answer to what they're wondering: what's for dinner?! :)
As a rule of thumb, wedding menus can be done one of three ways, if you choose to have them:
Option 1: One Menu Per Place Setting
If your budget allows, one menu per place setting is a nice touch. If you opt for a style that coordinates with your wedding invitations and stationery, even better! It will tie together the whole look in a cohesive way.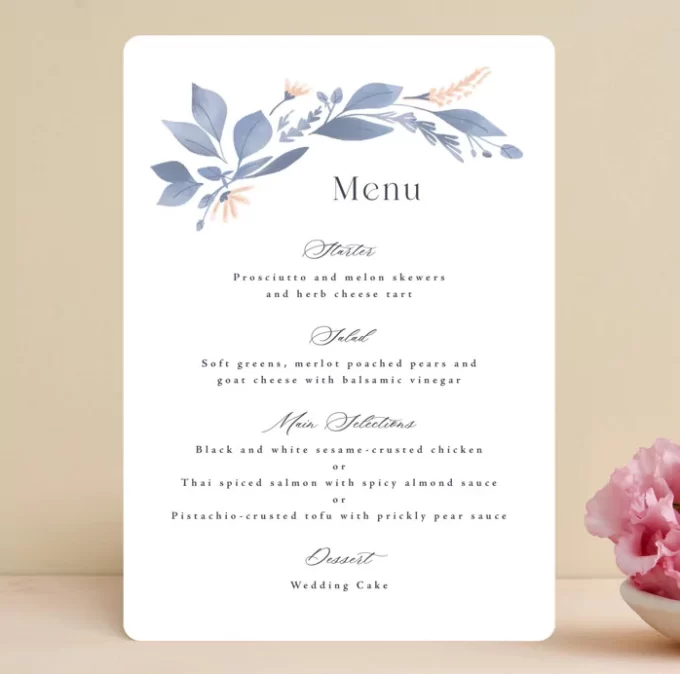 by corinne malesic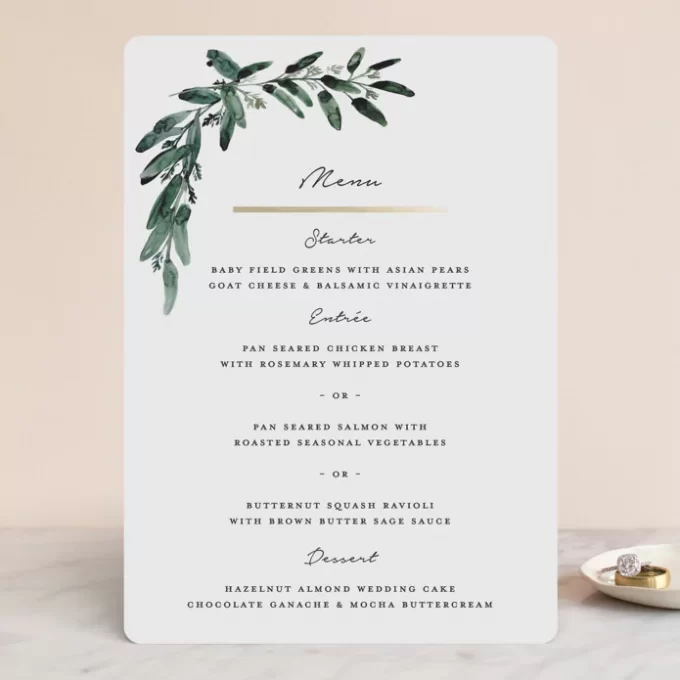 by lissabeth angelin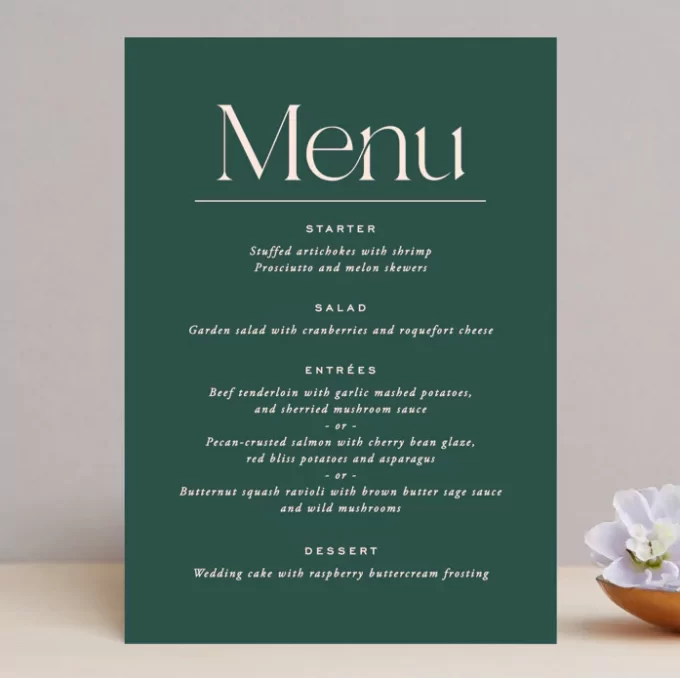 by carly reed walker
Option 2: Wedding Menu at Each Table
If you prefer to save paper, and money, and make things less complicated for yourself (ha!), you can opt for one wedding menu at each table.
I recommend placing a menu in a double-sided photo frame like this to make it easy for guests to see on either side. You'll insert two menus inside, so the front faces outward whether guests are seated on one side or the other.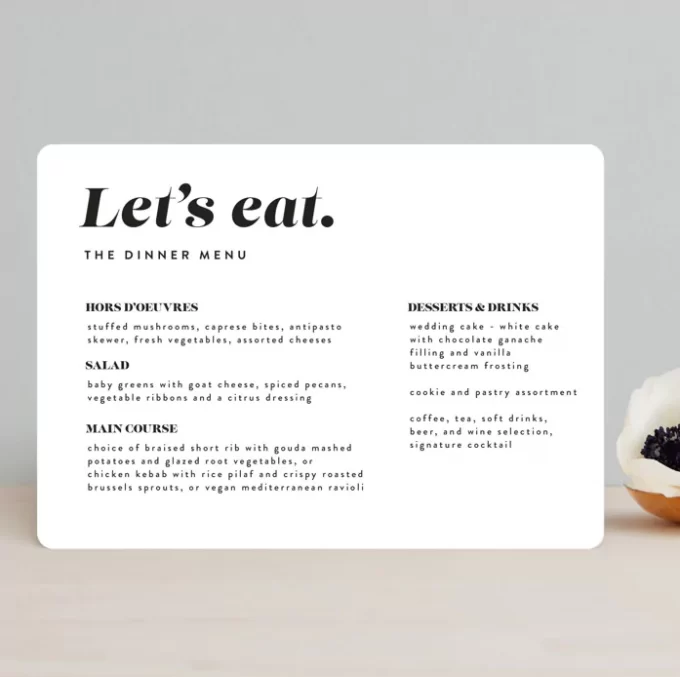 by lea delavaris
These are available in gold or silver finishes. I love these and work with them all the time! They are 5″x7″ in size, perfectly fitted for most standard wedding menu cards.
shop here
shop here
Don't place the wedding menu directly at the center of your table, so as to not distract from the centerpiece. On the side of the centerpiece is acceptable, as long as it is not obtrusive.
Option 3: Menu Sign
If you wish to skip paper menus altogether, here's another option for menus for a buffet wedding: use a sign instead! One wedding sign placed on an easel near the buffet is a great way to showcase what is being served at dinner.
You can get this fab sign by TheConfettiHome with your own personalized menu items.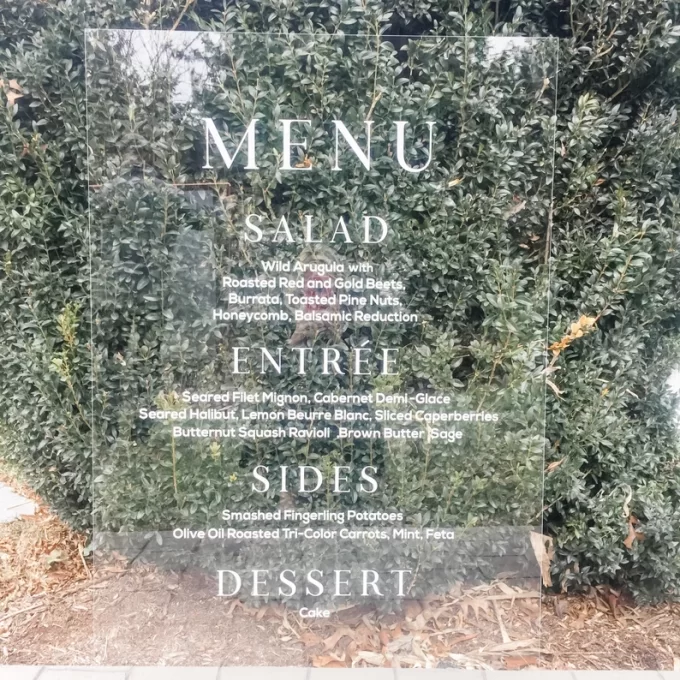 shop here
Where to Buy Wedding Menu Cards
Want to get a menu for your wedding? Visit Minted to view a collection of beautiful wedding menus for any style reception!
I hope it helps! Thanks so much to Tina for writing! :)
Happy Planning!
xo
Emma