Looking for where to buy an easel for wedding sign or welcome signage? You've come to the right place! Read on for all the details + subscribe now for the latest to your inbox.
If you are displaying a welcome sign at your wedding, you'll need a sturdy wedding easel or stand for it. We have some tips on what kind of easel to buy, along with where to buy a wedding easel for welcome sign so you don't make a mistake.
But first: this blog post was inspired by a question from bride-to-be, Anna. She wants to know where to buy an easel for wedding sign / welcome sign at her ceremony. She writes,
"Hi Emmaline! I'm getting married in July and need an easel for our welcome to the wedding sign. Do you have any ideas where to get a wedding sign stand and what kind it should be? Thanks!"
by creo study
Great question, Anna! As someone who has worked with many wedding easels, I'm here to tell you exactly what you need to know before you buy an easel for wedding sign decorations — and what to avoid. Let's get started!
Borrow an easel for wedding signs from your venue.
First things first: do you really need to buy an easel?
Most wedding venues already own an easel in-house, meaning you can borrow it for your wedding at a small fee (sometimes even free, hooray!) While it may be very basic or boring, it can be very inexpensive, so you may not mind what they already offer.
However, there are three things to know before you buy a wedding easel.
Wedding Easel for Welcome Sign: Tips
1. Make sure the easel can support the weight of your sign.
The number one mistake couples make when they buy a wedding easel is getting one that is too cheap and flimsy. A flimsy easel is not much better than no easel at all. ;) Check the weight of the item you plan to showcase, and then buy an easel that can support its weight.
For instance, many wedding seating charts like these are lightweight and require a very light easel to hold it upright.
by leah bisch
On the other hand, a heavy acrylic sign like this or a wood sign — even heavier! — will need a tough easel that will be durable enough to withstand the weight of your wedding sign. Choose wisely!
2. If you plan to paint it, do it well ahead of time.
If you plan to buy a natural wood easel and you want to paint it (although you do not need to), make sure you paint it at least a week or two ahead of time to allow it to dry. This way, you can also fix any imperfections and allow drying time before the big day. You won't want dust and grass, twigs, and other outdoor elements sticking to your easel (if using it outdoors) and you also don't want it to have a strong paint odor.
3. Choose the right type of easel for your space.
Do you plan to get a tabletop easel to place a sign on a wedding table? Or do you need an easel that will stand upright on its own, perhaps for the ceremony space or reception entrance? Decide which type of easel you need for your wedding sign. For instance, don't assume the ceremony space will have a sturdy table available for your tabletop easel, and instead, get your own free-standing one.
Also, when positioning the wedding easel, make sure it isn't on uneven terrain that could blow away in heavy wind and isn't in the way of direct foot traffic.
Now that you know what to look for when buying a wedding easel, let's showcase some of the most popular options and where to get them.
Lightweight Easel for Wedding Sign
If you need a lightweight easy-collapsible easel, choose this one from T-Sign. It can hold up to 10 pounds. Here it is in black:
shop here
And here it is in silver:
shop here
Sturdy Metal
This is a decorative easel that is sturdy, as well. By Michaels.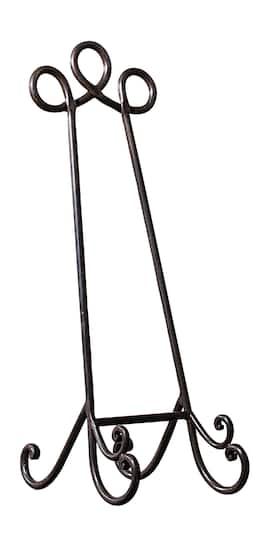 shop here
Natural Oak Easel
A nice, lightweight, and affordable option. By Quartet.
buy here
Wedding Stand Up to 20 Lbs
This customized easel is painted in your choice of finish to match your wedding decor. If you're looking for a gold easel for wedding sign decor, this is your best bet. Actually, silver, gold, rose gold, black, white, brown — you name it! This is fully customizable just for you. It holds up to 20 lbs of weight and is a great option for your wedding signage. It is a floor-length size. By Lucia and Luciana.
buy here
Easel for Heavy Wedding Sign
This is one serious easel for wedding signage! It has rollers and is easily 25 pounds in total. This is a great option if you're displaying something extremely heavy, although most couples won't need something so industrial-strength. :) By MEEDEN.
shop here
Tabletop Easel for Wedding Signs
And last but not least, this sturdy tabletop wedding easel is a great option and has rave reviews. By Darice.
shop here
I hope this helps on your quest for a wedding easel stand for welcome sign (or decorations). If you have any questions, let us know in the comment box below!
Happy Planning!
xo
Emma