Are RSVP cards necessary for a wedding? Can you have guests use online RSVPs instead? We'll explain it all right here! Be sure to subscribe now for the latest to your inbox.
Hi, lovelies! We hope you had a great weekend! We're kicking off the brand new snow-filled week with a question from bride-to-be, Alissa. She wants to know if there is a convenient place to get wedding invitations with online rsvps printed on them. She writes,
"Hi Emmaline! I am shopping for invitations for my wedding and would like to buy wedding invitations with online rsvps instead of the mailable kind. Is this proper etiquette? And which is better, wedding rsvp cards or online? Please let me know! Thanks so much!"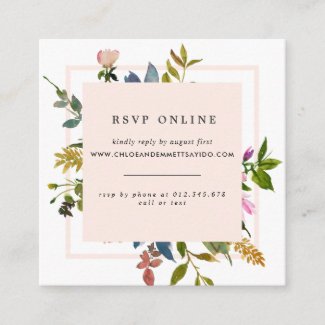 by celebrais
Invitations with Online RSVPs
Hi Alissa! Great question. How very tech-savvy, too! Online wedding RSVPs are a convenient way for guests to respond to your wedding invitation instantly, online, and with ease. By skipping the paper RSVP card, you're saving time and money:
– skip the need for RSVP envelopes to match
– no need for return postage stamps on the response envelopes
– quicker response times: no waiting on the mail to arrive!
That's a whole lot of win to me. ;)
There's nothing wrong with kickin' it old school with paper RSVPs, too. And they're really still the most traditional way to request responses from guests. However, the answer to which is better, wedding rsvp cards vs online rsvps is completely up to you. If you want to save paper and postage, go with online rsvps. If you want a classic look and the ease guests are used to, choose paper rsvps.
Cost Savings of Online RSVPs vs RSVP Cards By Mail
If you really add it up, when you put online rsvp on wedding invitations you can save $0.55 on each invitation you send, since you need to include that extra stamp on the response envelopes for guests to mail back. On a set of 100 wedding invitations, that's a savings of $55 alone, not adding in the cost of the rsvp envelopes. That's a lot of extra paper!
Now, I would also add that you can skip printing RSVP cards altogether, but that's not necessarily the case: you'll still want to include an online rsvp card or insert with your invitations so guests know where to go to confirm their 'accept' or 'decline'.
How to RSVP for Weddings Online
Before we get to the actual cards themselves, you'll need to know how to get guests to RSVP to weddings online. There are three places to do it, all of which include a wedding website / online RSVPs for guests.
1. Minted
Guests can respond online via your wedding website at Minted here. We love the variety of website designs they offer with free or premium options available. The invitations also match their WIDE range of wedding invitations, save the date cards, day-of stationery, and so much more, so you can plan a cohesive wedding from start to finish — complete with online RSVPs for wedding guests to send digitally. :)
Minted is the best resource for online rsvps, complete with a wedding website, and with coordinating rsvp cards to go with it. Explore here.
2. EWedding
Guests can online RSVP with free or premium services here from EWedding. You can even get responses in real time, which is totally convenient! Click here to get started.
3. AppyCouple
You can also design a website and app to collect online RSVPs for wedding invitations at Appy Couple here.
How to RSVP to a Wedding Invitation by Email Wording
NOTE: If you want to have guests respond via email instead of a website, simply dedicate an email address to collect RSVPs and use this rsvp by email wording:
"Please reply by [Date] to [Email Address]"
See? So easy! :)
Now that you know HOW to get guests to rsvp online, let's talk about how to print out the necessary information onto online RSVP cards you'll include in your wedding invitations.
How to Put Online RSVP on Wedding Invitations
There are two ways to include online RSVPs on invitations. First and foremost, for proper etiquette we recommend including a separate card or rsvp insert with your wedding invitation, letting guests know how to online RSVP to your wedding. Here is the proper wording to do so.
Online RSVP Wedding Wording
One option is to print an online rsvp card for wedding invitations. The proper online rsvp wedding wording is:
"Kindly RSVP by [Date] on our wedding website:
yourweddingwebsite.com"
or
kick it into casual gear with:
"Please let us know by the [day] of [Month]
via our wedding website: [website address]"
by amy payne
Where to Buy Online RSVP Cards for Wedidng Invitations
You will need separate cards for online RSVPs: here are three of the best place to buy online rsvp wedding cards.
1. Minted
First, Minted! These are actual printed cards, not a digital file you then need to edit and print yourself.
by creo study
They offer an entire collection dedicated to online wedding rsvp cards here. You can choose from a variety of colors and styles to coordinate with your wedding invitation (or, if you're not decided yet, you can choose one of these styles as your invitation to flow seamlessly).
by amy payne
As a bonus, you can get a free wedding website here, so you'll already have the website address to direct guests to RSVP. And the websites match the invitations, so one less thing to worry about on your end design-wise! If you want premium upgrades, you can see what is offered here.
by susan moyal
Even if you're mailing wedding rsvp cards vs online, I highly recommend having even a very basic wedding website. It is a helpful "hub" for guests to check-in, get updates, a map, directions, hotel blocks, and other pertinent information about your wedding. This is also helpful for any COVID wedding updates and necessary things, like please bring / wear your own mask or masks will be provided, social distancing required, etc.
by kerry doyle of paper dahlia
Browse more designs here.
2. Zazzle
If you want an inexpensive online RSVP card, you can buy online rsvp cards at Zazzle. These are also printed online rsvp cards where guests can submit their responses with the options you indicate.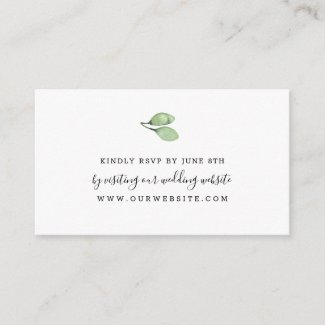 by lemon tree weddings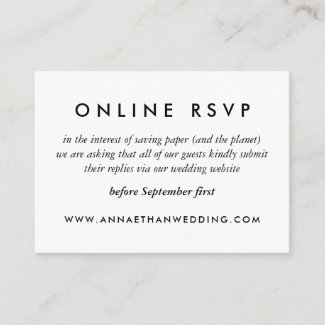 by 2birdstone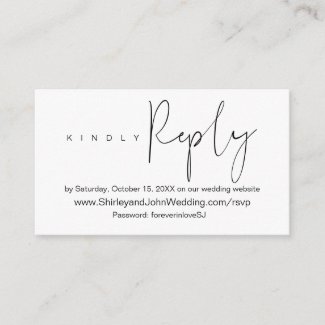 by teesha and derrick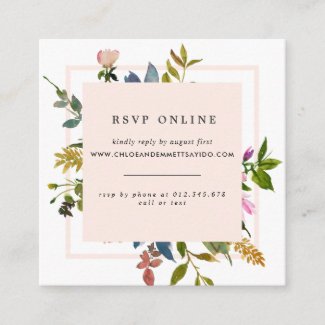 by celebrais
Shop more online rsvp cards here.
3. Etsy
You can shop a plethora of online wedding RSVP cards and inserts on Etsy here.
by a few little words shop
by wedding printables co.
Shop online wedding rsvp cards here.
If you prefer no card at all, you can place a small notation on the invitation itself asking guests to "Kindly reply by [Date] to our wedding website: [address]". This is, however, if the invitation has enough extra space.
Some couples prefer to not overwhelm the text by adding it in, but if you want to skip the need for paper RSVP cards for online responses altogether, go for it.
According to proper etiquette, it is best to include a separate insert or rsvp enclosure versus adding this line, but if your invitation is less formal and allows space, you can do it. As we say around here, it's your wedding, you do you! :)
We hope this helps to answer your question, Alissa, and then some, I'm sure! ;) We covered how to get guests to online RSVP, shared a few online wedding RSVP template options, showing you proper online wedding invitation wording, and how to RSVP to a wedding invitation by email wording.
Let us know if you have any additional questions! And thanks for writing!
xo
Emma