Today we're showing you exactly what you need to plan a romantic scavenger hunt at home and it's never been easier thanks to Scavenger Box. If you've been looking for a fun date night at home that doesn't cost a lot and doesn't involve watching another tv series or movie, you've come to the right place.
If you're looking for a fun date night idea to try, here's the answer in six words: a romantic scavenger hunt at home. :)
I recently planned one for Andrew and it was so memorable! In this blog post, I'll tell you all about my experience with Scavenger Box, the experts in planning a date night scavenger hunt you can do at home. If you've been wanting to try something new, get ready because this has everything you could ever need, all in one fun box!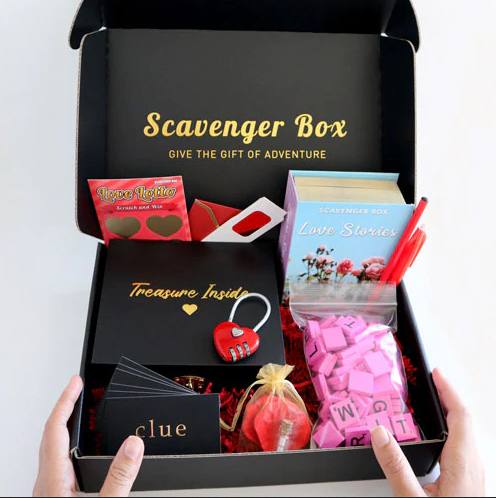 What is Scavenger Box?
Scavenger Box is known as, "The Ultimate Romantic Scavenger Hunt Kit". It includes everything you need to customize and plan your own adventure at home (or anywhere you wish!)
If you're not familiar with what a scavenger hunt is, or you haven't done one in a while, here's a quick refresher: a scavenger hunt is a trail of clues leading to a final prize at the end. It begins with one clue, then quickly moves into the next, to the next, and onward until the final clue is solved and the prize is revealed.
So, Scavenger Box takes all the fun of a traditional scavenger hunt and puts a romantic spin on it!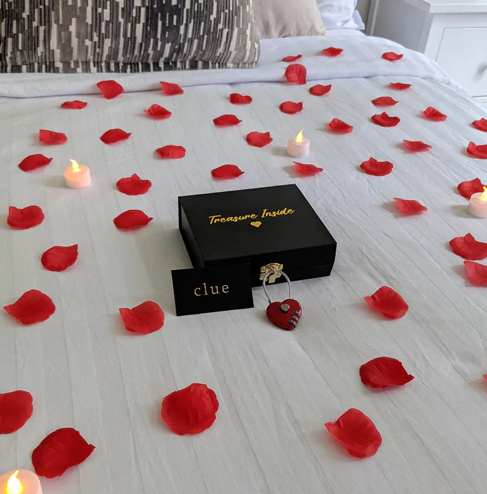 One of my favorite things about this box as a date night idea is how creative it is! You can comletely customize each piece from start to finish. A few of the memorable items inside tile letters to spell out a fun clue; hollow storybook, which you can fill with anything; and the lottery card, which can be completely filled out to include the final prizes.
For months, I was on the hunt for a fun date night I could do at home with Andrew. As bonus points, I wanted a fun game or activity to try. We've already done this game, so I needed something new. That's when I discovered Scavenger Box.
What is Scavenger Box, you ask? Great question. ;) It's known as, "The Gift of Adventure" and is the easiest way to plan a romantic scavenger hunt at home or nearby. It requires a little setup, but once you get going, you'll see how easy (and fun) it really is.
My Experience with the Date Night Scavenger Hunt at Home
The team at Scavenger Box sent me a box to try out and tell you about, so per all reviews on this blog, you can rest assured this is a 100% honest review. I don't recommend products that aren't worth your time, attention, and money, so when I say that Scavenger Box is a great idea, you know I mean it. :)
You may be thinking, but I can totally figure out a scavenger hunt at home, why buy a box? True, but let's be honest… how creative are you willing to get? How much time do you have to invest in a DIY scavenger hunt from scratch? This box takes all the fun and creativity of doing it yourself PLUS adds all the pieces you need to make it memorable.
In addition, this kit gives you a complete plan to set it up: where to start, how to work backward (you need to in order to make sure the steps are followed properly), and which clues to give (in the proper order). All you need to do is put your personal spin on it.
The team at Scavenger Box have thought of everything: there's a special prize at the end with a scratch off lotto ticket and you get to decide what goes on it.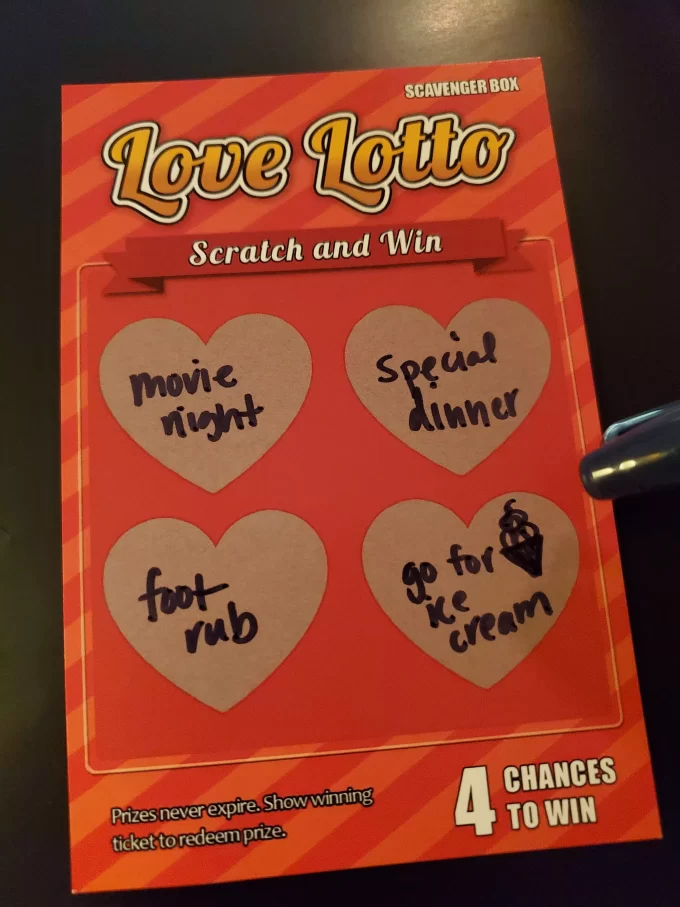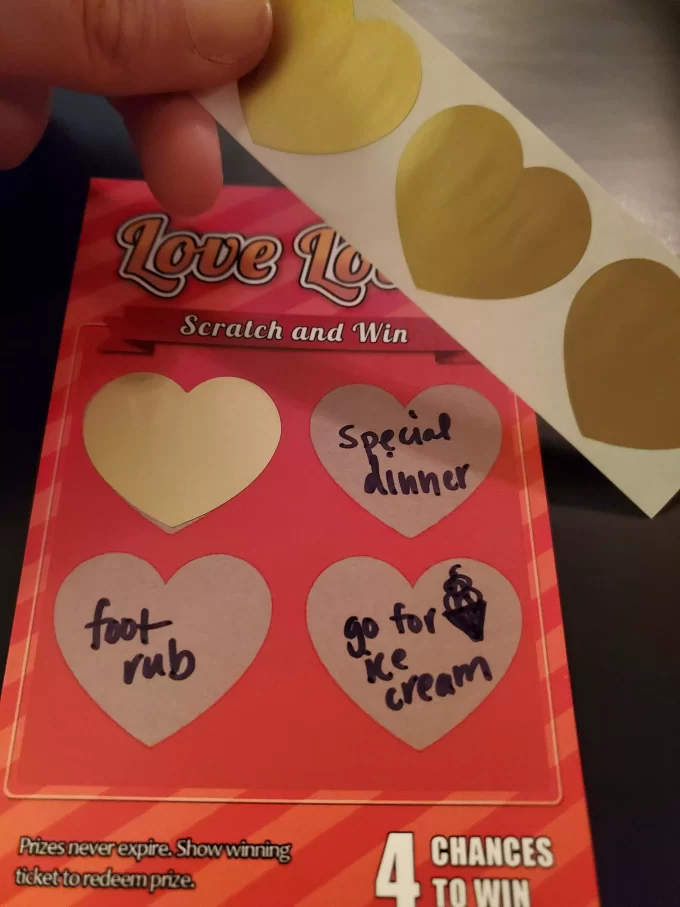 There's a prize box with a lock, making it fun for your partner to figure out the combination. There are so many parts to this box, yet they've made it extremely easy to follow and understand so there's no guesswork.
Just buy the box, complete the steps, and set it up. Your partner is going to love this, as Andrew loved ours!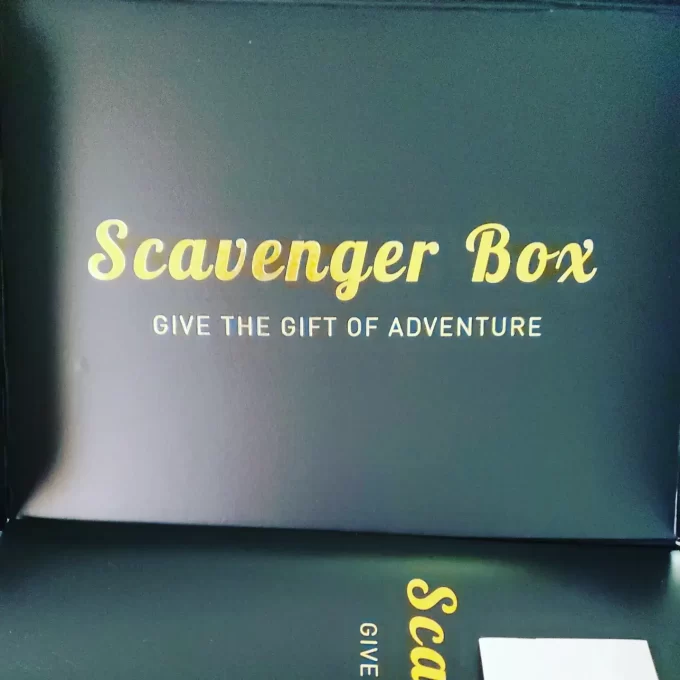 How I Set Up My Date Night Scavenger Hunt at Home
Here's what YOU can do to make your own adventure at home as I did!
1. Get a Scavenger Box.
First, get a box! You can order a Scavenger Box of your own from here.
2. Open the box.
Open it up! I couldn't wait to open it up when it arrived and I kept it a secret from Andrew. Inside, I found 23 items, all carefully packaged and labeled inside a helpful guidebook.
3. Read the Guide Book.
If you're someone who skips instruction manuals, DON'T! This is probably the best advice I have for this fun scavenger hunt: read the book first. It will give you so much inspiration and you won't be left wondering what all the pieces are for… it tells you exactly what to do, from start to finish, while giving you the freedom to go off the trail and plan your own adventure.
4. Set up the scavenger hunt.
For our scavenger hunt, I set it up for a Friday night. I waited until the kids went to bed and then I made Andrew stay on one side of the house while I told him I was doing laundry. Ha! I recommend doing your hunt at night, like I did, simply because you can use the included LED lights and rose petals to set the scene and make it more romantic. Plus, a scavenger hunt during the day just doesn't sound as idealistic! :)
So there I was, running around putting the clues in places I had written down ahead of time so I could do it quickly. I worked fast and was as secretive as I could be, so I wouldn't spoil any of his clues. As they explain in the book, you'll want to start with the end prize first and set it up romantically however you'd like.
To start my scavenger hunt, I made a heart out of the tile letters and then spelled out, "I Love You" with the first clue card.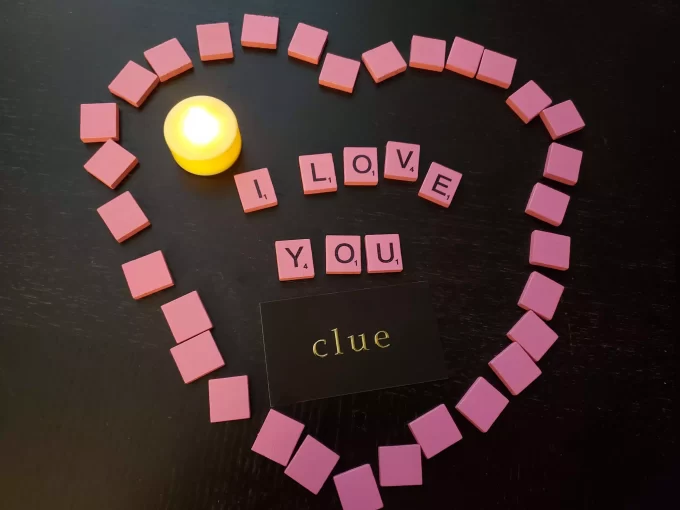 I put puzzle pieces in a hollow book (included in your box, so cool) and put that clue in place.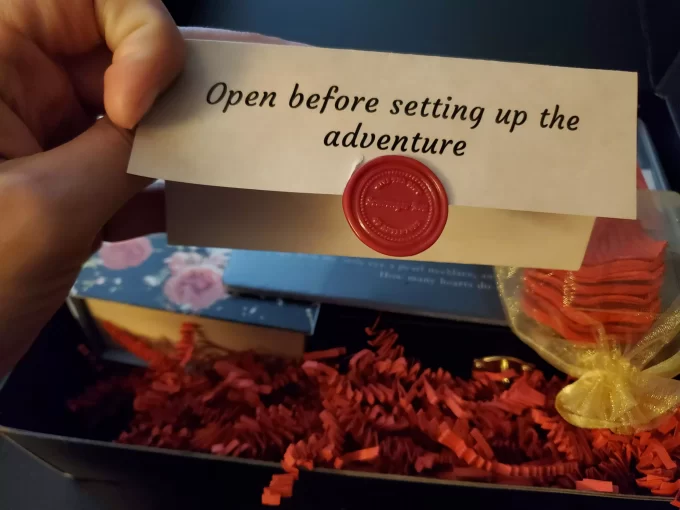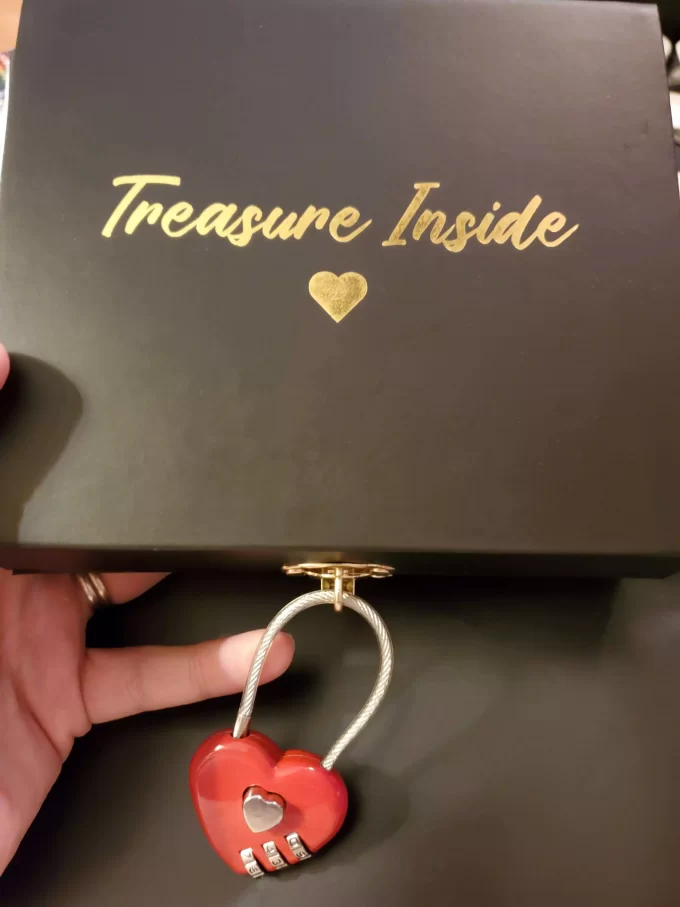 There was even a clue I put in the bathroom in the dark. I won't go into detail on the "4" but it's part of the clues you need to figure out.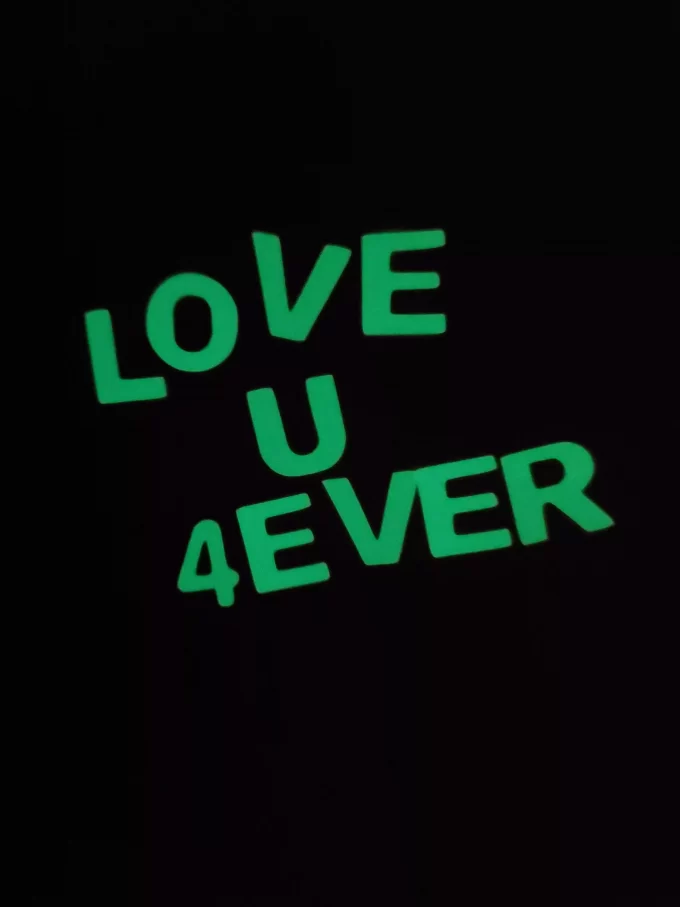 5. Begin the fun!
When the clues were in place, I told him I had a surprise… and gave him his first clue card. I told him I planned a scavenger hunt at home for him to solve and he was immediately excited to get started on it. We had a really fun date night in and I followed him on the adventure.

My favorite was the puzzle: it took a while to put together, which makes it fun because it gave me a chance to fill up two glasses of wine and set up some chocolates to enjoy while he put the puzzle together.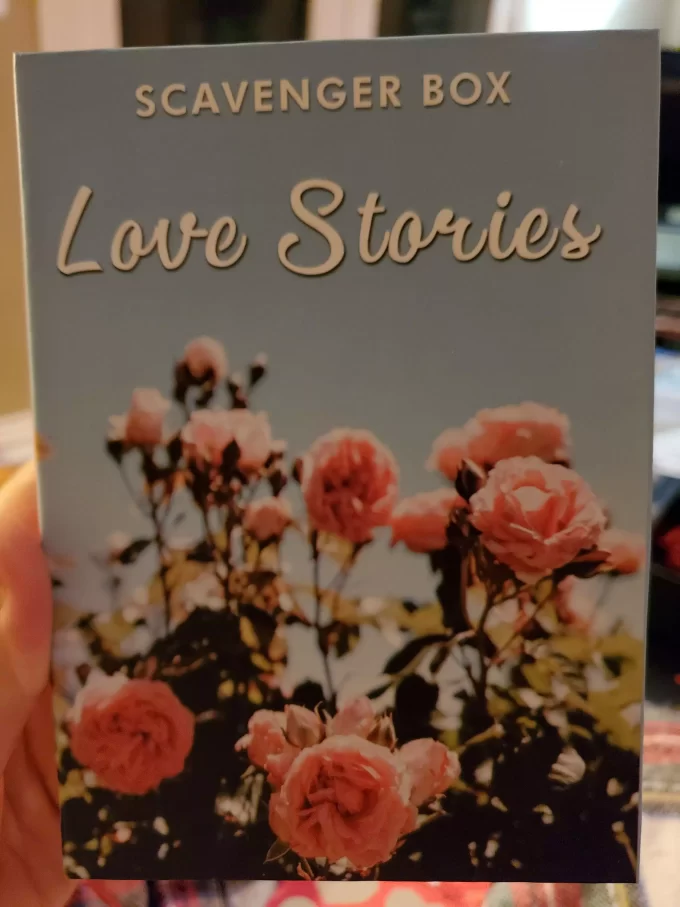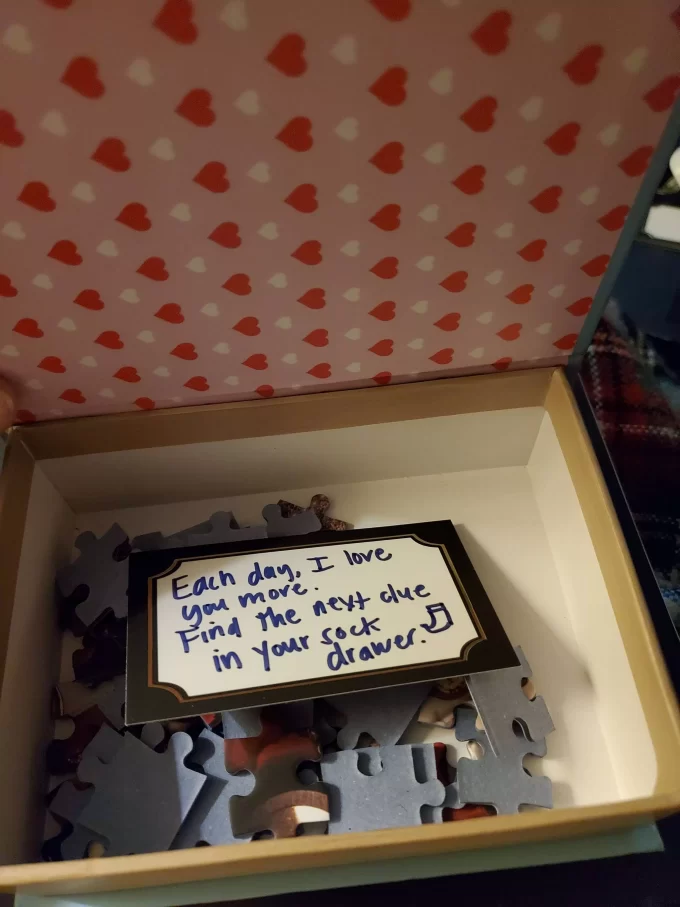 He loved the hunt as much as I enjoyed putting it together. The final prizes revealed a few of his favorite things and he's excited to enjoy them on the day of his choosing.
My Verdict: Worth It or Not?
WORTH IT! I highly recommend this romantic scavenger hunt at home for any time you want to do a fun date night, for Valentine's Day, or for an anniversary. We loved it and so will you! The price is $69.99 for one box and includes everything listed here: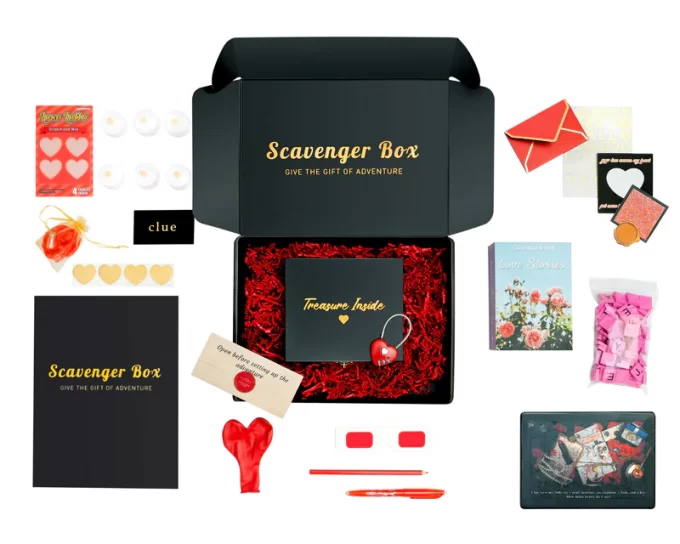 It is one of the most romantic gifts you could ever give. The thought, the planning, and the prize that goes into it is worth more than any dinner or date night out!

What's Inside the Scavenger Box
If you're curious about what's inside the box, I'm here to explain! Each box comes equipped with 23 items and one helpful book.
Here's EXACTLY what is included to plan your scavenger hunt date at home!
1. Love Lotto Ticket
This is actually one of the best final gift ideas. You can fill in the heart outline with the prize of your choosing and your partner can scratch off the ticket to reveal his or her prize.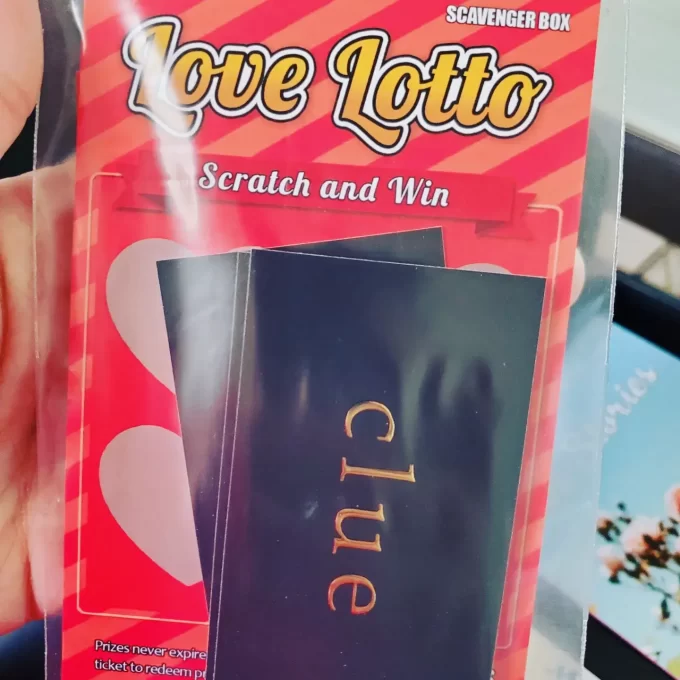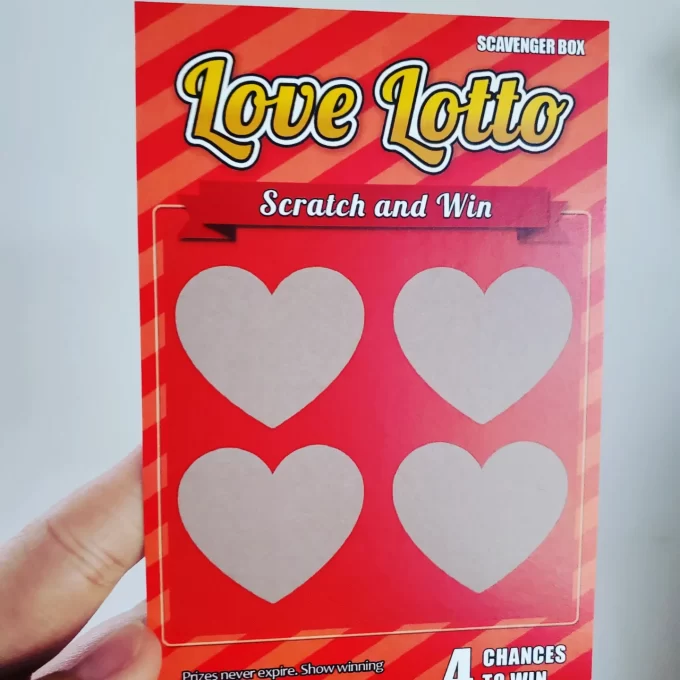 2. Heart Scratch Stickers
Place these stickers OVER your ticket prize so they don't reveal the gift until it is scratched off. This is super easy to do and I like how simple it was to follow.
3. Treasure Box
This treasure box can be locked with the enclosed heart lock, perfect for storing a reward inside. I liked using this for the candy inside. I also put the love lotto ticket inside this treasure box when I was figuring out how to plan a romantic scavenger hunt. :) It worked great!
4. Heart Lock
The heart lock is such a fun addition to this box! You can set your own code, too.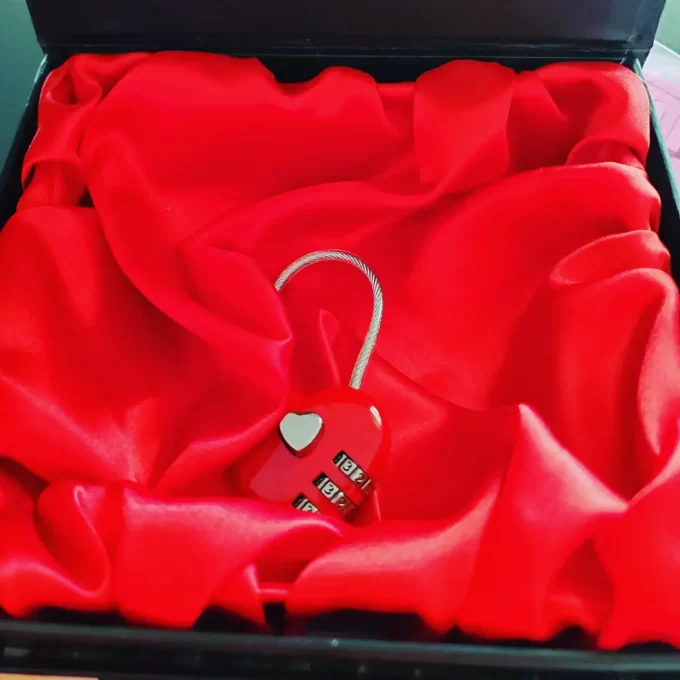 5. Clue Cards – Set of 8
Write out your clues to lead your love on the romantic scavenger hunt. These cards can go from start to finish and include 8 in total, which worked out to be the perfect amount of time.
NOTE: These aren't your average clue cards. They're of amazing quality!
6, 7, 8. Red Envelope, Envelope Paper, and Wax Seal Sticker
This red envelope with the special paper and wax seal made for such a cute present!
9. LED Candles, Set of 6
These glowed brightly and lasted the perfect amount of time. I used it, as suggested, to create a magical path leading to one of the clues.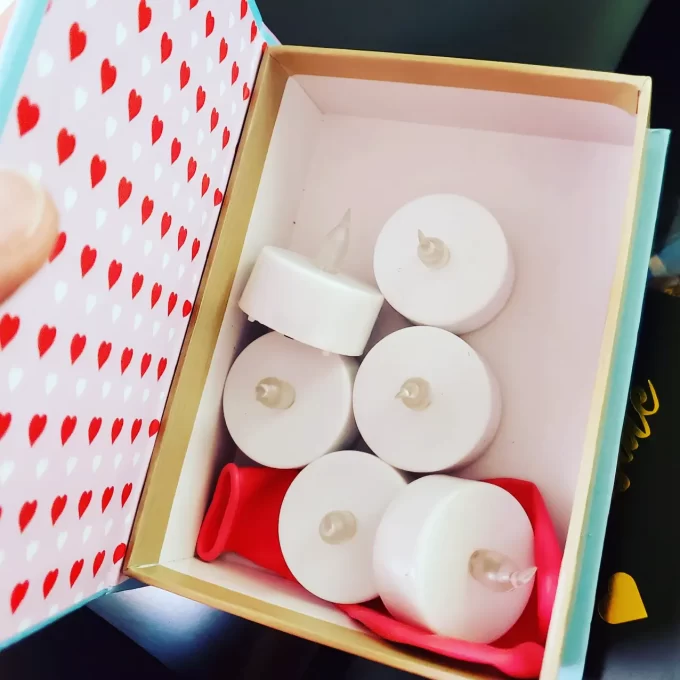 10. Rose Petals
The rose petals are a nice touch! I included these with the LED candles for my romantic scavenger hunt at home and they adorned the lighted path perfectly.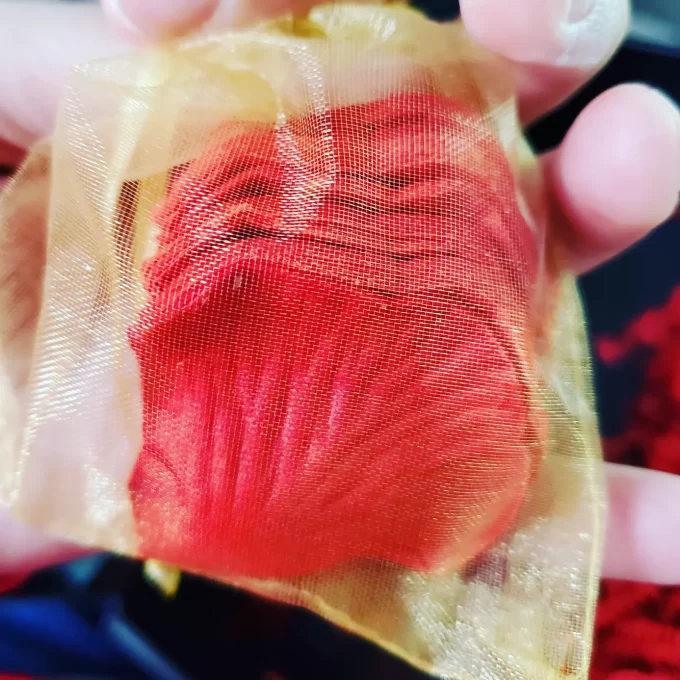 11. Book Box
This box is like a fun hidden compartment and added to the literature-based clue I left for Andrew.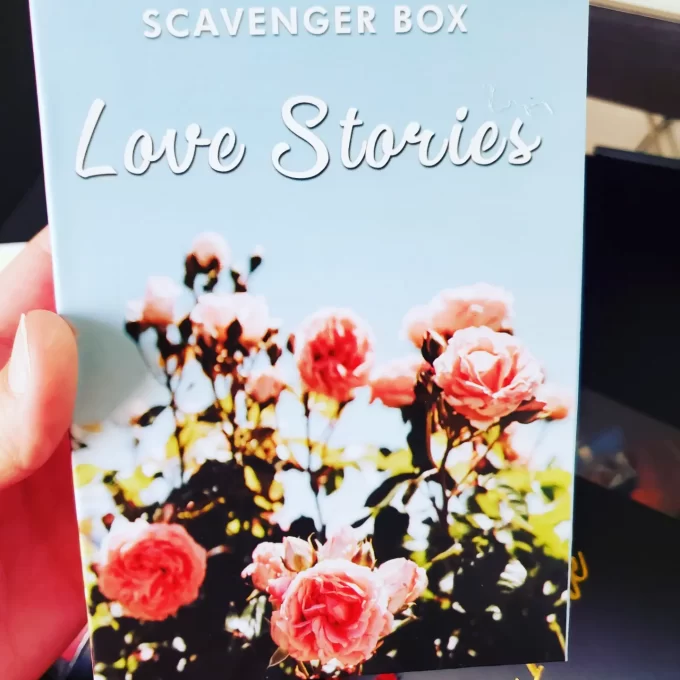 12. Jigsaw Puzzle
Your partner needs to solve this puzzle, count the hearts in the picture, and then lead to the next clue. It was a fun addition to the box.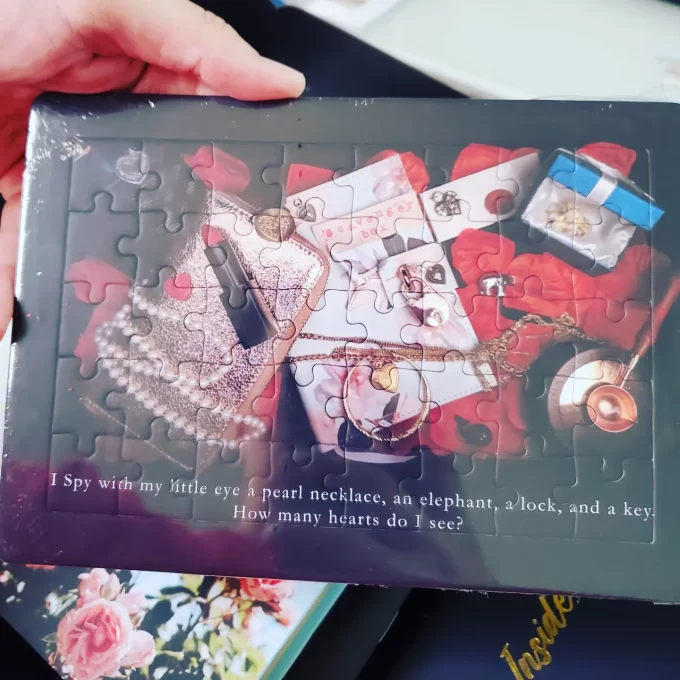 13. Pink Letters
I used the pink letters in mine to spell out "I Love You" with the hearts; then, in a later clue, I used them to spell out a custom nickname.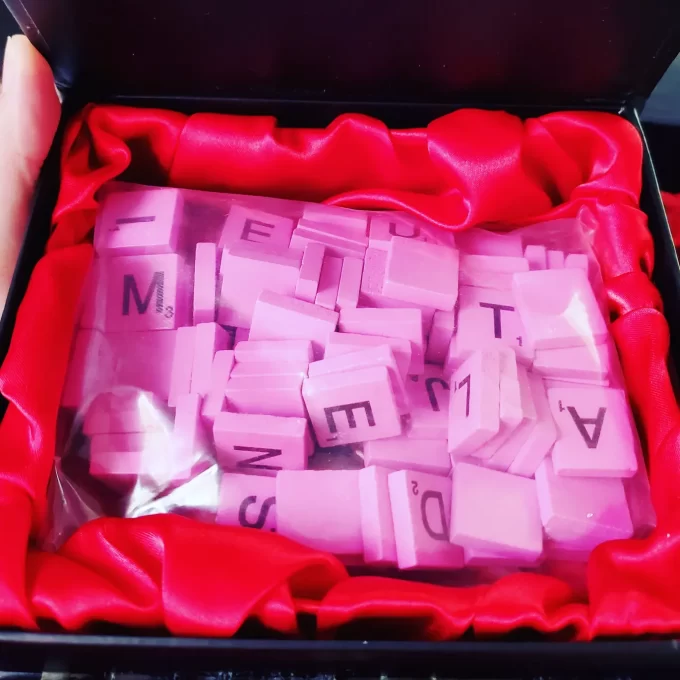 14. Heart Balloon
The heart balloon can be used to write a message on the outside, put a clue inside, and then pop it to reveal.
15 + 16. Red Decoder Message and Glasses
I LOVED the decoder message and glasses to reveal the message!
17 + 18 + 19. Mini Glass Paper and Bottle, Plus Ring
This is such a cute part of the scavenger hunt at home: mini glass paper for a small message that rolls up and goes inside the bottle. Love this! The gold ring fit perfectly around the message and made it fit inside the bottle nicely.
20, 21 + 22. Red Pencil, Heat Pen + Paper
The red pencil, heat pen, and paper were a fun idea. I used the heat pen to write a clue and it was revealed once there is heat applied to the paper. I've never tried this before and I like how easy it was to do!
23. Glow-in-the-dark Letters
And last but not least, the glow-in-the-dark letters were essential for setting the scene. They have a paper backing and stick to a smooth surface to spell out a message. I placed mine near a window with lots of light so it had time to "activate" and glow once the room was dark.
Tips for Planning Your Scavenger Hunt at Home
If you're planning a date night scavenger hunt, here are some tips that helped me when planning one for Andrew using this box.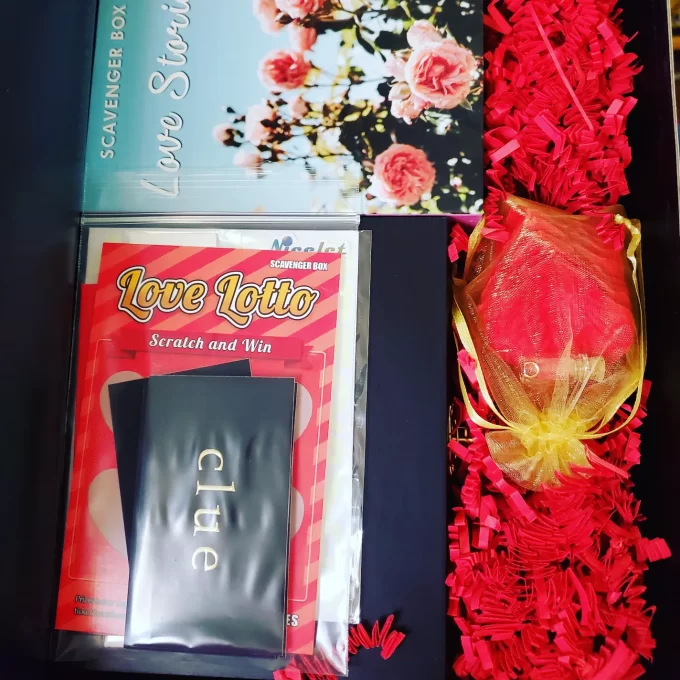 • Take lots of time to plan it out
They've taken a lot of the guesswork out of it, but you need to plan ahead to allow for the scavenger hunt to flow properly. You don't want the hunt to be too fast, so allow enough time in between clues to make the adventure last!
Plus, some clues take longer to figure out, so make sure there is ample time allowed.
• Personalize It
The more personal the romantic scavenger hunt is, the better! For ours, I included his favorite candy, inside jokes, nicknames, and other clues I knew he'd get right away… along with others that were more difficult, like plot twists from our favorite binge-worthy tv shows.
• Turn on the candles right before the hunt begins
The LED candles burn the brightest in the first 90 minutes, so you'll want to turn them on right before the hunt starts and not any sooner.
• Set the Scene
Make the final gift a really fun item and set the scene as romantic as possible! Here's an example from their website: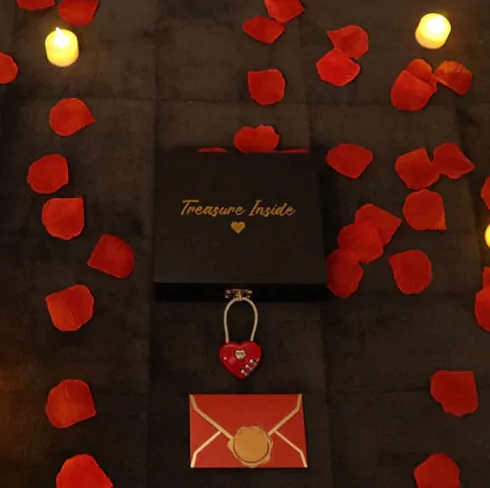 via scavenger box
Can you plan a romantic scavenger hunt in another location?
Of course! This scavenger hunt is designed to be used anywhere, but it makes it extremely easy to plan at home. If you wish to use it elsewhere, just make sure you place the items where no one else can get to them easily. There's a great tip inside their guidebook: if an item is being retrieved at a business, provide a password code (like, "The Office" or "Open Sesame") so your loved one can access the item and they won't give it away to anyone without the passcode. :)
Where can you plan a romantic scavenger hunt?
At home is my favorite spot, but you can lead your partner to a romantic restaurant, favorite park, romantic movie, or anywhere you think they'd like to travel on the adventure! If you get stuck, just remember: make it personal!
Where to Buy Your Scavenger Hunt Kit
Ready to get a box of your own? Click here to start your adventure! You'll find it extremely easy to plan your romantic scavenger hunt at home or away… I had a blast with ours! :)

Happy Planning!
xo
Emma
This is a sponsored post.