Looking for wedding scones? Need to order scones online for wedding shower desserts or as wedding favors? We've got you covered! Read on to find out more and subscribe now for the latest to your inbox.
If you're planning a tea bridal shower, what is the best thing to serve? Scones! Scones go hand-in-hand with tea-themed showers and they also make a fun dessert for your wedding, too. If you're looking for where to get scones for wedding cake alternatives, want to give scone wedding favors, or wish to display scones as a wedding dessert, you've come to the right place.
shop here
We're answering a question from Charlotte who asks,
"Hi Emmaline, I'm planning my daughter's bridal shower and I'm looking for scones. Do scones make a good dessert for a bridal shower? Where can I buy scones for wedding shower (or as favors)? Thank you!"
Great question, Charlotte! Scones are the PERFECT dessert at a bridal shower. In fact, we're seeing scones for wedding cake alternatives, presented as part of a dessert bar instead. Scones are one of the most delightful treats you can offer to wedding guests, whether at a bridal shower or the wedding reception as favors.
We did some digging to find out where to buy scones for wedding shower celebrations and we found the most amazing one: SevenSistersScones. Let's get started!
Where to Buy Scones Online
If you're not much of a baker, and you'd like to find scones online to ship directly to your home or wedding venue, you'll love Seven Sisters Scones. They are the best place to buy scones!
These online scones are baked fresh in Johns Creek, Georgia, and it is made by — you guessed it! — seven sisters! This fun family business blends delicious treats with family-owned quality and it's the best place to get wedding scones and scone wedding favors.
buy here
What can you get in their shop?
1. Scones, Cookies, and Macarons
If you like scones, cookies, or macarons, this is one-stop ordering!
2. Fresh Wedding Favors
Everyone loves an edible wedding favor: it's delicious and you don't have to hold onto a trinket for years to come! Their scones are baked fresh!
3. Vegan and Gluten Free Options
If you have guests who are vegan or gluten-free, you can order scones online for wedding favors that are made without gluten or are vegan. Note: It is not a gluten-free kitchen, but they do not mix gluten and gluten-free products. If you have celiac disease or an allergen, they ask you to contact them here before ordering.
4. Subscription Scones
If you know someone who loves scones, send them a gift of subscription scones! This is available in monthly subscription-based orders for scones all year long!
5. Samplers
Not sure what kind you should order? Give their samplers a try! You can sample their scone flavors to find out what kind of scones will work best for your bridal shower or wedding.
Here are some examples of scones you can expect to get from their delicious bakery. (If you're in the area, they have bakery hours, too!)
When to Order Scones Online
The number one thing you're probably wondering is, if I'm ordering scones online, when should I order and how long will scones stay fresh? According to their FAQ page, scones are baked the same day they ship. This means your wedding scones will arrive fresh to your door and will taste good for a few days. If you want to order wedding scones online ahead of time, you can refrigerate them up to three days or freeze them for up to 6 months.
Don't worry: there are care instructions on each package. :)
Do Scones Make Good Wedding Favors?
Yes! These scones, in particular, come packaged individually so they work perfectly as favors at bridal showers or weddings. This is done for ultimate freshness, too!
Where to Buy Gluten Free Scones
You can see and shop gluten free scones in their offerings here.
Where Can I Order Scones?
Ready to get something tasty sent your way? You can order scones at Seven Sisters Scones right now! Their scones look absolutely amazing and the reviews speak for themselves.
On to you: what do you think of scones? Which flavor here are you the most excited to try? Those blueberry scones are calling my name!
If you're planning a tea-themed shower, here are a few cute invites to use! We spotted them here.
by paper sun studio
shop lori wemple
Hope it helps! Thanks for writing.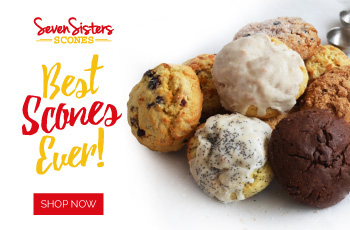 Happy Planning!
xo
Emma