While planning my ceremony and reception, picking out wedding songs was definitely one of the most fun tasks — but also a little tricky, too. How can you pick out the best wedding song list for your guests when everyone has a unique taste in music?
And how can you ensure you pick the right wedding songs for your ceremony AND reception to make your wedding memorable and fun for guests?
When you need help creating the ultimate wedding song list, turn to a pro: My Wedding Songs! They make it their business to curate the best wedding songs and create easy-to-navigate song lists for wedding ceremony and reception music.
Plus, you won't forget to include a special song thanks to their help, as they've listed everything you could possibly need music for (and more).
You can choose the best song list for your big day by browsing best-of lists such as the Greatest Wedding Songs and browse the Top Ceremony and Reception Songs to help you decide.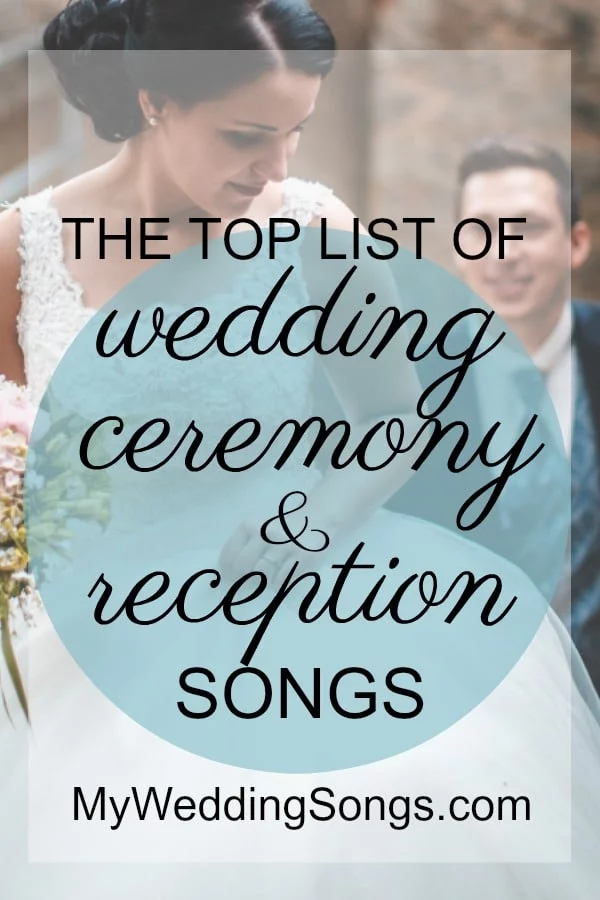 Best Wedding Song List
For your wedding, you'll need to make a wedding song list for the ceremony and reception.
Perhaps you've already thought about your first dance as a married couple, or the Father/Daughter and Mother/Son dances. But that's what most people overlook when planning their wedding music: there's so much more to it than the traditional dances. There's the song you'll be announced to, the cake cutting music, dinner music, etc.
Here are some areas where you'll need to pick music to accompany it.
Wedding Music
First, you'll need music for your ceremony. If you're planning a wedding inside a place of worship, you may already be meeting with a music coordinator to arrange the songs. However, if you're planning your own ceremony in a non-traditional venue, you'll need musicians or a DJ to play music for the procession, recession, and any other places you'd like music to be played (like a unity ceremony or special moment of prayer).
Here are the main three areas where ceremony music is needed.
Ceremony Music
-Processional Songs
-Unity Songs
-Recessional Songs
In addition to the ceremony, you'll obviously need music for the big party: your reception! In addition to dinner music and dancing, there's plenty of time at the reception where you'll need to change up the song, depending on what's happening (i.e. announcement of the couple, cake cutting, garter removal, and more).
Reception Music
Here's a comprehensive list of reception music you'll need to choose for your celebration. Your hired band or DJ can assist in offering selections; however, you'll be best prepared at your meeting if you already have some of your favorites picked out for the following.
-Anniversary Songs
-Bouquet Toss Songs
-Cake Cutting Songs
-Dinner Music
-Entrance/Introduction Songs
-Father Daughter Songs
-Father Son Songs
-First Dance Songs
-Garter Removal Songs
-Garter Toss Songs
-Garter Placement Songs
-Group Dance Songs
-In-Law Songs
-Last Dance Songs
-Mother Daughter Songs
-Mother Son Songs
-Party Songs
-Songs Not To Play
-Wedding Party Songs
… and more! You can see the complete list here.
If it seems like a lot of work to make your wedding song list, that's because there's a lot to consider; but it's so simple with their help.
Make Your Song List Now!
Visit My Wedding Songs to get started! It's never been easier and I wish I have this as a resource for my own wedding.
Happy Planning!
xo
Emma
This is a sponsored post.
Read next: do you really need ceremony programs?