Planning a bbq wedding, shower, rehearsal dinner, or I Do bbq engagement party? Are you looking for the best bbq themed wedding ideas? You'll find them all here! Read on for the ultimate party-planning guide to your barbecue themed wedding. Make sure you subscribe to our list for the latest to your inbox!
You just can't say I Do without BBQ! ;) I hear you! Backyard BBQ themed wedding receptions are a huge trend, particularly this year (mostly due to COVID, but also because outdoor weddings are fun for laid-back couples!). With more couples opting for outdoor spaces to celebrate their nuptials, and for other couples who eloped / planned a city hall wedding and now want to celebrate a big bash with family and friends, bbq weddings are a fun way to do it! It is also entirely possible to save money with these backyard bbq wedding ideas on a budget.
In this post, we're sharing the best bbq wedding ideas including save the dates, barbecue wedding invitations, charming decorations, table runners, centerpieces, a cake topper, fun guest book ideas, and of course, bbq themed wedding favors. We'll also tell you what kind of bbq wedding menu food to serve to inspire your buffet. We're even covering some fun ways to entertain guests with yard games, delightful desserts, and bar accessories.
A barbecue wedding reception is relaxed and fun, typically takes place outdoors, and is recommended to be held underneath a tent like this in case of inclement weather. BBQ weddings can also be held indoors. You don't have to commit fully to a bbq theme — add a few pieces here and there to coordinate with a bbq menu, for instance — or go all-in and deck out your space with these gingham-inspired plaids and fun, laid-back prints. You do you! :)
Enough talking about it: let's get to it already! Here's how to plan a bbq wedding from start to finish.
BBQ Wedding Ideas
First, before you do anything else, set a date — and then send a save the date! This will ensure guests can keep your wedding date available and will get them excited for the celebration that awaits. These bbq themed wedding save the date ideas are perfect for your upcoming reception.
1. BBQ wedding save the dates
For a pig roast, use these save-the-date cards by PaperHeartsInvites.
by paper hearts invites
Or these barn save the date magnets, which are perfect for a rustic bbq themed wedding. By ExclusivelyYourLLC.
by exclusively your llc
These by WowWowMeow: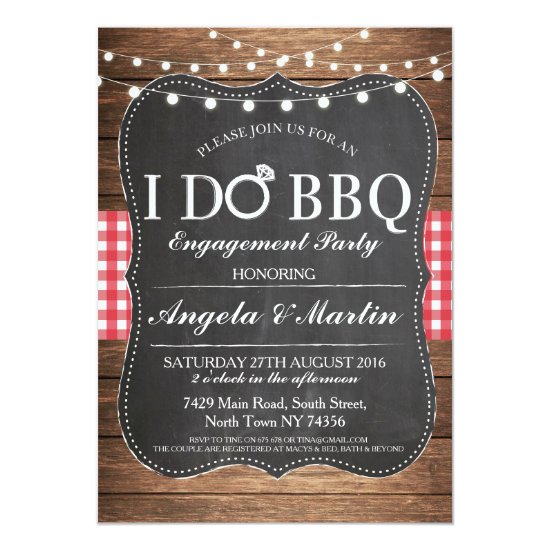 by wowwowmeow
And this "Grillin' and Chillin'" BBQ wedding save the date magnet style by RusticStardust. Love this one! They also have styles for bbq engagement party invitations here.
by rustic stardust
2. BBQ wedding invitations
Next, you'll need bbq wedding invitations. We found cute + charming barbecue themed wedding invitations you'll love, starting with these handmade gingham-inspired invites. By BeeActive.
by beeactive
These next barbecue wedding invitations are customizable and can be used for an engagement party or as a bbq wedding invite. By Lea Delavaris.
by lea delavaris
Also loving these by Lea Hankins:
by lea hankins
Planning a western bbq wedding? These invitations have a fun vintage flair and look awesome! By Coco and Ellie.
by coco and ellie
These pretty rustic invitations are great for a bbq wedding! By NotedOccasions.
by noted occasions
Love red gingham? These are so cute! By Level33Graphics.
by level33graphics
All you need is love and bbq! These invites are shown for a rehearsal dinner, but you can also customize them for your wedding reception. By WishfulPaperie.
by wishful paperie
And this beer and bbq wedding invitation is a great, super-fun option for the summer! By LovelyLittleParty.
by lovely little party
Need a bbq engagement party or wedding invitation, stat? These are digital and can be customized and printed easily + quickly. Plus, it has a nice vintage flair to it! By ZebraPress.
by zebra press
How cute is this?! Ahhh I love this design for a bbq wedding invitation by PeachyMayStudio.
by peachymaystudio
Did you say I Do in an elopement and now you want to plan a bbq wedding reception? These invites are perfect for the occasion! By AcetiDesignCo.
by aceti design co.
Here's another option for a newlywed couple planning a big summer bbq wedding bash with loved ones! Invitation by AdorePaperCo.
by adorepaperco
And last but not least, break out those cowboy boots! (If you're a bride wearing cowboy boots, be sure to check this out! And these for bridesmaids!) This design is oh-so-charming for the rustic couple. By InvitingInvites.
by invitinginvites
Now, let's start planning the party! Here's everything you need to plan a bbq wedding reception that is incredibly fun and stylish.
3. Table runners
For setting your tables, the best overall look is rustic wood tables paired with gingham print table runners. This creates a fun, themed atmosphere and won't overwhelm your space. It is highly recommended to NOT use plastic tablecloths or table runners; you want to add a little elegance since it is a wedding, so use real fabric gingham runners like these. You can choose red and white check OR blue and white check, but use the same color combination throughout (don't mix and match the styles). This will create an overall cohesive design.
by diistore
For a visual, or alternate place to buy gingham table runners, check out this example at EnFete.
If you prefer a different look, go with burlap table runners. These are highly rated by OZXCHIXUStore.
by ozxchixusstore
4. Utensil holders
Set up your place settings with custom utensil holders or place them at the entrance of your bbq buffet table. Here are two ways to do it: the first is by Details On Demand and look beautiful at individual place settings.
by details on demand
Or if you're going for a plaid style, try these barbecue themed wedding cutlery bags by SteshaParty. The black cutlery (disposable) set is included.
by stesha party
Or these non-personalized I Do bbq bags made of kraft paper. By MetoMuto.
by metomuto
Prefer placing utensil sets for guests to take at your buffet? Try these bbq wedding cutlery sets by PinkAppleParties.
by pink apple parties
5. BBQ wedding napkins
BBQs are messy! Keep things nice + clean with plenty of extra napkins. :) These personalized wedding napkins are perfect by MemorableWedding.
by memorablewedding
Prefer a gingham style? Try these bbq napkins by MemorableWedding.
by memorablewedding
Keep things extra clean with these wedding wet naps, too! By PartyBibs.
by partybibs
And if you'd like to offer them, bbq wedding bibs are a FANTASTIC idea, especially if you're having a ton of bbq sauce! You can get them at PartyBibs.
6. Coasters
These are amazing coasters with a fun design and elegant letterpress style! By NestingProjectPaper.
by nesting project paper
7. BBQ wedding cups
Take a cup + fill it up! I like the design on these bbq wedding cups, perfect for your outdoor bar. By YoureThatGirlDesigns.
by you're that girl designs
Prefer clear? Try these cups by Rubi and Lib.
by rubi and lib
8. Water bottle labels
Outdoor wedding receptions need plenty of cold water at-the-ready! These I Do bbq labels make it easy to personalize them for your wedding. By WeDoHoney.
by wedohoney
9. Hanging gingham decorations and pennant banner
This red-and-white gingham plaid goes anywhere outdoors: on an empty wall or fence, around your cake table, or by the buffet. By Hangnuo.
by hangnuo
10. Centerpieces
You'll want to place centerpieces on your reception tables, which can be anything from wood lanterns like these to floral centerpieces. For a barbecue themed wedding, sunflowers in red vases are always a nice touch. You can choose any flowers you like best; however, you can add a little more bbq flair with these cute centerpiece sticks designed by PinkAppleParties. Note: this is for the centerpiece sticks only, not the centerpiece itself.
by pinkappleparties
But you CAN buy sunflower centerpieces to add those sticks to 'em from these great shops!
This white painted mason jar features sunflowers inside and a dash of jute twine tied around the top. By RustiqueCharmByLeese.
by rustiquecharmbyleese
These sunflowers and roses by WoodBarnDecor:
by woodbarndecor
Or these by TheRedPoppyPeddler:
by theredpoppypeddler
Prefer lanterns? Sure thing! These are by GFTWoodcraft.
by gftwoodcraft
Speaking of lighting up the night with lanterns, a nice large neon sign is a fun touch for an outdoor reception. This one is my fave by TheLovelyGlassJar.
by thelovelyglassjar
11. Backdrop
These backdrops look great behind the cake table. It also works great as a backdrop for taking photos in front of, e.g. a photo booth for guests. By BlushingDrops.
by blushingdrops
Or this chalkboard style by PuffPaperCo.
by puffpaperco
12. Barbecue themed wedding decorations
Here are a few additional decor items we found for your barbecue themed wedding.
BBQ banner
This is my favorite! What a fun banner, made of fabric, for hanging up anywhere at your backyard bbq themed wedding. By NoLandLikeGarland.
by nolandlikegarland
by rainlemon
Wedding date sign
And this wedding date sign is a cute touch! By KraftThingsStore.
by kraftthingsstore
I Do BBQ sign
Guests will know they're in the right place with this I Do BBQ wedding signage by BarnwoodRustDesigns.
by barnwoodrustdesigns
Card box
Guests will bring cards and gifts for your wedding, so make sure you have ample space on a table to hold them. You'll also want a rustic card box like this to keep the cards in a safe place. By PrimitiveWeddings.
by primitive weddings
BBQ wedding menu
Every great bbq has a fantastic menu! Yours can include anything you like, and what you can get brought in by your favorite caterer. :) Some of the best bbq buffet wedding menu ideas include:
• BBQ ribs
• hamburgers
• hot dogs
• bbq chicken
• wings
… are all popular fare for this wedding theme.
In addition, sides like:
• corn-on-the-cob
• coleslaw
• roasted potatoes
… are fantastic bbq wedding menu items your guests will go crazy over!
Have plenty of water, beer, wine, and soda on-hand for guests to take themselves from chilled containers, like stainless steel tubs from BREKX.
by brekx
Or hire a bartender to serve guests — a huge, convenient plus!
To ensure guests know what is on the barbecue wedding food menu, get printable bbq wedding menu sheets for place settings from CrissyDesignCo and edit it to suit your own barbecue wedding reception menu items.
by crissy design co.
Or you can display a bbq wedding menu sign like this by ANDesignsEvents and place it on an easel by the buffet.
by andesignsevents
Don't forget to add a bar menu sign! This wood one is a fave by OAKYDesigns:
by oakydesigns
Since most barbecue wedding reception themes have a more relaxed, comfortable atmosphere, a buffet is a great idea. Use these food cards to label food items by TangerinePaperShoppe.
by tangerinepapershoppe
Add some fun treats, too, like these flower cookies by CrowsCustomCookies:
Or these bbq wedding cookies by the same shop. This example is for a birthday, but if you want a custom order just ask!
by crow's custom cookies
Or cupcakes (yum!) with these custom bbq toppers by TangerinePaperShoppe.
by tangerinepapershoppe
Place Cards
If you'd like guests to sit at certain seats, use these fun cow place cards by TiffZippy:
by tiffzippy
Or these pig place cards for a pork menu by TiffZippy:
by tiffzippy
Or go with a rustic style, like these by DualArrowCo.
by dualarrowco
Table Numbers
If you have assigned seats, help guests find their table with these charming burlap table numbers, placed on your centerpiece. If you're not sure about the centerpiece yet, you can fill mason jars with flowers. Easy! The table number goes right around the top. By LoveTheJunk.
by lovethejunk
Or use these table numbers with a mason jar and firefly design: add an LED candle under each one and light up the night! By Chickapea.
by chickapea
Escort Card Sign
Help guests find their seats with this rustic escort card sign by FARMandBARNdecor.
by farm and barn decor
Or use these drink / beer bottle escort card tags. They can be waiting for guests to grab a drink and head to their seats! Smart idea + great design by WestAndFoundDesignCo.
by westandfounddesignco
All decorated? Great! Let's talk about cake.
13. BBQ wedding cake topper
These gingham I Do cake toppers by Sam's Sweet Art are ADORABLE! They're perfect for a simple, sweet rustic cake.
by samssweetart
14. Cake cutting forks
And grab a set of these darling cake cutting forks! They're engraved with your wedding date and "I Do" along with "Me Too". By SouthernGatherings.
by southern gatherings
Don't forget to have some fun. These yard games are just what guests are looking for at a bbq wedding reception.
Add a sign so guests know where to go!
by the rusty windmill
Or this one, which I adore, too! By CraftMartTexas:
by craftmarttexas
And this is a fun sign for the bar (by CashandBoone):
by cash and boone
15. BBQ reception games
Get custom cornhole boards made for your wedding by Skip's Garage.
by skipsgarage
Or this giant four-in-a-row game by WeddingWoodworksCo. You can even customize the game pieces with your names and 'Est' wedding year!
by wedding woodworks co.
I've always wanted to play this one — yard dice. Fun! By BlankCanvasbyPotter.
by blankcanvasbypotter
Rustic ring toss? You got it! By JandJHandmade.
by jandjhandmade
And this tic-tac-toe game by MissToMrsWeddings. Fun!
by misstomrsweddings
You can see more games for your bbq wedding reception here.
16. BBQ guest book
Instead of a traditional guest book, have guests sign a bbq wedding platter instead! They can sign the back or front of the wood and you can use it on display at home. Cover it in a coat of clear protectant to keep those signatures intact. Use these markers, which work great on wood and are permanent, won't rub or smudge, and have a fine point for easy writing. This bbq wedding platter is by ThistleAndSash.
by thistle and sash
If you prefer, we also love the idea of guests signing the outside box of this bbq tool set as a functional guest book. You'll love using these bbq tools at home forever after! By Design's The Limit.
by design's the limit
Don't forget tons of markers and a sign to direct guests, like this one by LAPrintables:
by laprintables
17. BBQ wedding favovrs
One of the easiest ways to personalized a bbq themed wedding is with fun favors! Give these take-home gifts to guests to remember your wedding reception.
Barbecue Sauce
Whether you pick barbecue sauce or hot sauce, these bottle favors will be a hit! They're all filled and labeled for your event + ready for giving to guests as bbq wedding favors. By MuscadineMoon.
by muscadinemoon
Jam
Oooh, jam is my jam! These adorable jam jars make great barbecue themed wedding favors. They're handmade with love by Miss Shelley's Southern Jams and Jelly. Miss Shelley is awesome!
by southernjamsandjelly
Popcorn
Popcorn is always a good idea! You can make your own DIY popcorn favors with these bags by PoppyandErie:
by poppy and erie
Fill the bags yourself with this pre-popped popcorn — gourmet style and highly-rated! — available in bulk here.
BBQ wedding can coolers
by youre that girl designs
BBQ spice rub favors
These spice rub tubes make awesome bbq wedding favors. By BigHermsBBQ.
by bighermsbbq
Want to make your own spice favors? You can get labels customized like these by NMTMdesigns.
by nmtmdesigns
Smores
Who doesn't love smores?! Give out your own handmade smores (get inspired with this helpful post: How to Make S'mores Wedding Favors) and add these charming BBQ themed wedding stickers. By TangerinePaperShoppe.
by tangerinepapershoppe
If you need more DIY kit materials, you can also get these s'mores kits for DIYing from LoveandLullabyeEvents.
by loveandlullabyeevents
Prefer to do it hands-on? Offer a campfire and s'mores supplies with this awesome station by ReclaimandRefurbish. I want one for summertime bonfires!
by reclaim and refurbish
Don't forget blankets for guests! :)
I Do BBQ Shot Glasses
Ooh, these are fun! By Sip Hip Hooray.
by sip hip hooray
Rustic Hand Sanitizer Favors
These are perfect sanitizer favors for your guests! By ForYourParty.
by for your party
And with hand sanitizer favors also goes face masks, if needed.
I Do BBQ face masks
By ForYourParty.
by foryourparty
Or these by TwoJaysCreative.
by twojayscreative
17. Mason jar glasses
These are fun for giving out to groomsmen and bridesmaids for sippin'. By PlushPaperDesign.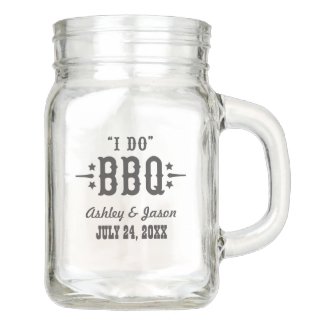 by plushpaperdesign
And there you have it: how to do a bbq wedding! It's a lot easier when everything is all laid out for you, isn't it? We hope this helps you plan a bbq wedding reception and gets you excited about the festivities ahead!
Feel free to comment in the box below with your favorite idea from this list, questions, or comments.
YOU'LL ALSO ENJOY: You can find a ton of bbq groomsmen gifts for saying thank you to your guys for being a part of the wedding.
P.S. If you're wondering what to wear, here are 12 Rustic Wedding Dresses That Go With Cowboy Boots. You don't have to wear boots, but these dresses are more informal, comfortable styles that go geat with a rustic wedding theme like this one.
Happy Planning!
xo
Emma